(This post is pretty heavy on photos. Just a reminder that if you want to see larger versions of them, to click on a photo and you'll then be able to view the slideshow of that particular group of photos.)
Trying to catch up here with the backlog of stuff I have to share, I'm going to try to condense the rest of our summer activities into one post. Here goes!
In July, a few days after we got back from our roadtrip, our cousin Eva came for a visit. Her time overlapped with Bryan and Alexia and their kids who also came to stay for a few days. It was great to have them and to have the (younger) cousins have time to play together and just hang out (the older ones). There were trips into NYC for sightseeing, swimming at a friend's pool, and a clothes shopping trip for me and Alexia. One evening Bryan and Alexia made an amazing dinner for us. I forget what it was called, but it was wonderful. Thanks for stopping by, guys!
(A bunch of these photos were taken by Bryan. Thanks for letting me pilfer them, Bry.)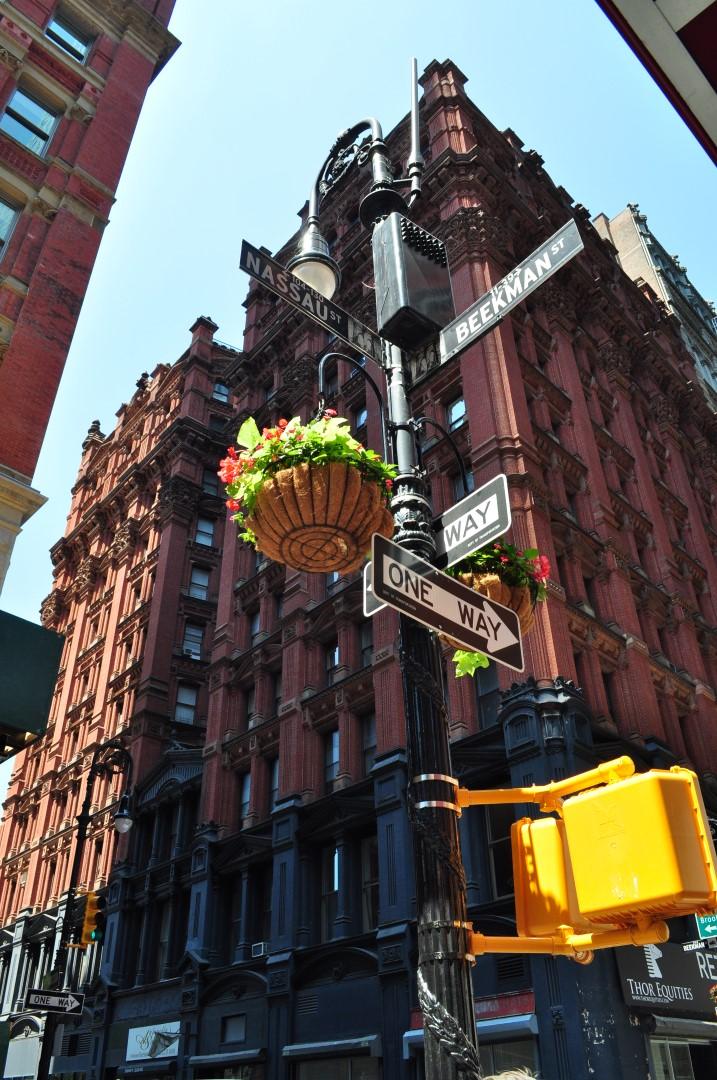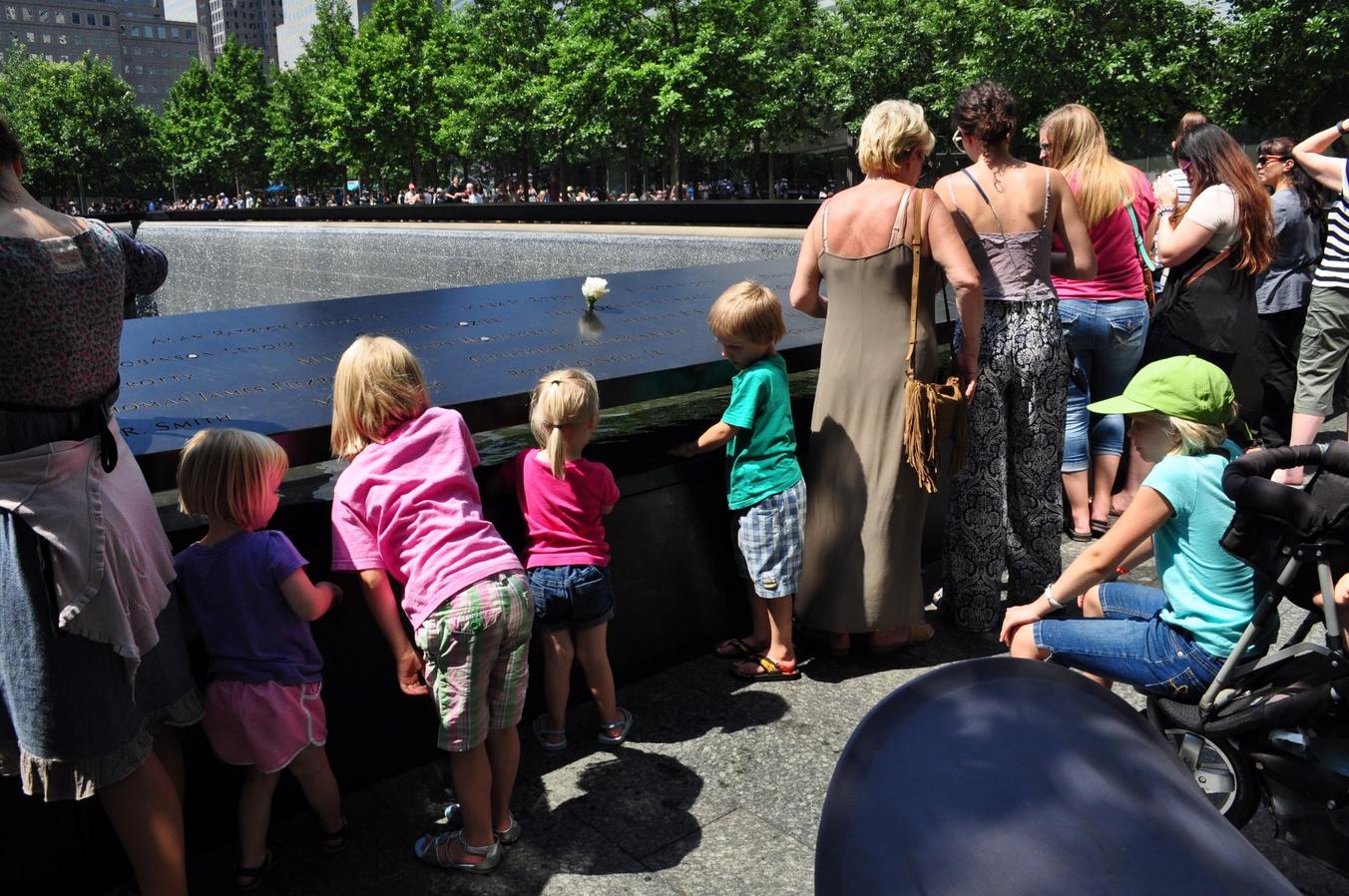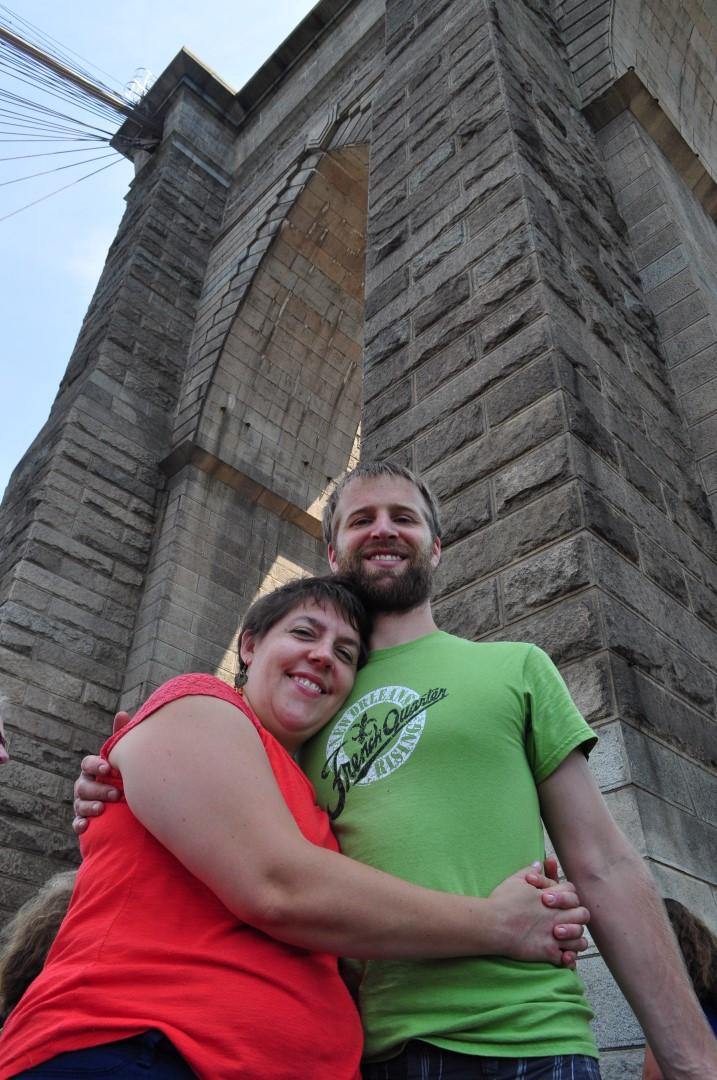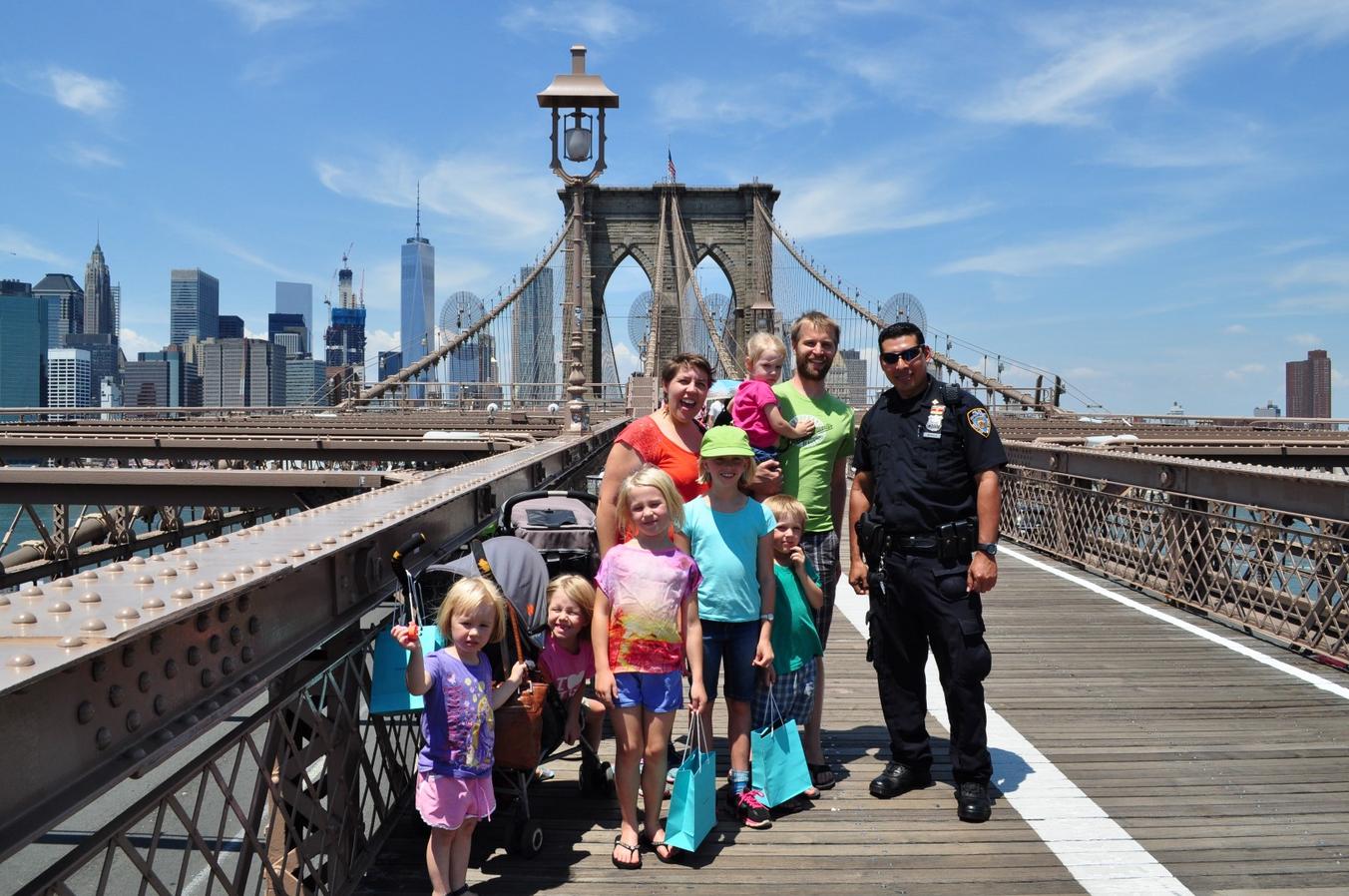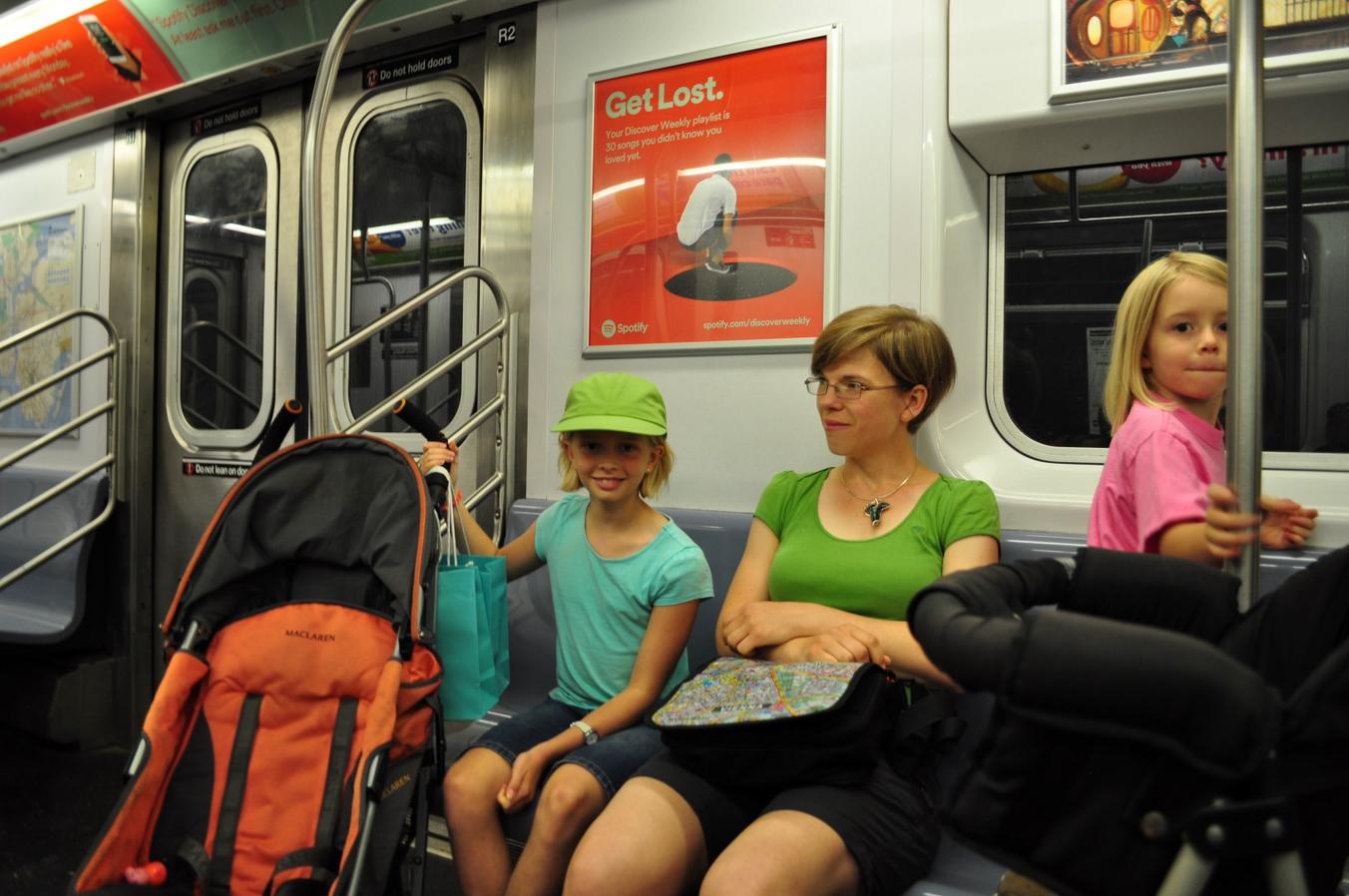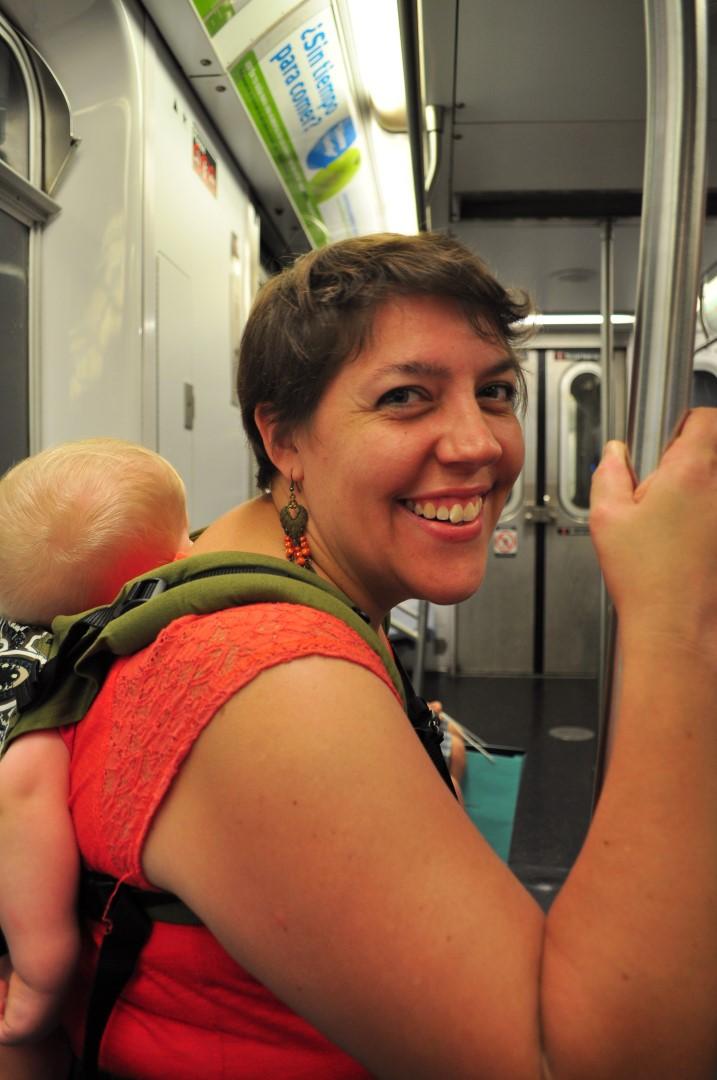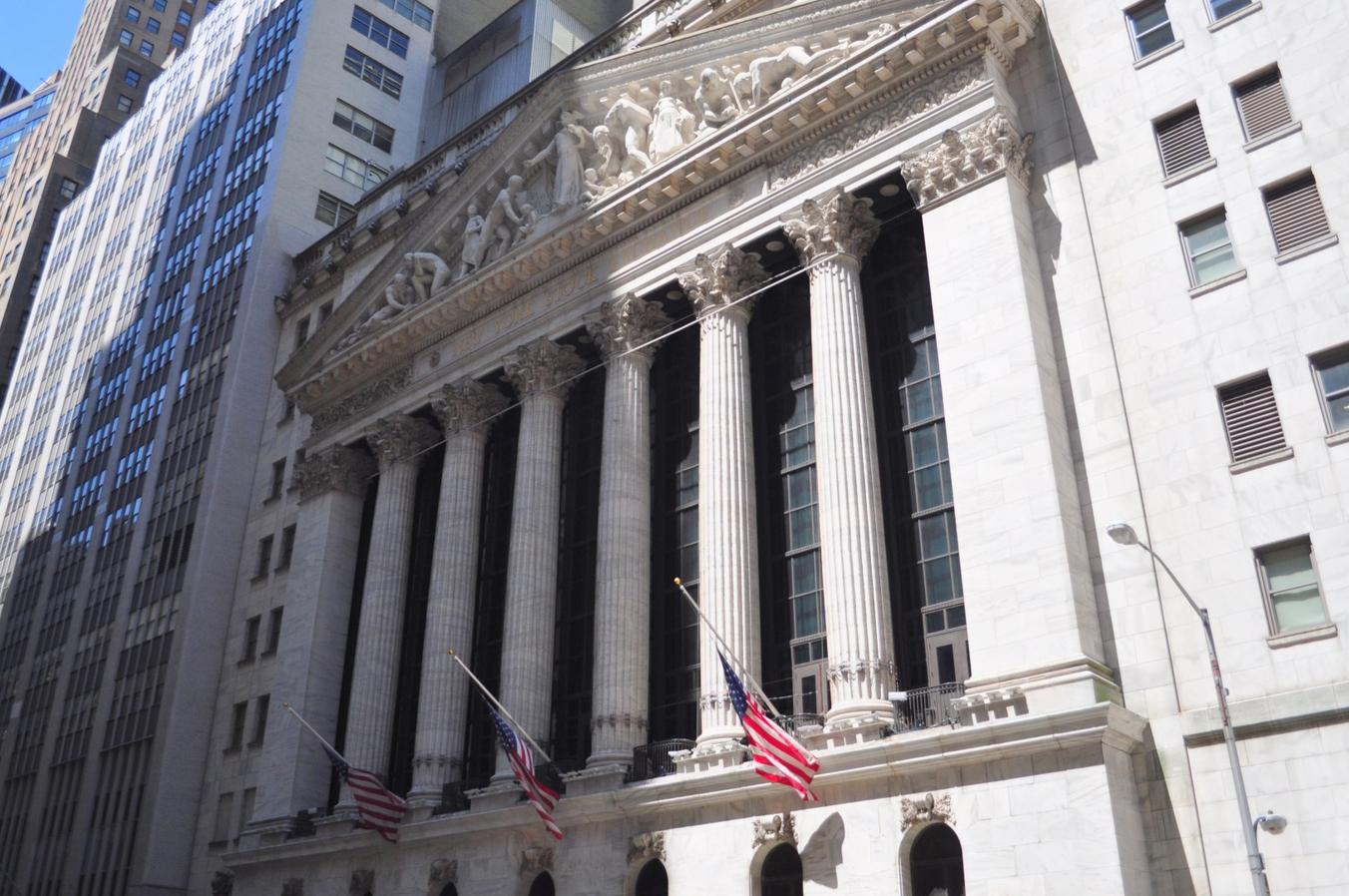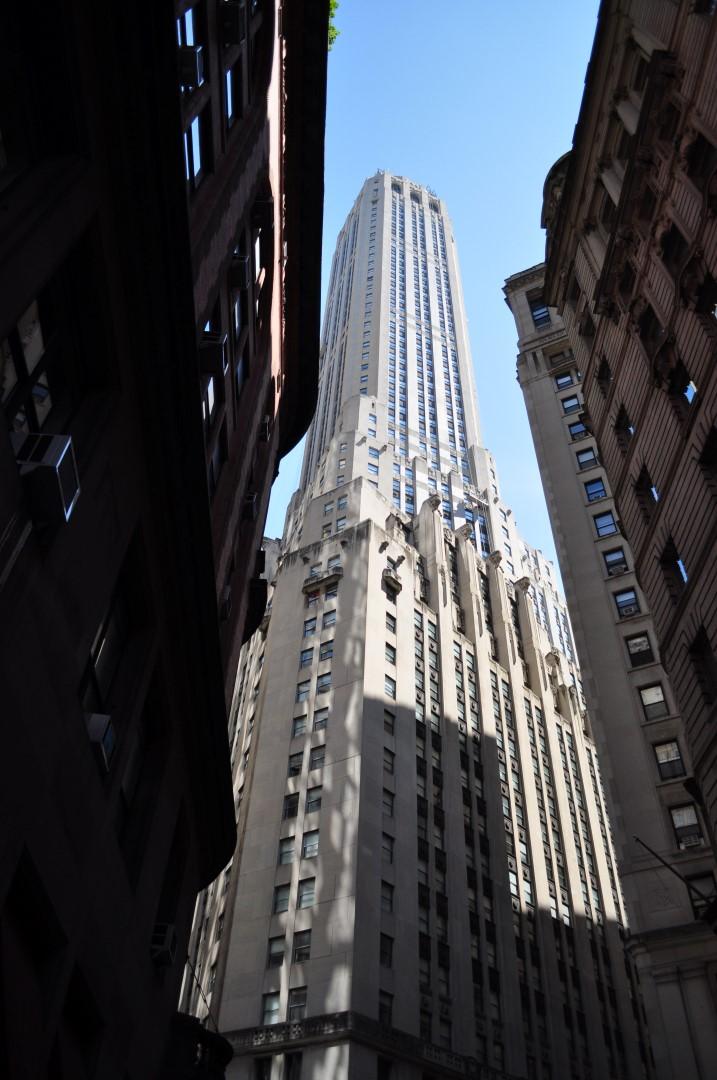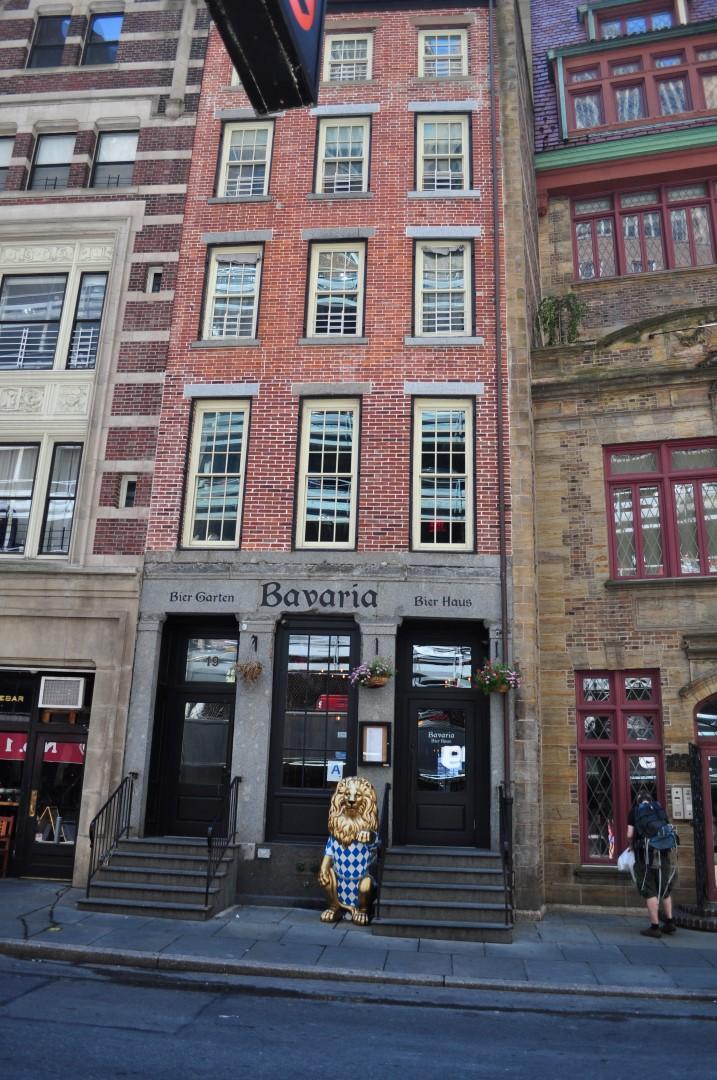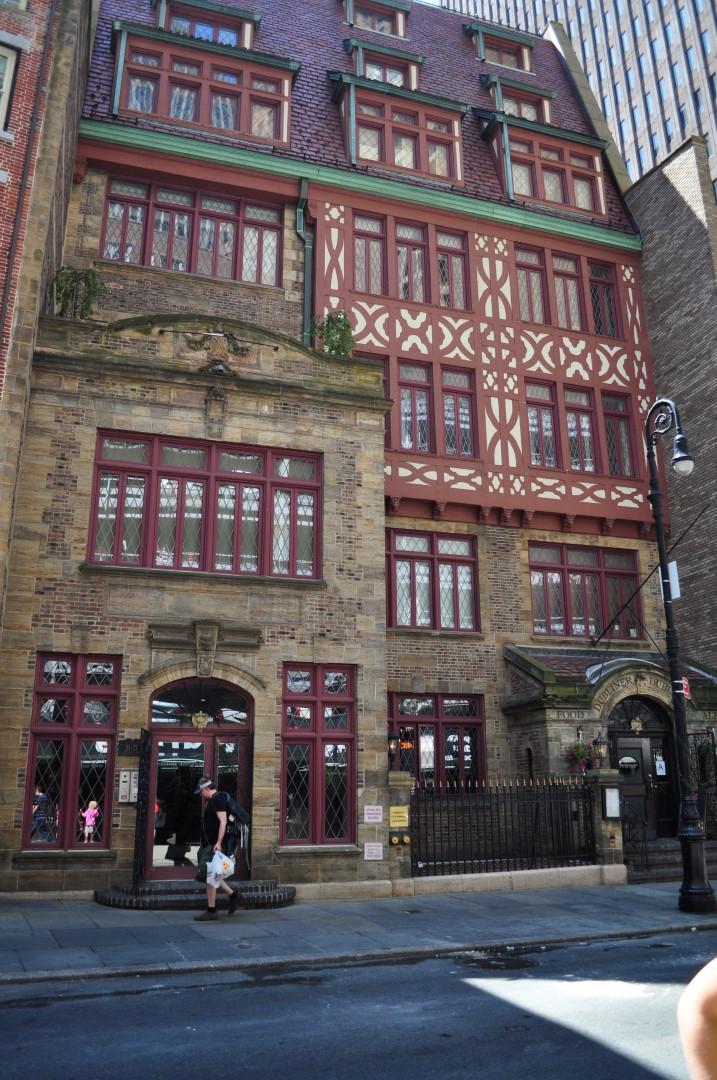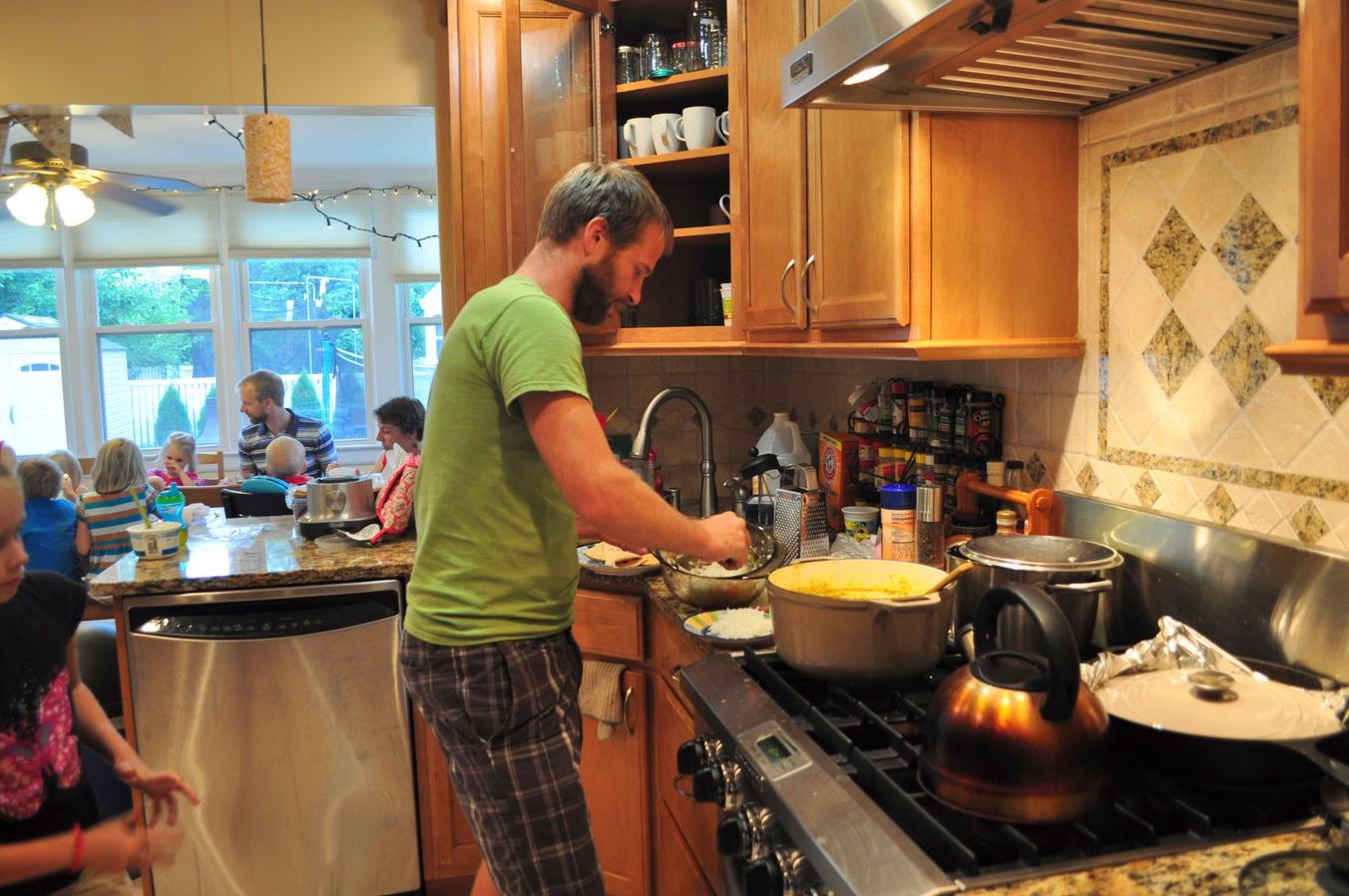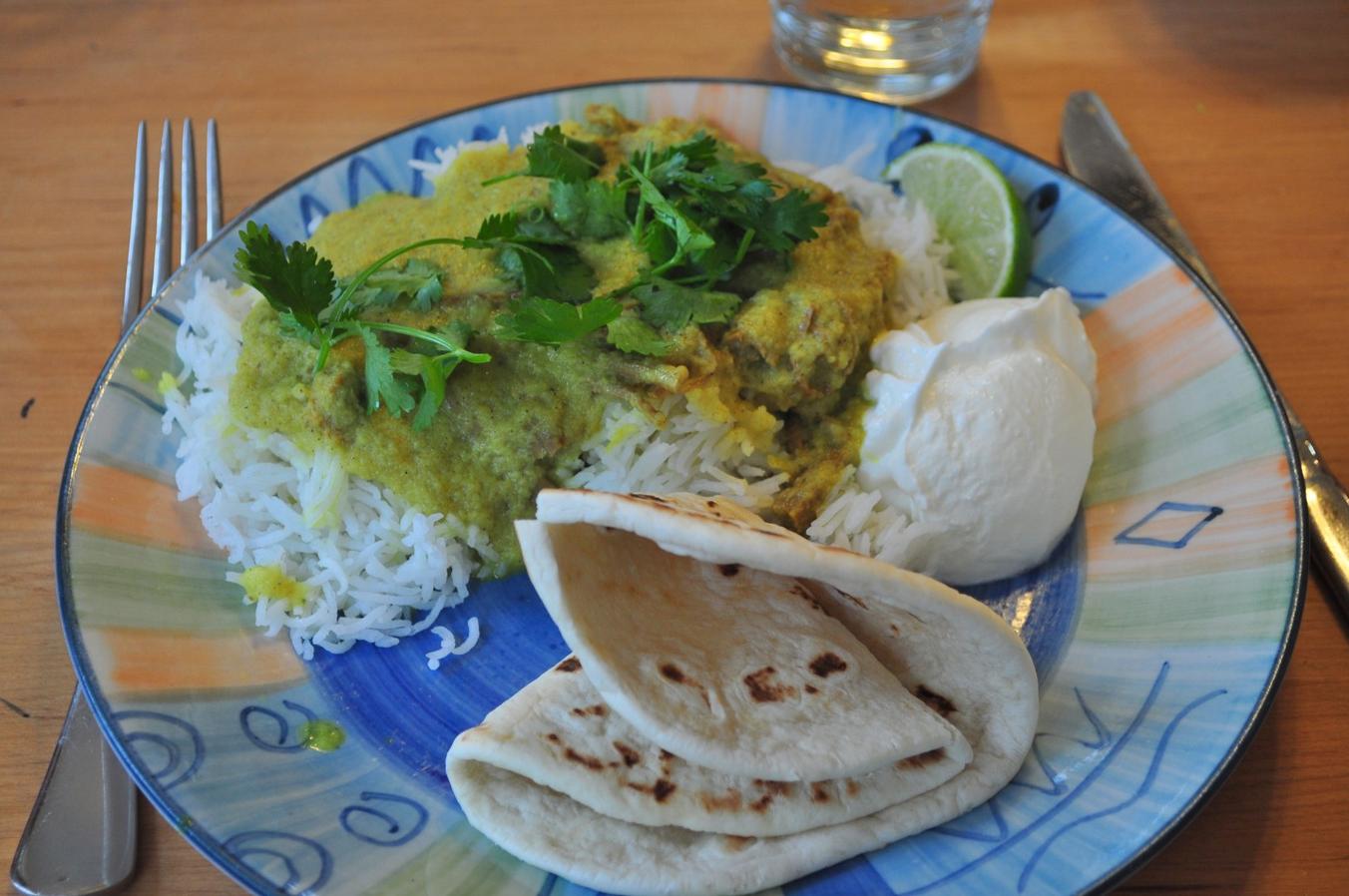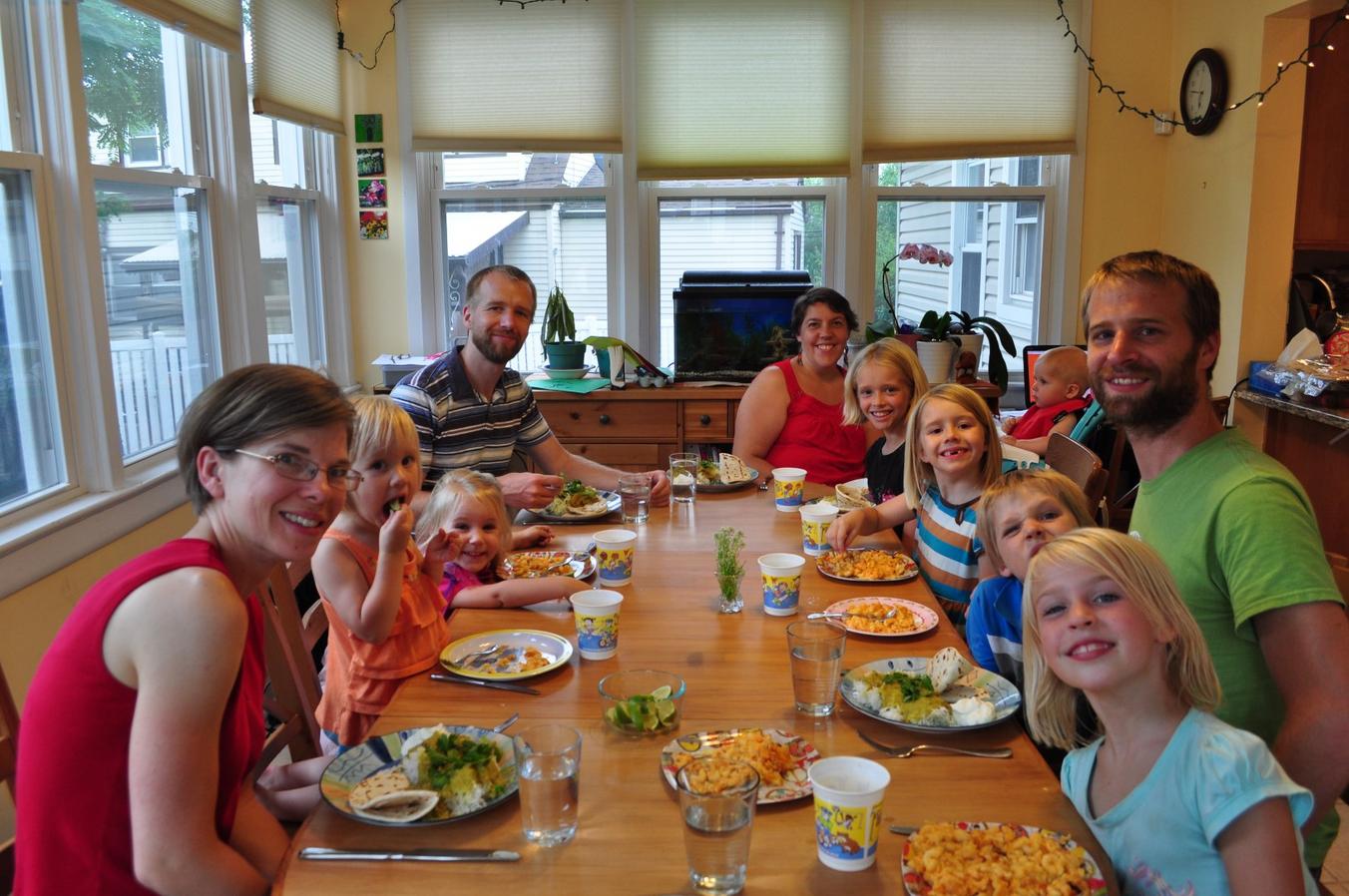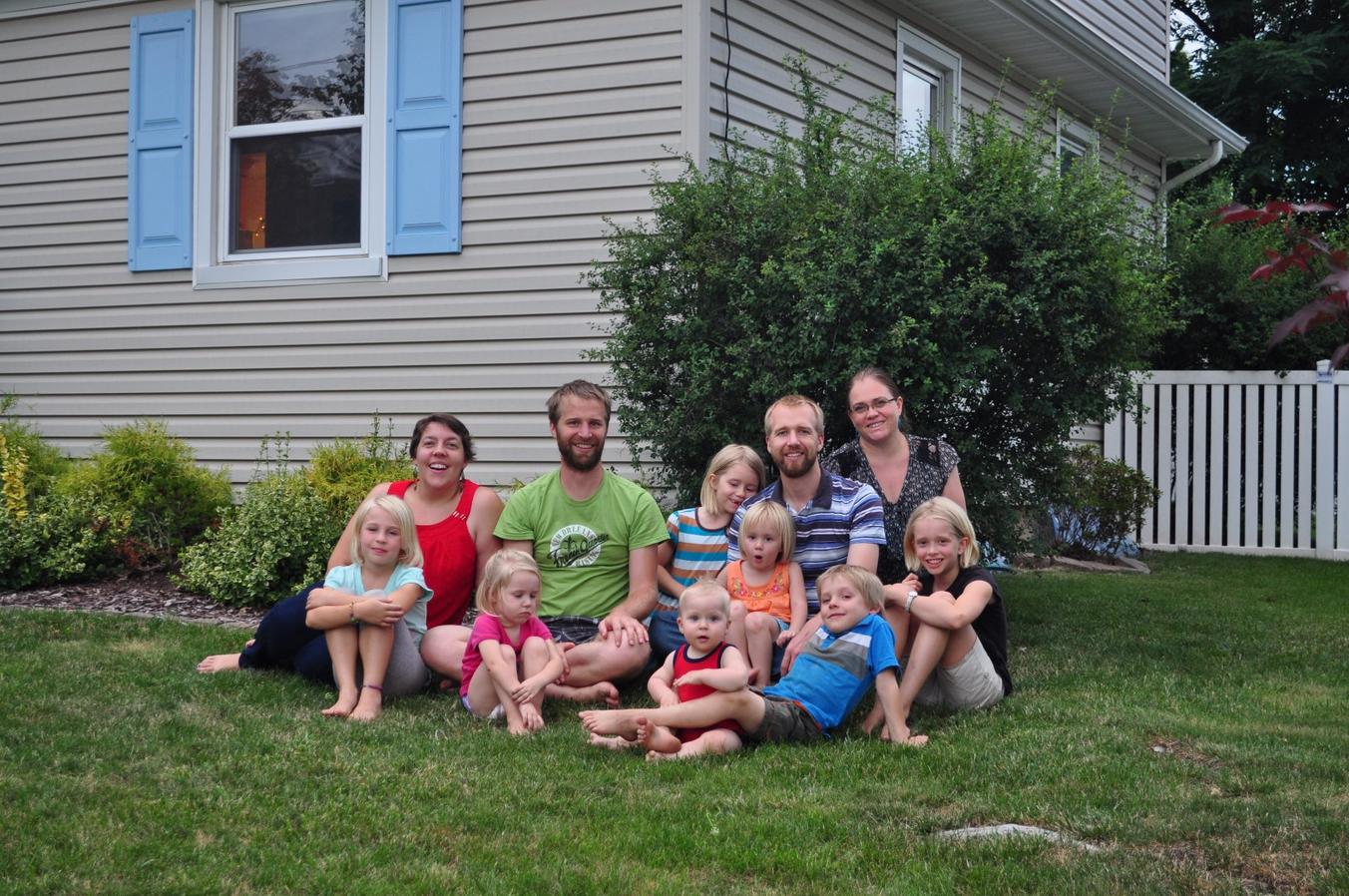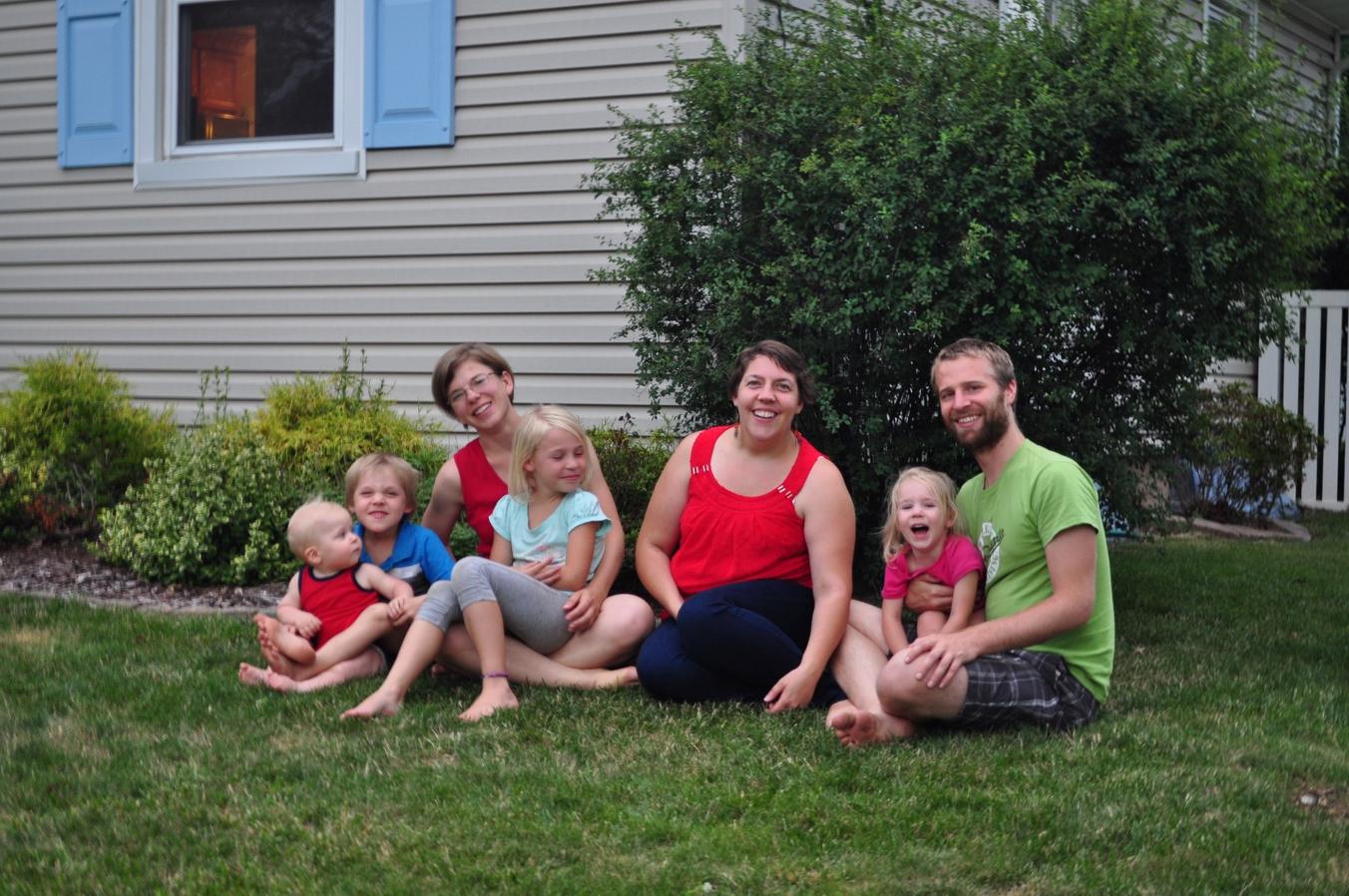 We were also happy to host our friends, the Roses, for a night on their travels from Canada back home. It was a short visit, but lovely!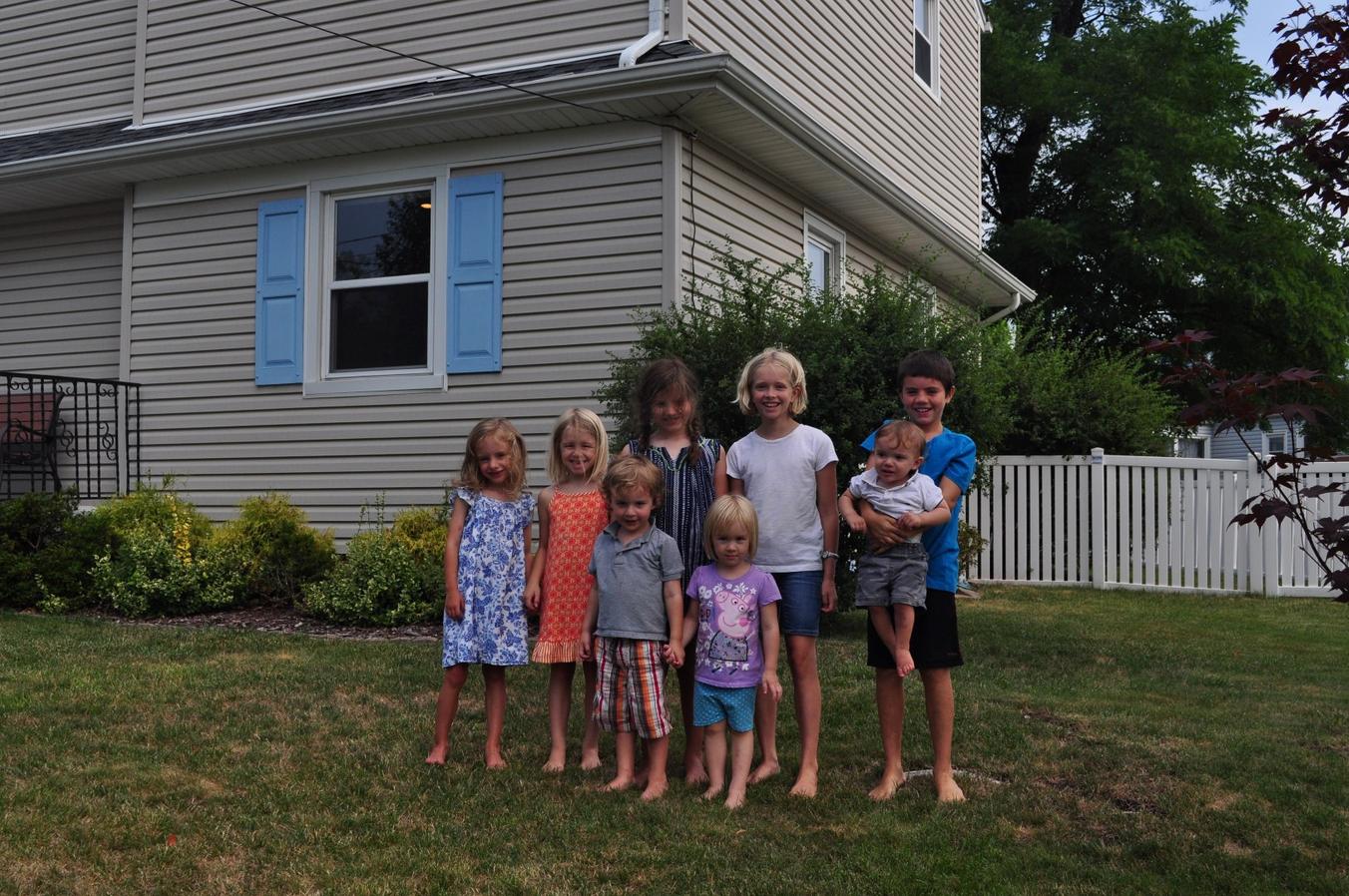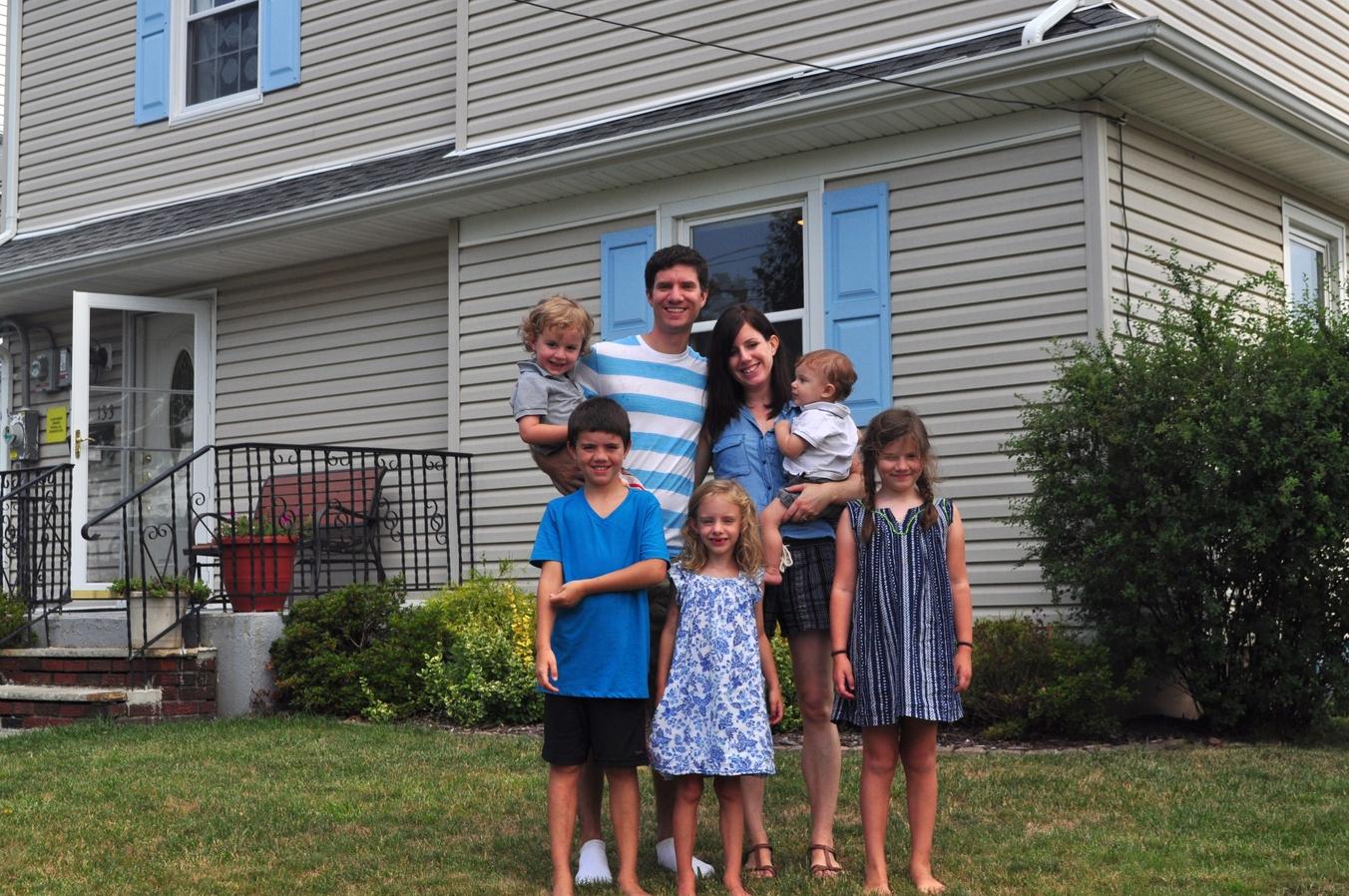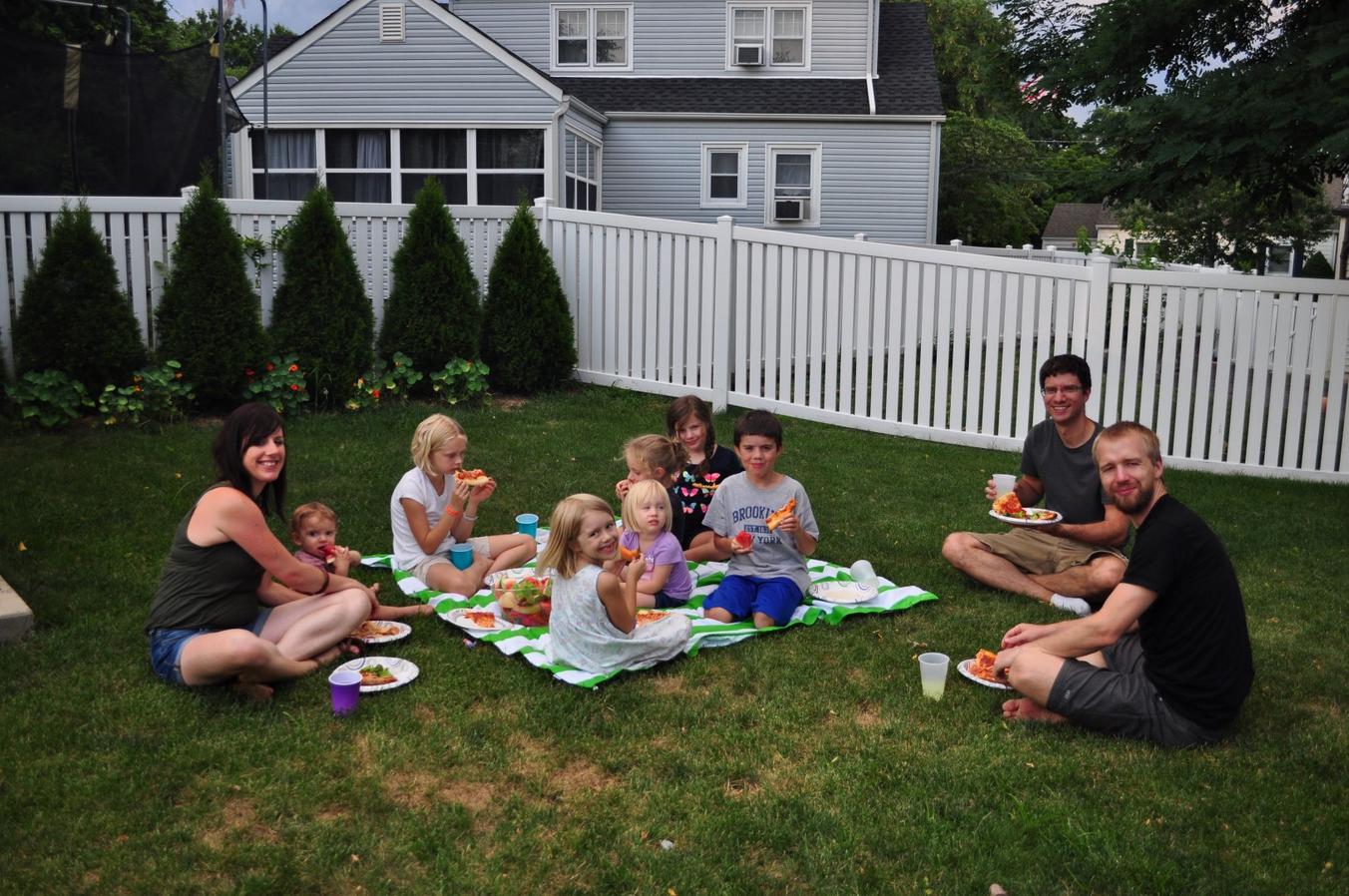 Ben had a pretty low-key 35th birthday, with the usual gift giving in the morning. He and I went to see a movie as my present to him, which is a pretty rare occurence for us, and as a result a pretty special treat!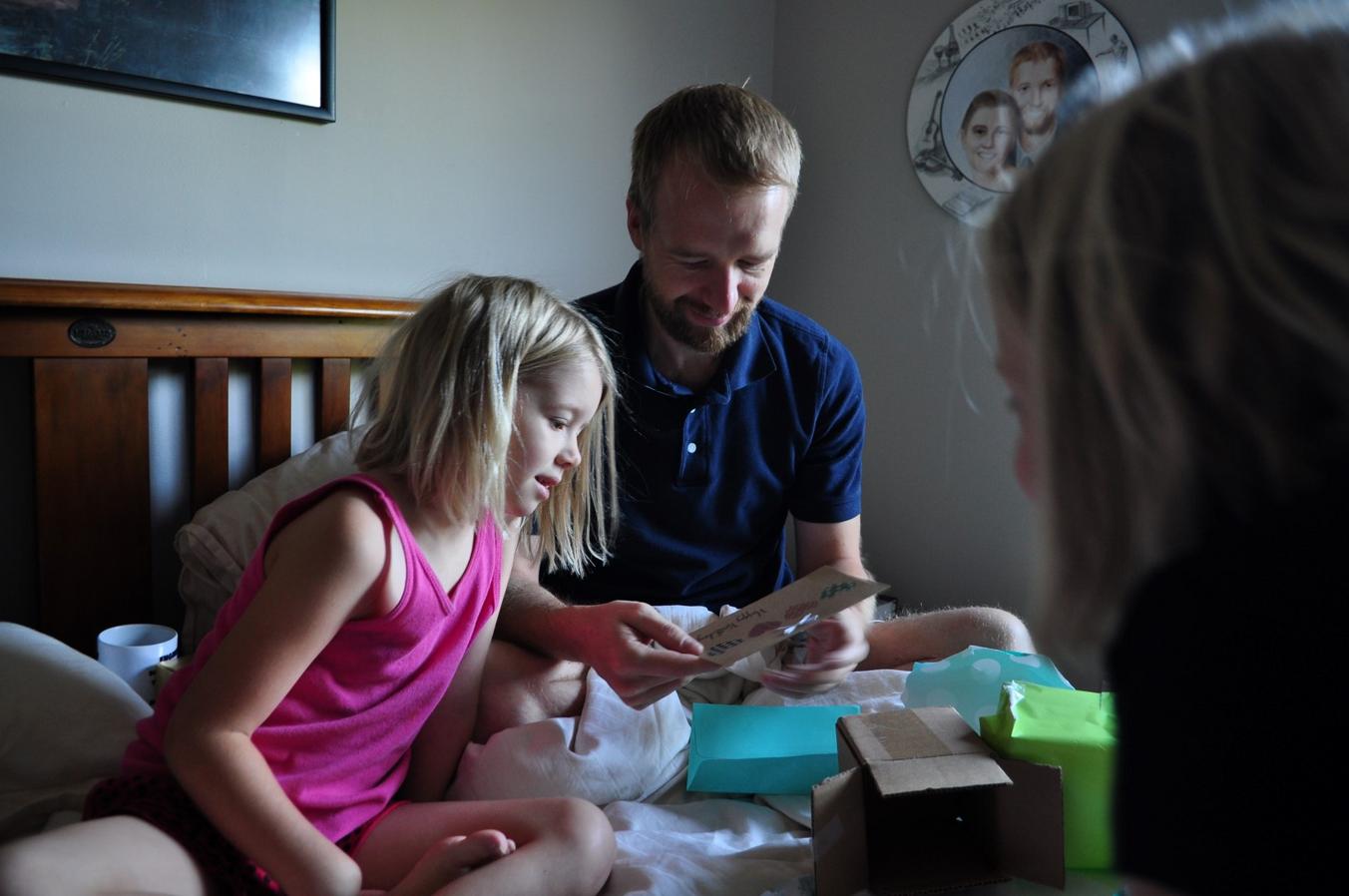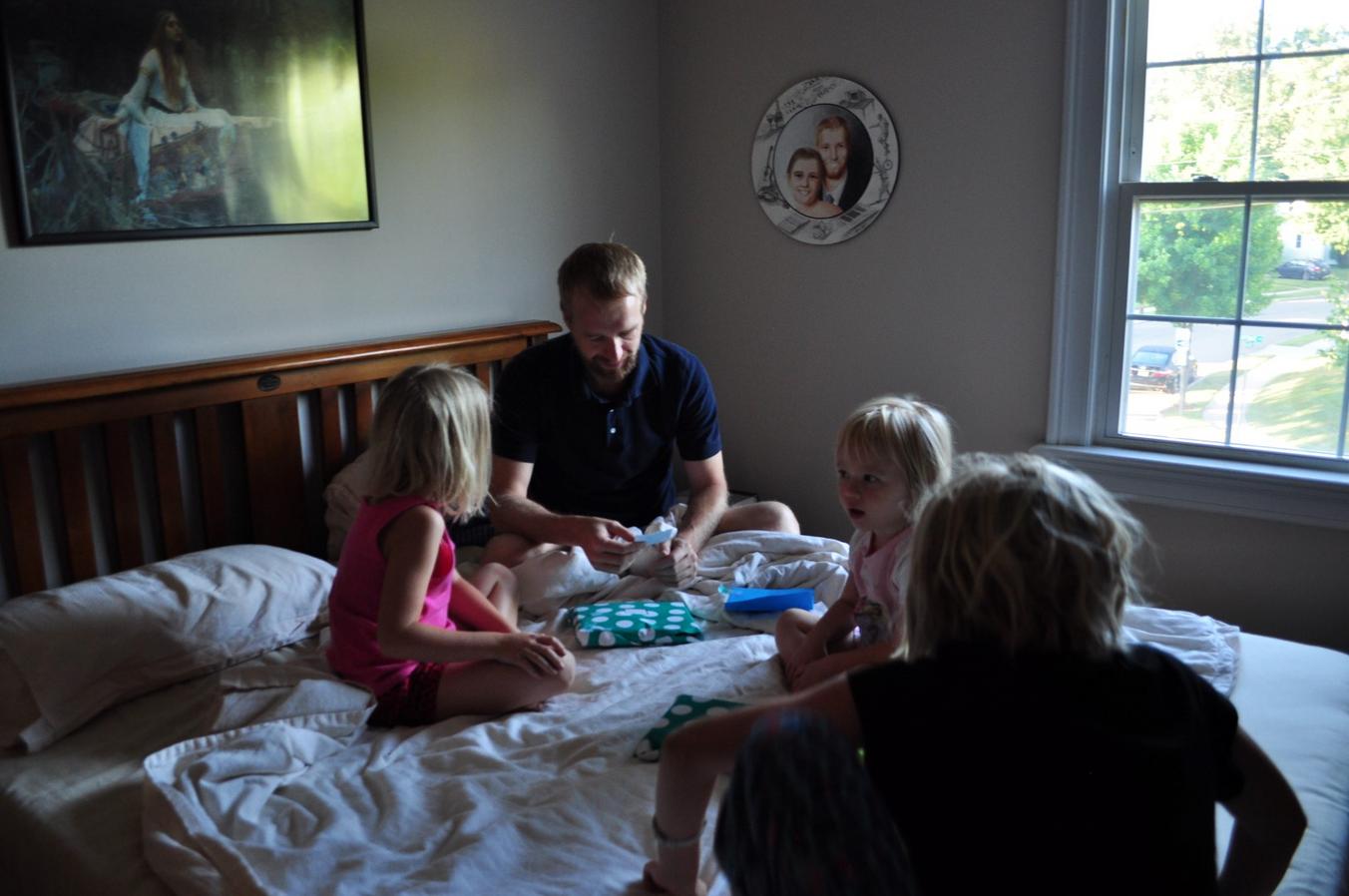 The next few weeks were taken up doing proper summery things like swimming, bubble blowing, running through the sprinkler, eating watermelon, having playdates, playing games, and doing generally silly stuff (like catching a fly and putting it in a lego maze).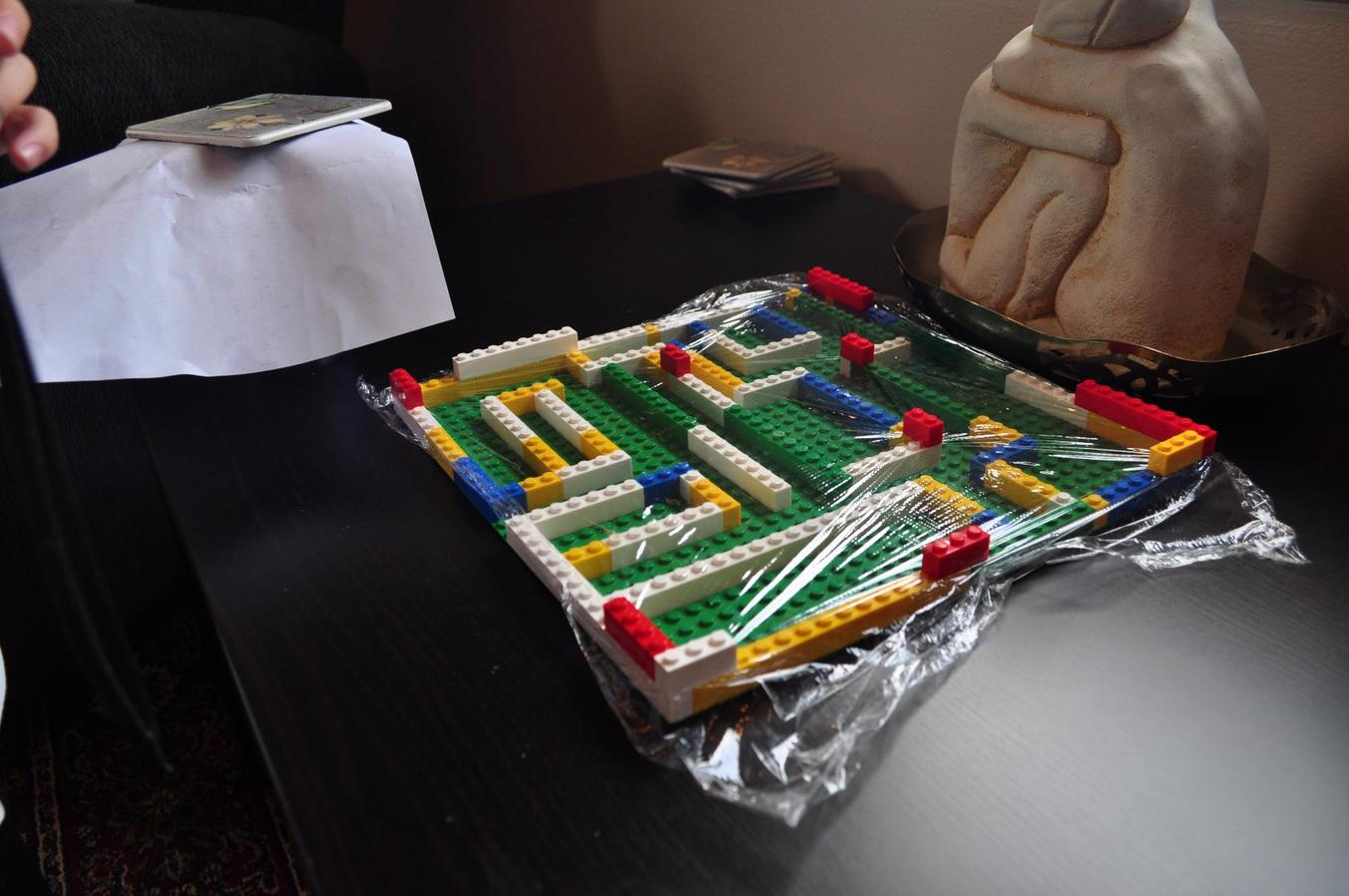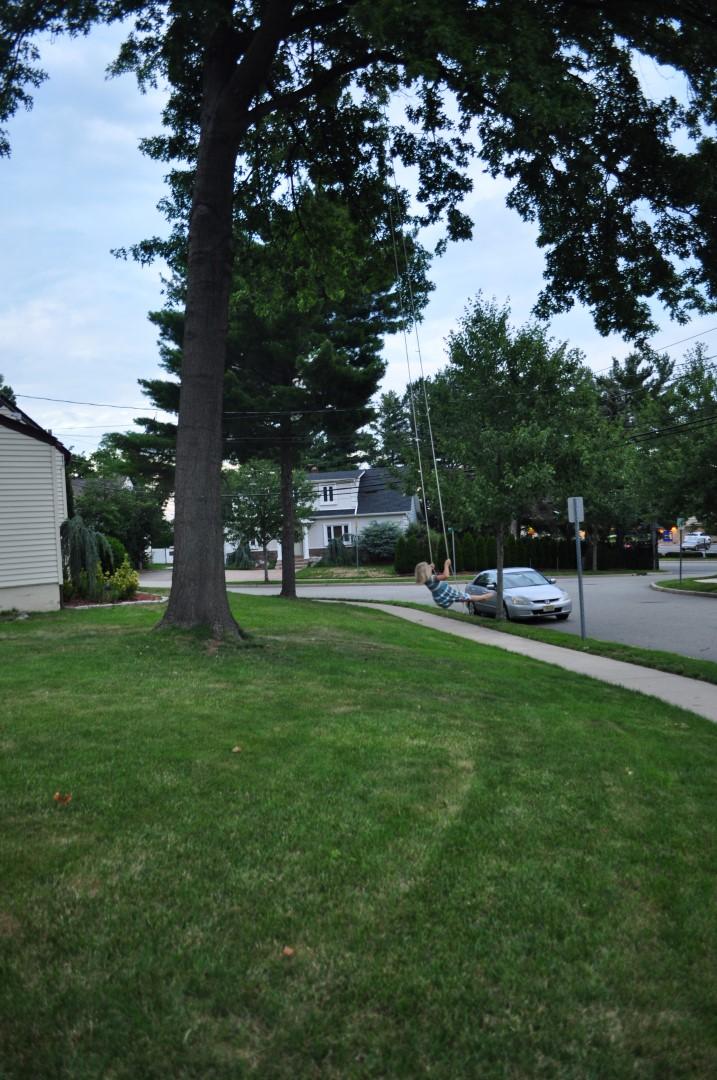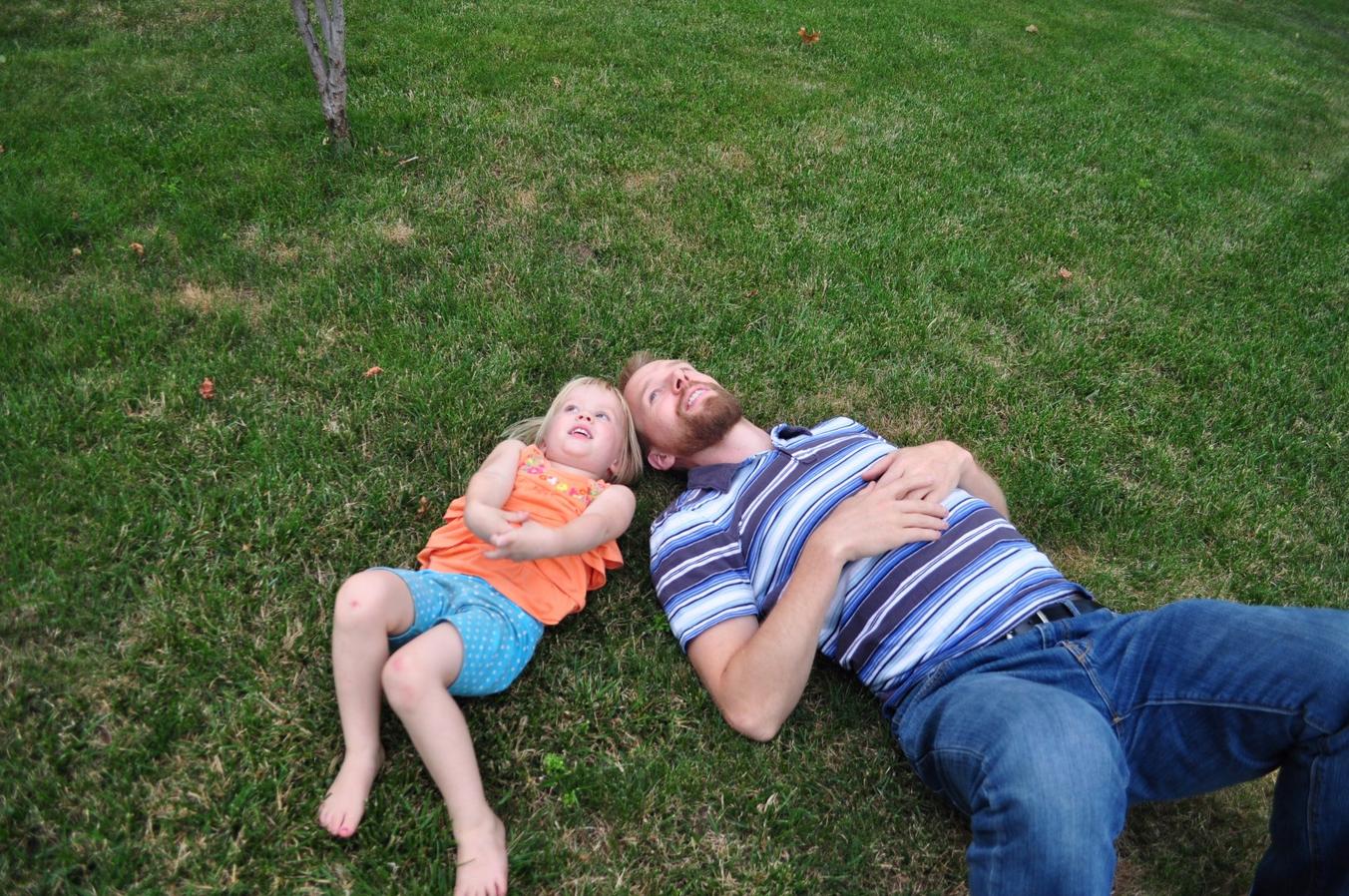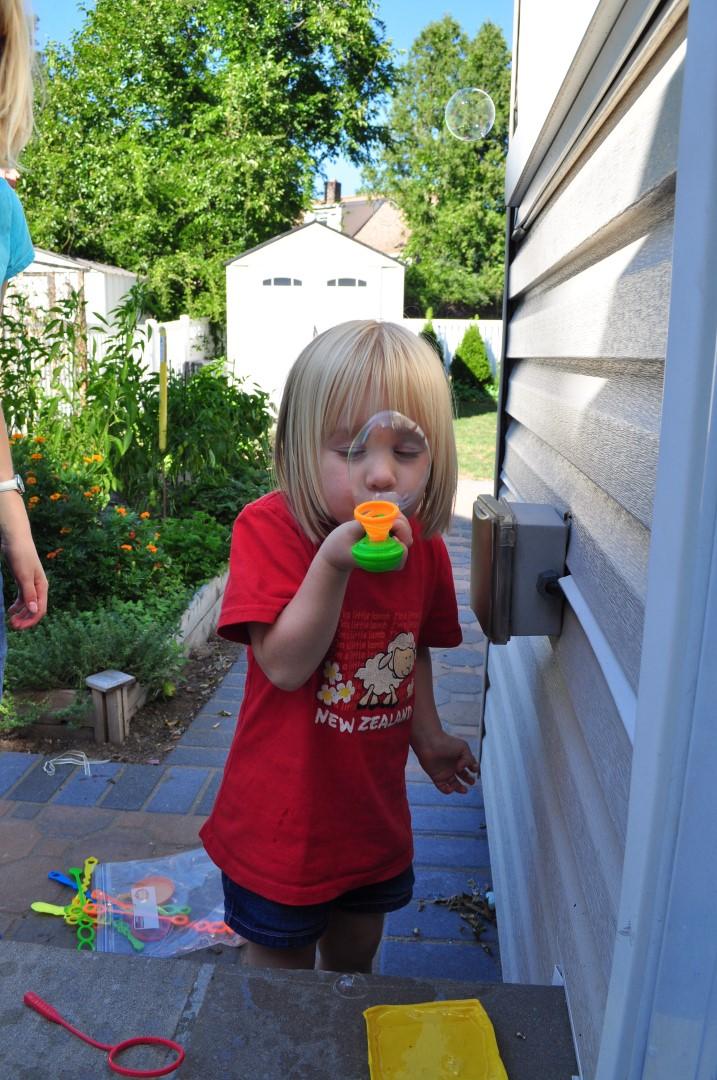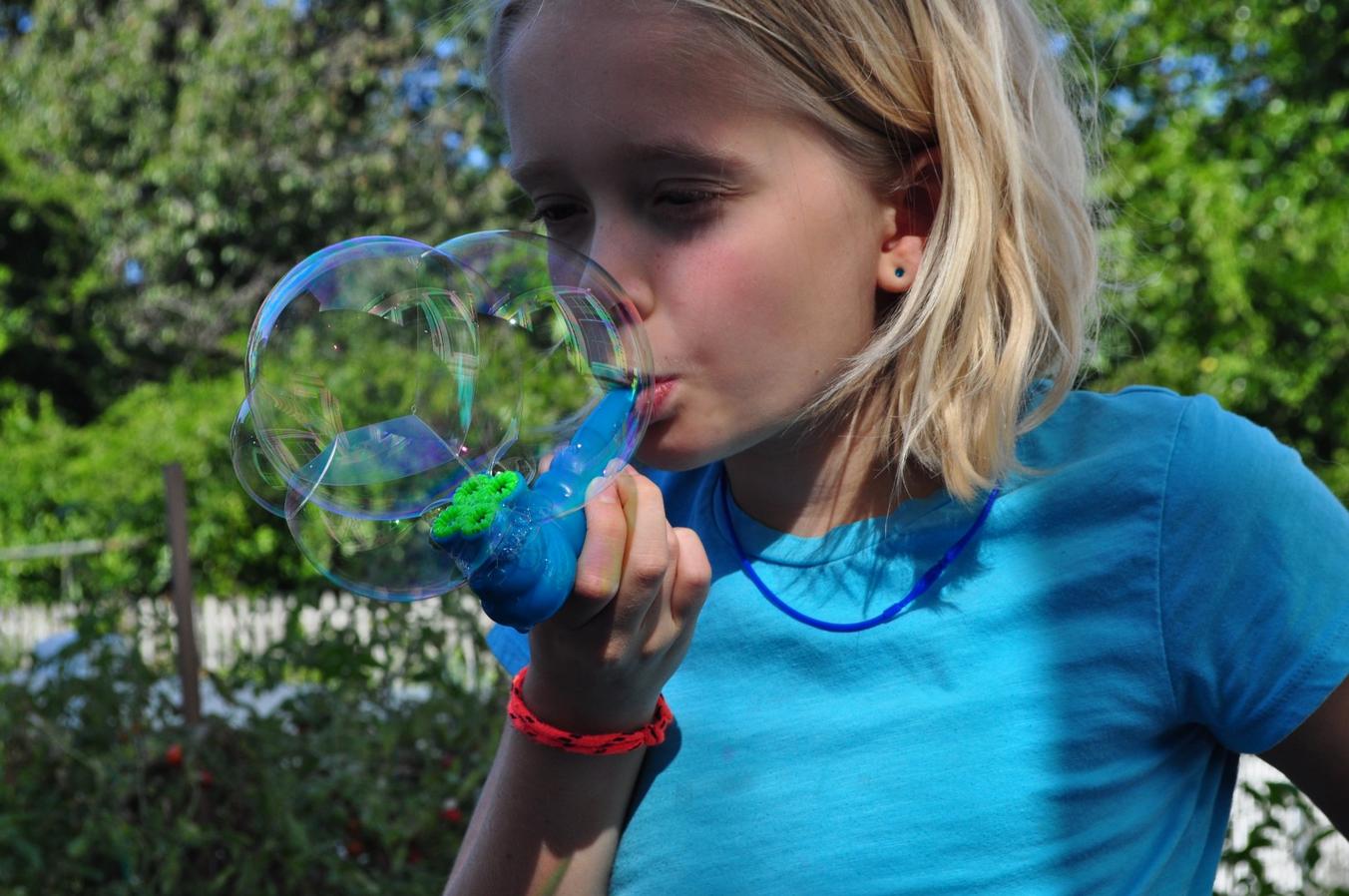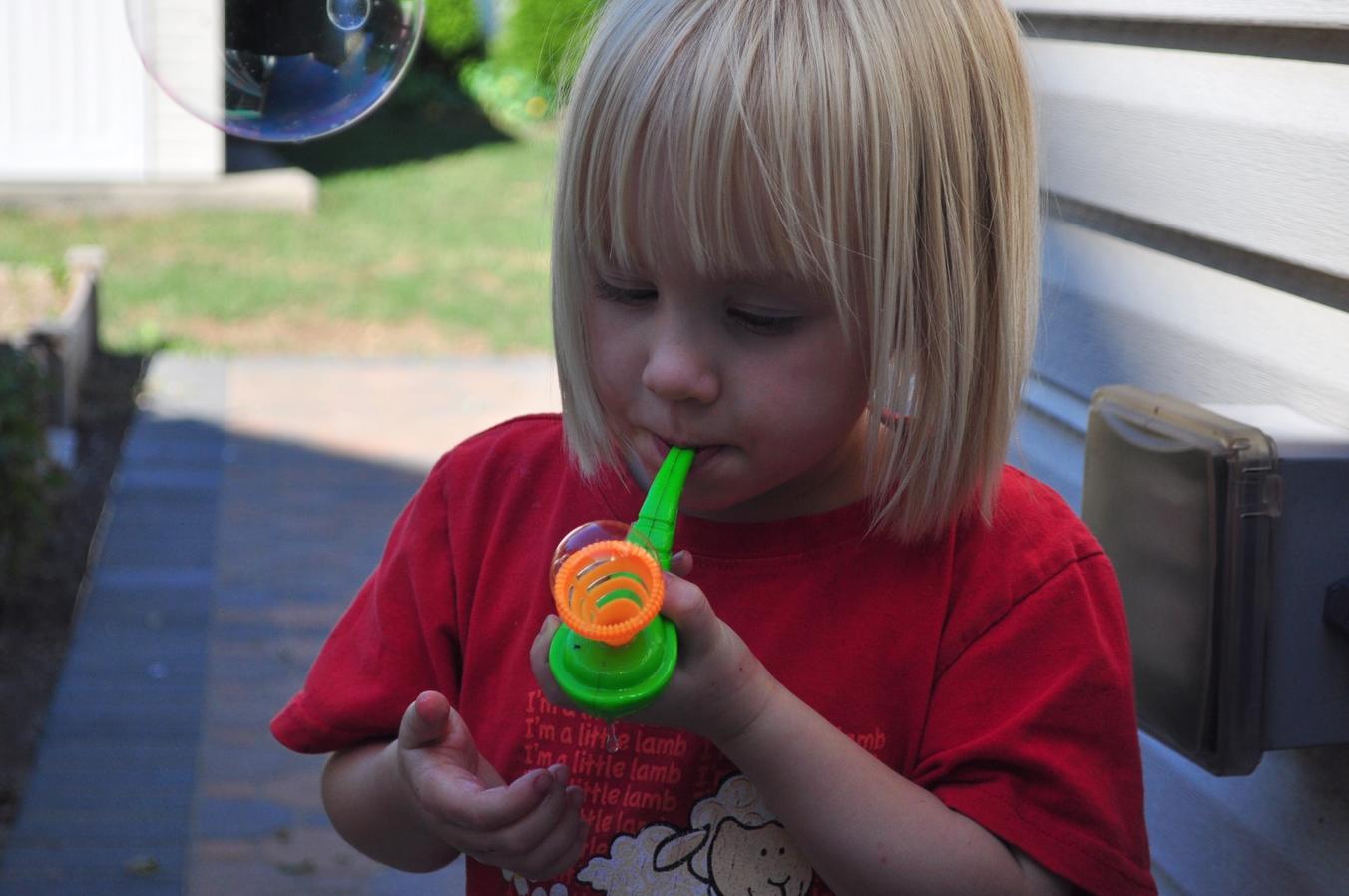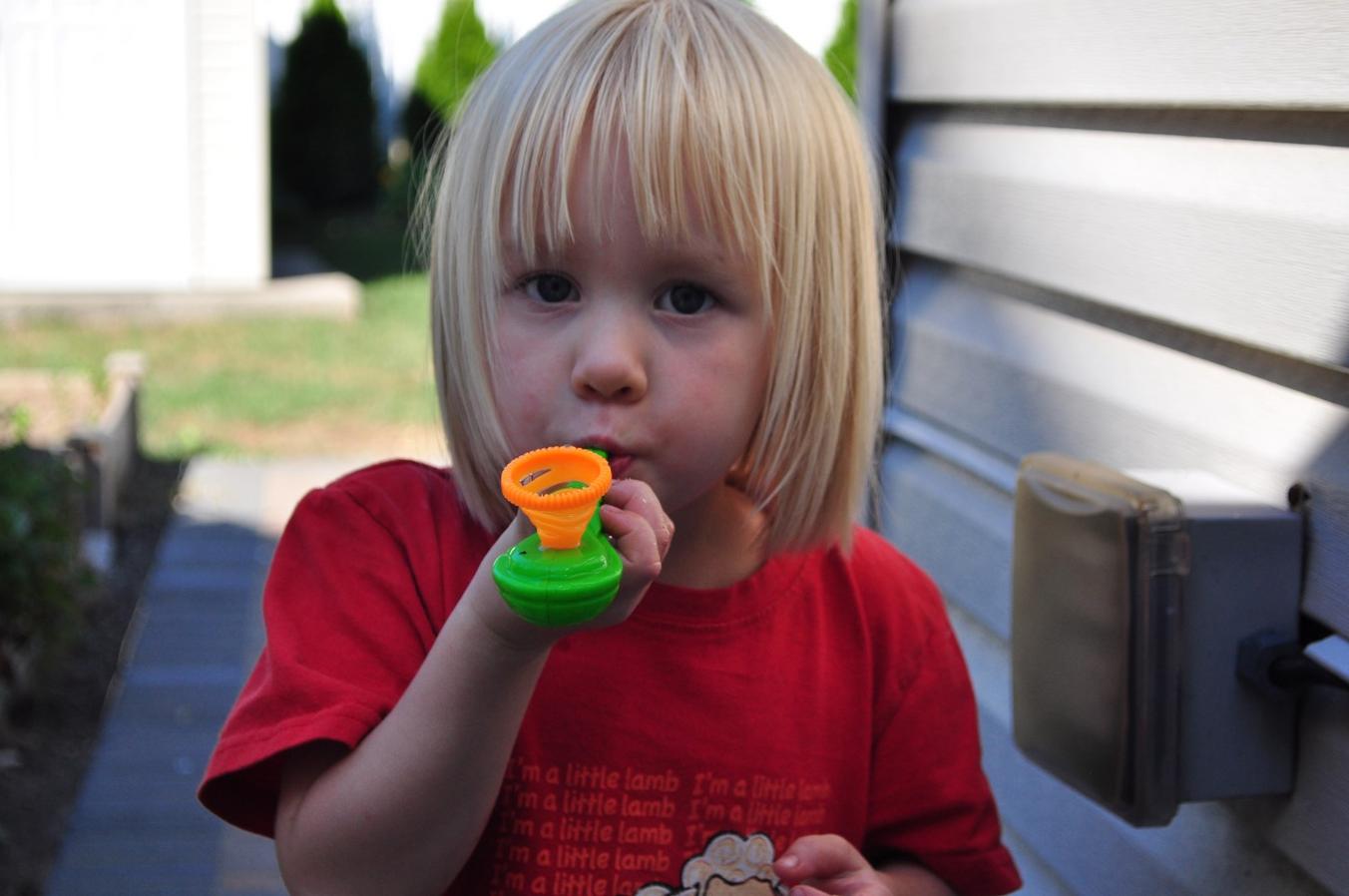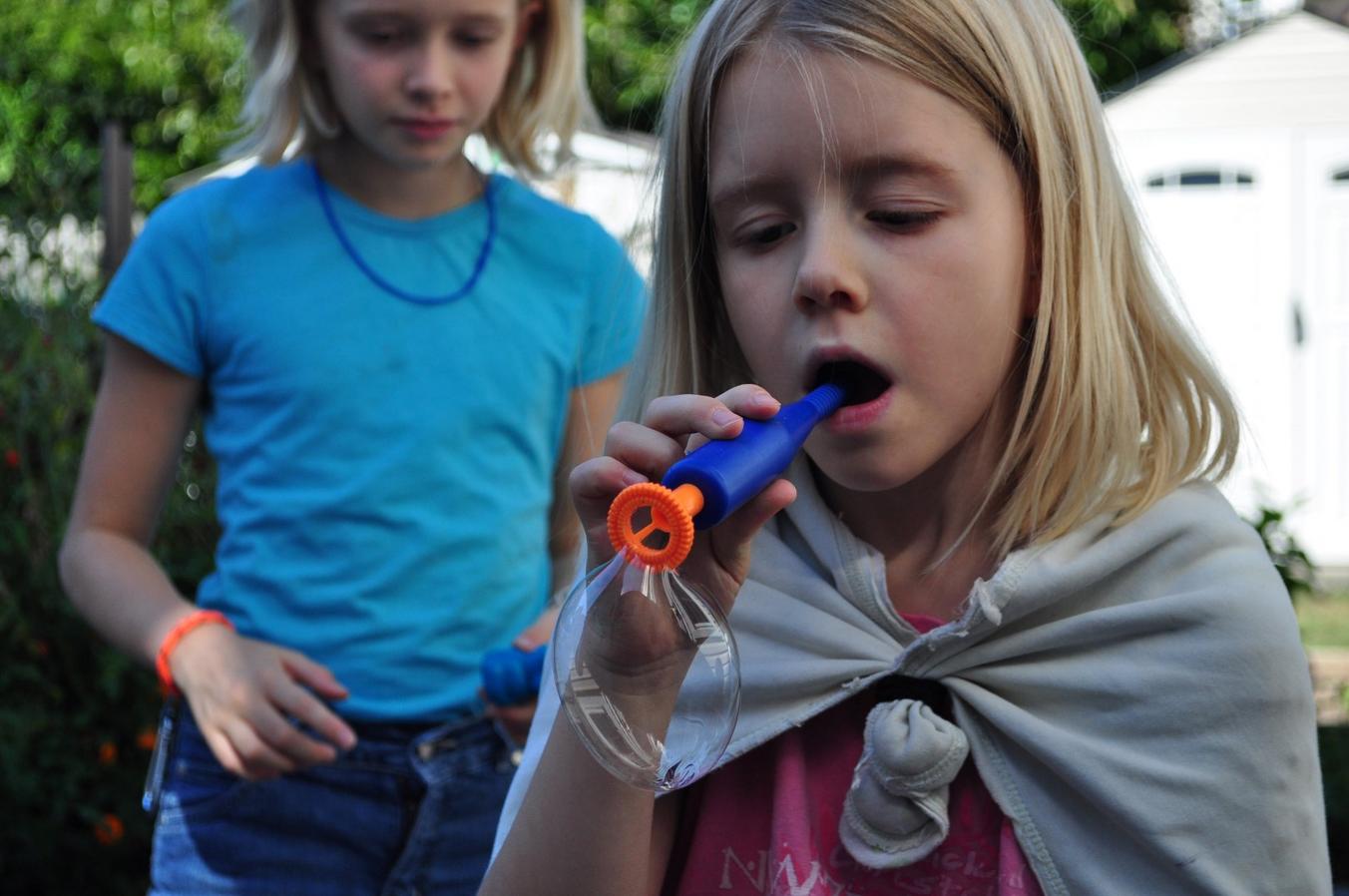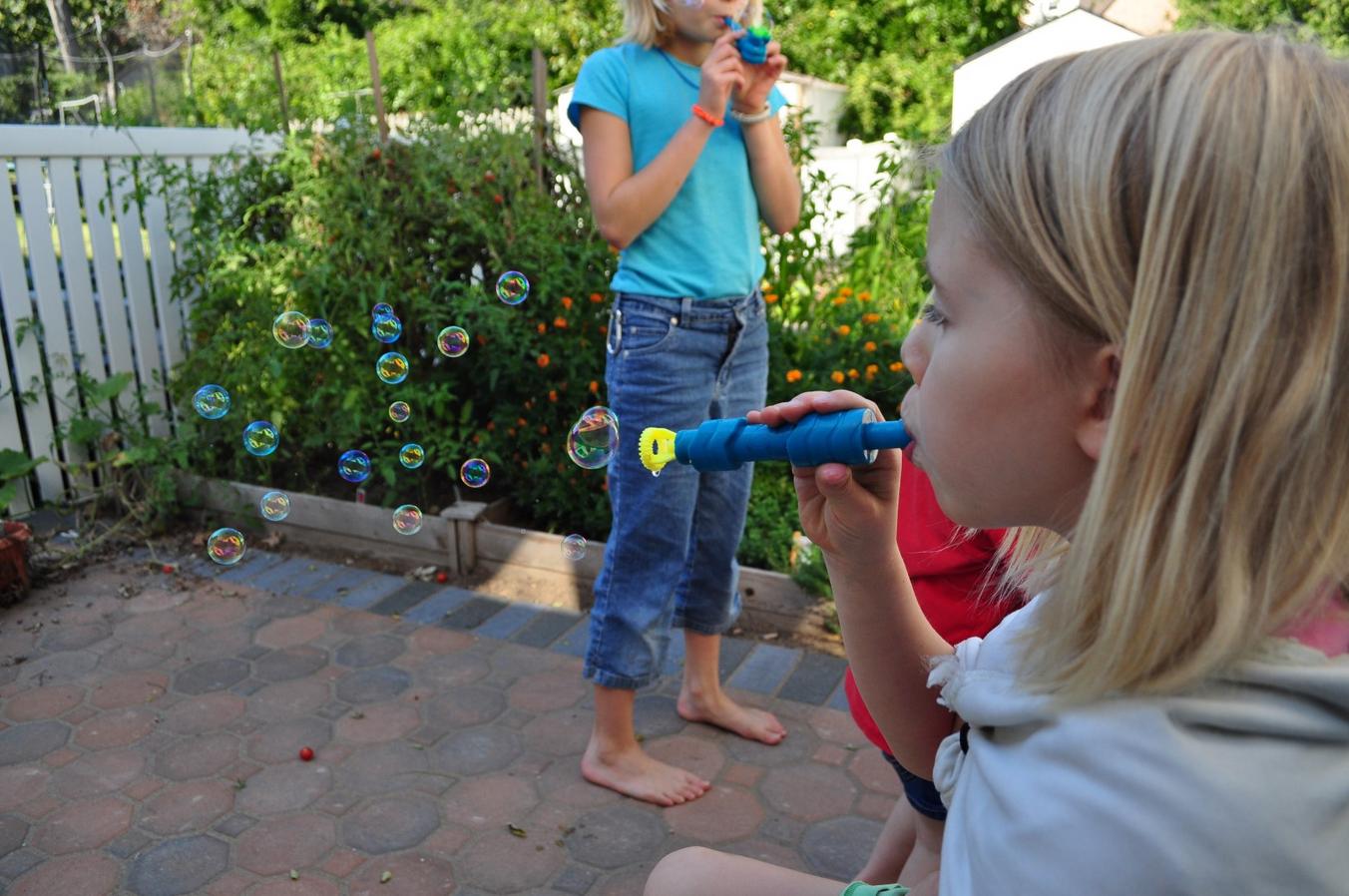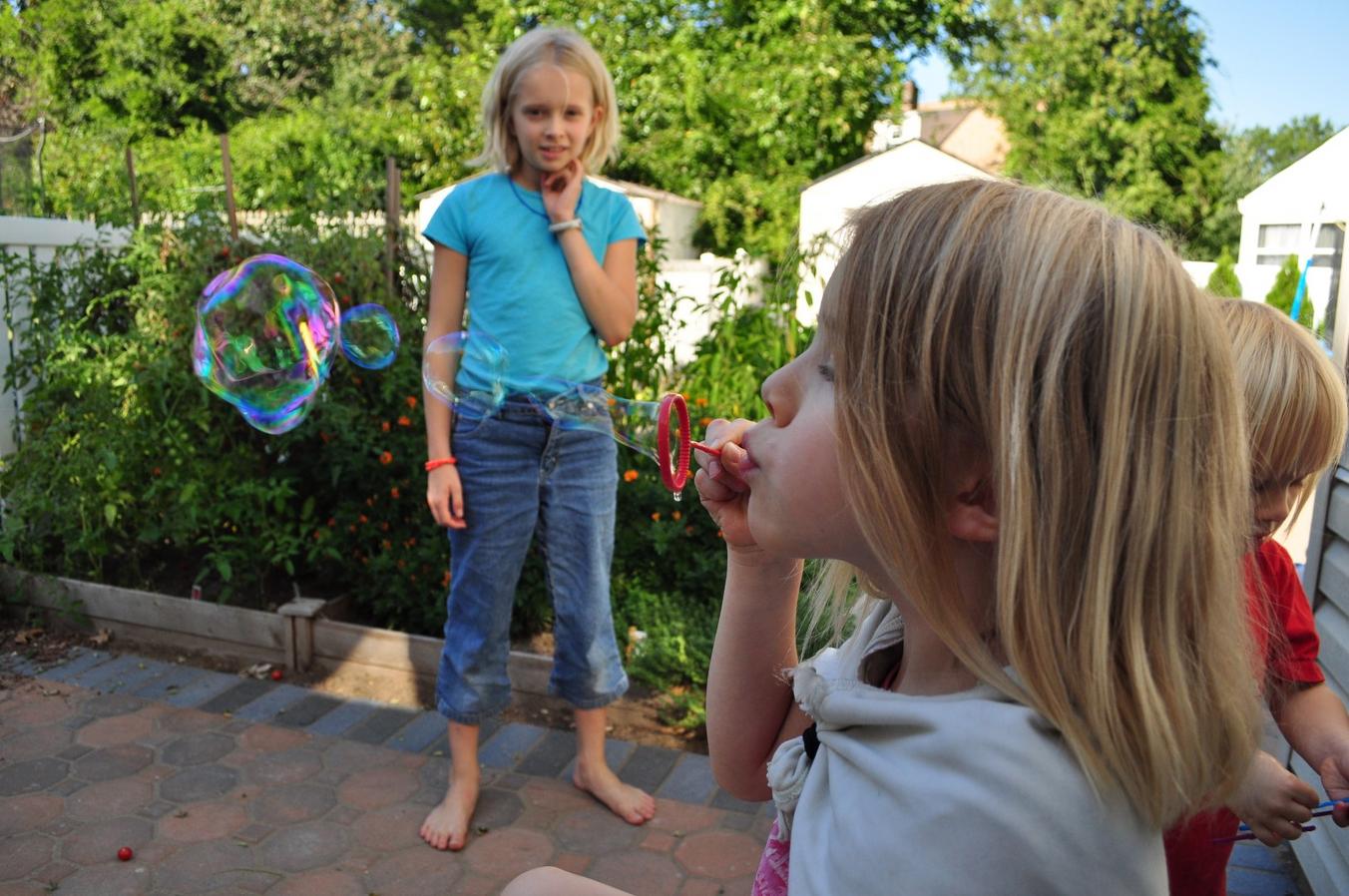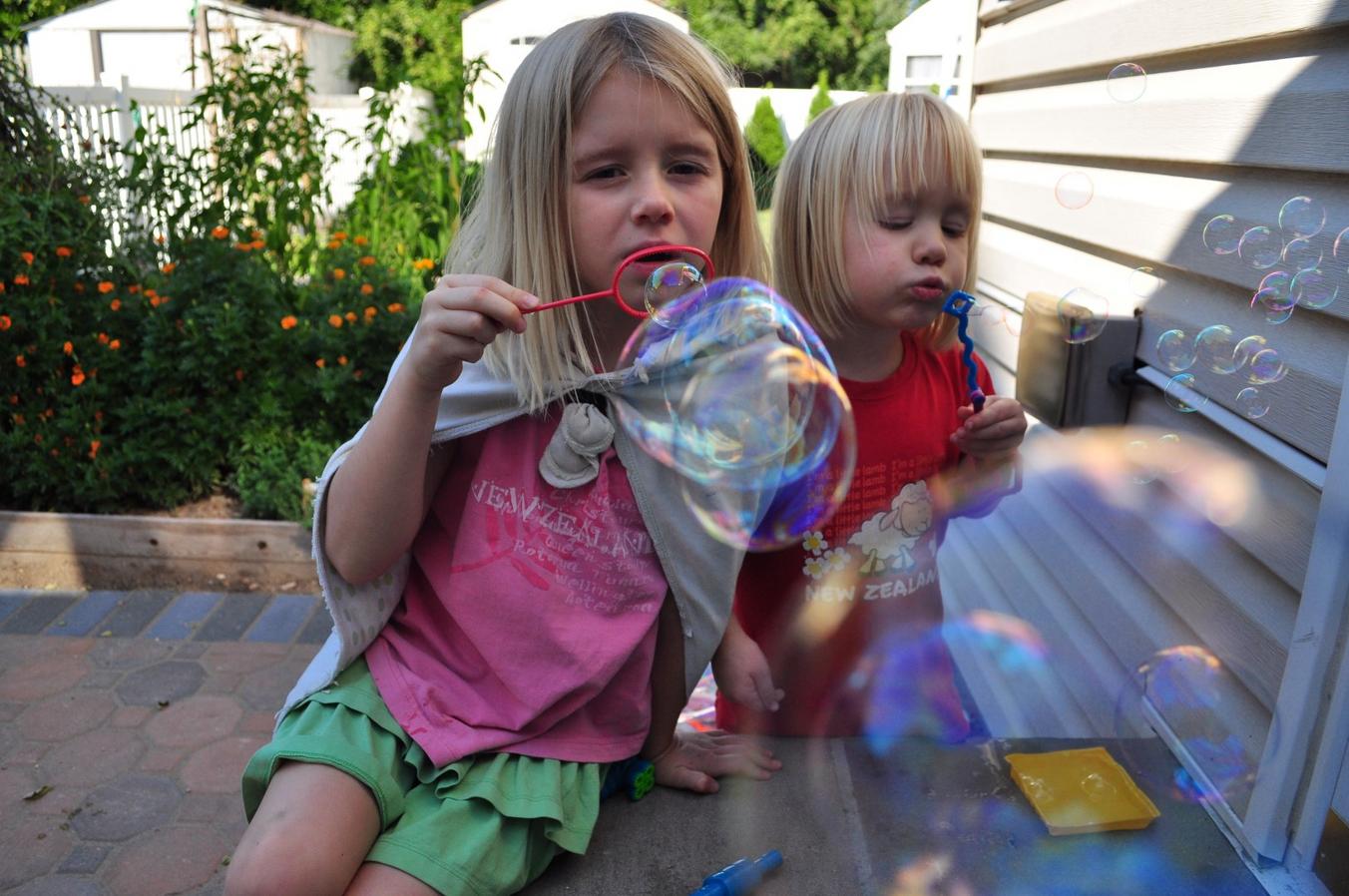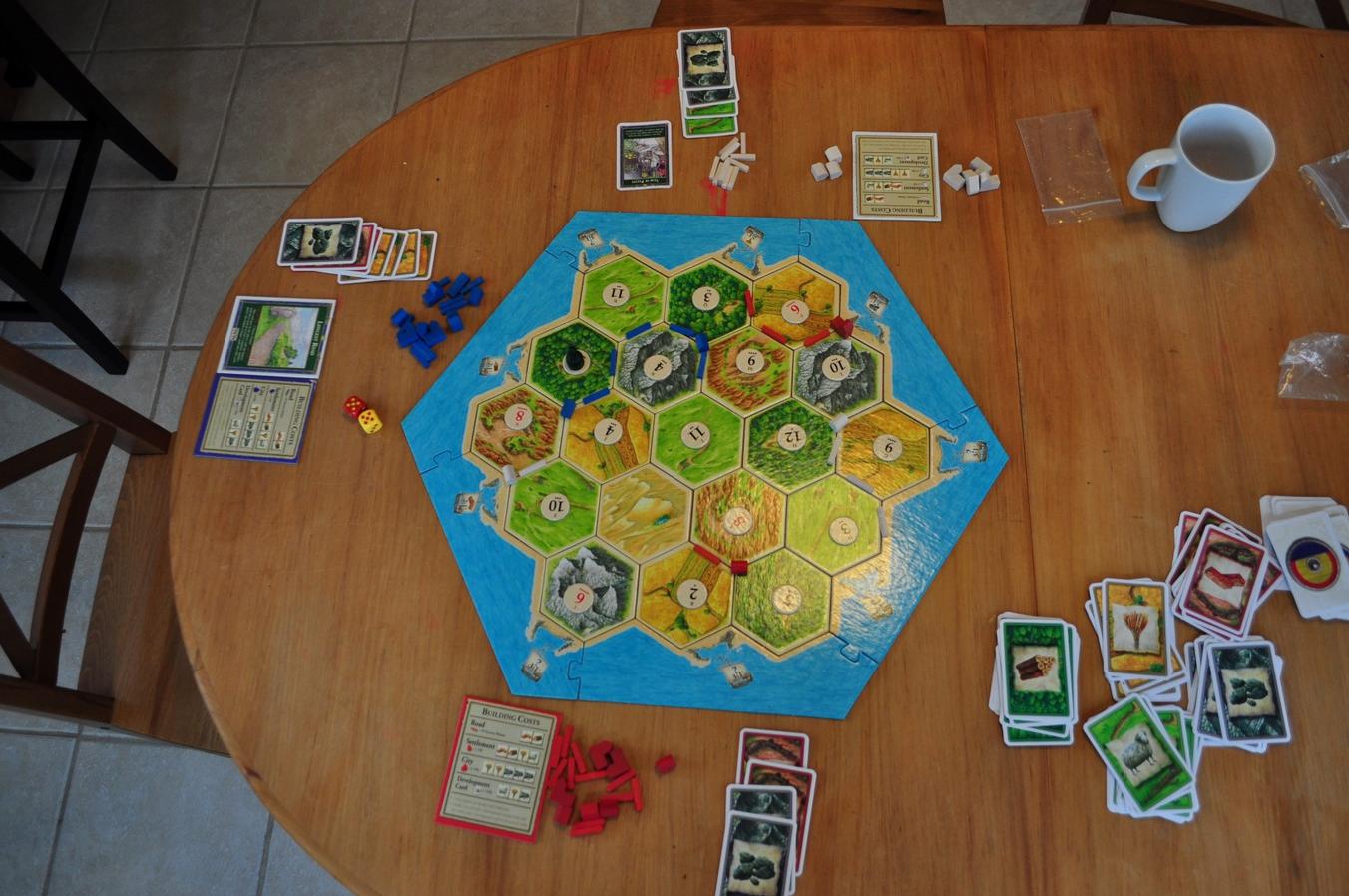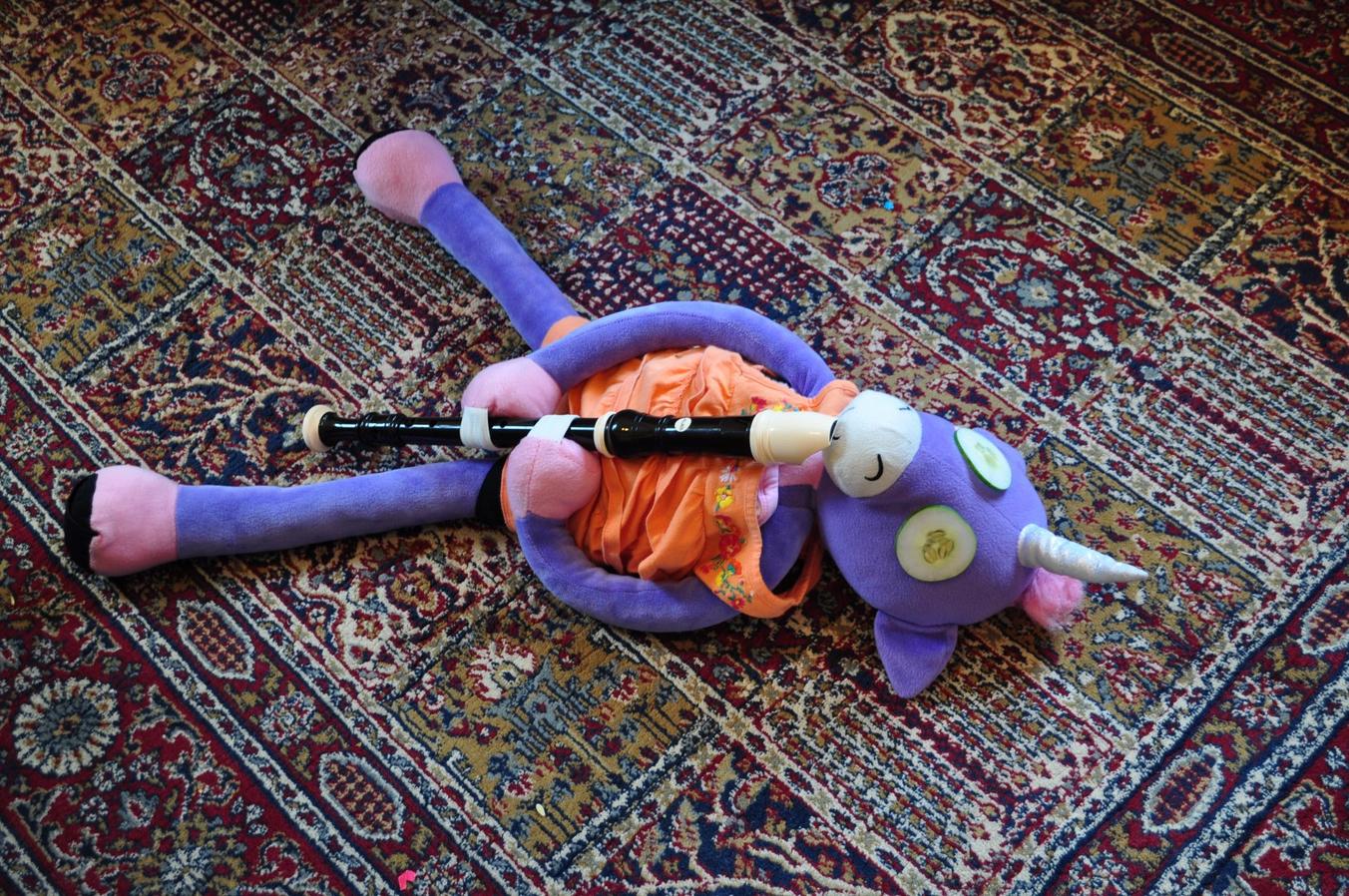 One funny thing: sometimes when the older girls set the table, they like to write names on napkins, which takes the whole meal up a couple of notches on the fancy scale. One time Esther took this a step further even, and came up with descriptions too. Esther's description of Marica had me in the kind of laughter that's uncontrollable but that you're not allowed to show. Boy, these kids!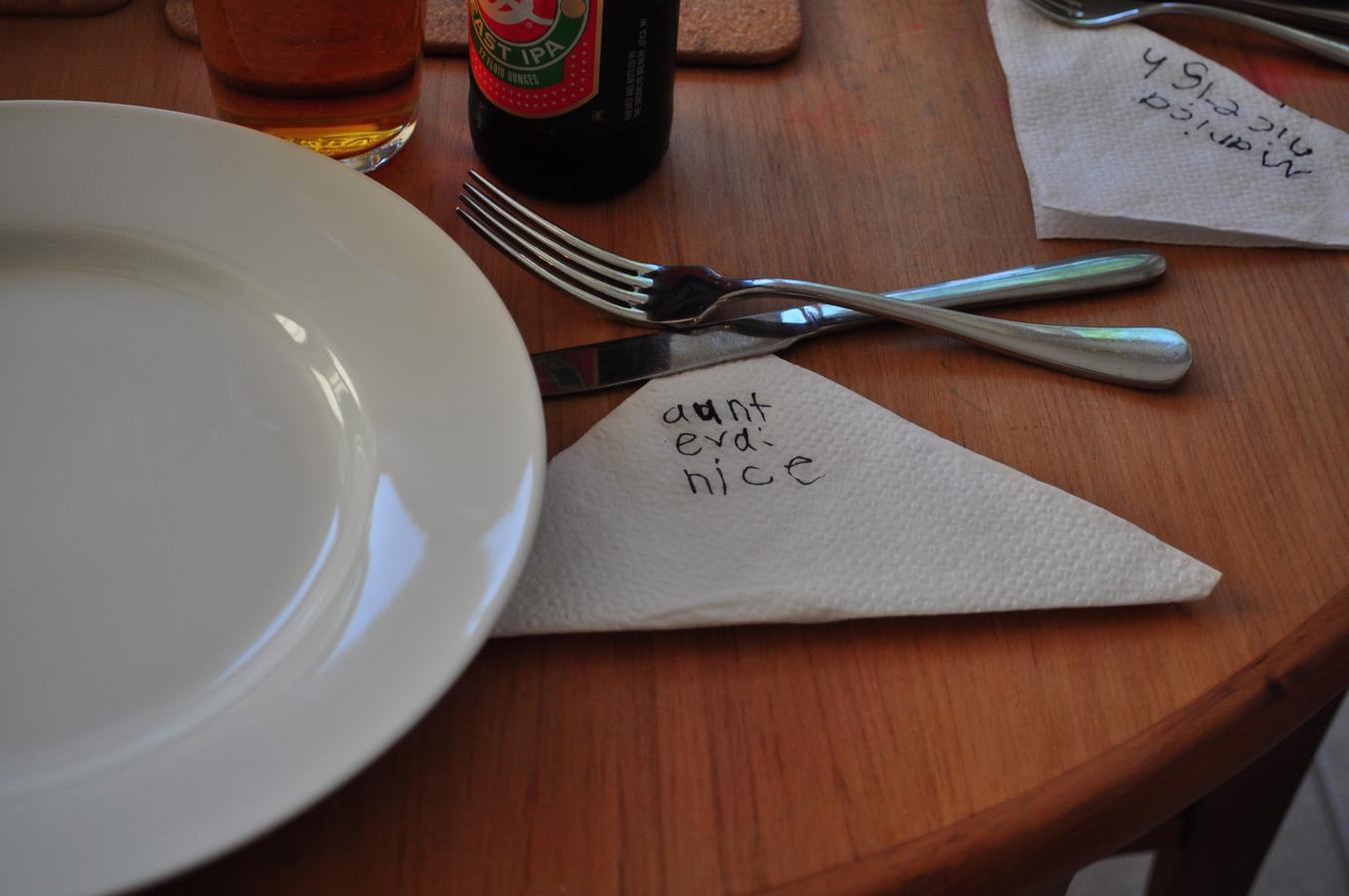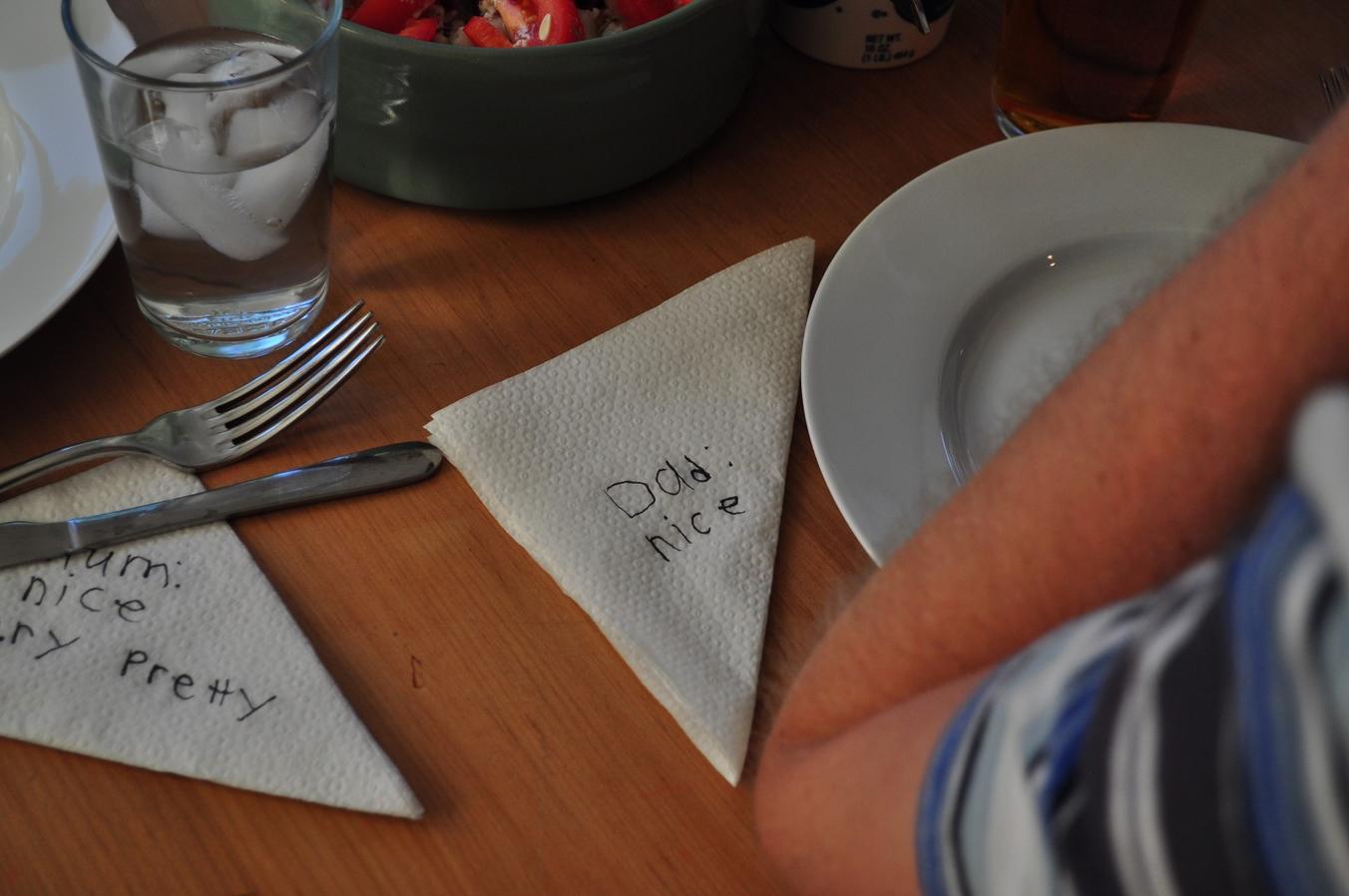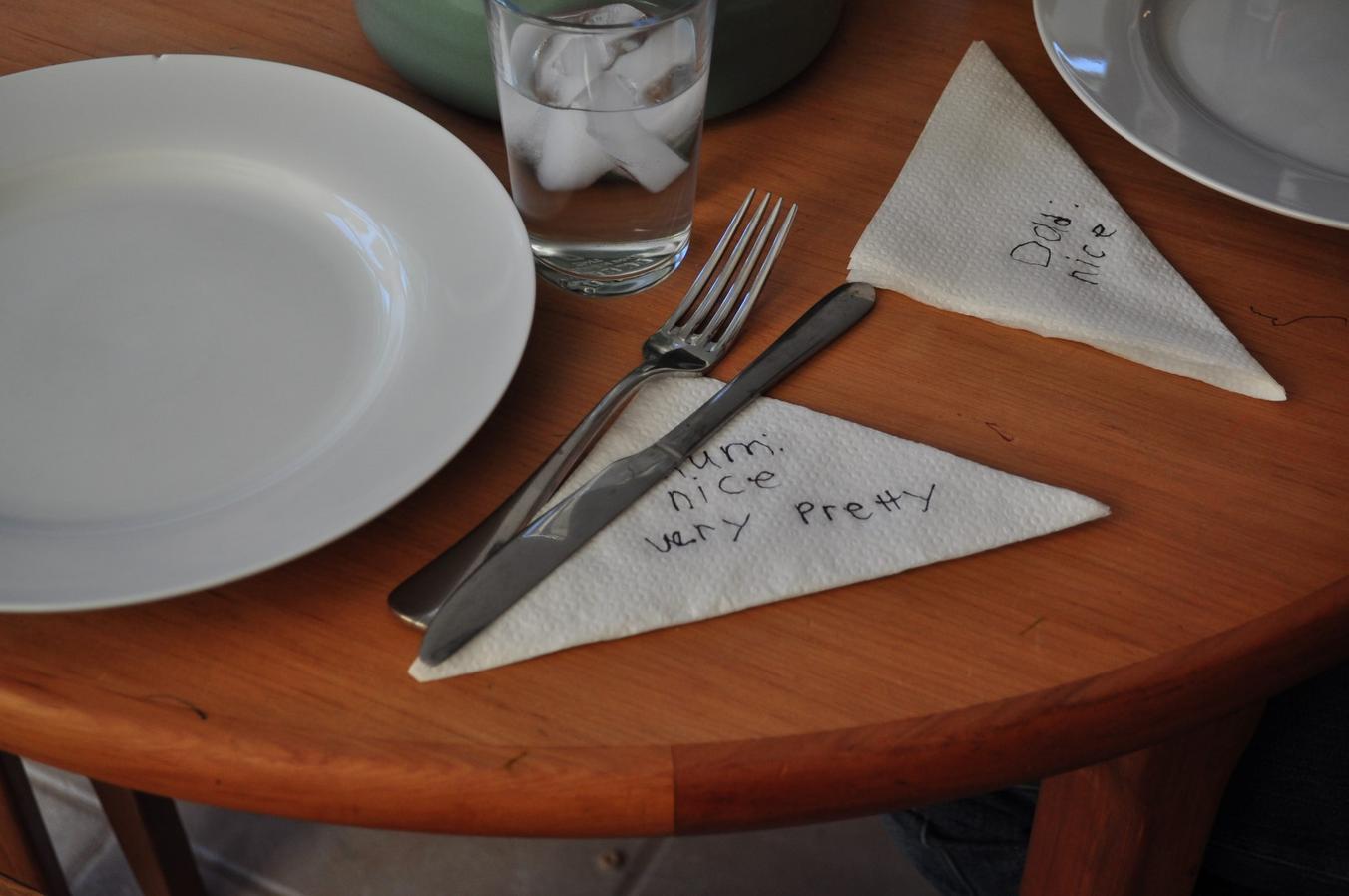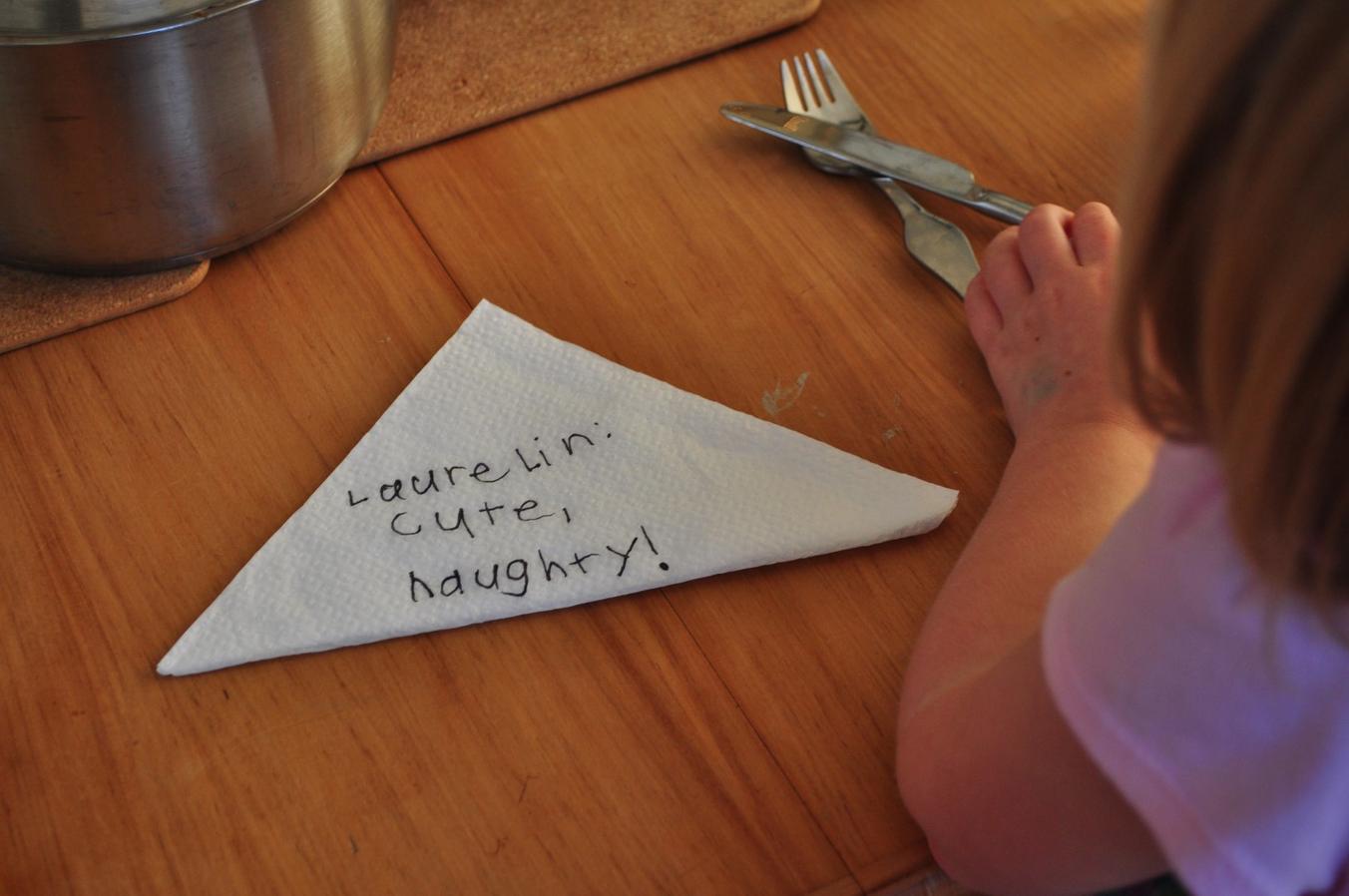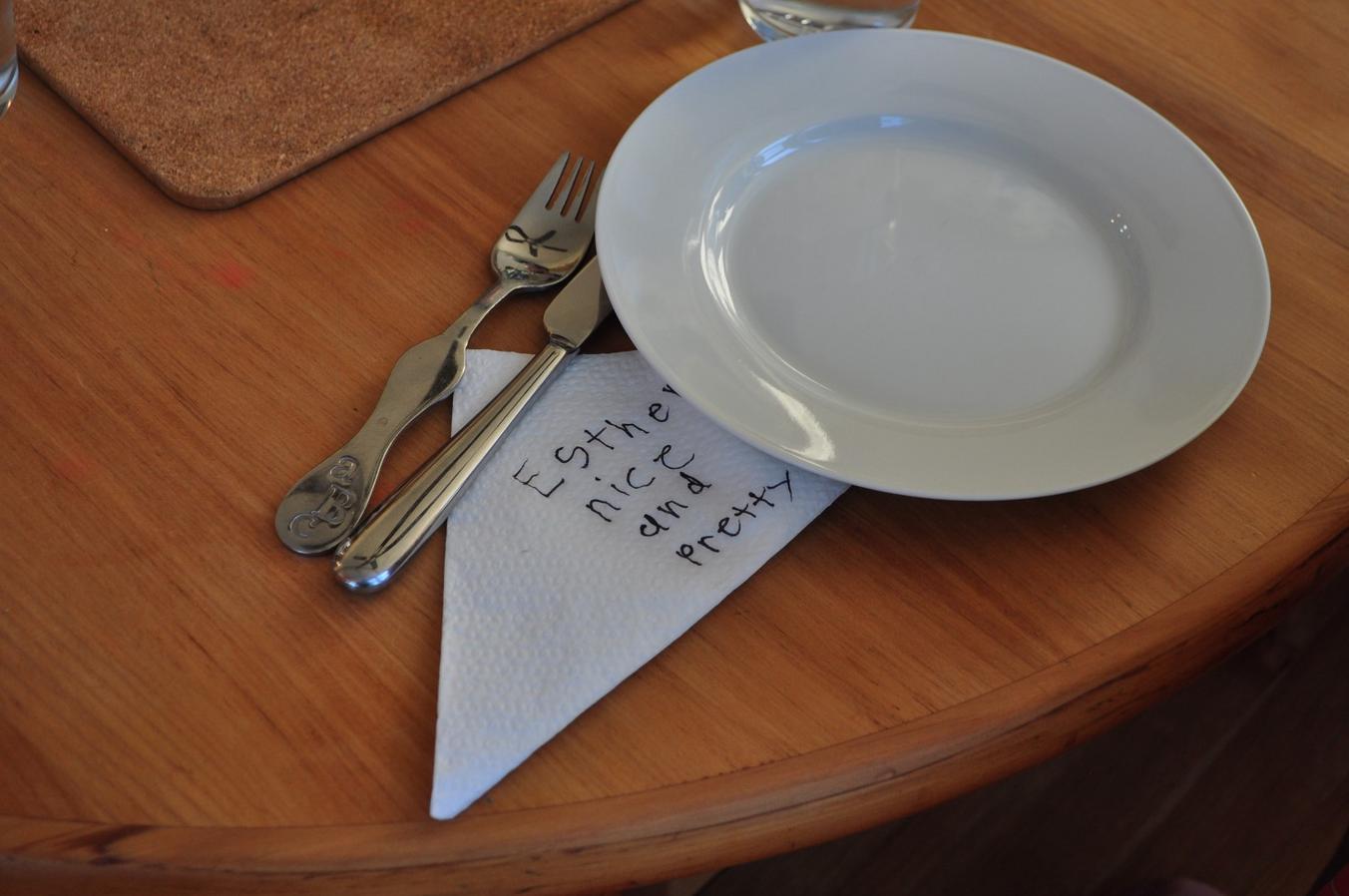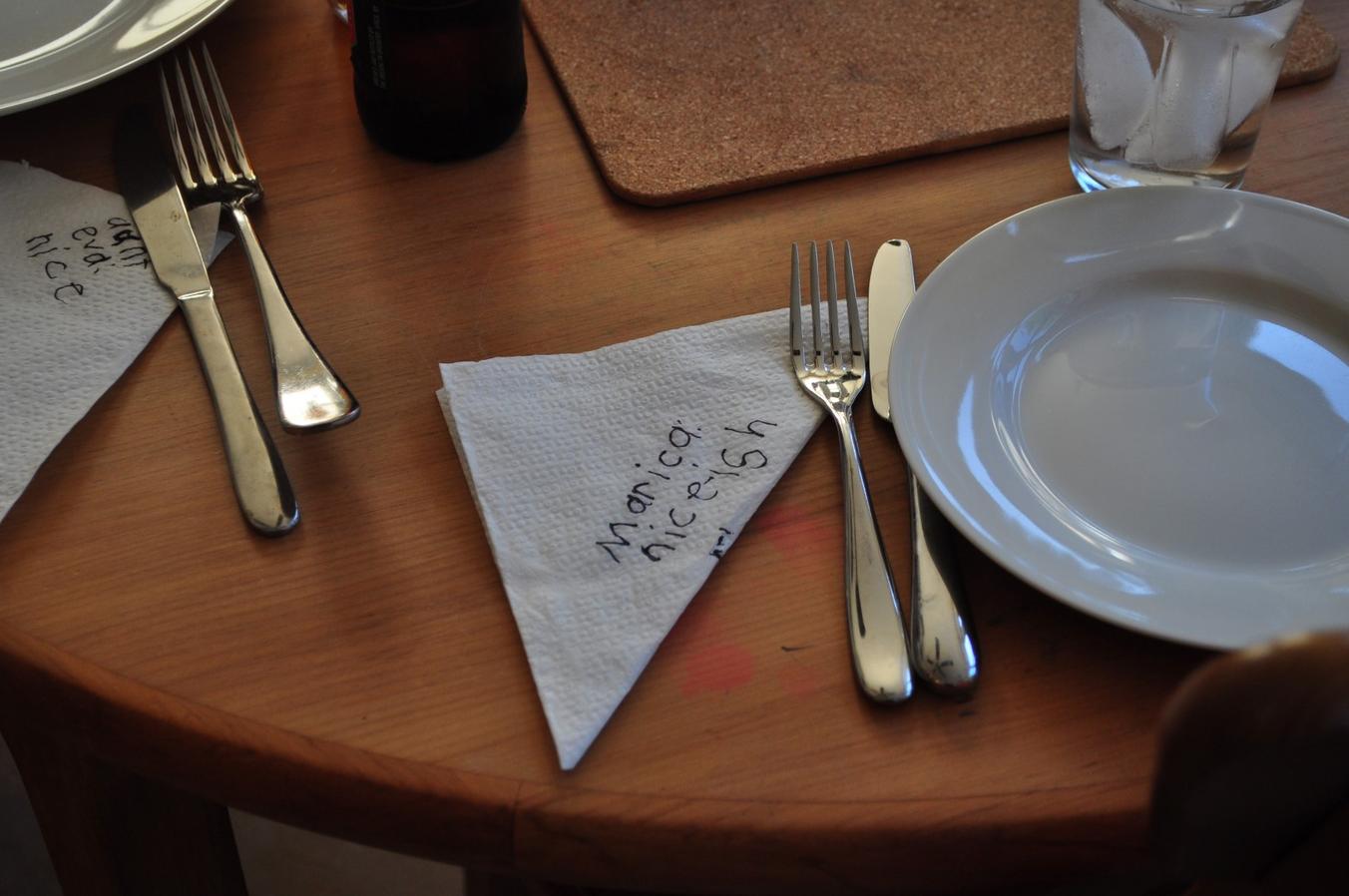 The kids also took part in some sort of summer 'camp' each: Marica went to 3-night camp with her friend, Willow; Esther went to a week-long art camp in the mornings, and Laurelin went to the summer program at her preschool to get her used to the new environment. They also did a VBS (Vacation Bible School) at a sister church about 20 minutes drive from here, which they really enjoyed.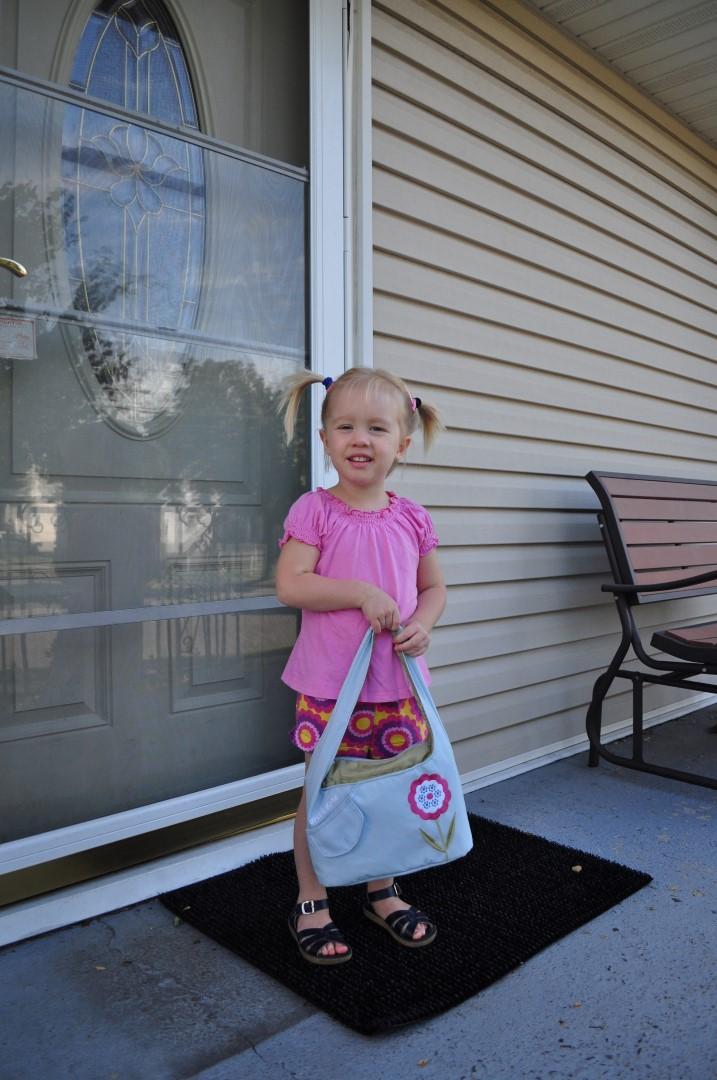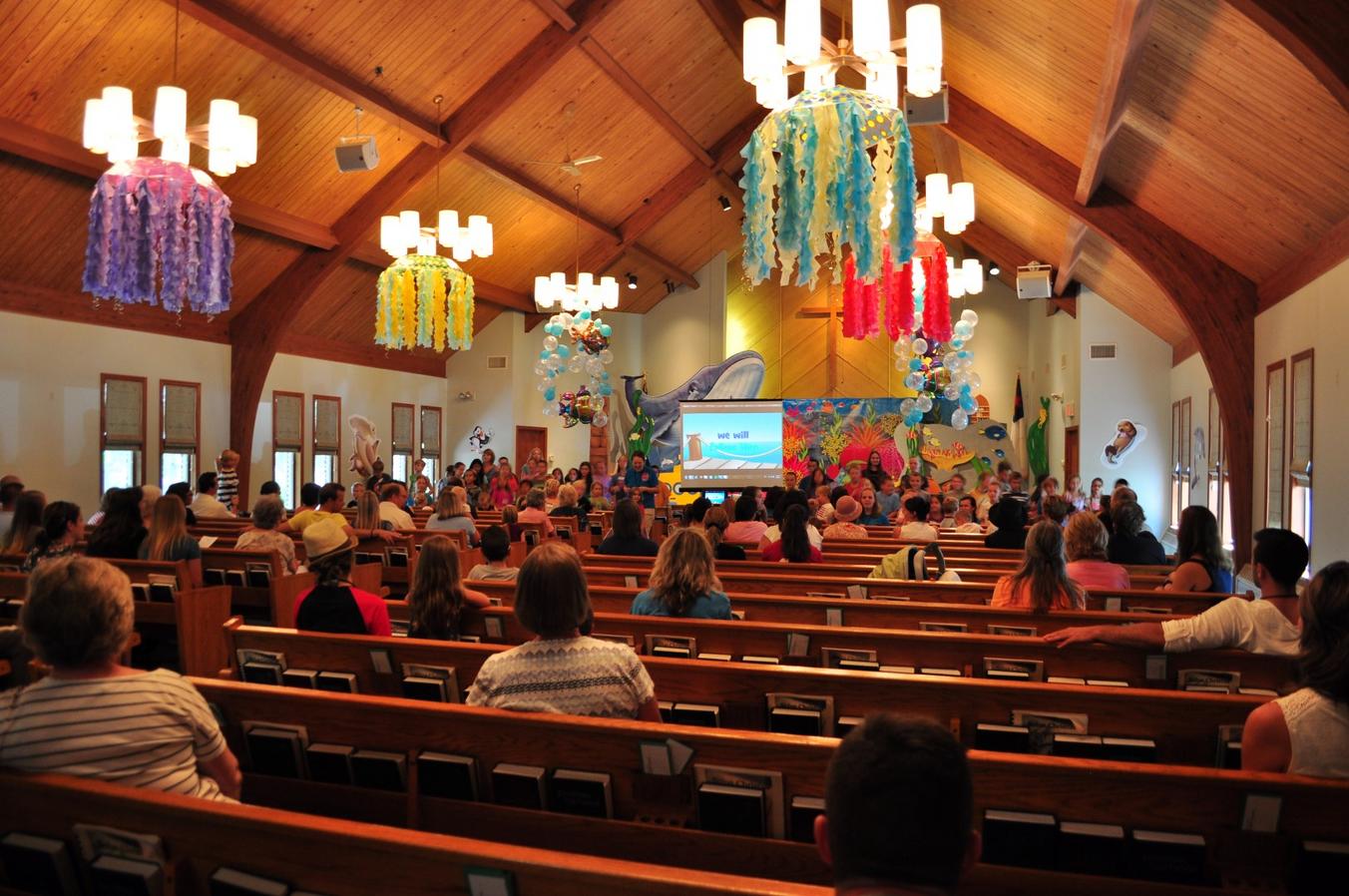 In August we traveled down to Tennessee again, this time for cousin Hannah's wedding to Peter Weston. It was a beautiful affair, and a delight to spend even just a little time with so many great family members. Hannah looked amazing in a dress that reminded me of Kate Middleton's wedding dress. (Peter cleaned up pretty well too.) I was glad that I could be helpful with the flowers and with some last-minute stepping in to help with the cake decorating. We were especially glad to be able to spend some time with Aunt Marti, and thankful that God was gracious upheld her throughout all the busyness and festivities of the weekend.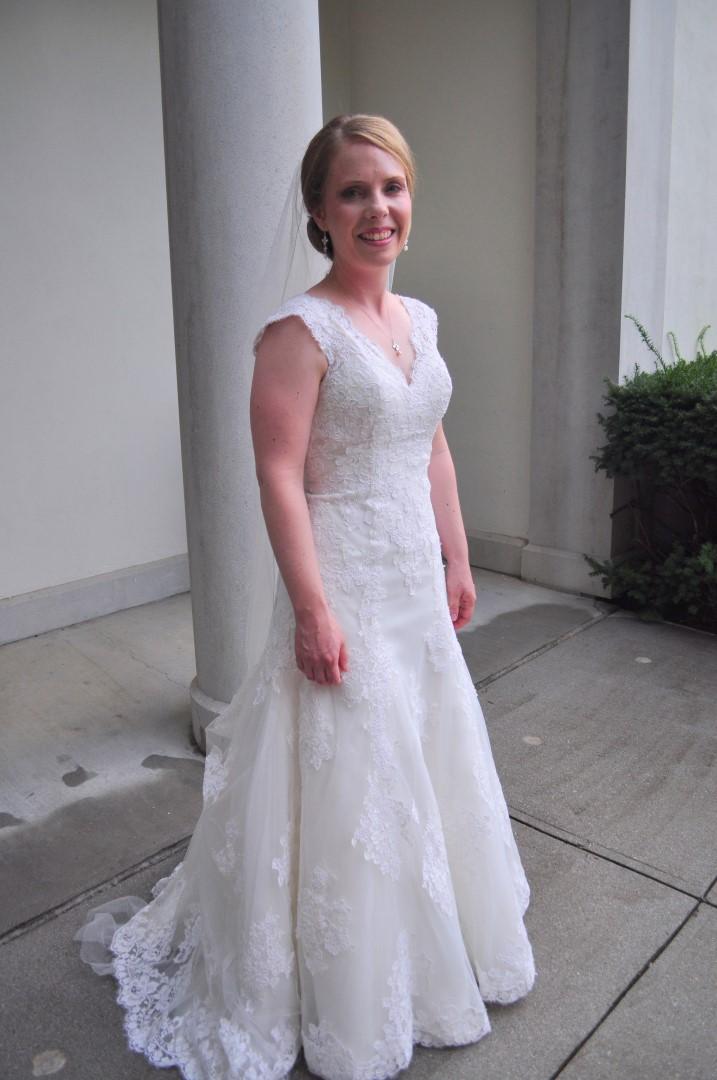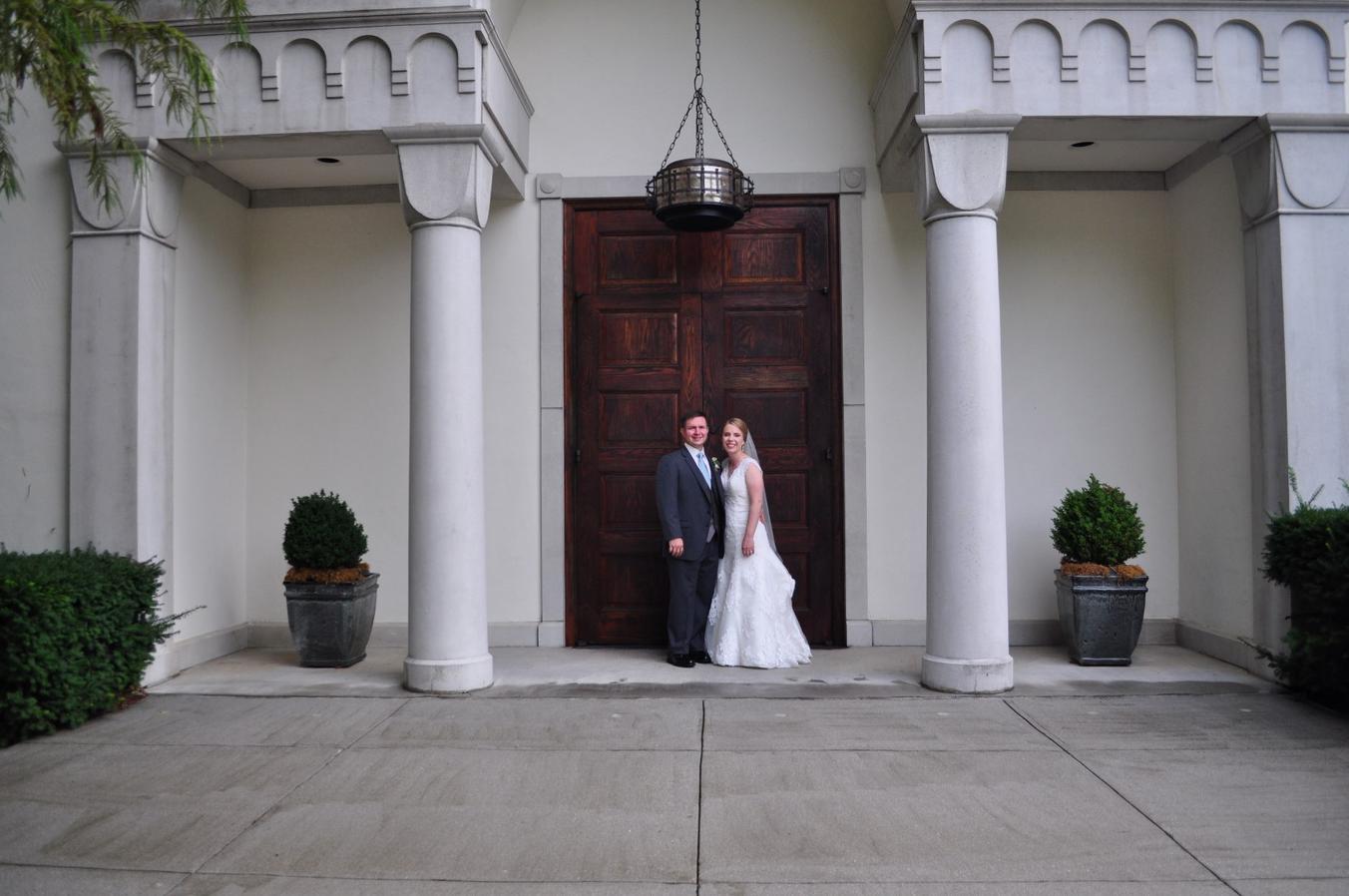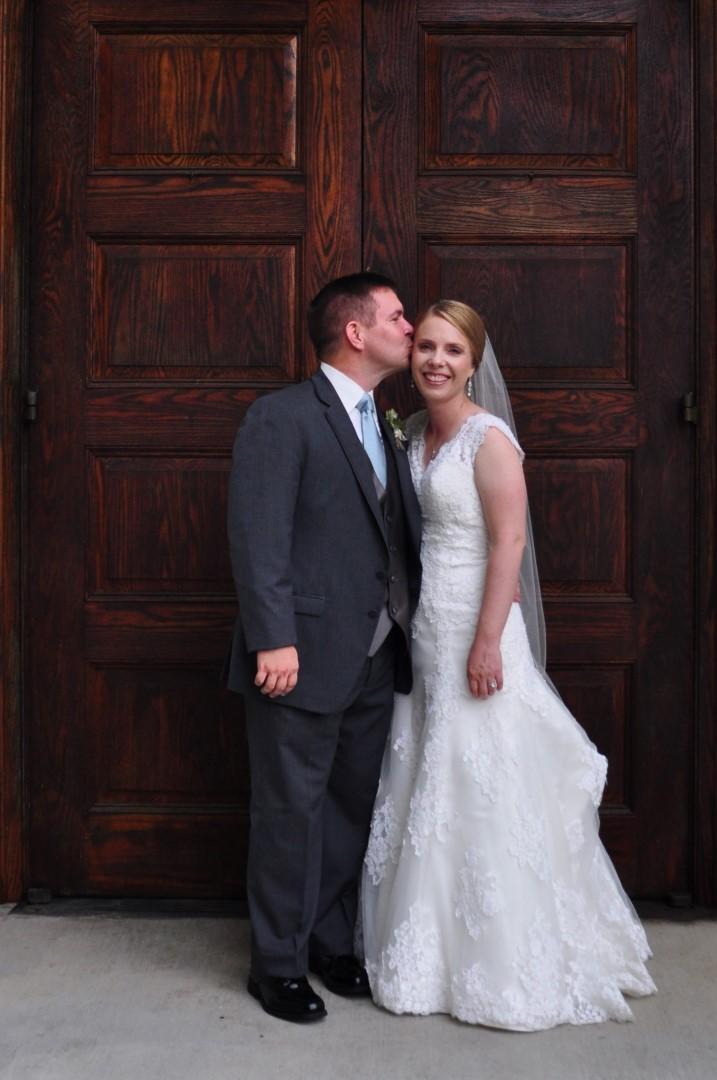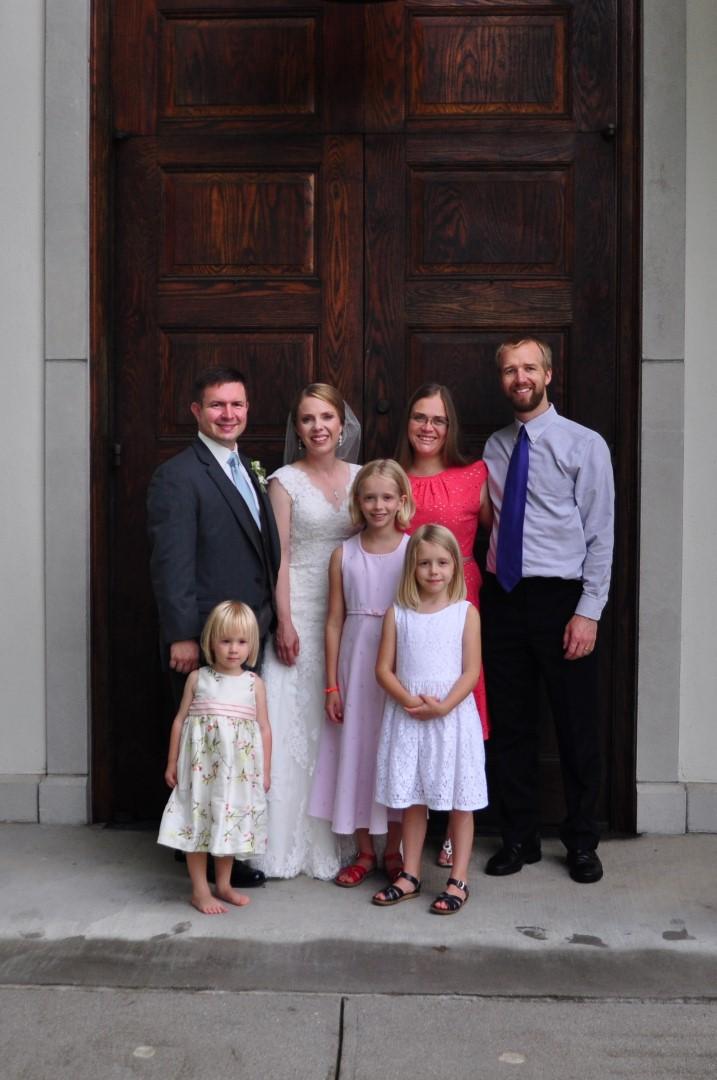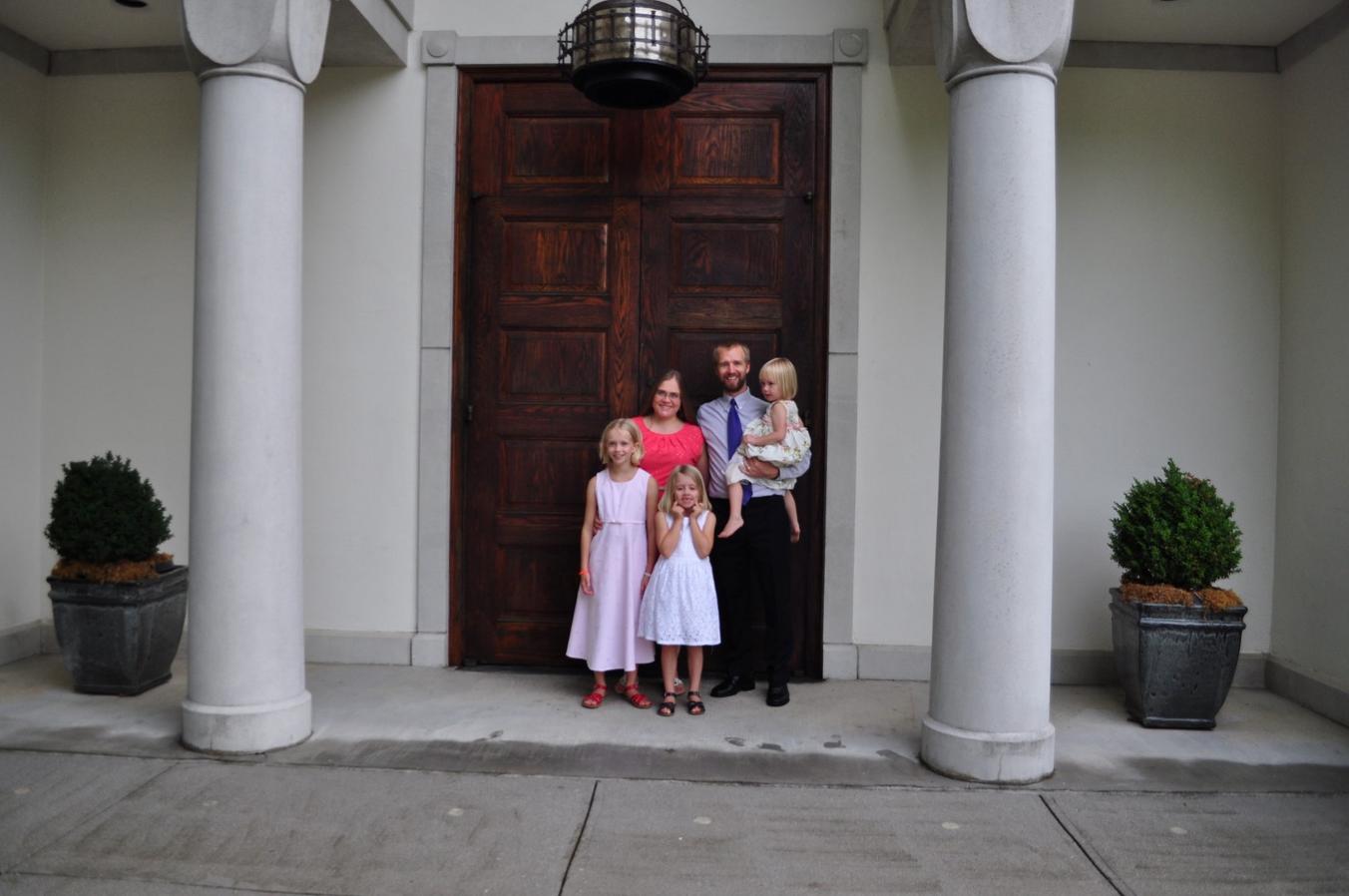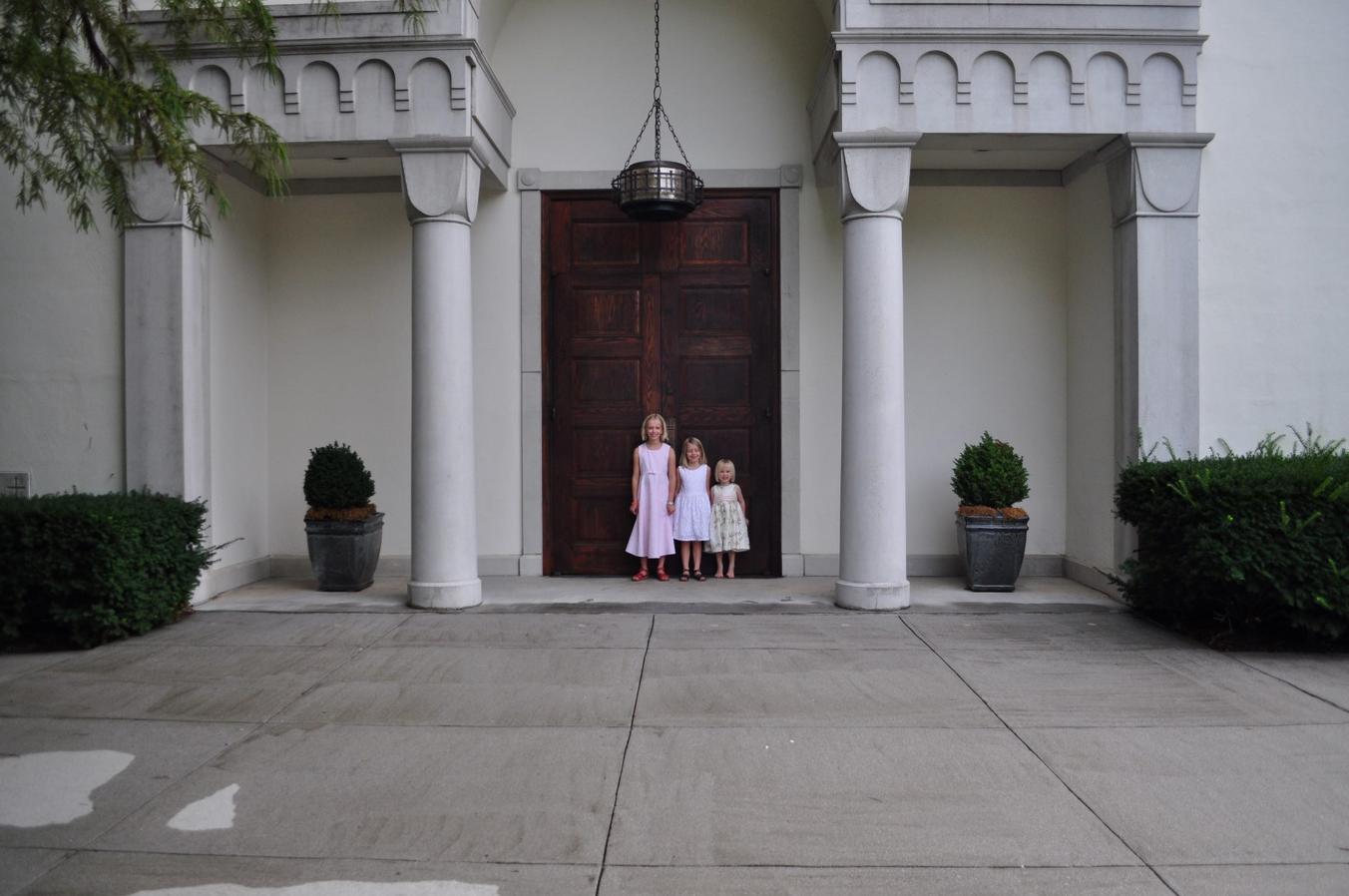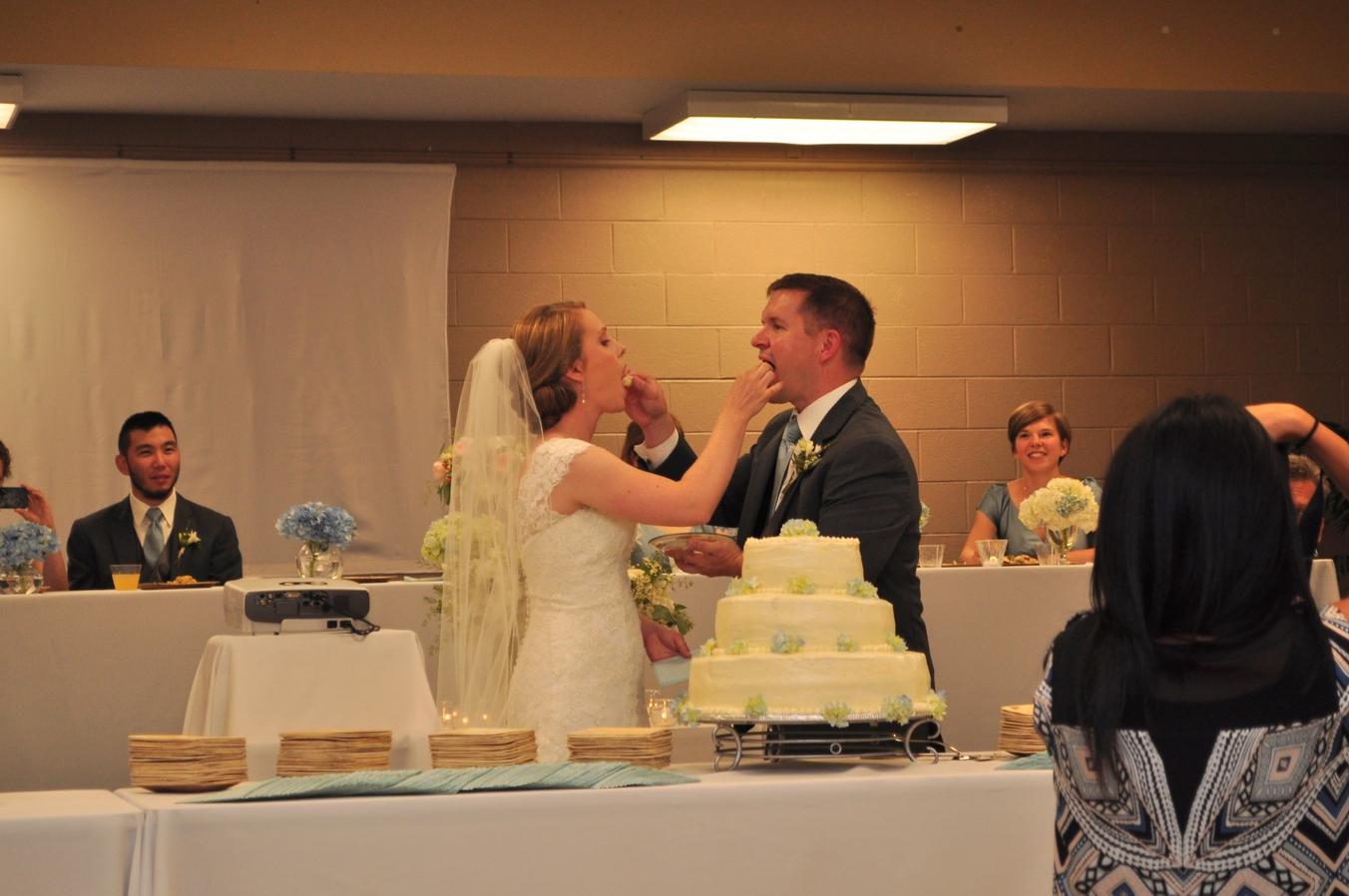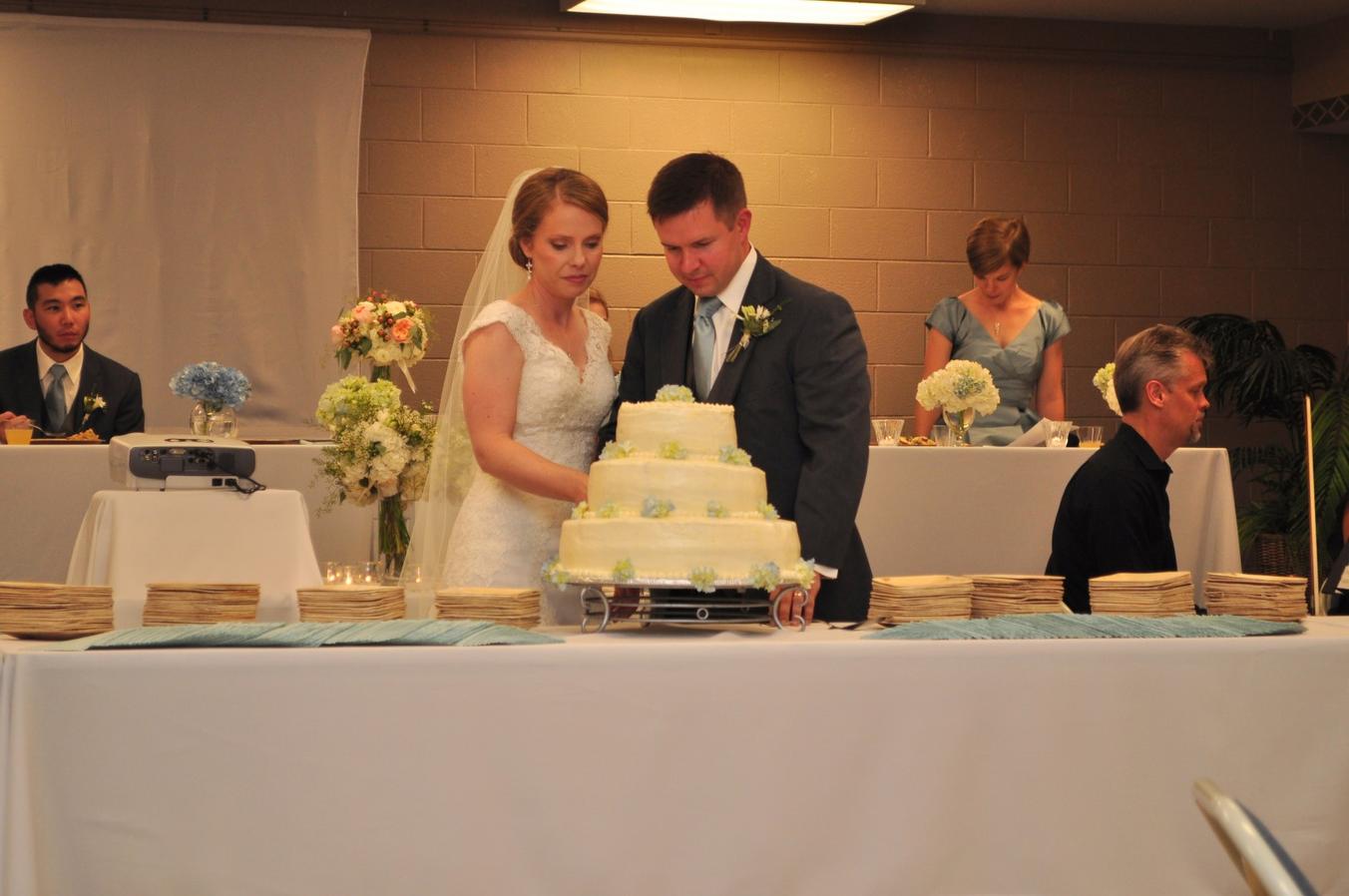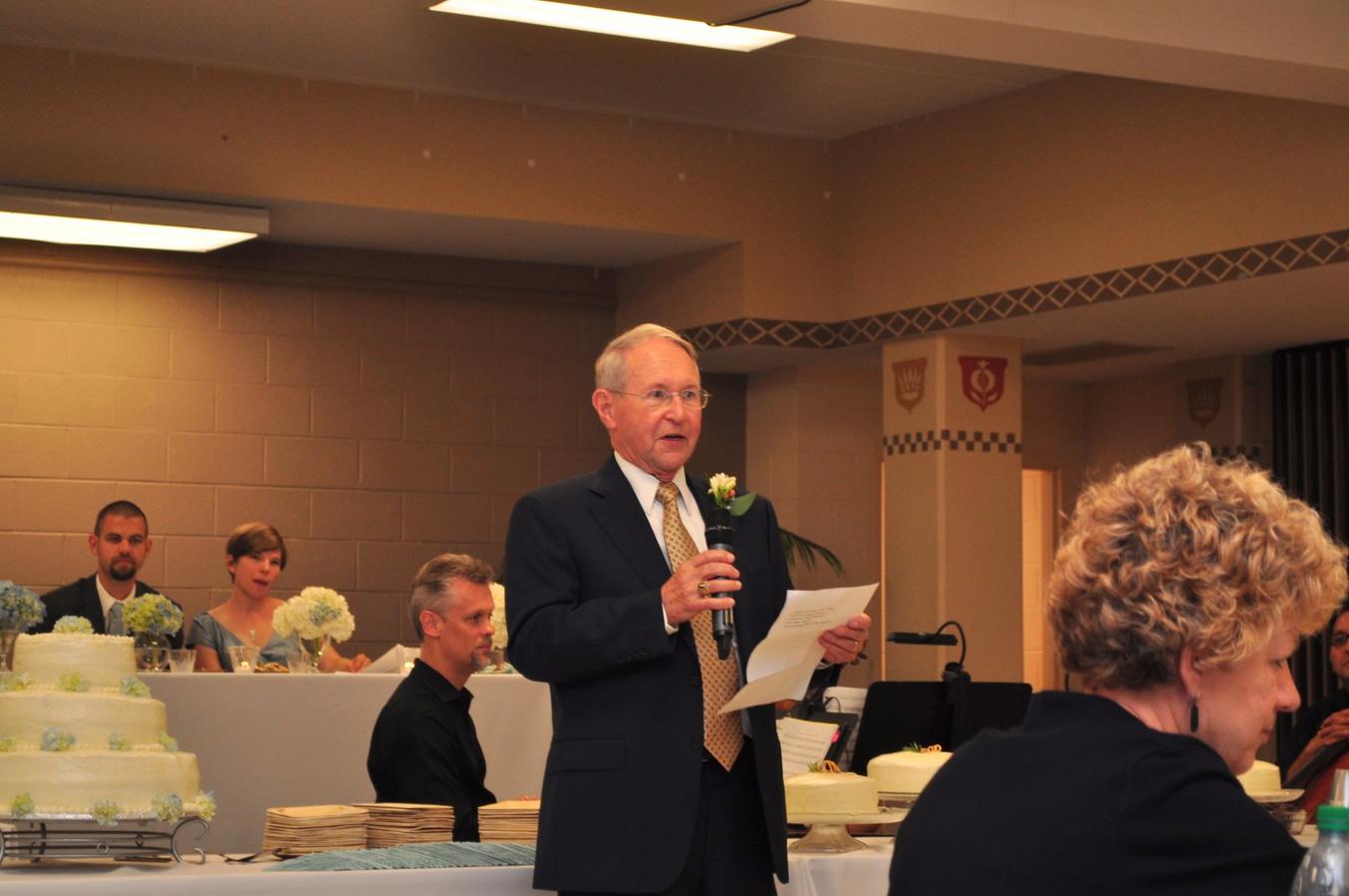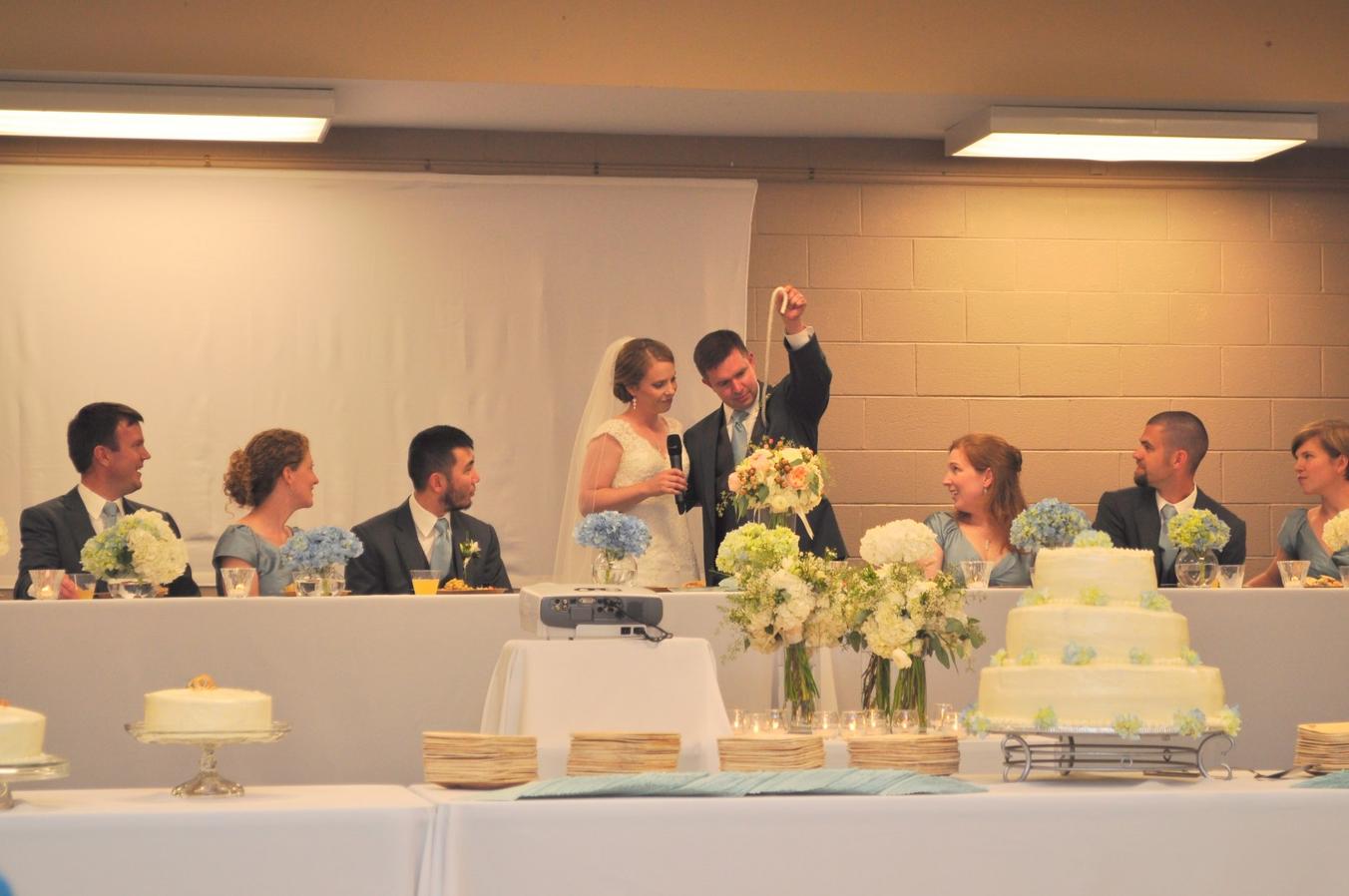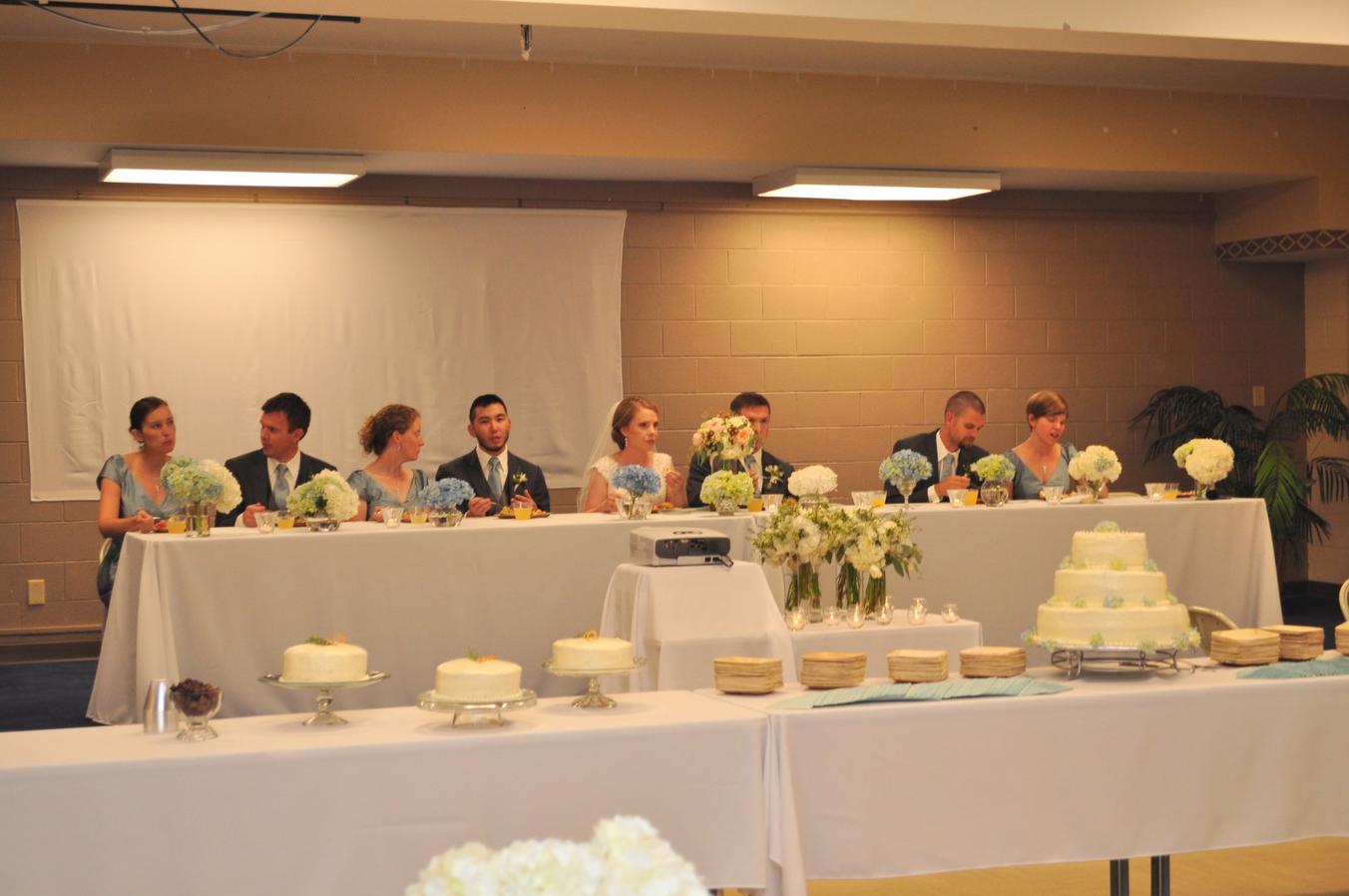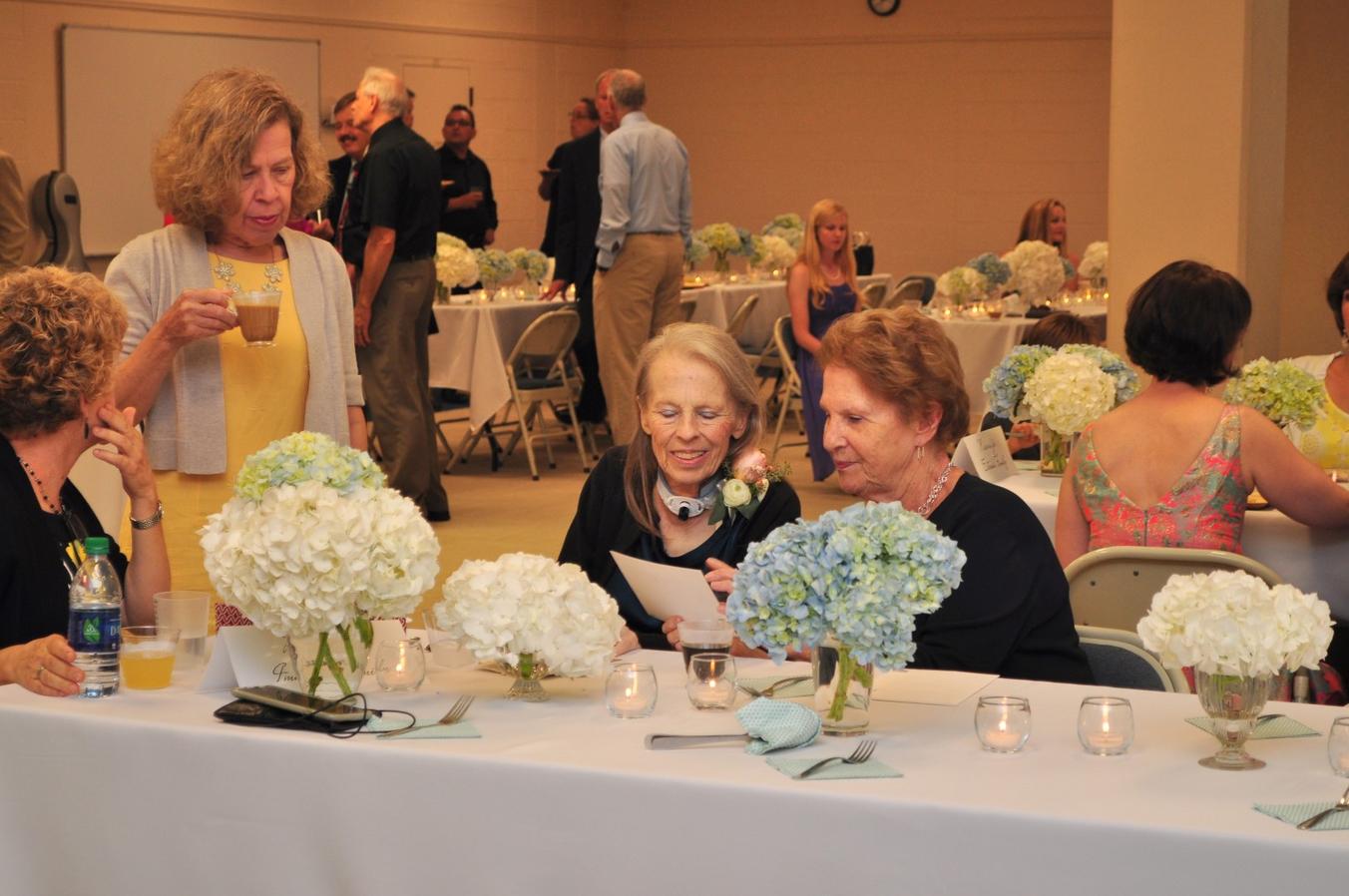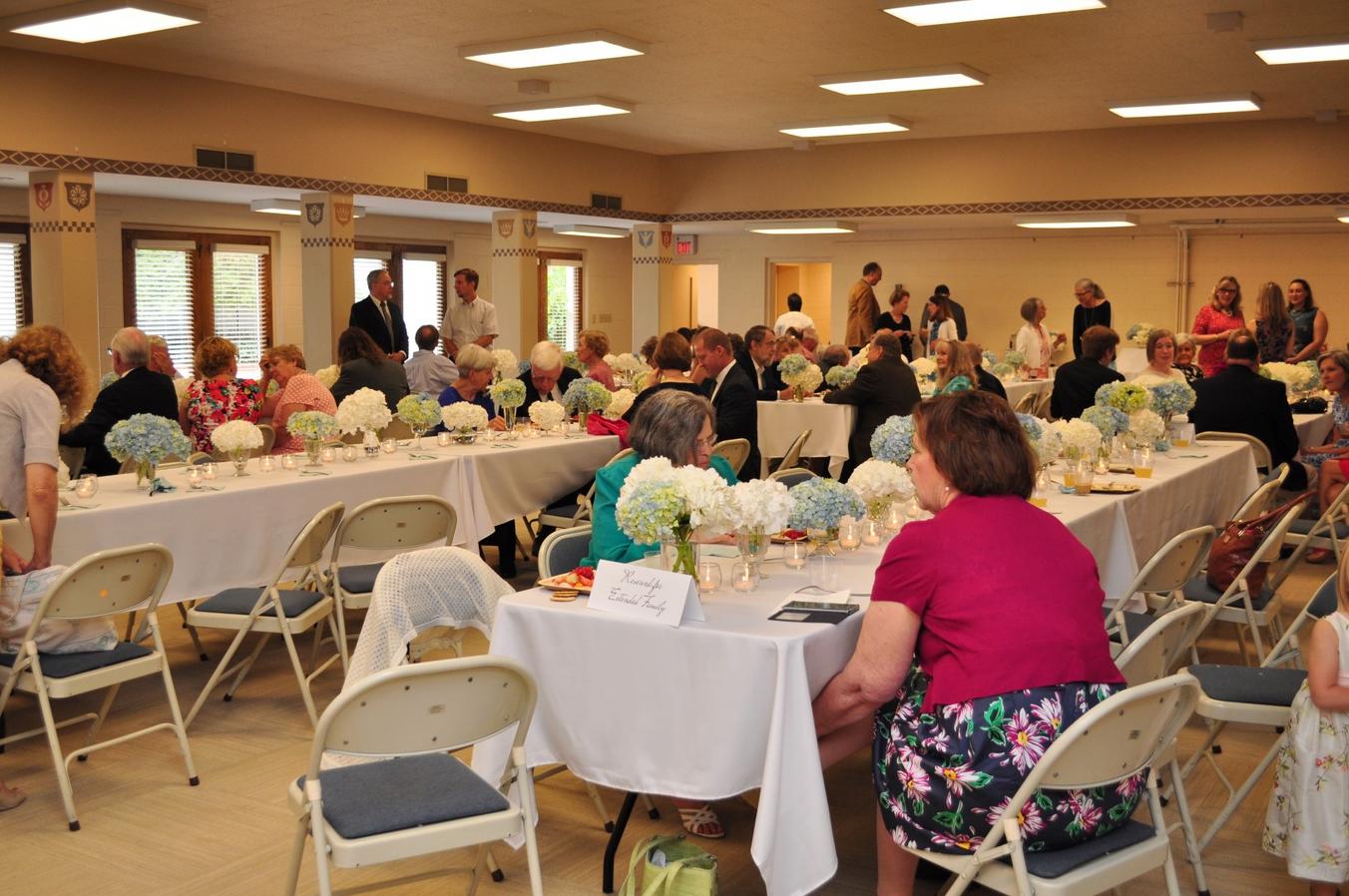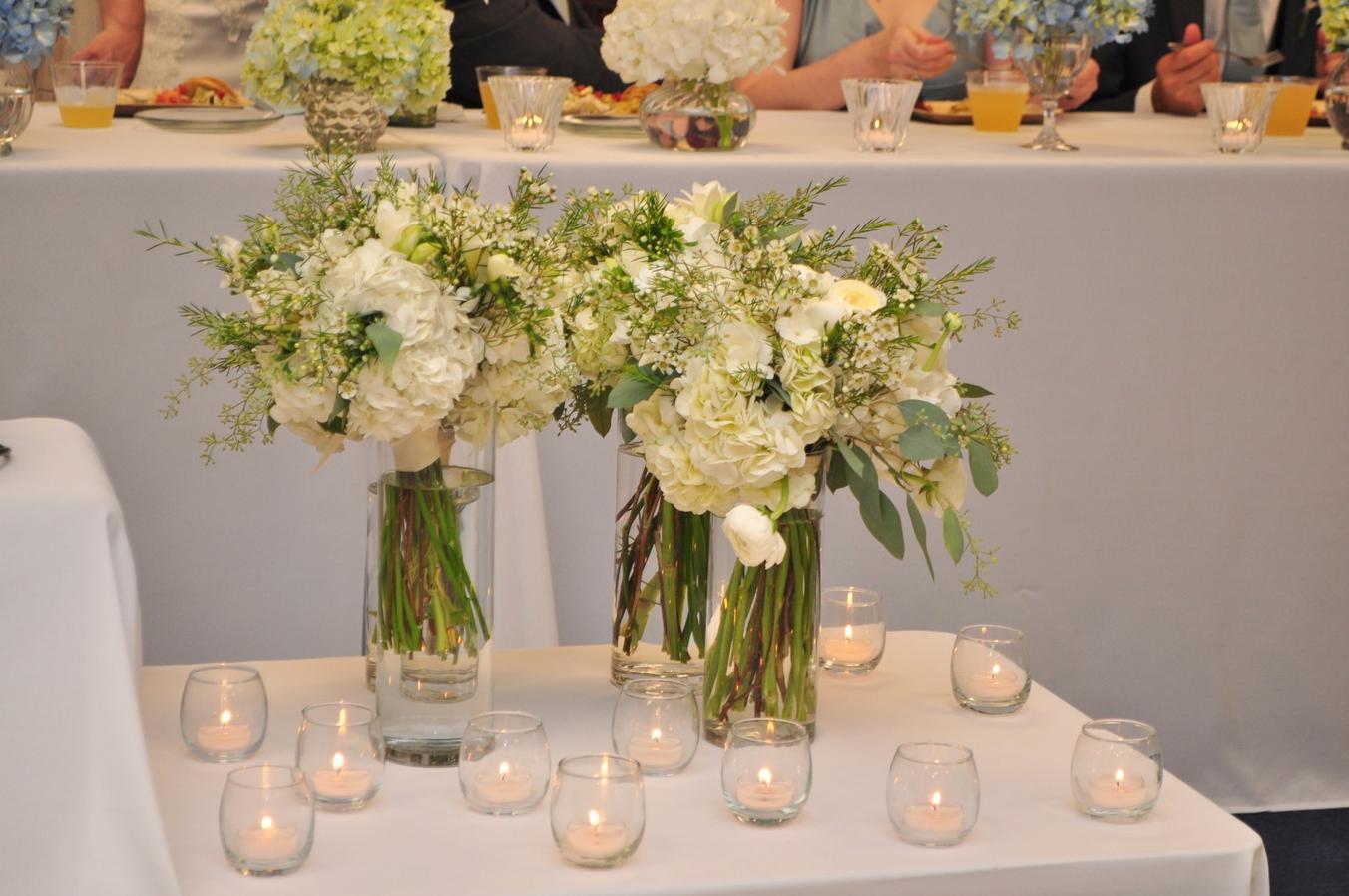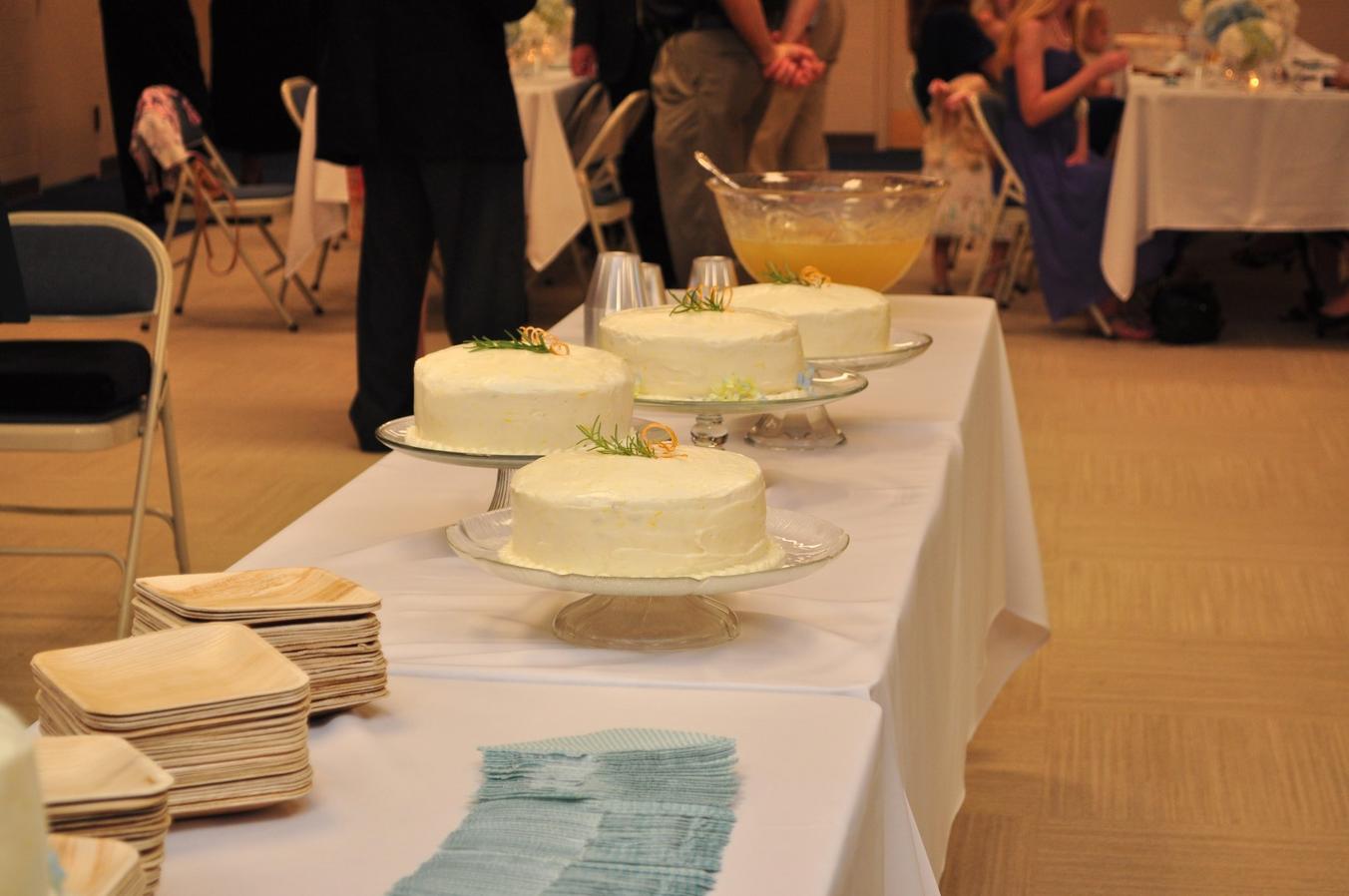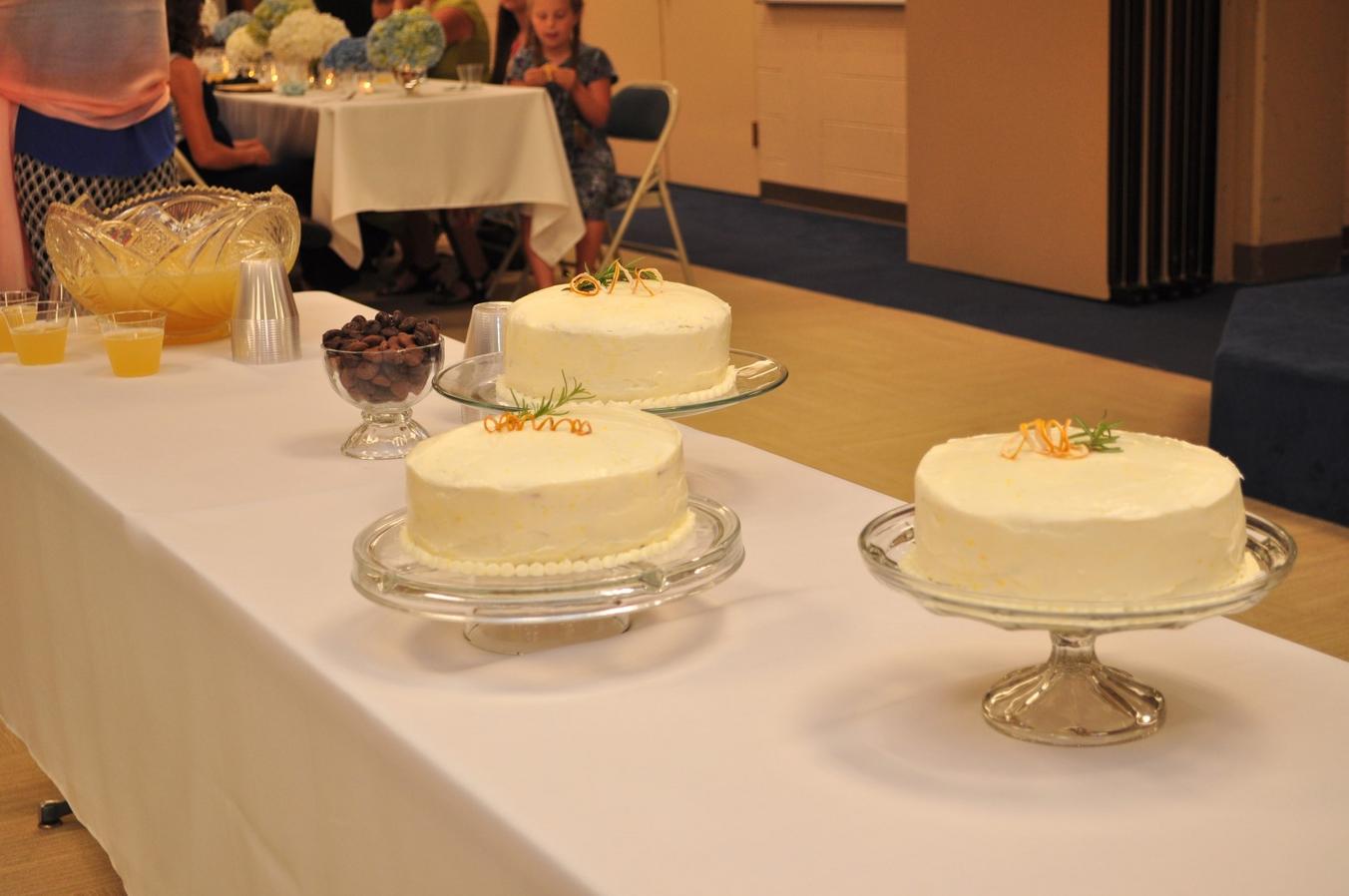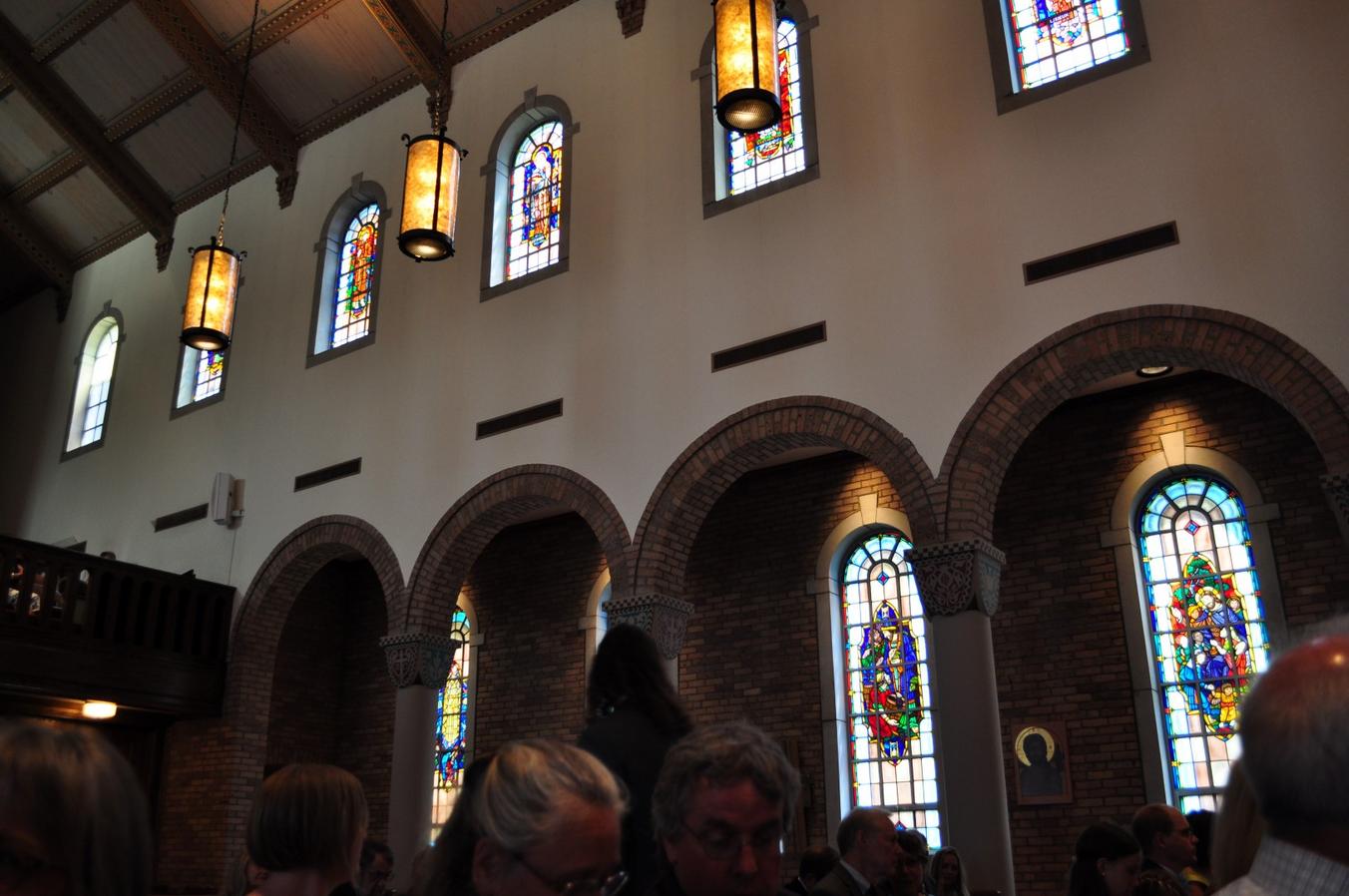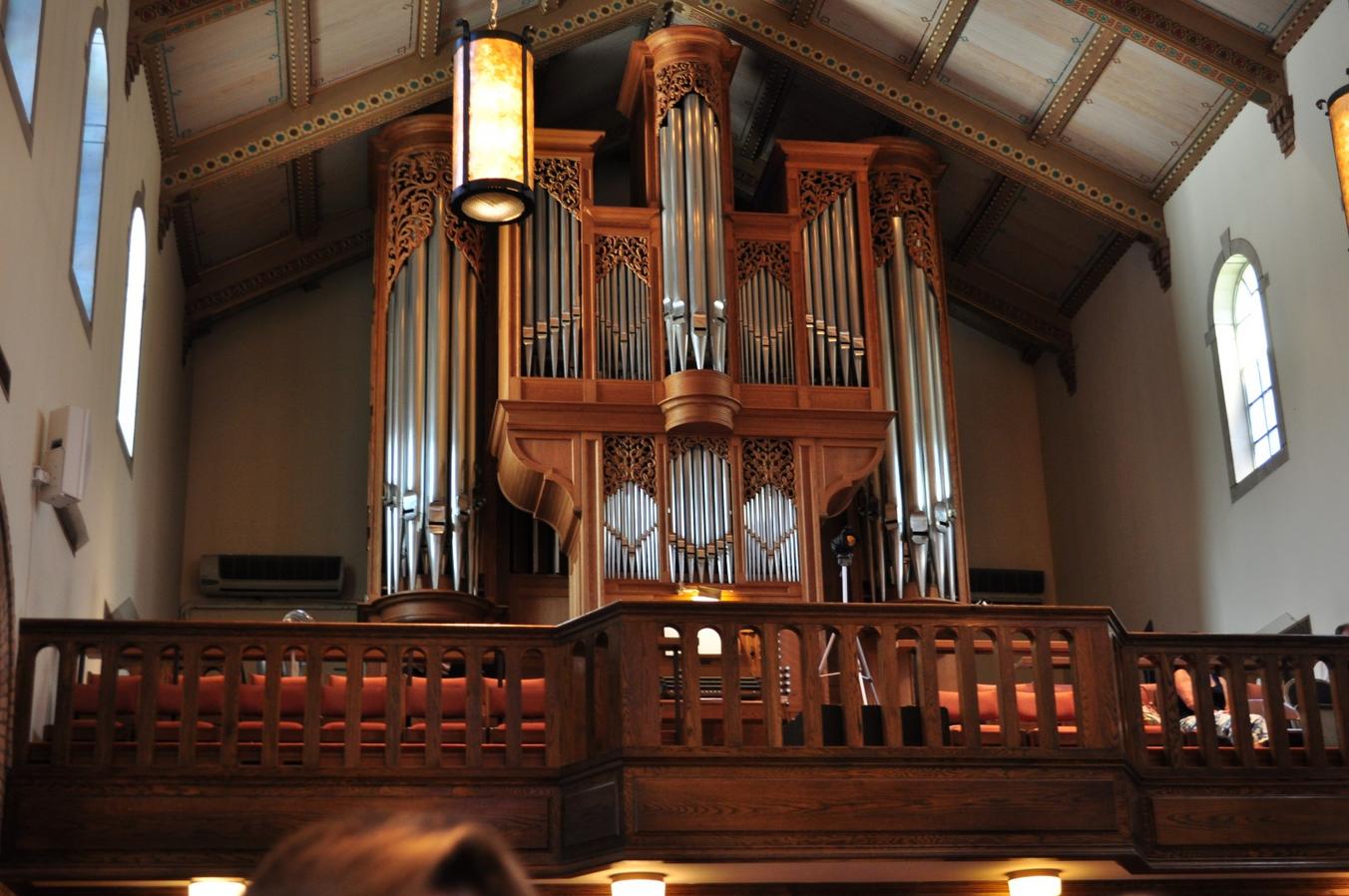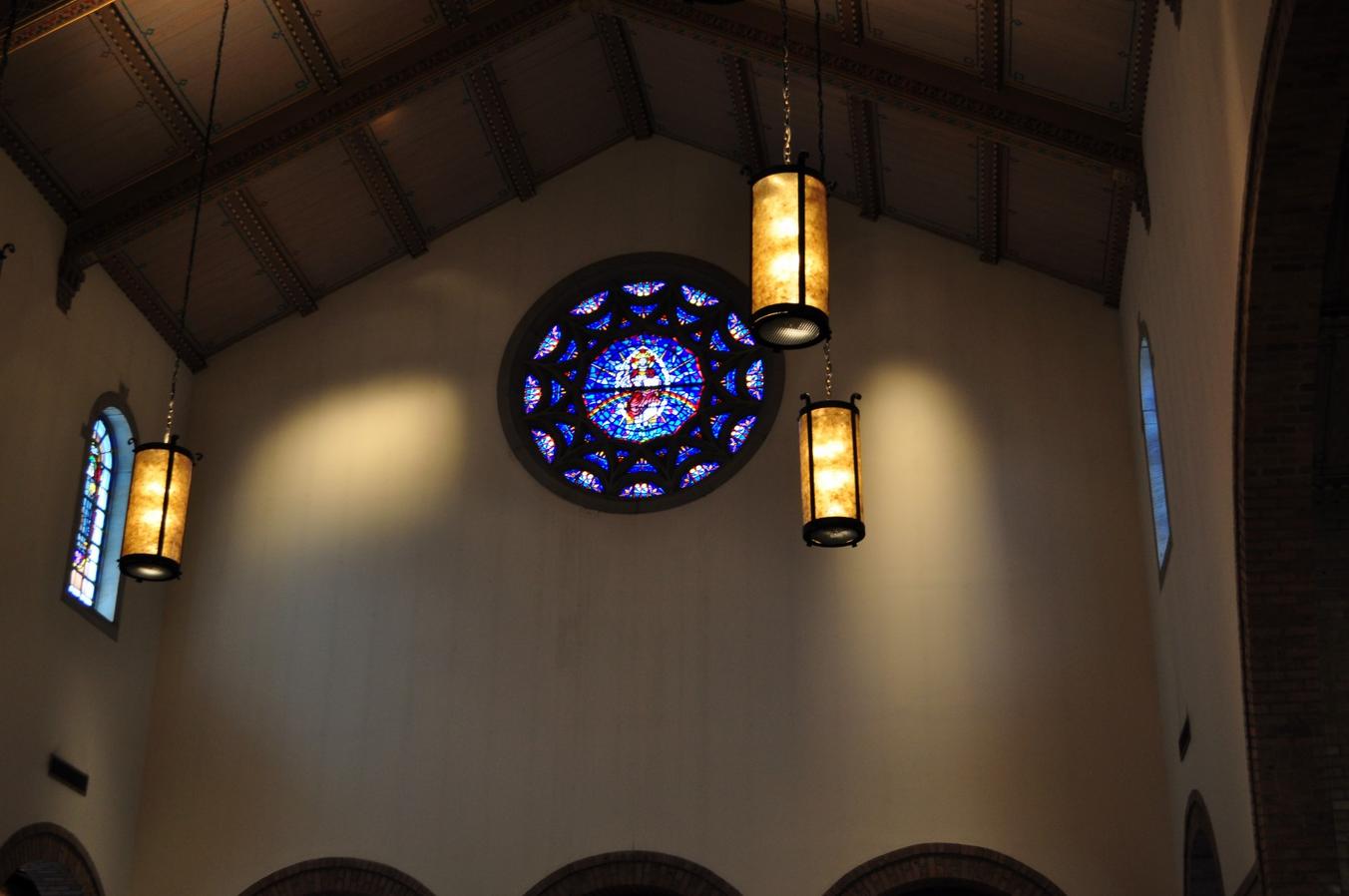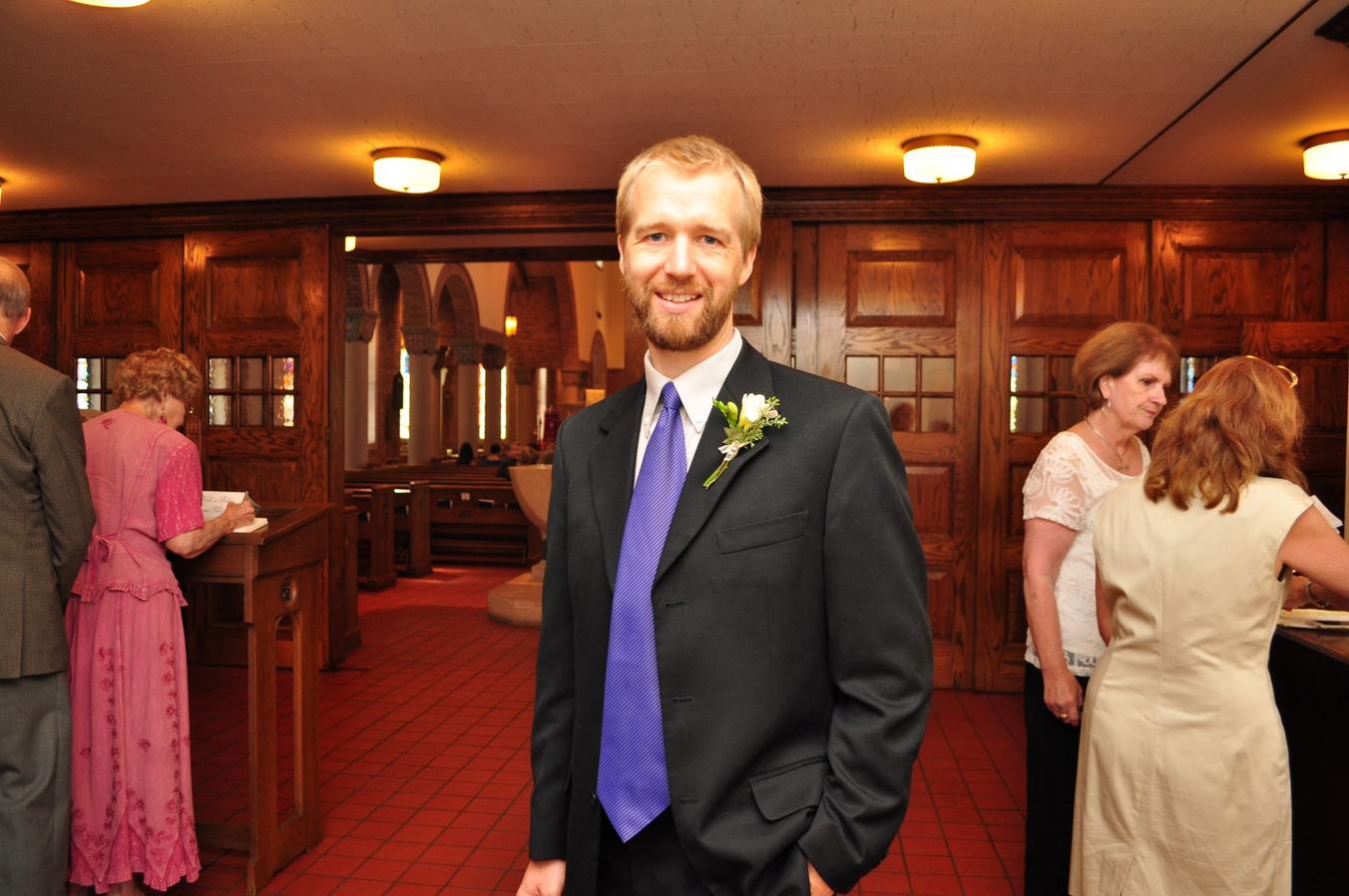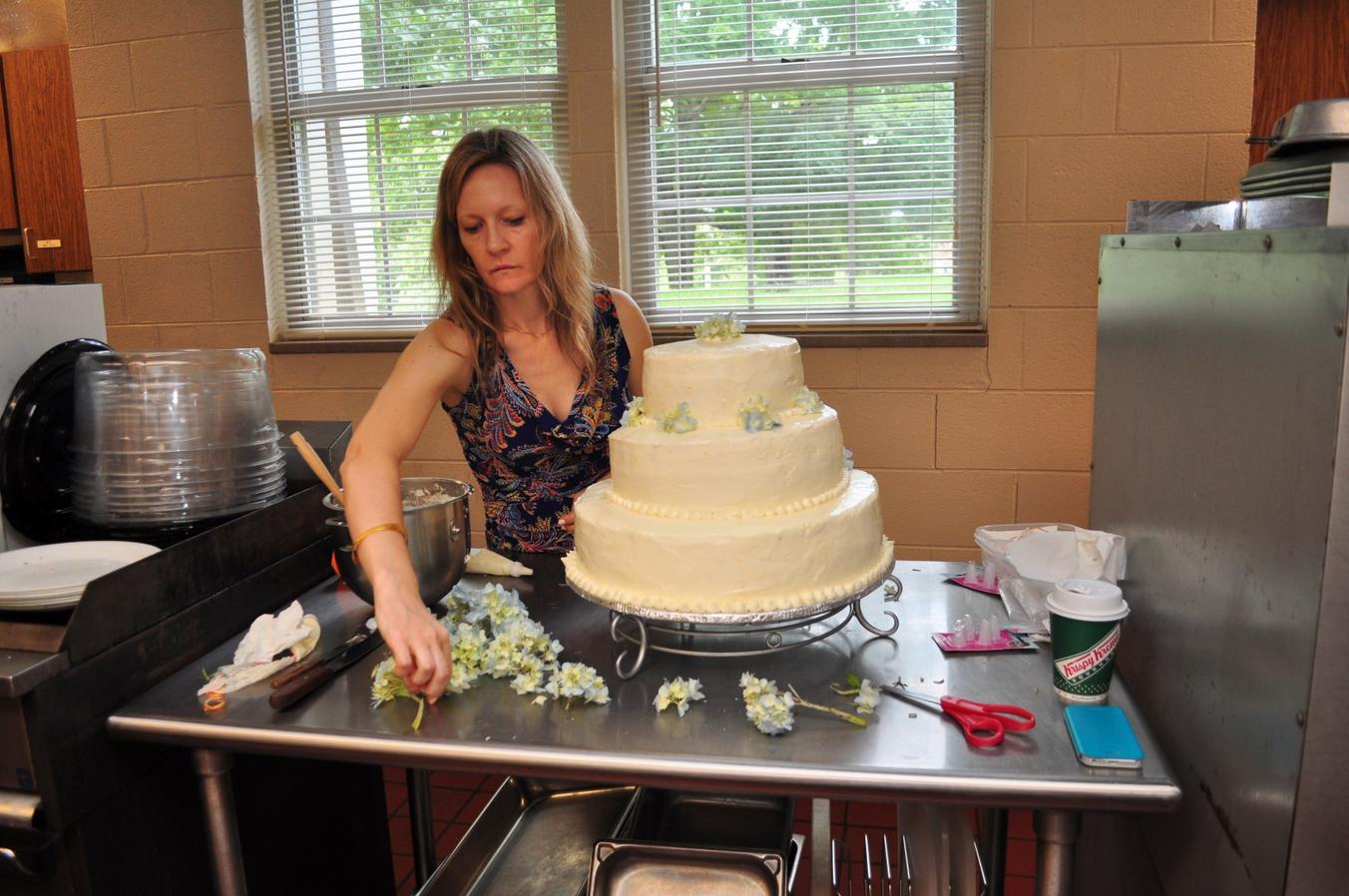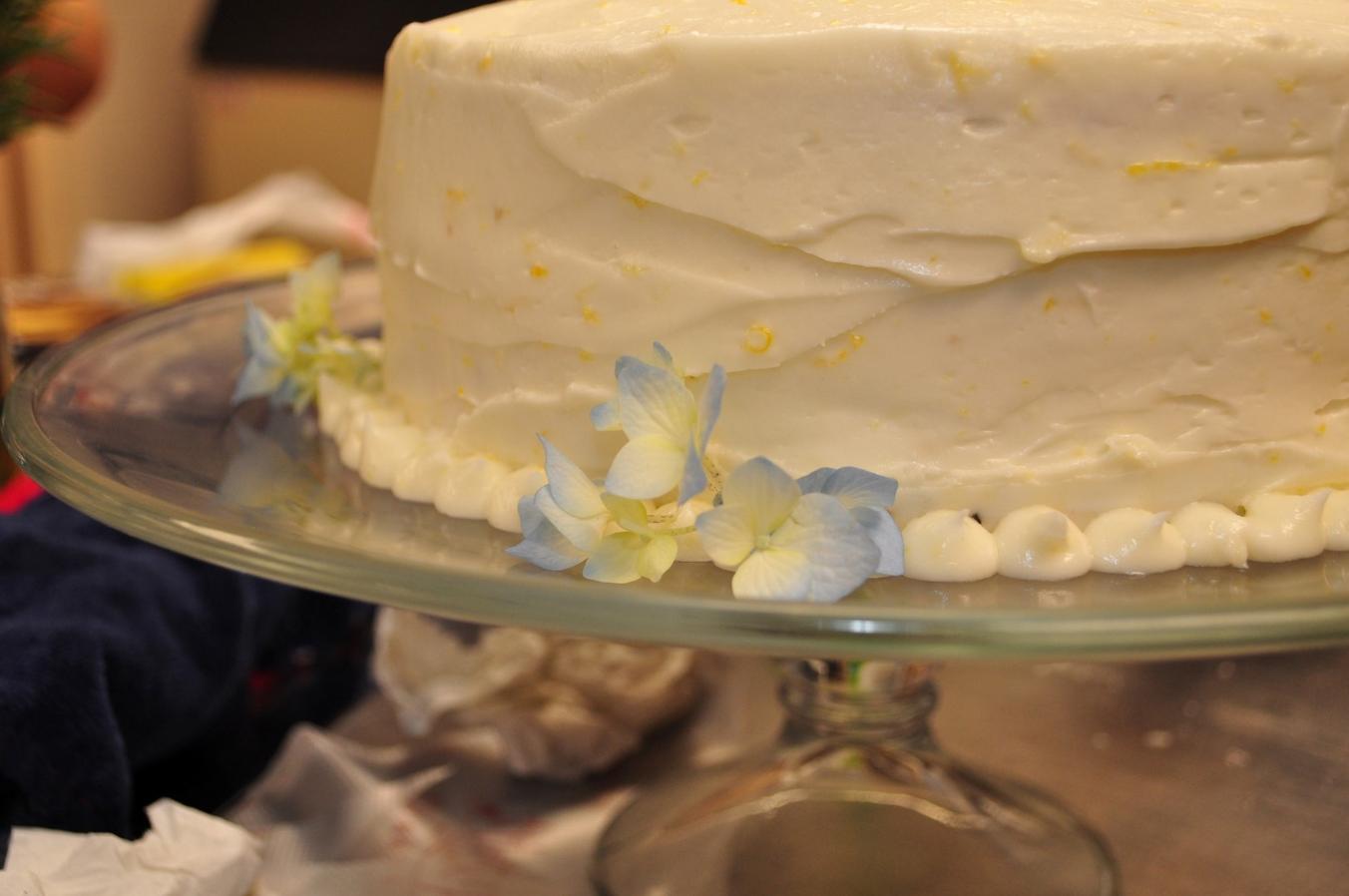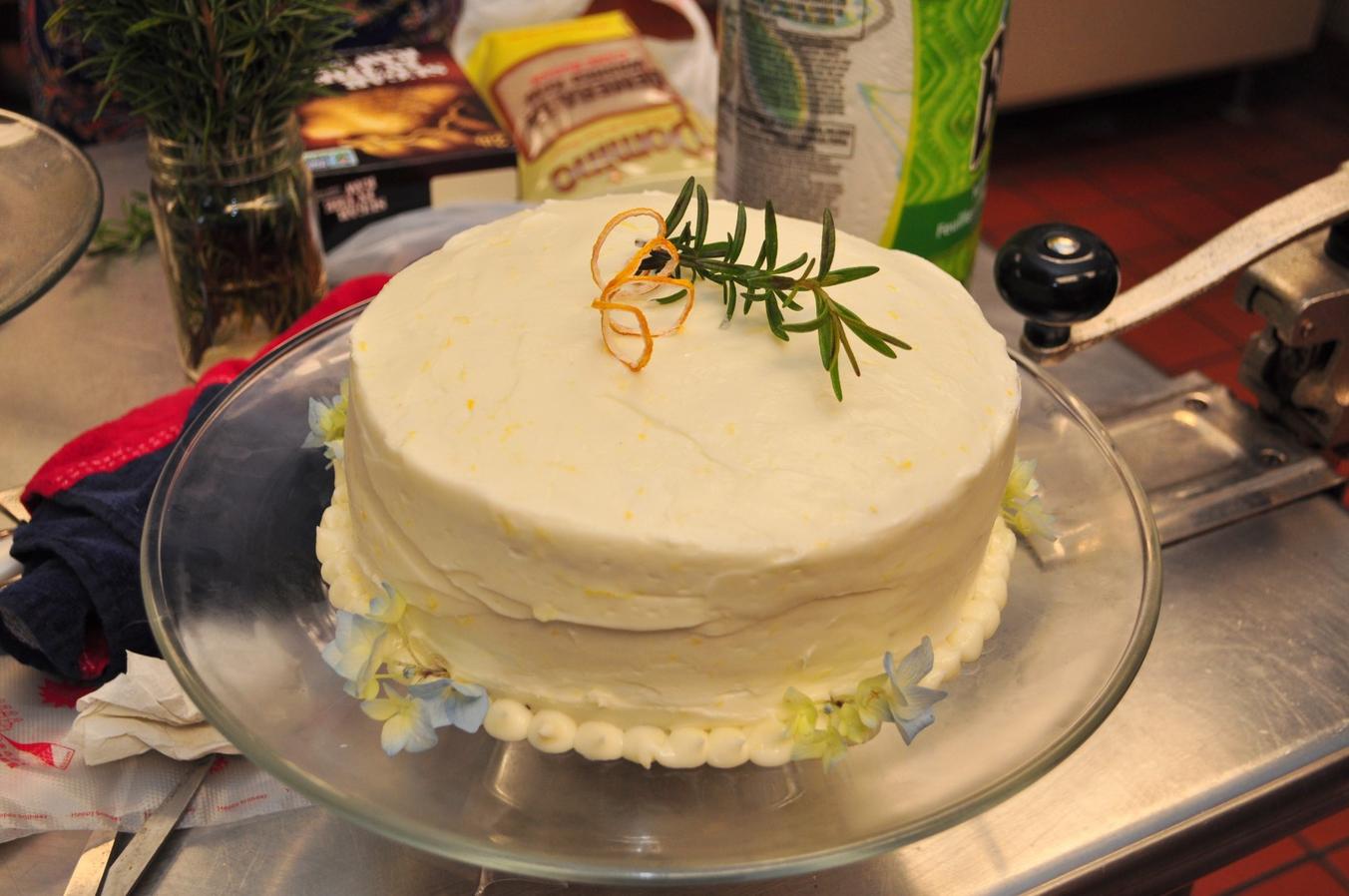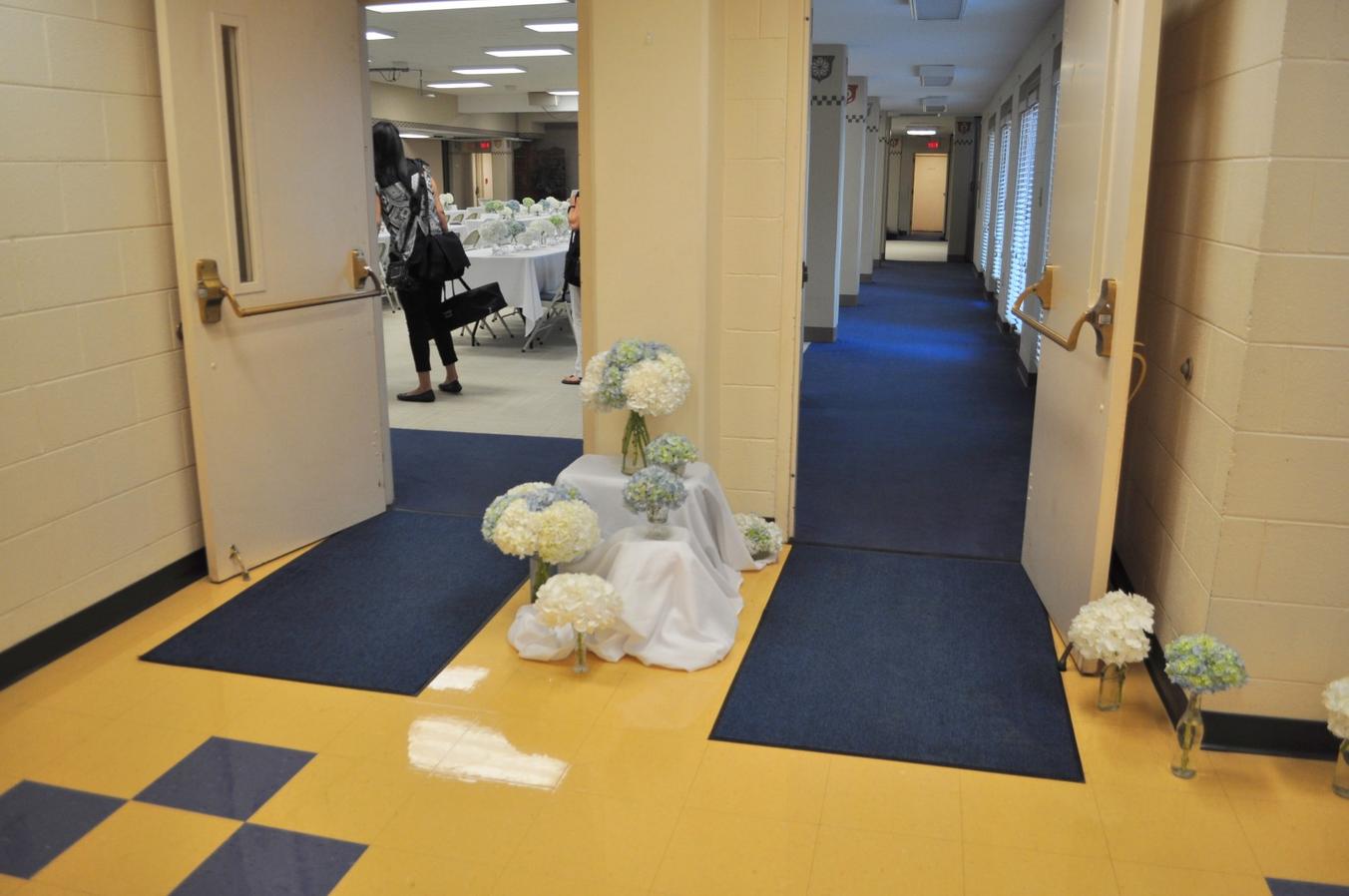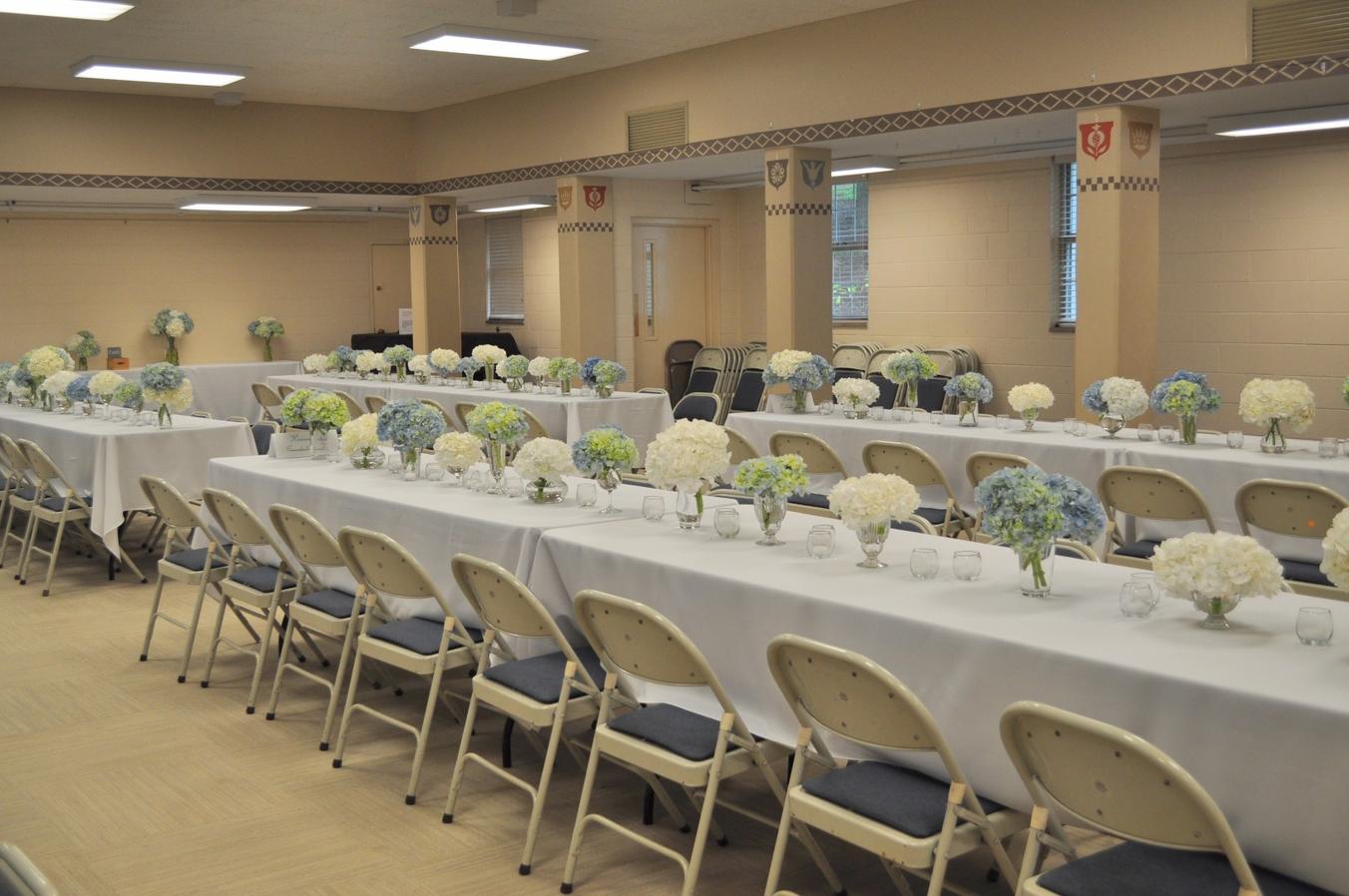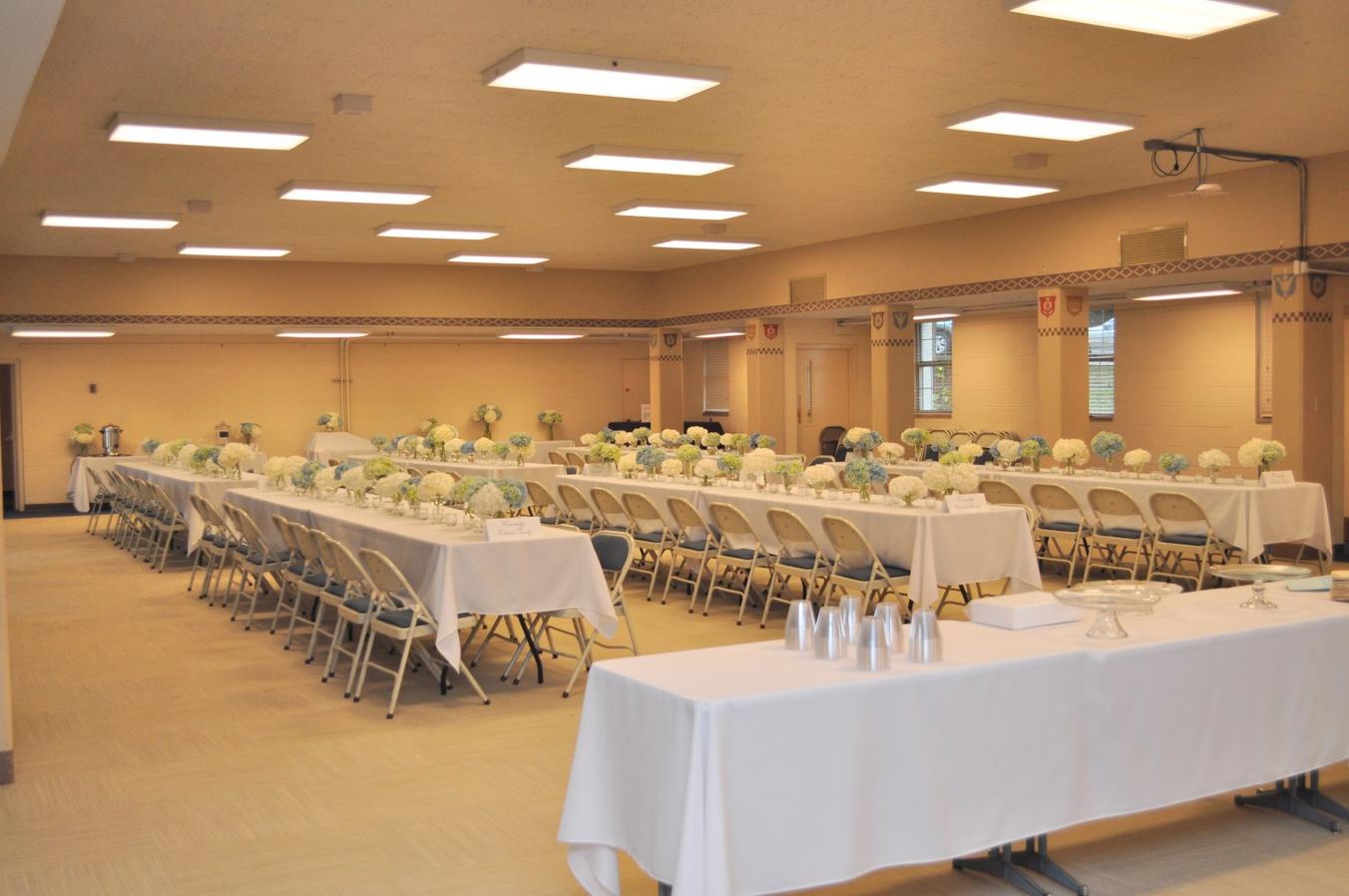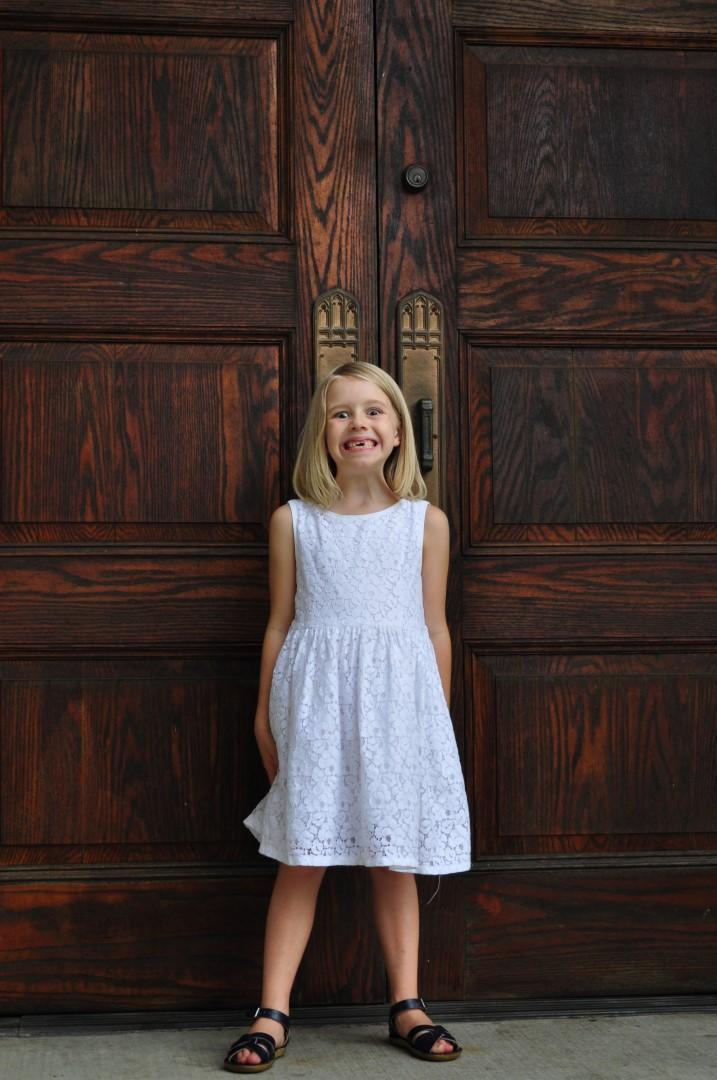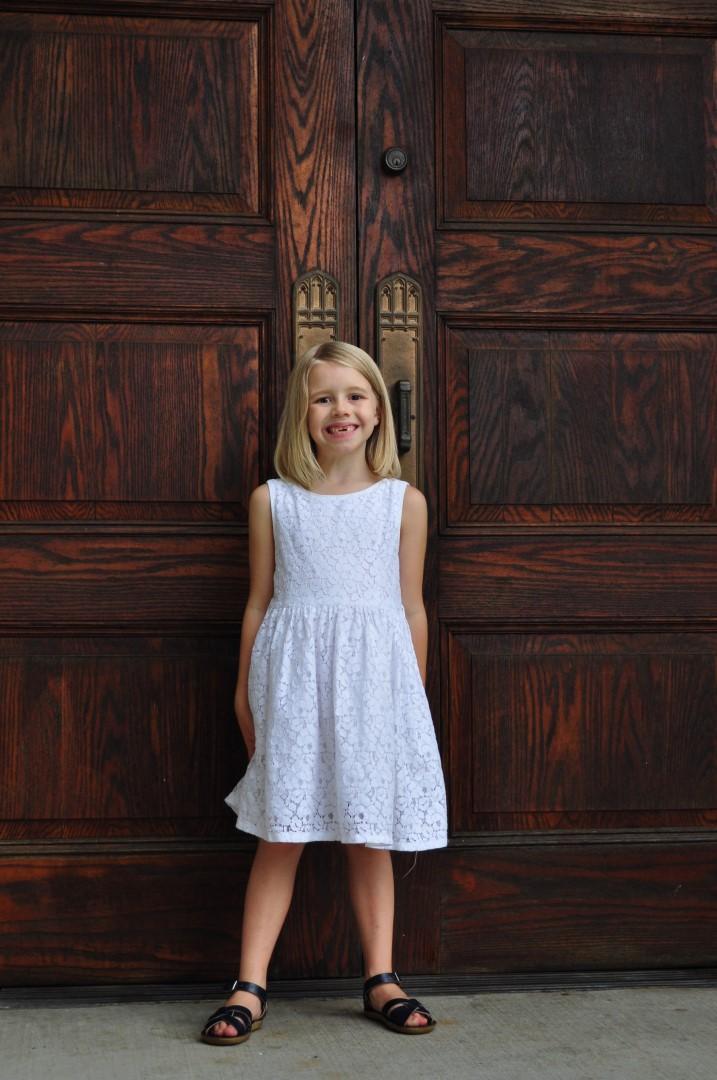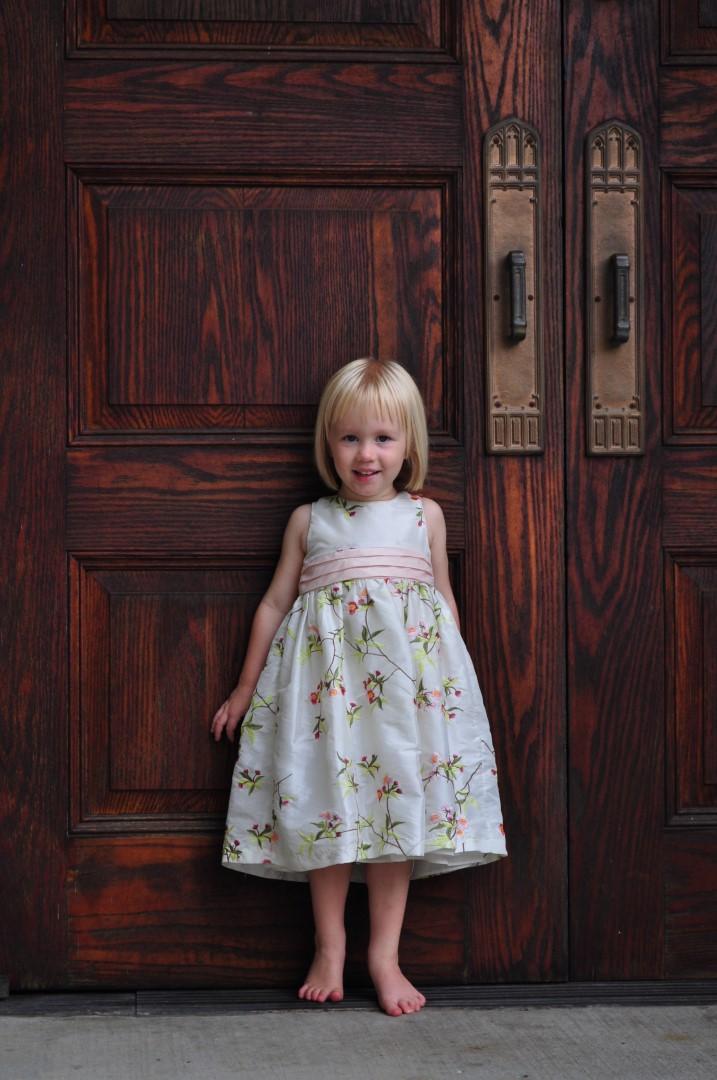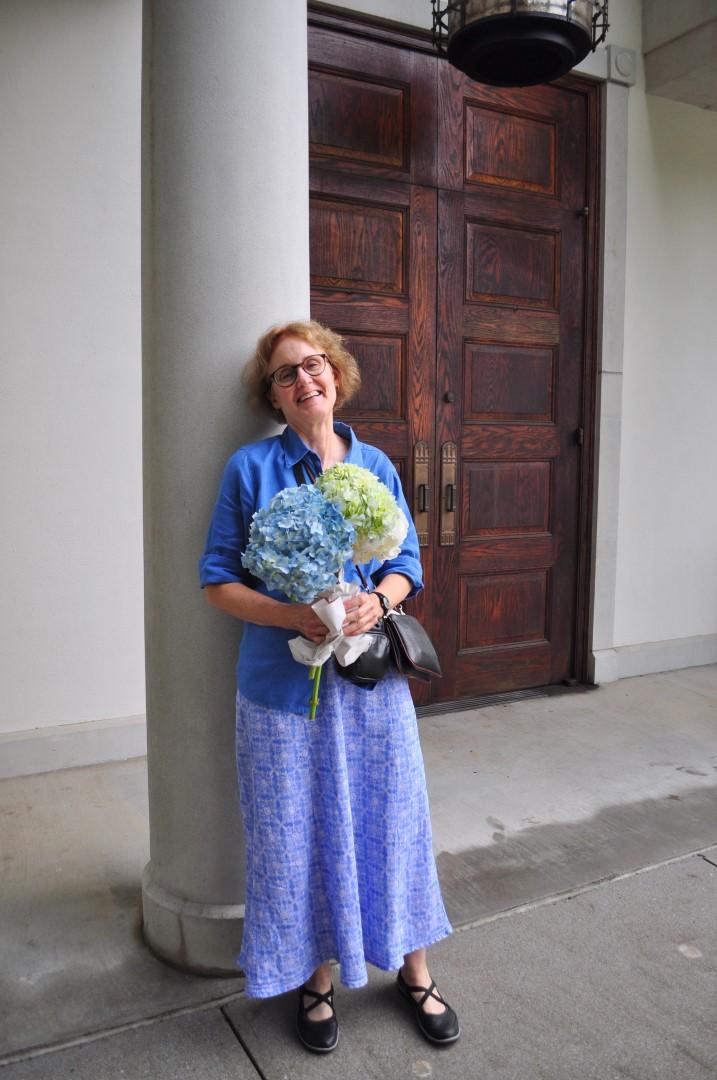 The Monday after the wedding, our lovely hosts, Mike and Paige, took us out on their boat for some fun. It was great getting pulled behind the boat in the tube, going crazy fast! Talking about Mike and Paige… man, these guys are fantastic. They were incredibly generous, kind and hospitable with their time, their home and much more. What a great example they are. I wish we lived closer to them!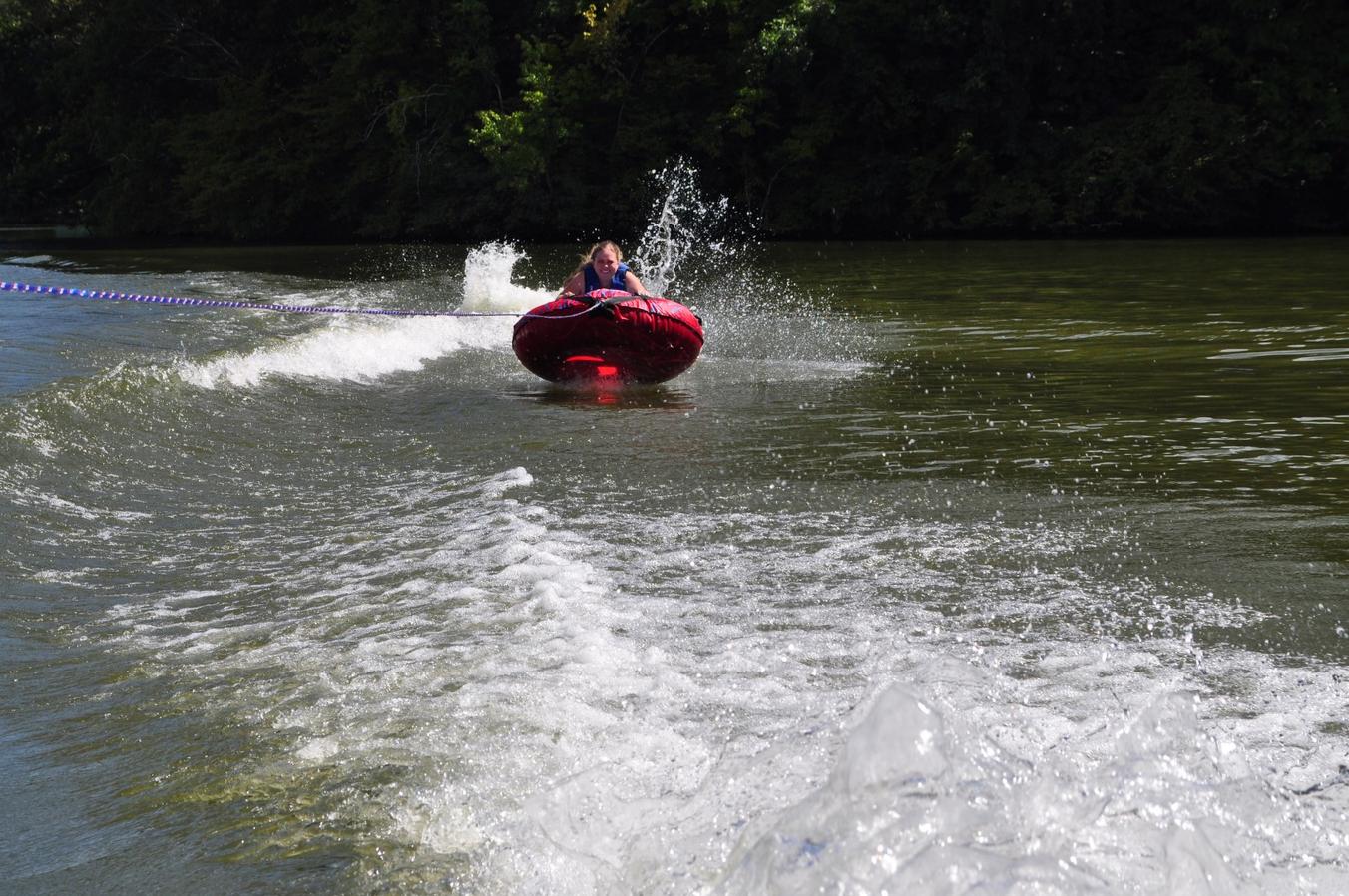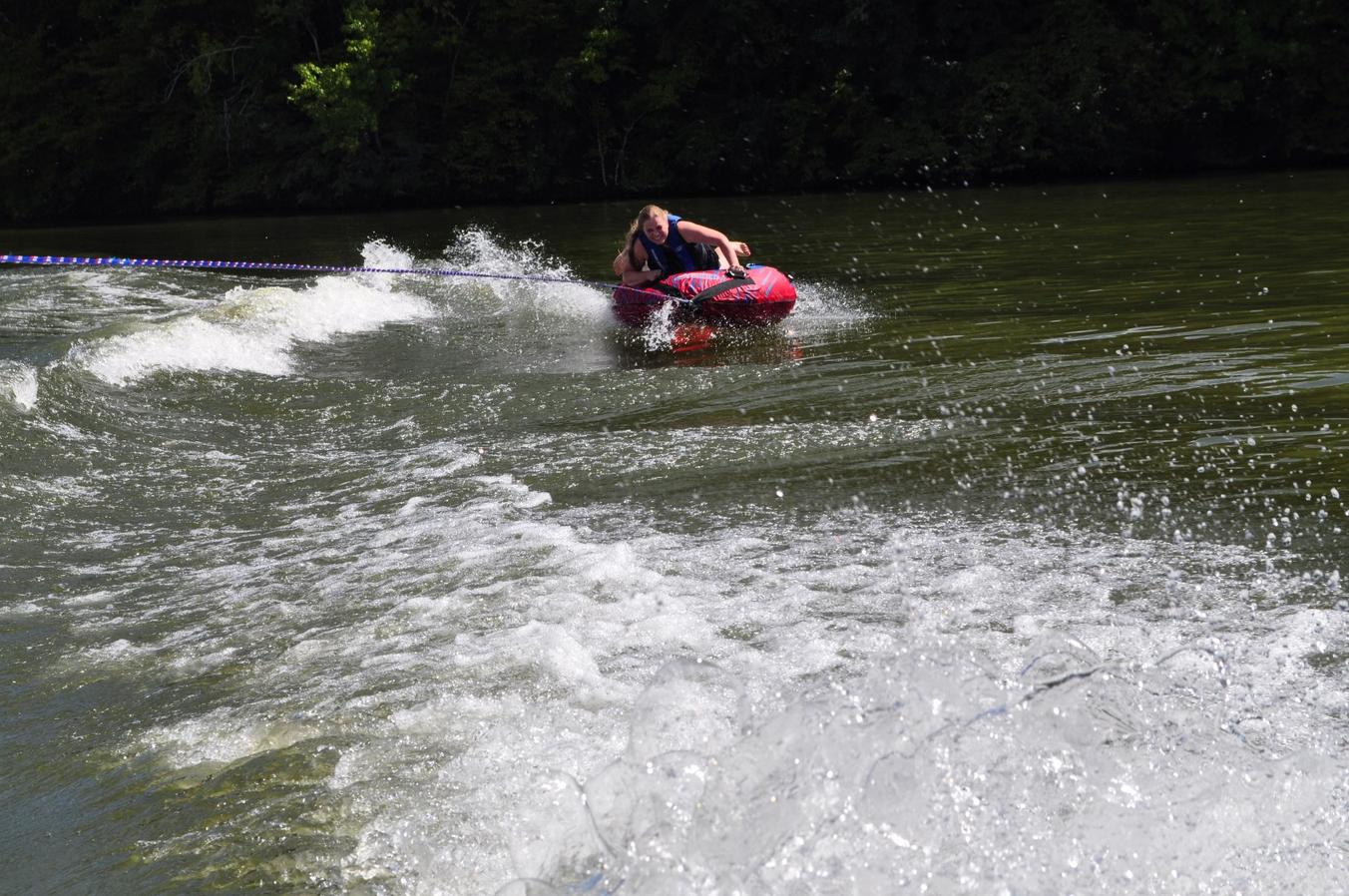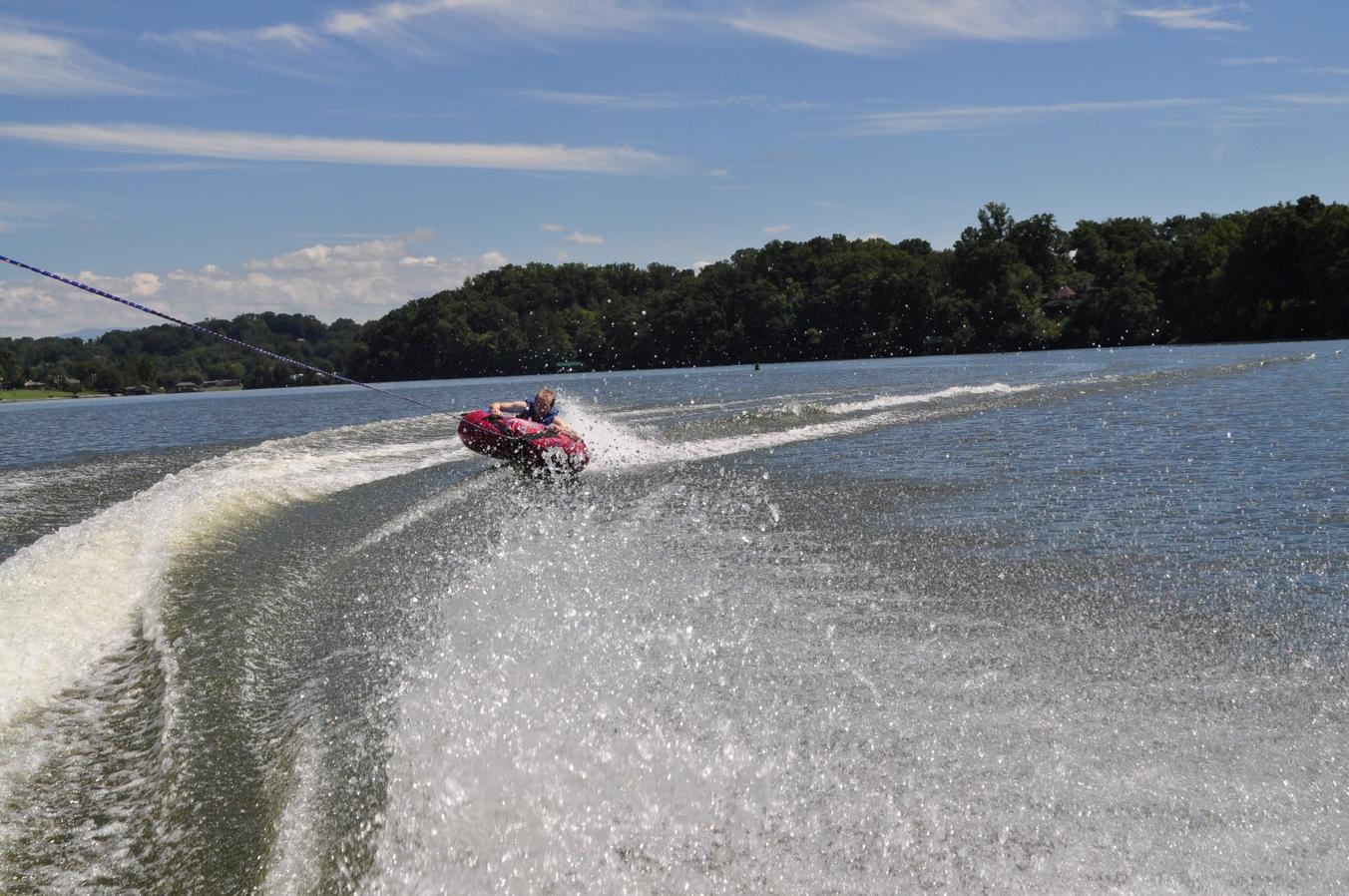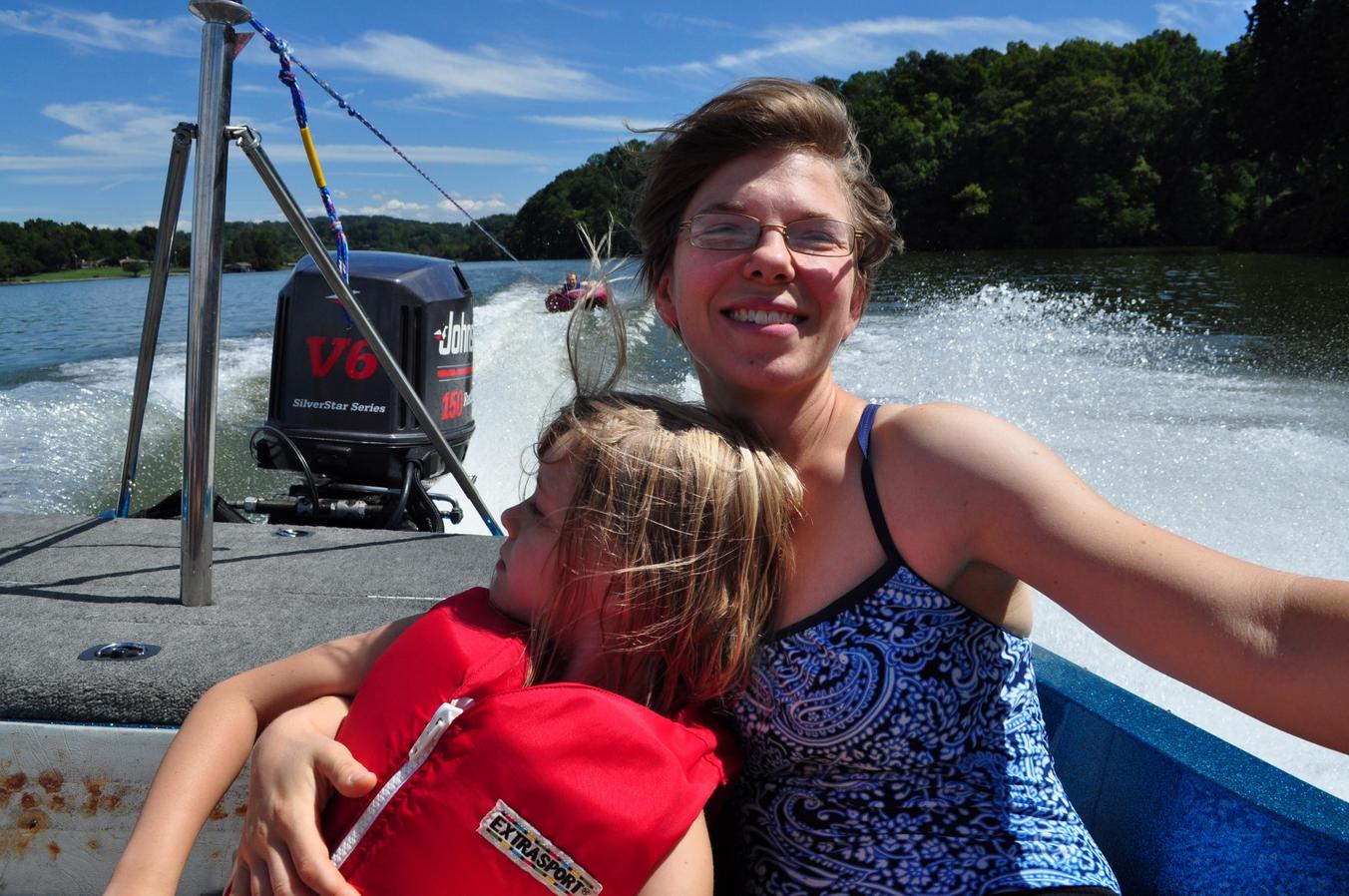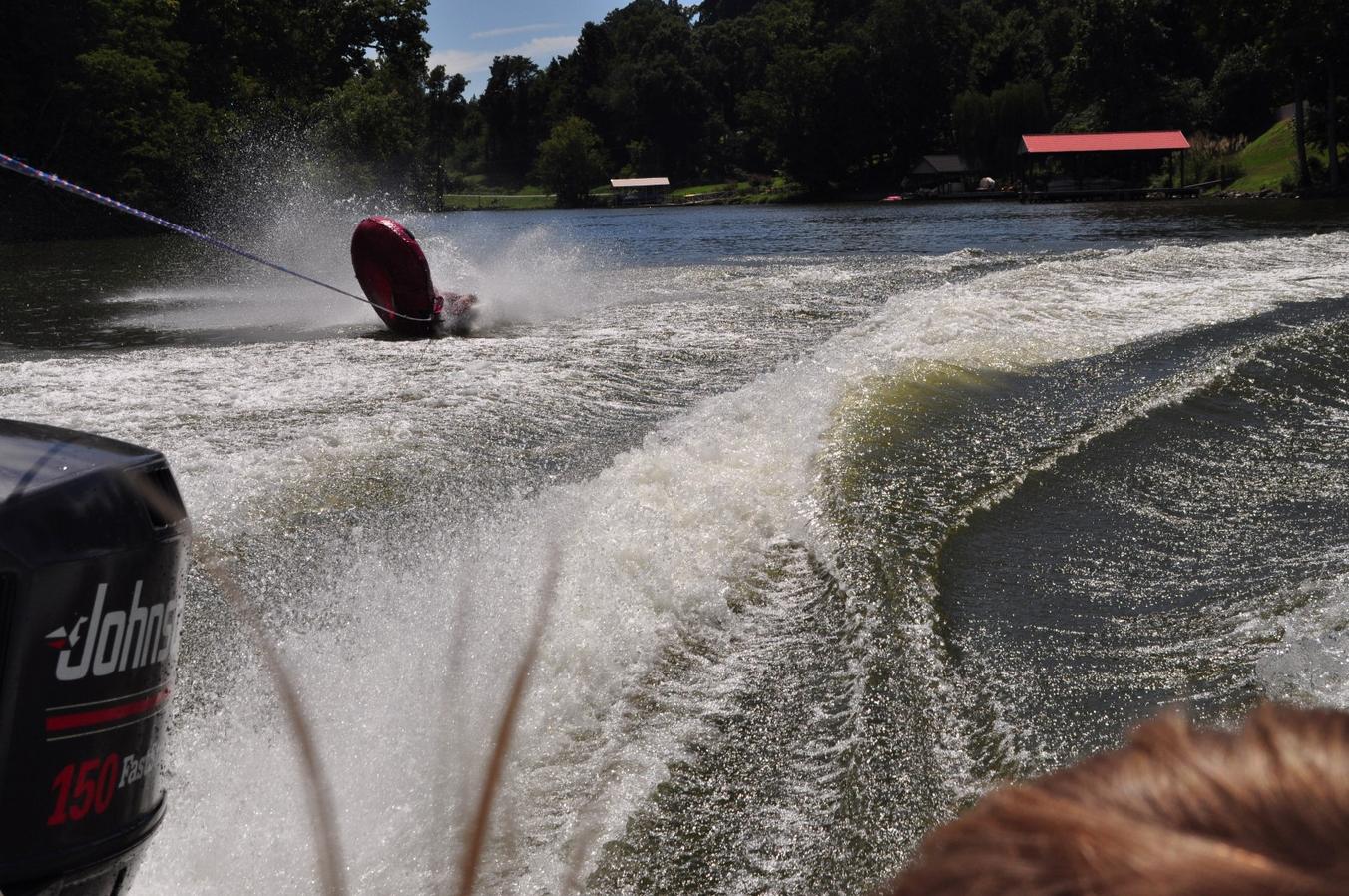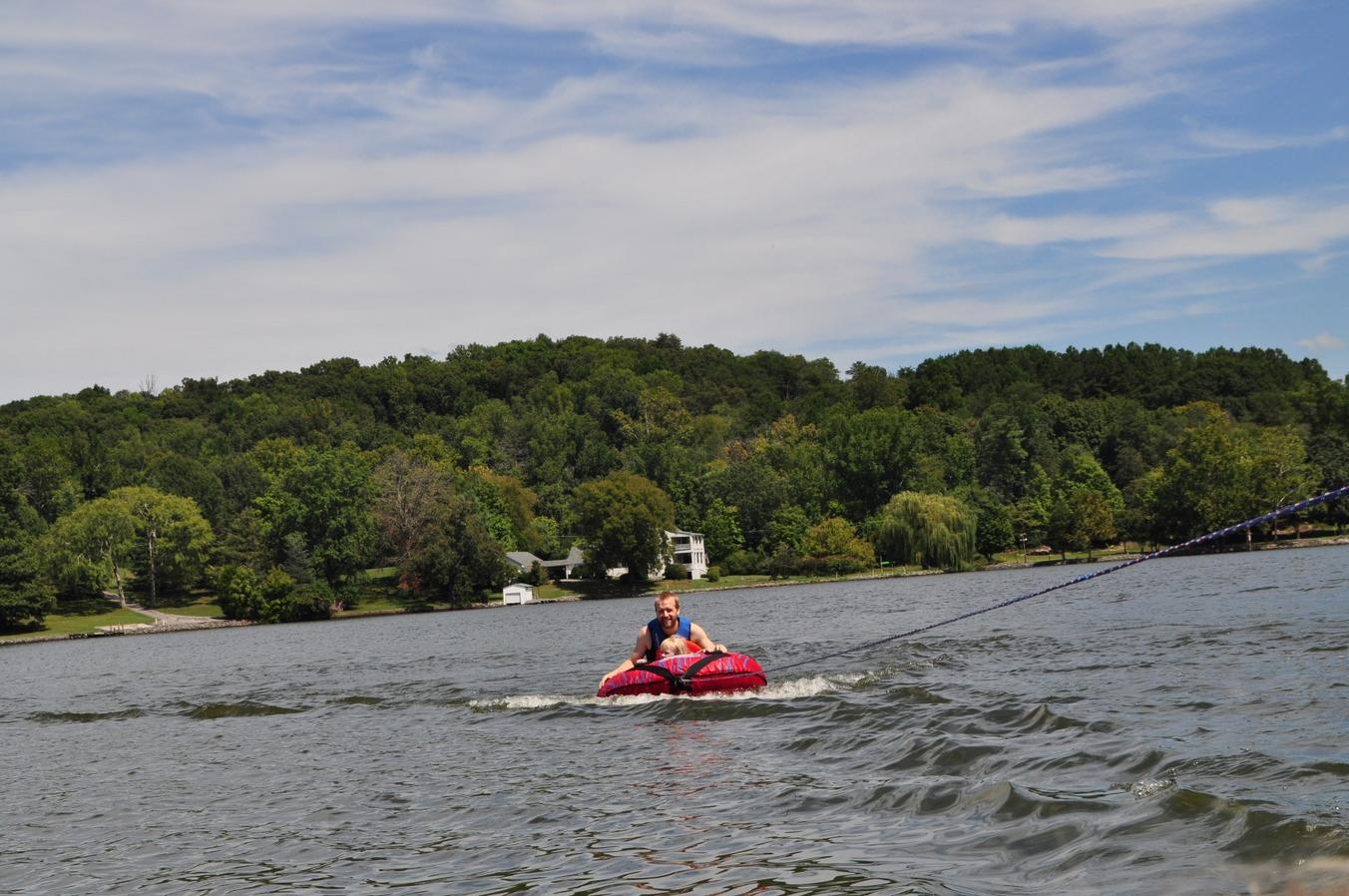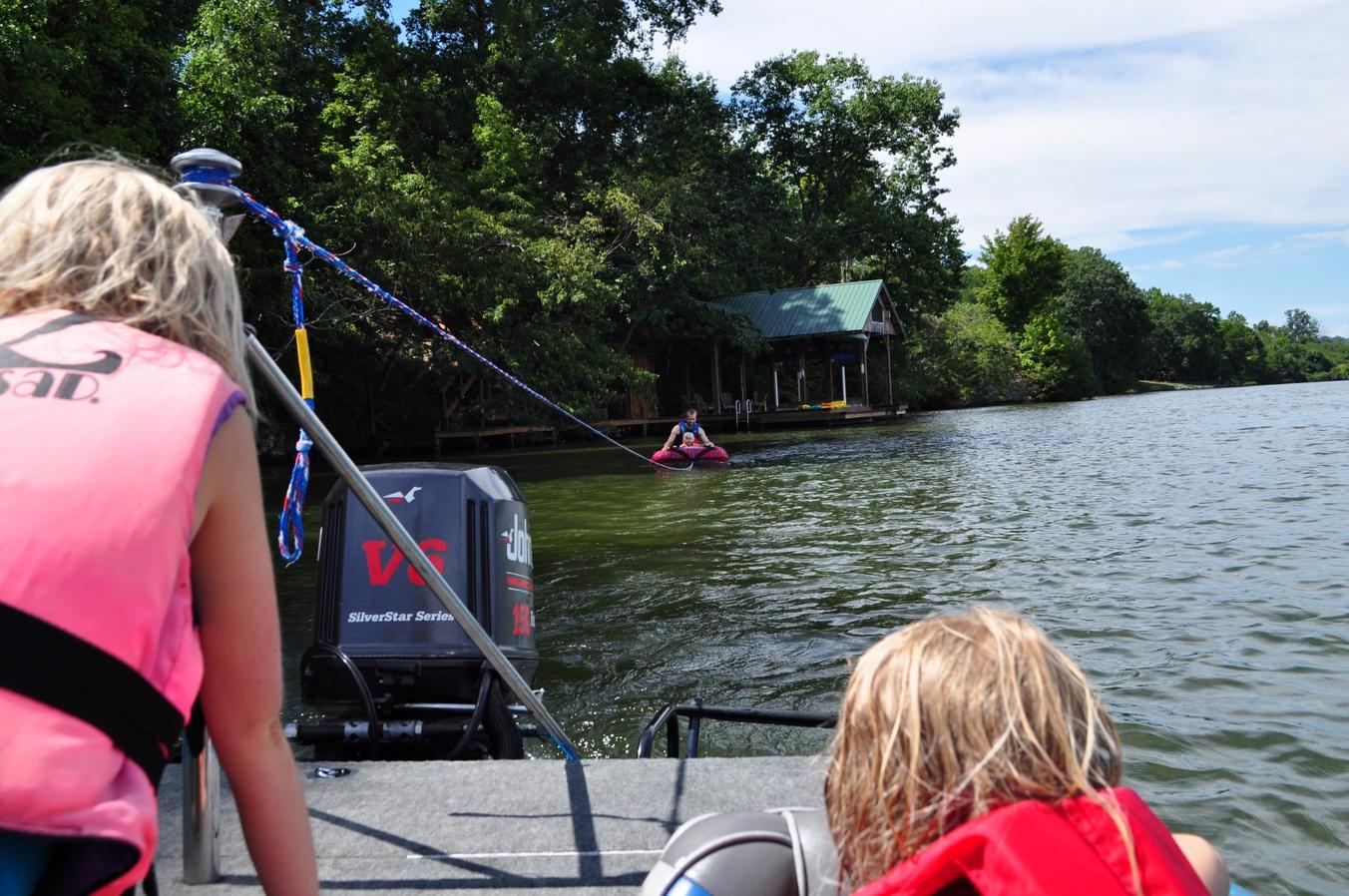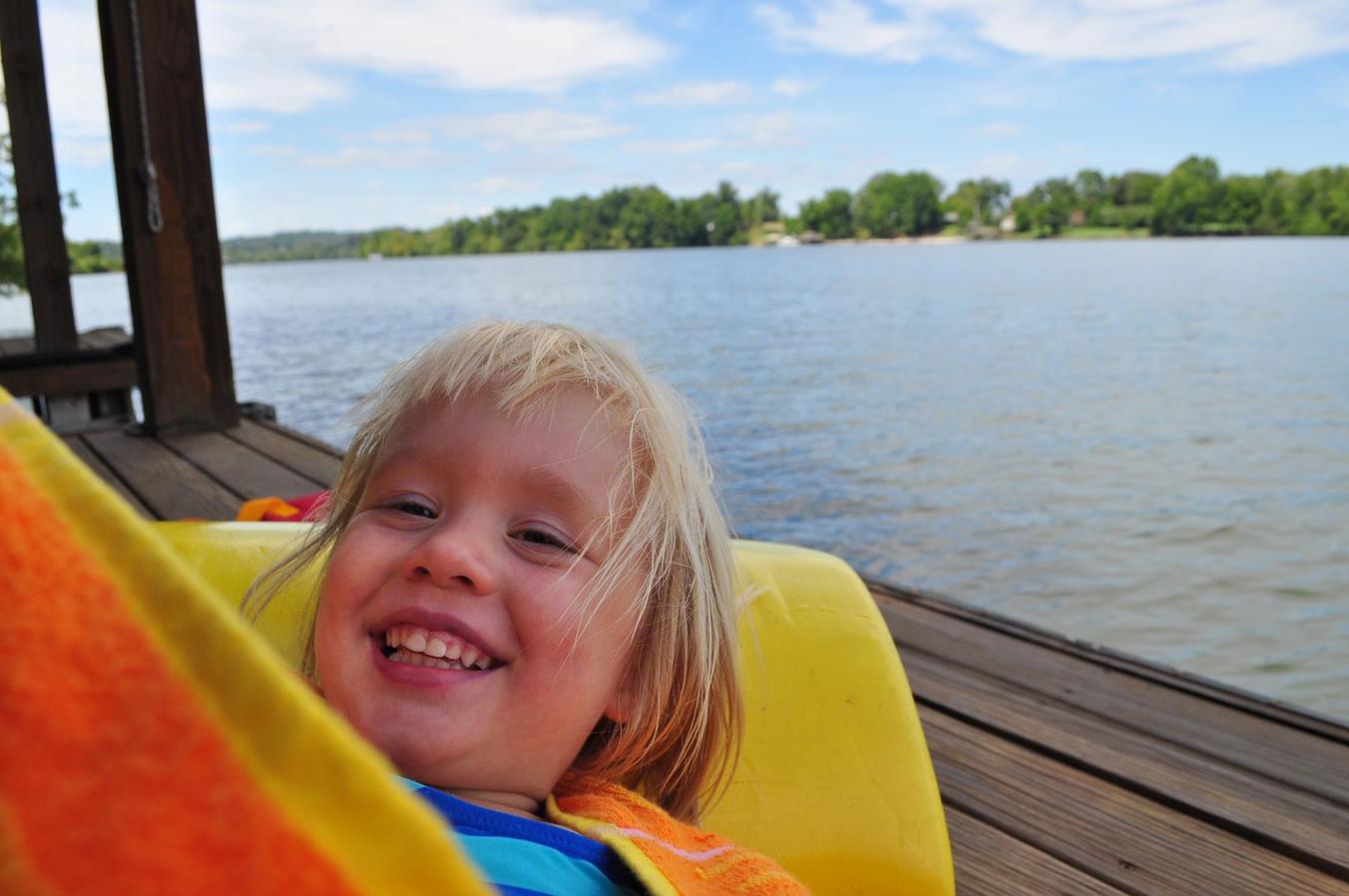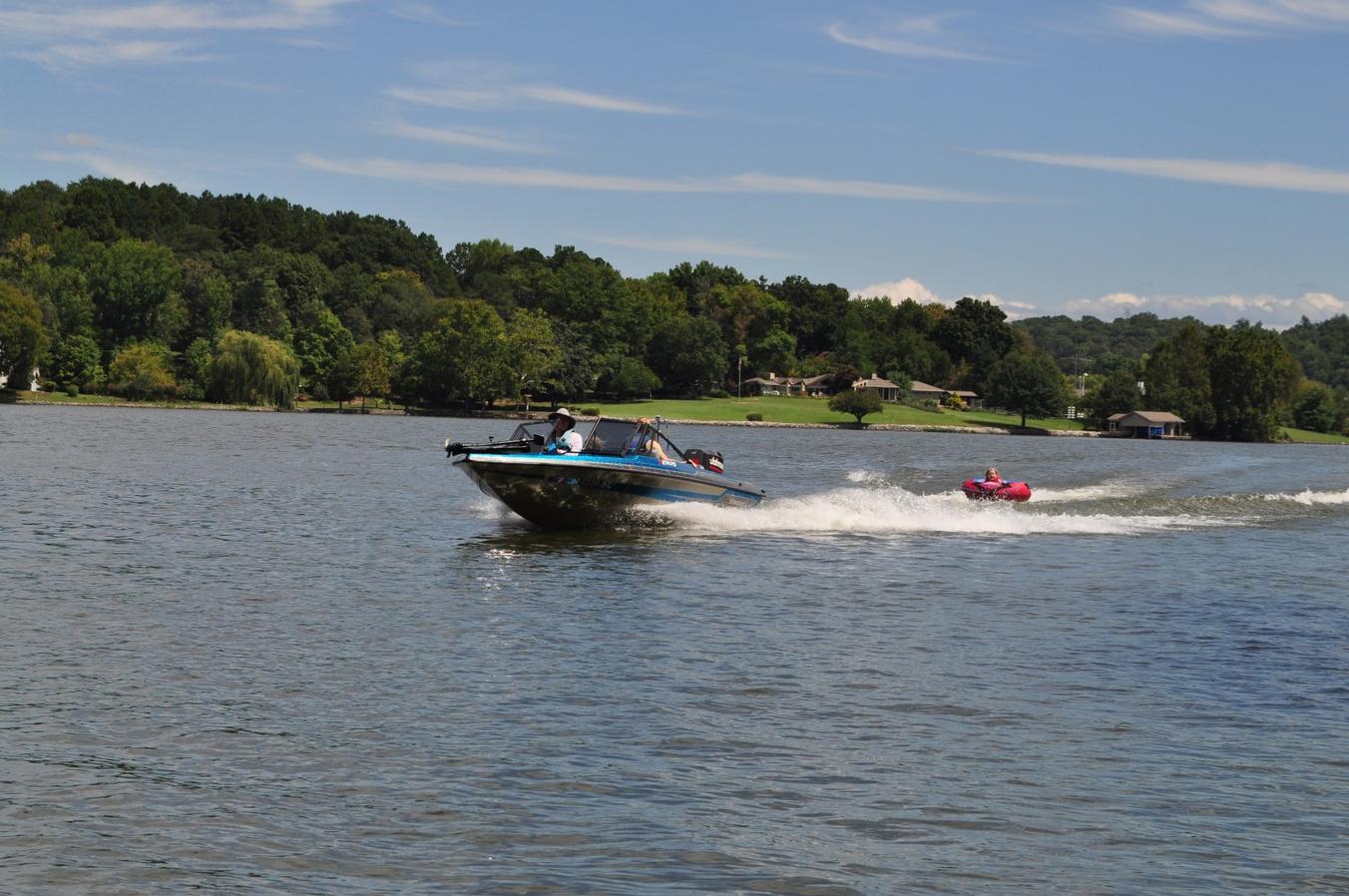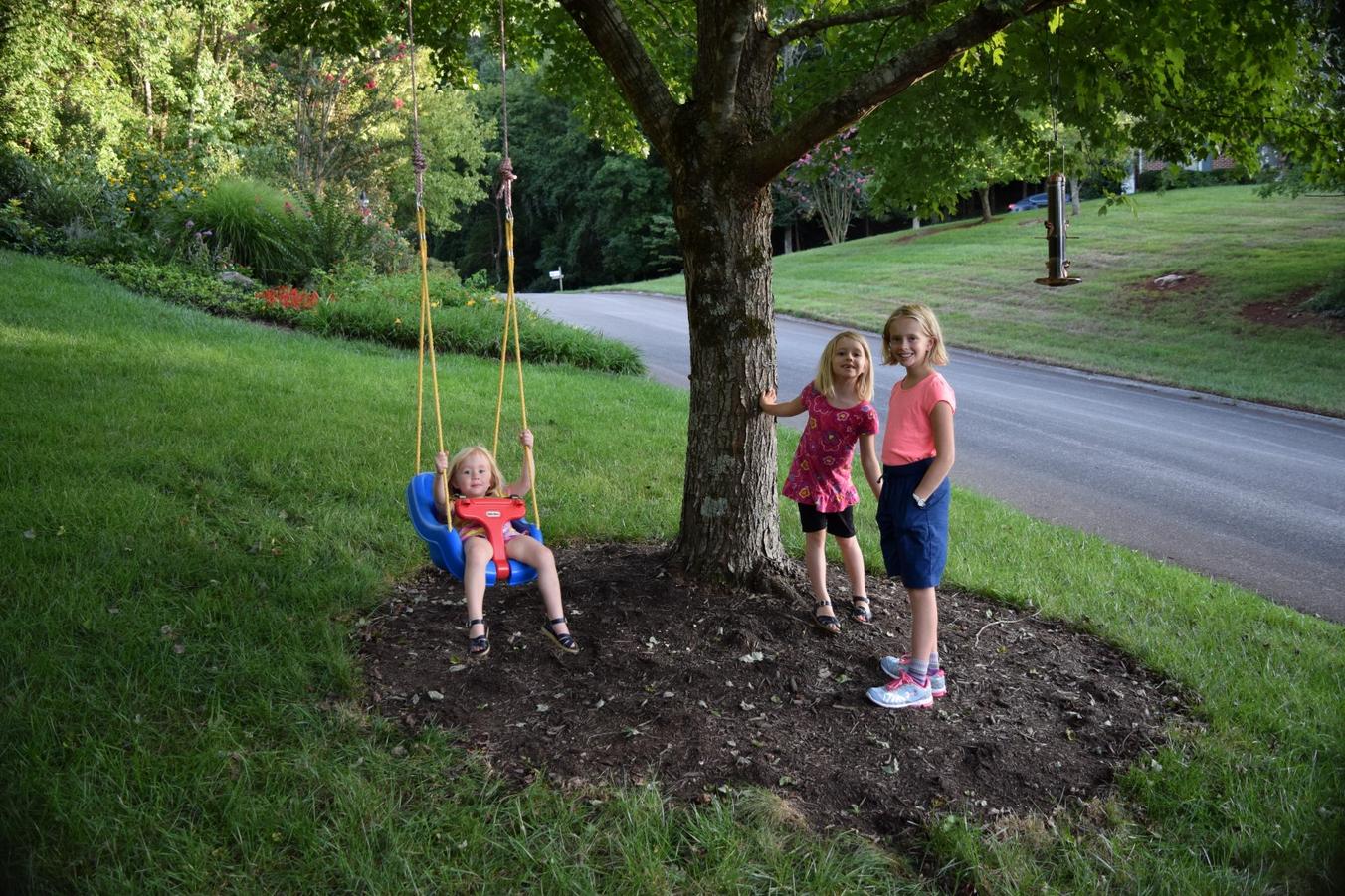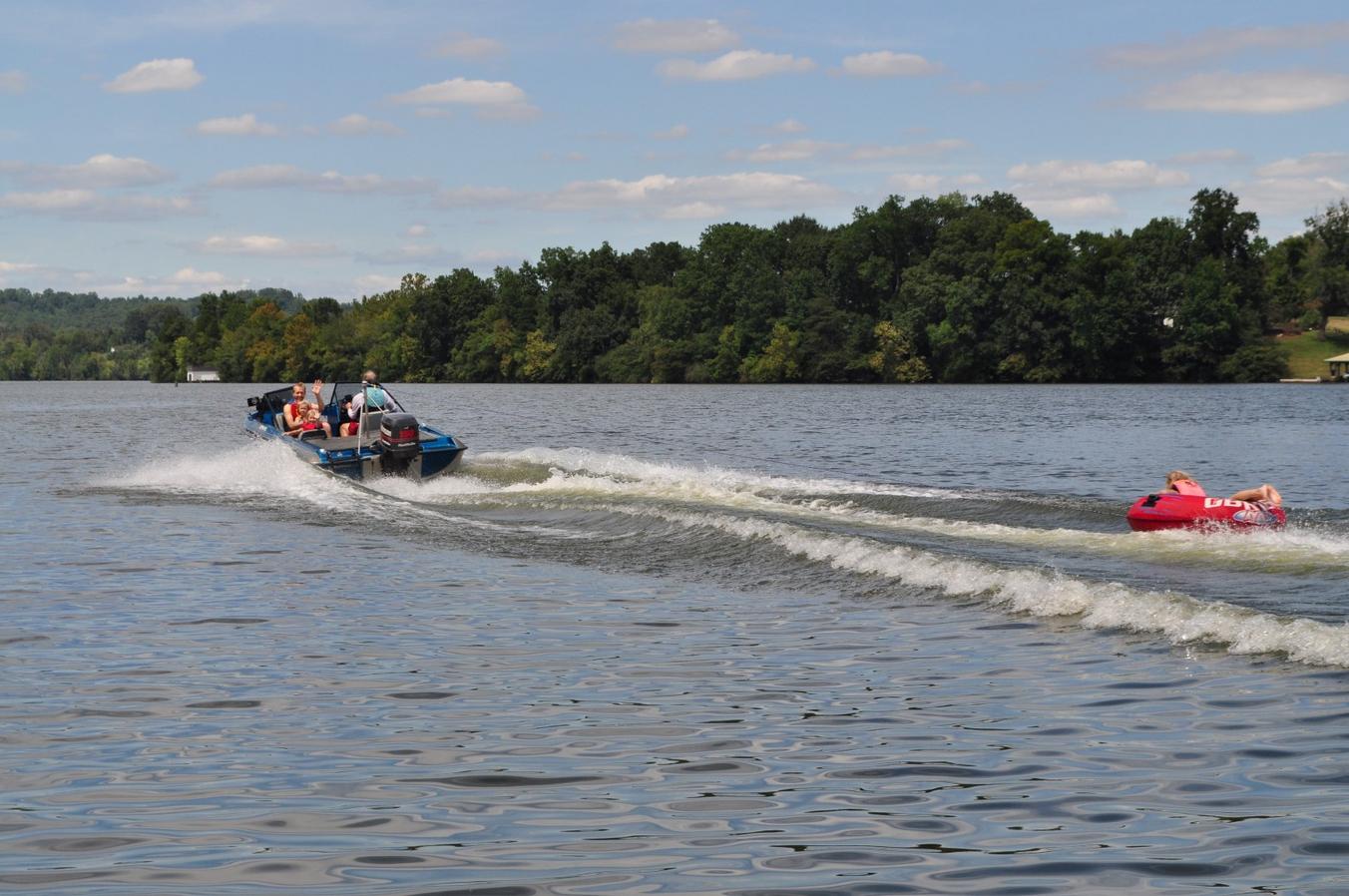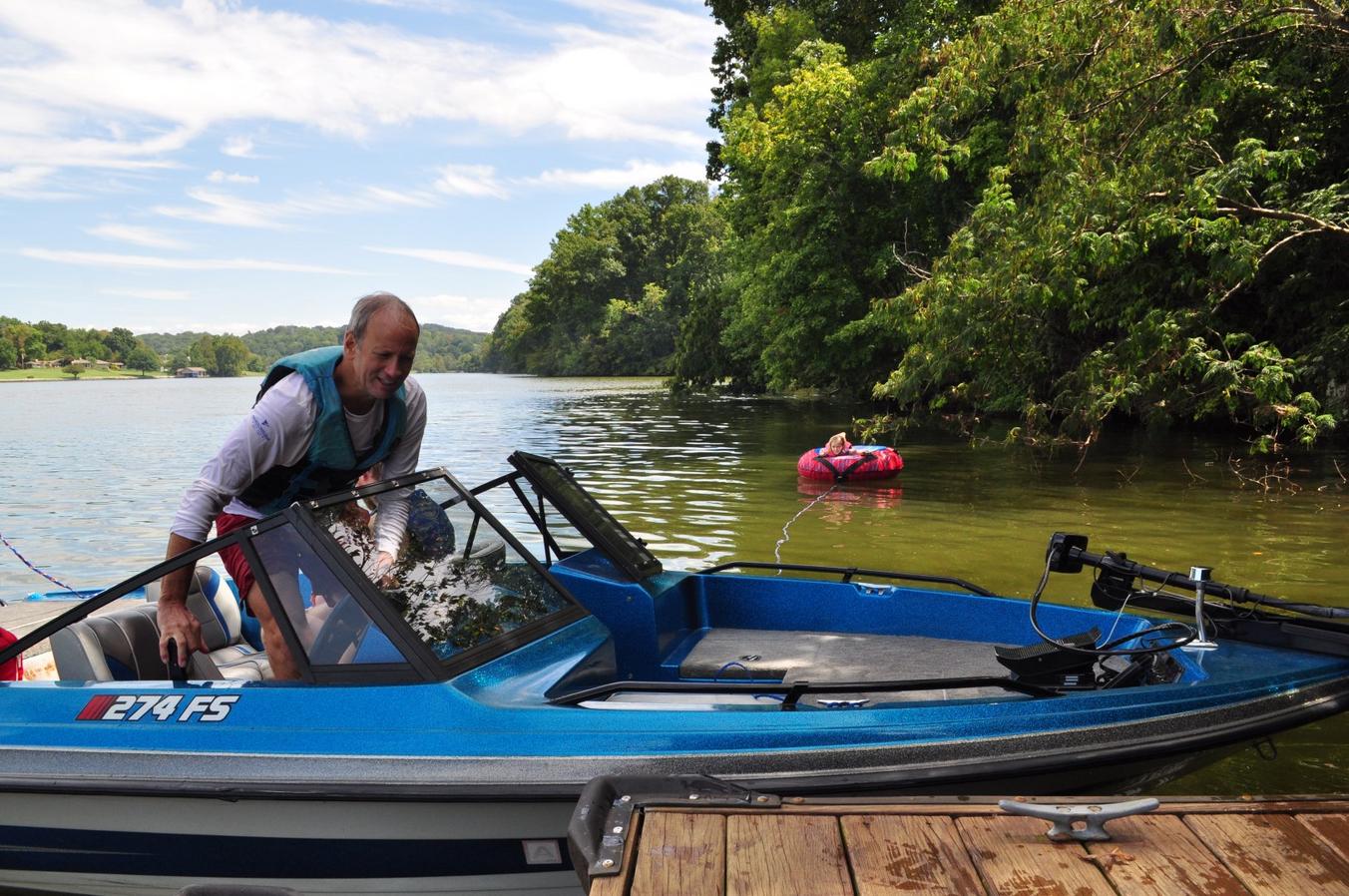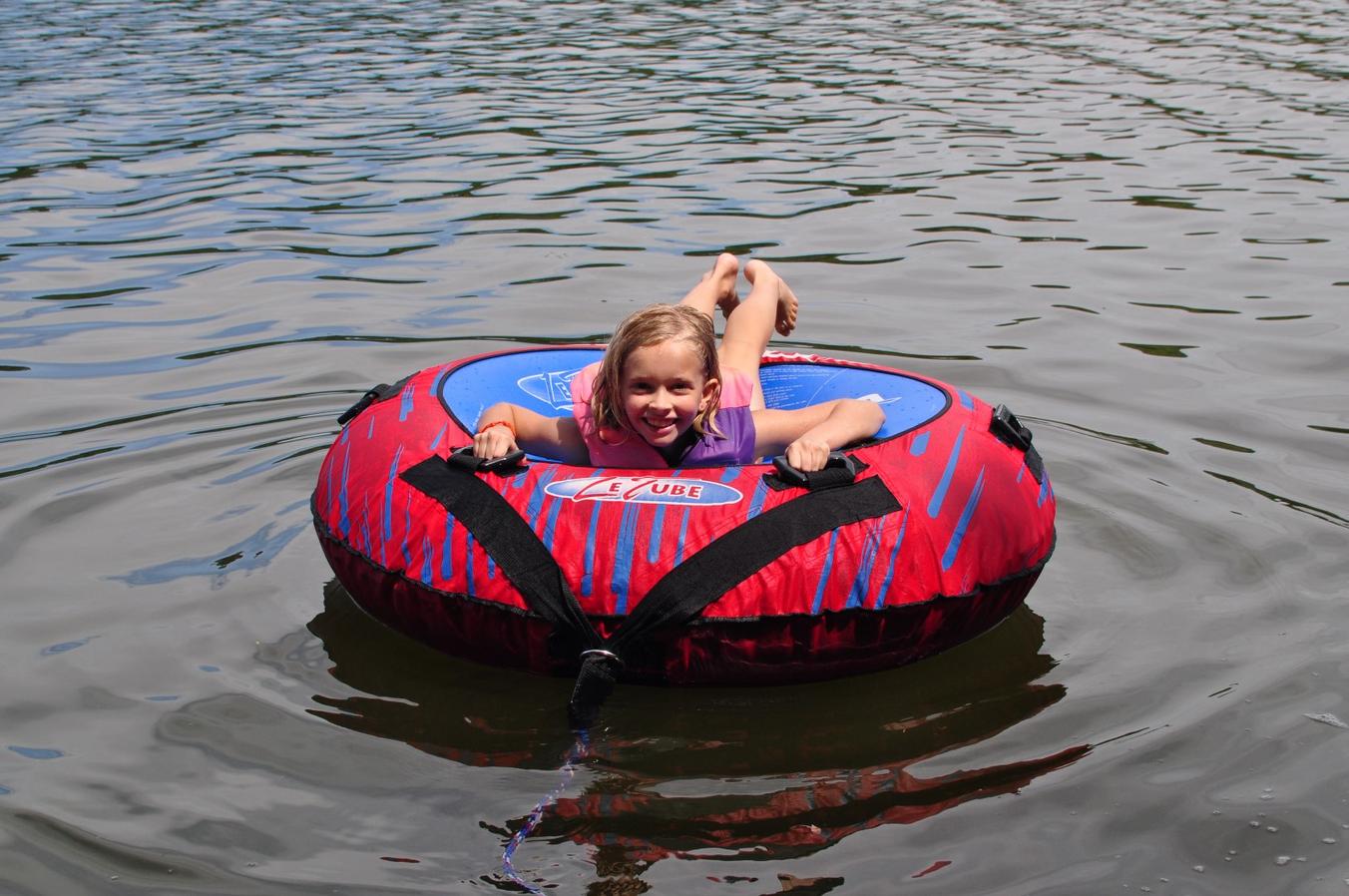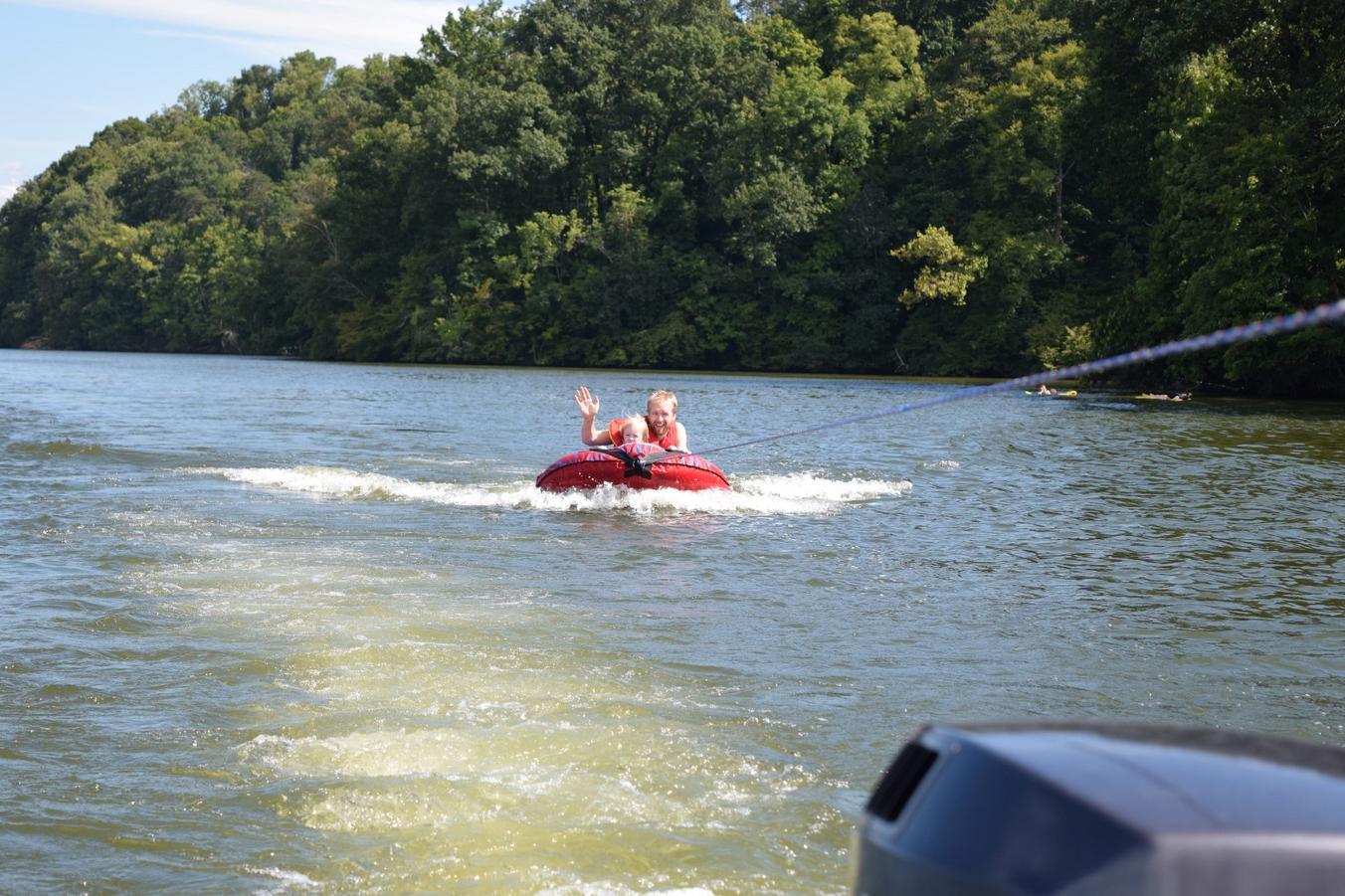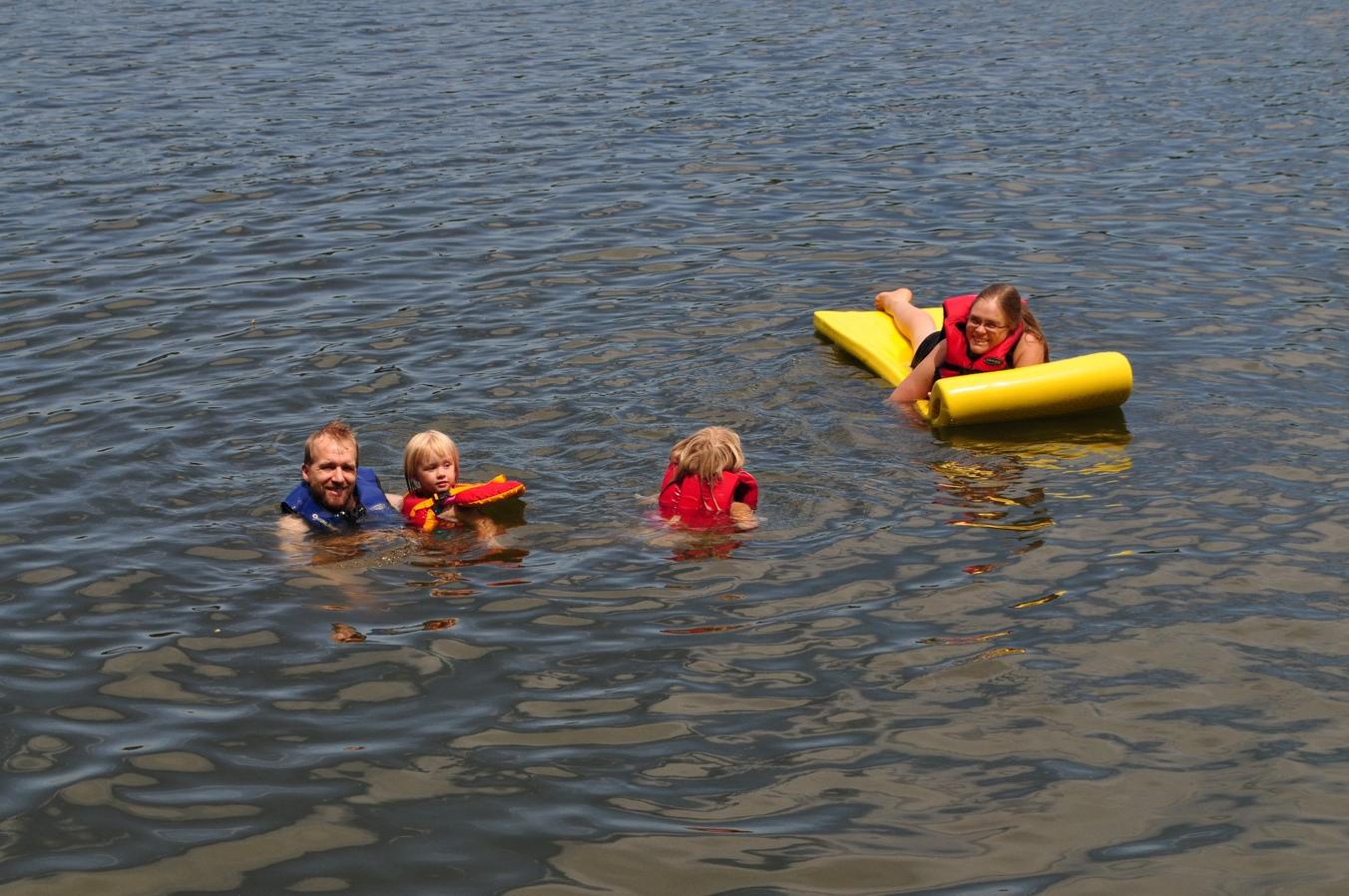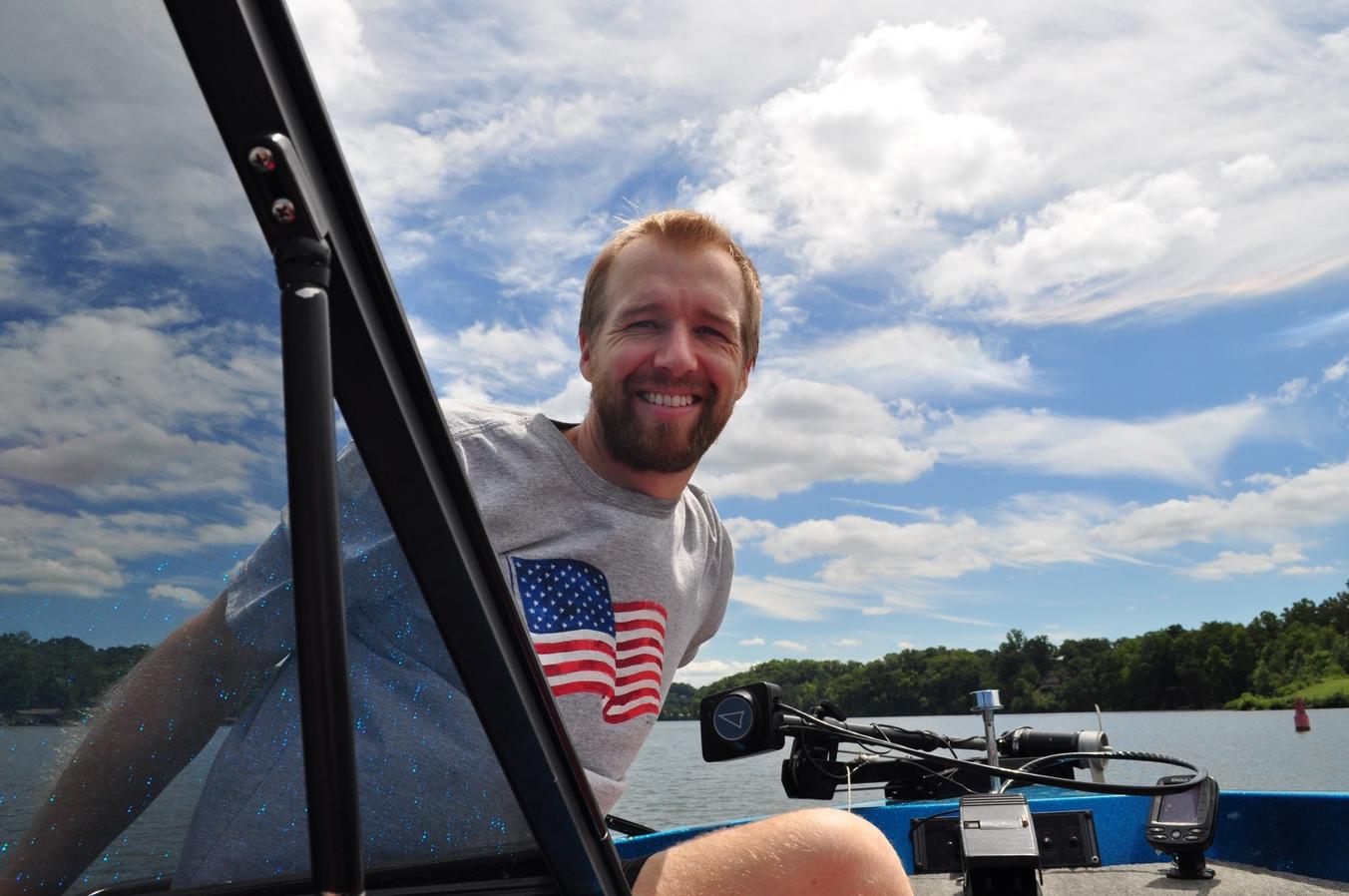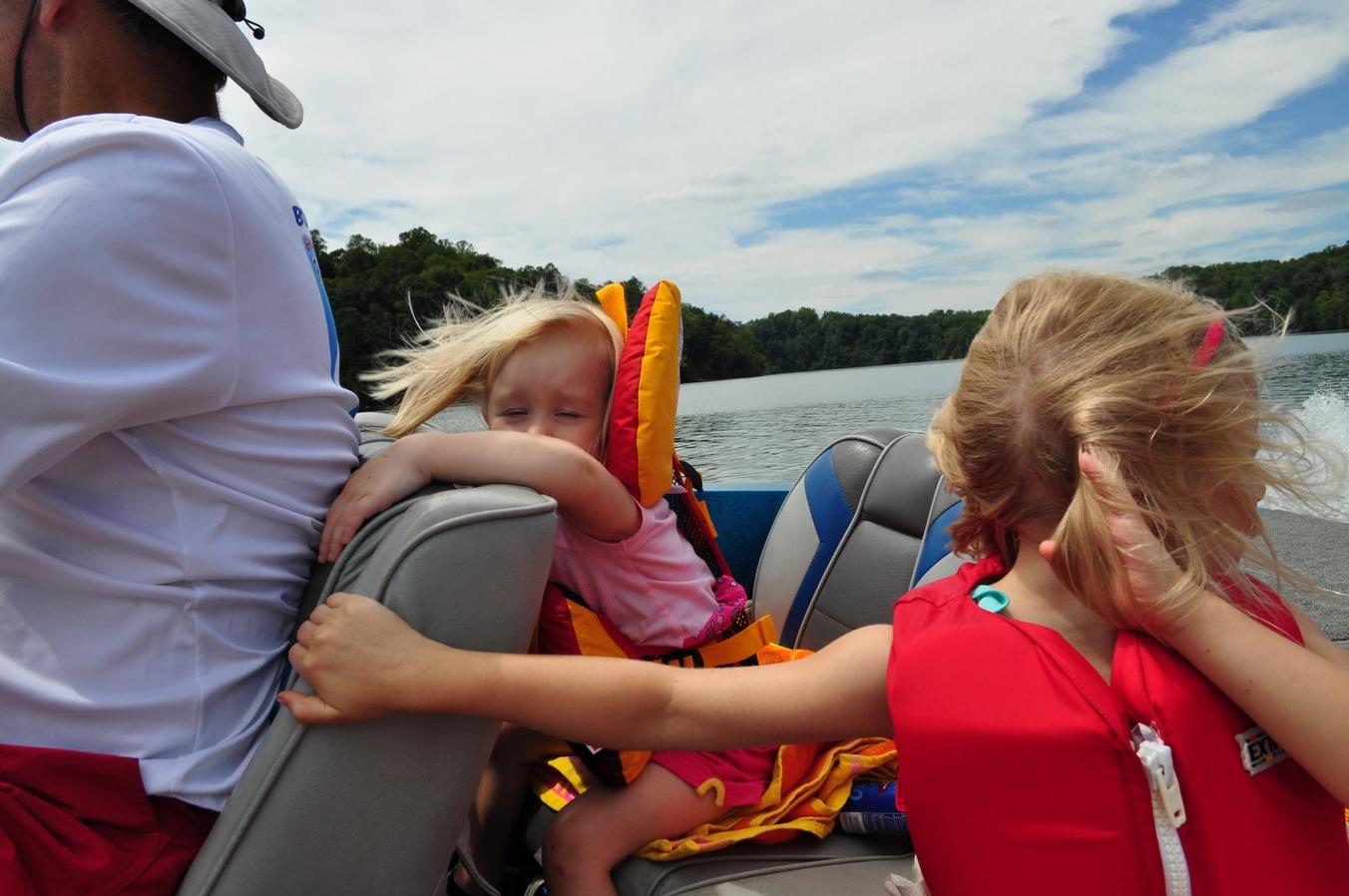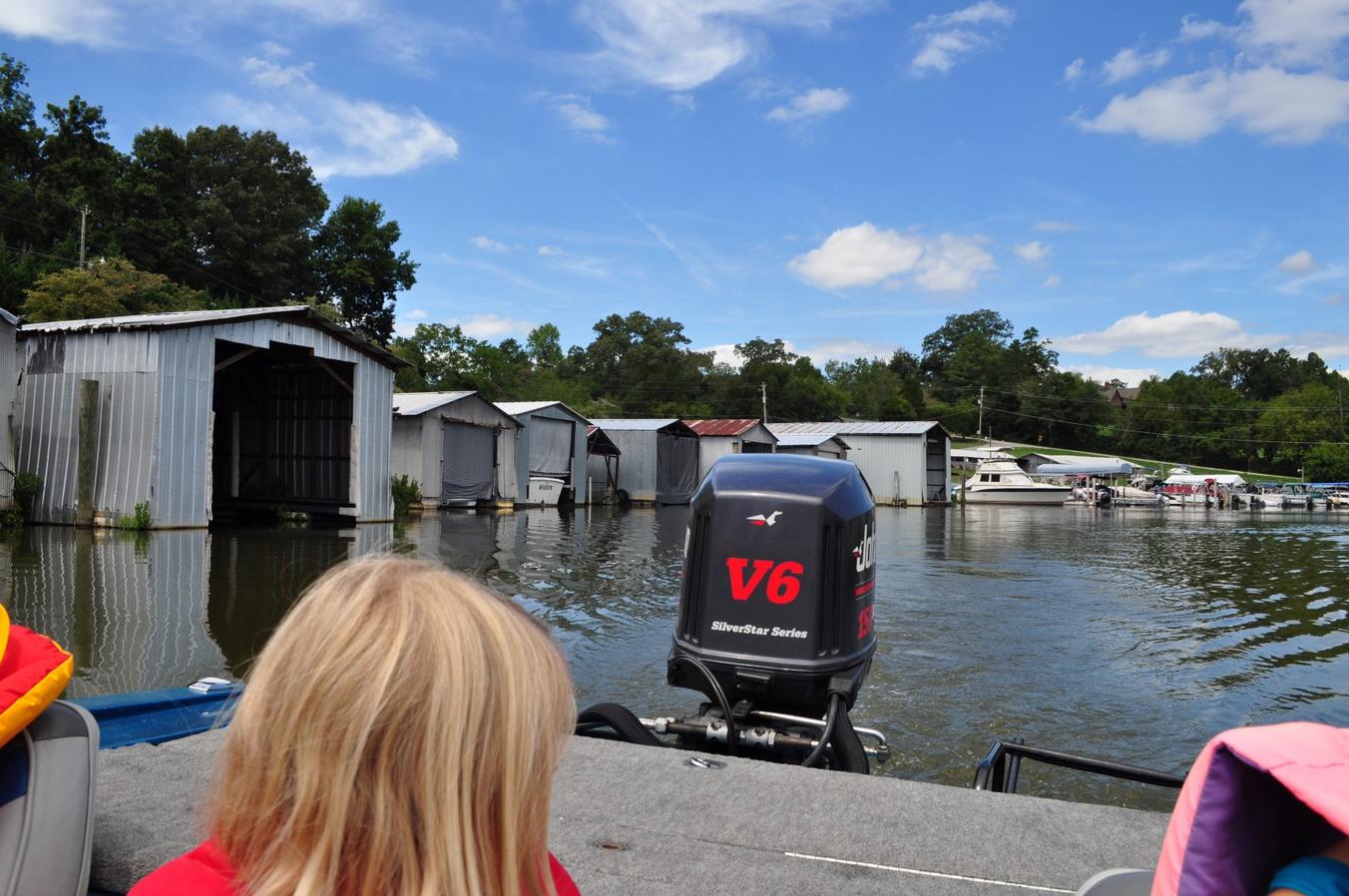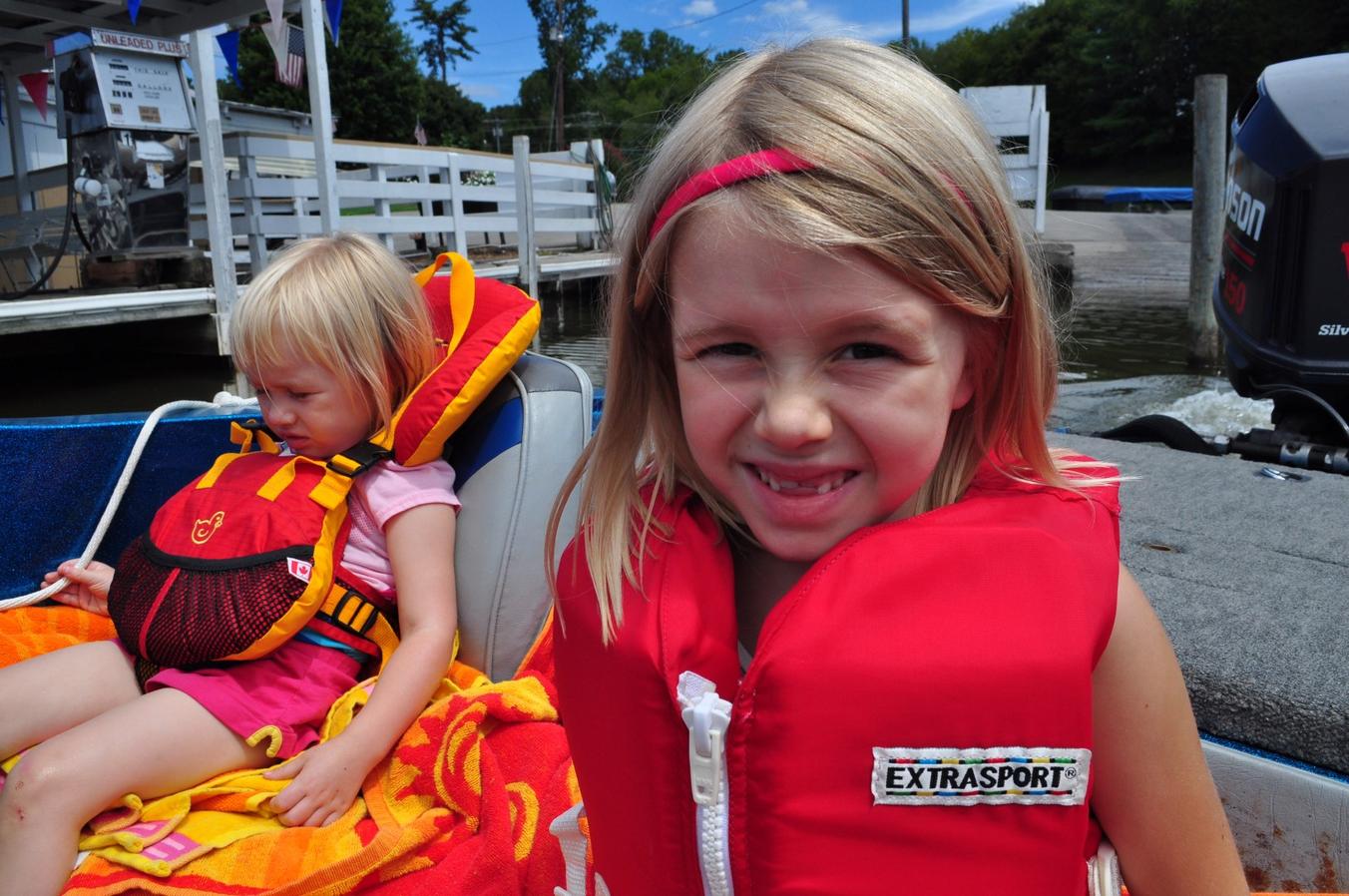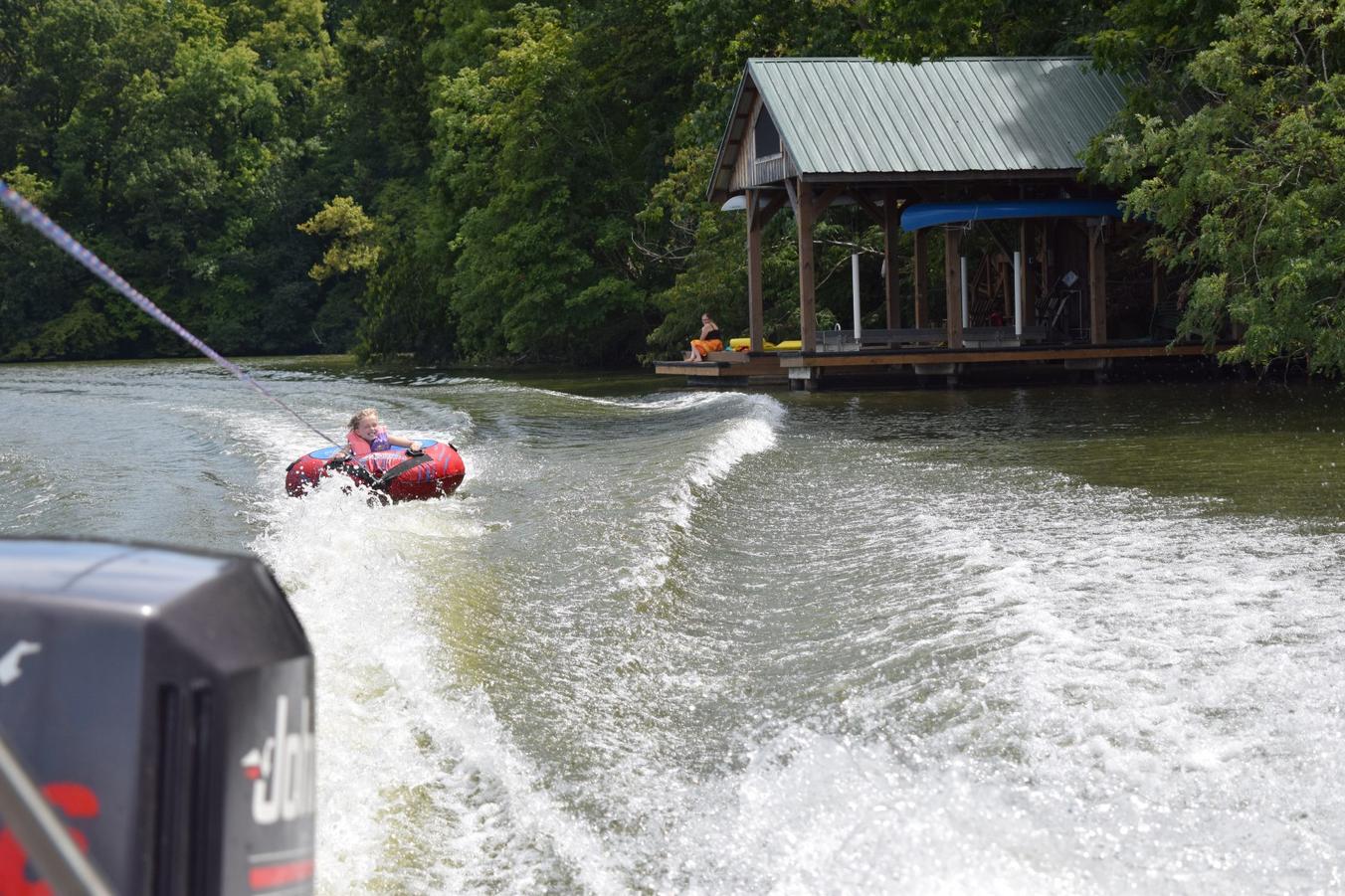 After our tubing fun, we had one last visit with Aunt Marti and other family members. It was a precious time together, but not without some silliness too. See those amazing arm muscles that Eva has? Well, I got cocky and challenged her to an arm wrestle. I'm proud to say that we were a match — neither of us could get the other one down. All to say, I felt a little chuffed about that. :-)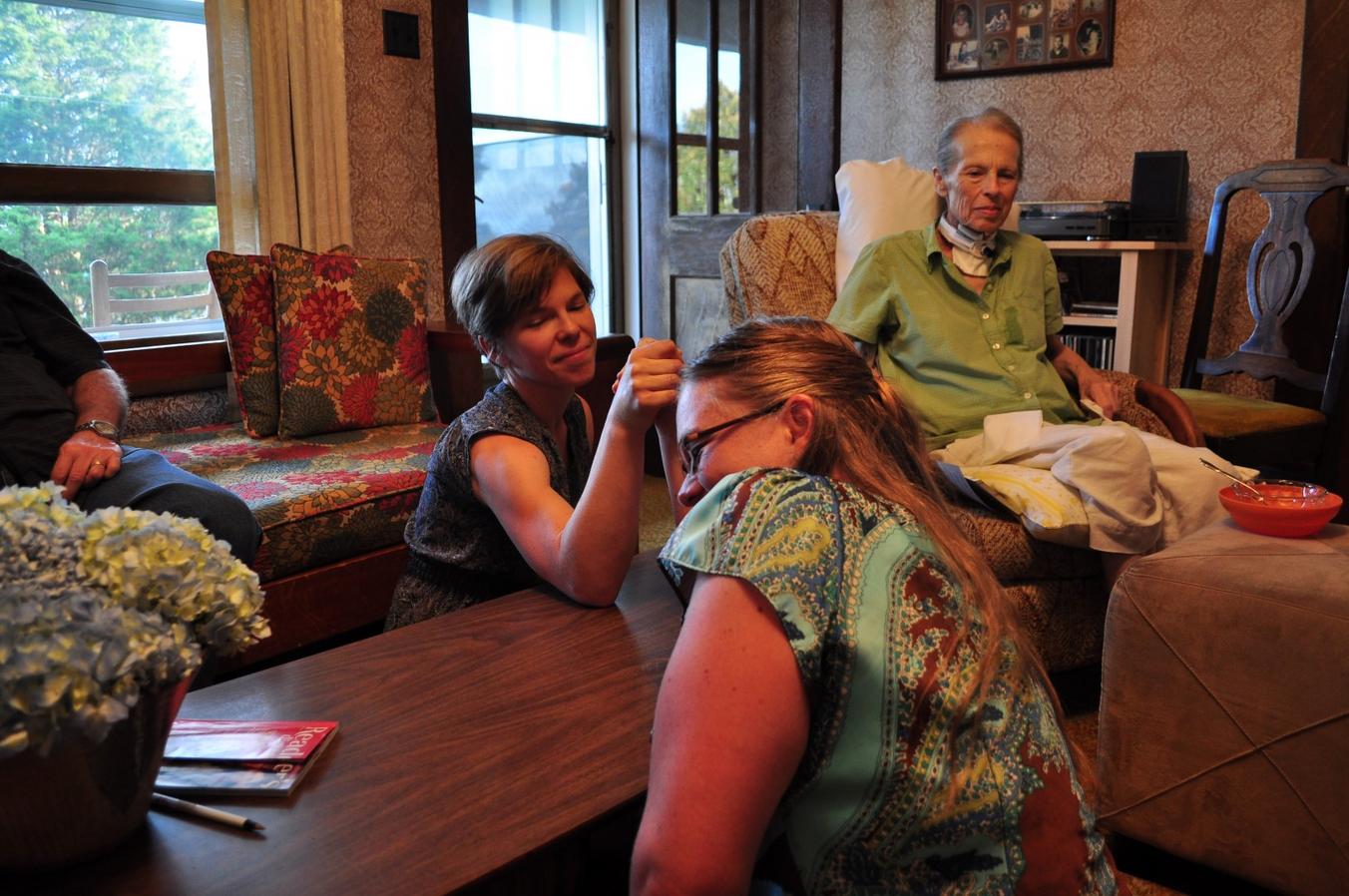 The day we got back the klutz in me misjudged a step at our friend's house (the one with the pool) and I sprained my ankle really badly. The doctor reckoned I partially tore 3 ligaments — thankfully nothing was broken! — which meant that I had to be on crutches for the next 6 weeks, wearing one of those sexy black boots. I never realized just how painful a sprain is, and how insanely difficult it is for a mother to try and do just a few basic things around the home while hobbling around on crutches. Man! I'm so thankful for great friends who brought meals and helped out in other ways. I couldn't have made it through without them! I was also thankful that I sprained my ankle at the end of summer rather than earlier — not that it's ever really a good time, but hey.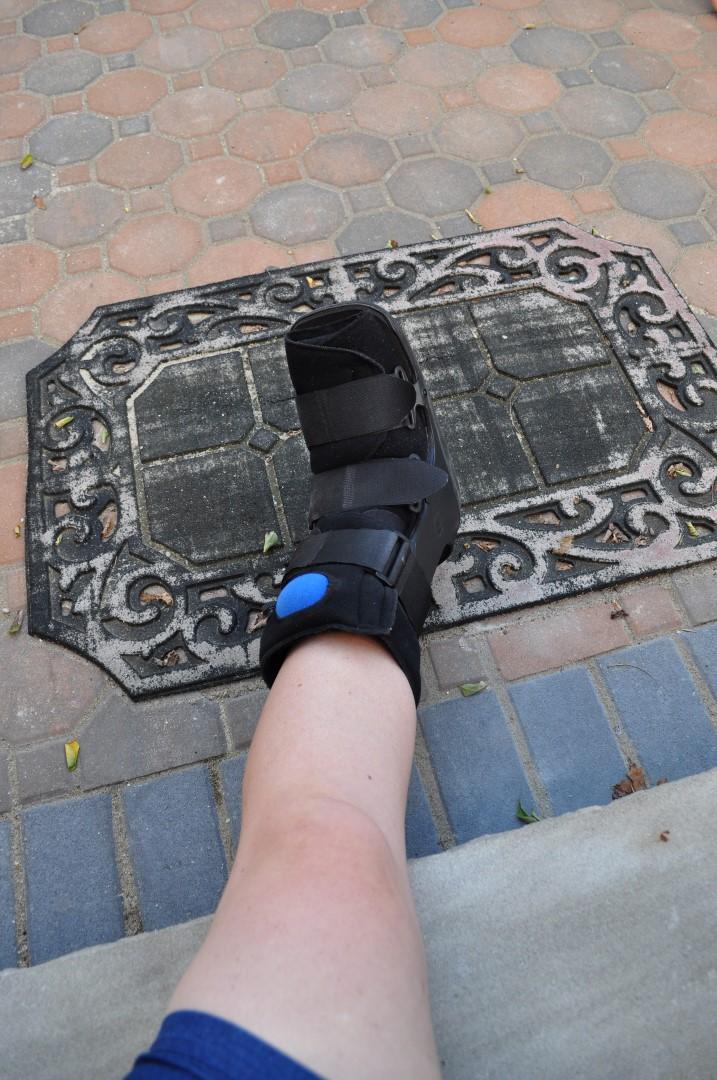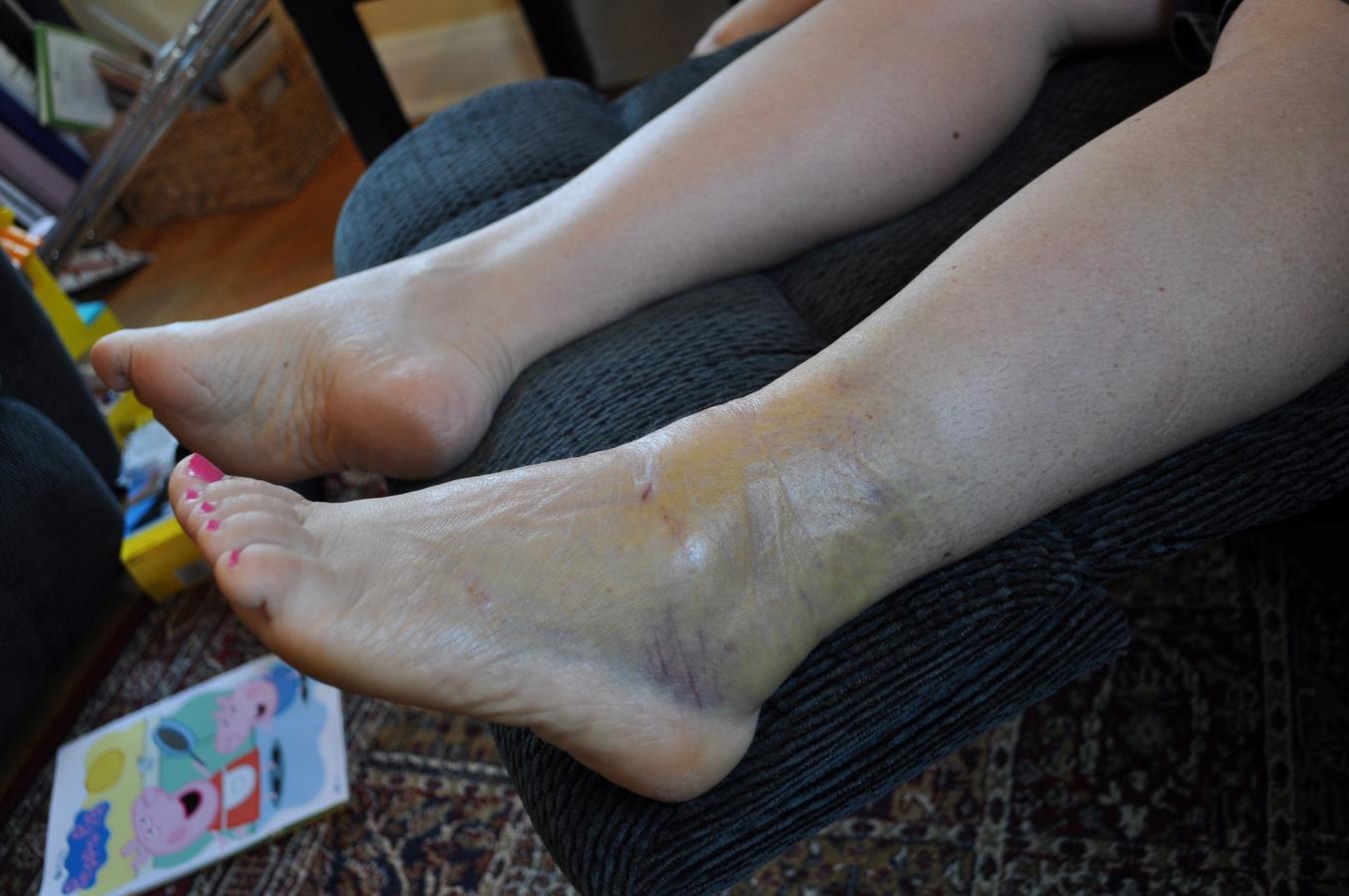 Phew, if you got this far, you've done really well! Now just to catch up on autumn…