I wasn't, but Chuck Geschke was.
Let me back up a bit: for Christmas, Franci gave me a true geek book called Masterminds of Programming, which I reviewed in detail here. One of the interviews was with the creators of PostScript, a computer language used to control printers. PostScript was designed in 1984 and is still in widespread use today, especially because it shares a lot of concepts with the popular PDF file format.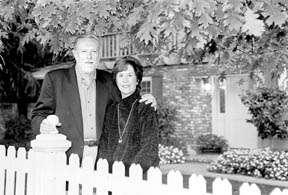 I'd known about PostScript for a while, but what I didn't know was that its creators went on to found and direct Adobe. So I was reading the Wikipedia entry for one of the founders, Charles Geschke, and was intrigued by the heading "1992 Kidnapping".
Sure enough, when he was 52 he was kidnapped in broad daylight by two guys after "their share" of his wealth. The fascinating kidnapping story is recounted in a four-part tale in the Los Altos Town Crier.
Franci and I both enjoyed it — it's quite a story! The story gets you into the intensity of the situation, and how his faith and family (particularly his "negotiator" daughter) helped him escape a very sticky situation. Links to the article below: