I love baking. I love sharing baking. I love receiving baking. I love eating baking. Who doesn't?!
Christmas is always a time of the year that I excitedly go totally overboard in the baking department, making way too many goodies and loving every minute of it!
This year I was so excited to receive a box full of goodies from my friend Heather. It got demolished so fast by people around here who will remain unnamed that I didn't even get a chance to take a photo of it. I can show you a photo of the box, however, because it got reused to fill with goodies to take to the Eshelmans' for a Christmas gift for them. I had bought another box, but this one was bigger, so I went with the bigger one. :-)
What was in it?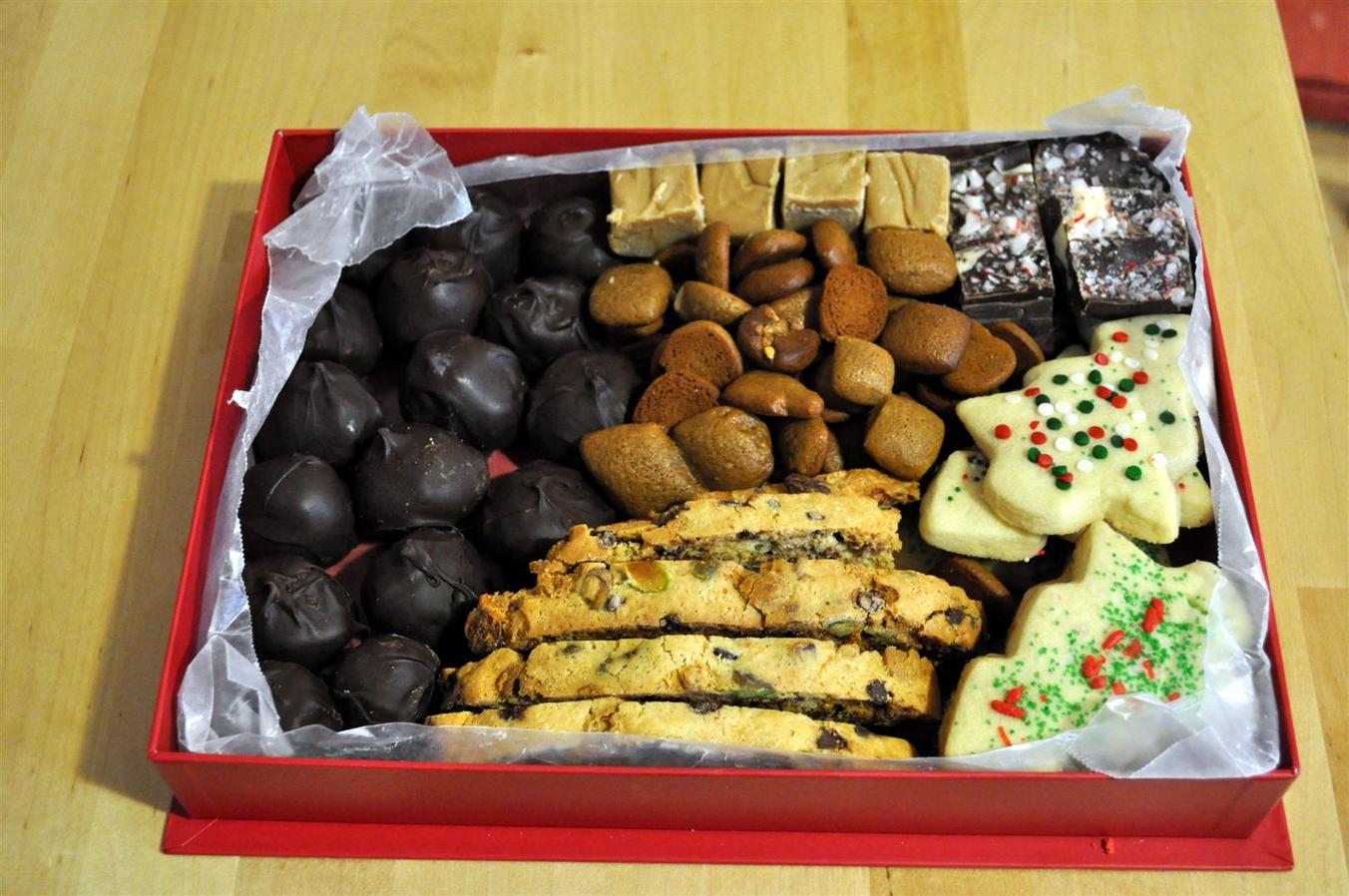 Going clockwise from the left, above: port and prune truffles, fudge, peppermint bark, sugar cookies, Christmas biscotti, and peppernuts.
I know I'm always interested in some new recipes, so I thought I'd share these here with you.
Decadent chocolate prune and port truffles (adapted from a Jo Seagar recipe)
375g dark chocolate (1 packet chocolate melts)
125g butter
about 20 – 25 prunes
the juice of 1 orange (1/4-1/2 a cup)
the zest of 1 orange
¼ c port
3-4 cups icing sugar
2-3 extra packets dark melts, to dip truffles
Place chocolate and butter in a microwave-safe bowl and microwave on medium or high until melted – about 2 to 3 minutes. Stir a couple of times during cooking. Chop up the prunes, checking there are no stones remaining and place in a small microwave-safe bowl with the port. Cook on high for 2 minutes to plump up. Mix the chocolate, butter, prunes, orange juice, zest and port together with the icing sugar until well combined. Chill in the fridge until firm enough to roll into walnut-sized balls. (The mixture is quite runny and soft when you first prepare it, but should take about an hour or two to firm up in the fridge.)
Roll into walnut-sized balls, and place the balls of mixture on a foil-lined tray and freeze until really solid, about 2 hours. Melt the 2 packets of chocolate melts on medium to low power, stirring often. Dip the frozen truffles in the melted chocolate using a chocolate dipping form or 2 teaspoons. Drip off excess chocolate and allow to set on a tinfoil-covered tray. Store them in a cool place. If you have to put them in the fridge, make sure you line the container with paper towels and in between layers of truffles too to absorb the moisture when the truffles 'sweat'.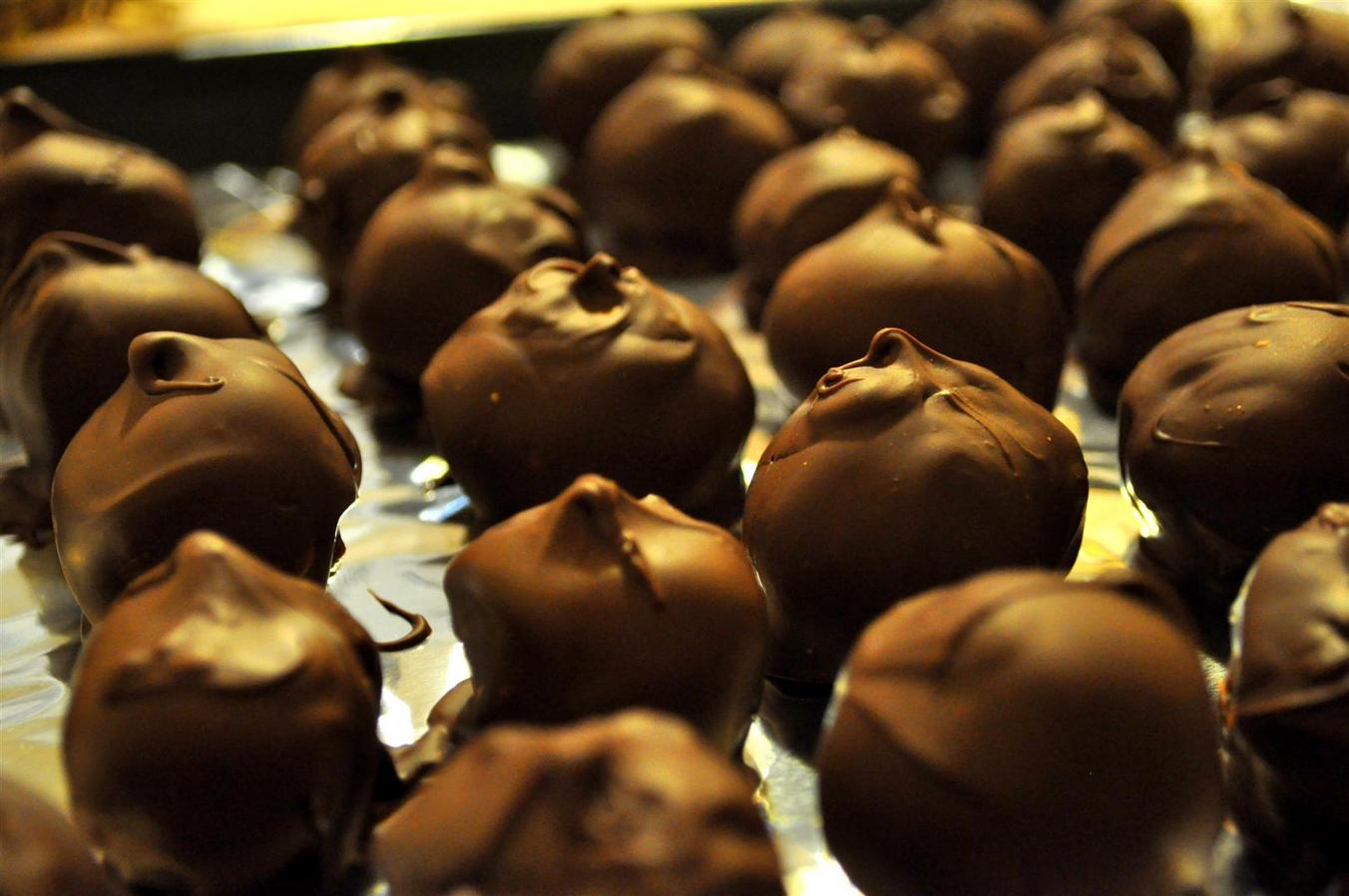 Peppermint Bark
Melt one packet of semi-sweet or milk chocolate chips and spread it as evenly as you can over the bottom of a lined 9 x 9 (or thereabouts) dish. Then go ahead and do the same with white chocolate, this time spreading it on top of the dark/milk chocolate. (You can wait unit the bottom layer is set, or if not, it makes nice swirling patterns.) Then go whack about 3 candy canes in a bag with a rolling pin (or if you're lazy like me chop them in the food processor) and sprinkle it over the still wet chocolate. Let it harden in the fridge, and then break or cut into manageable pieces.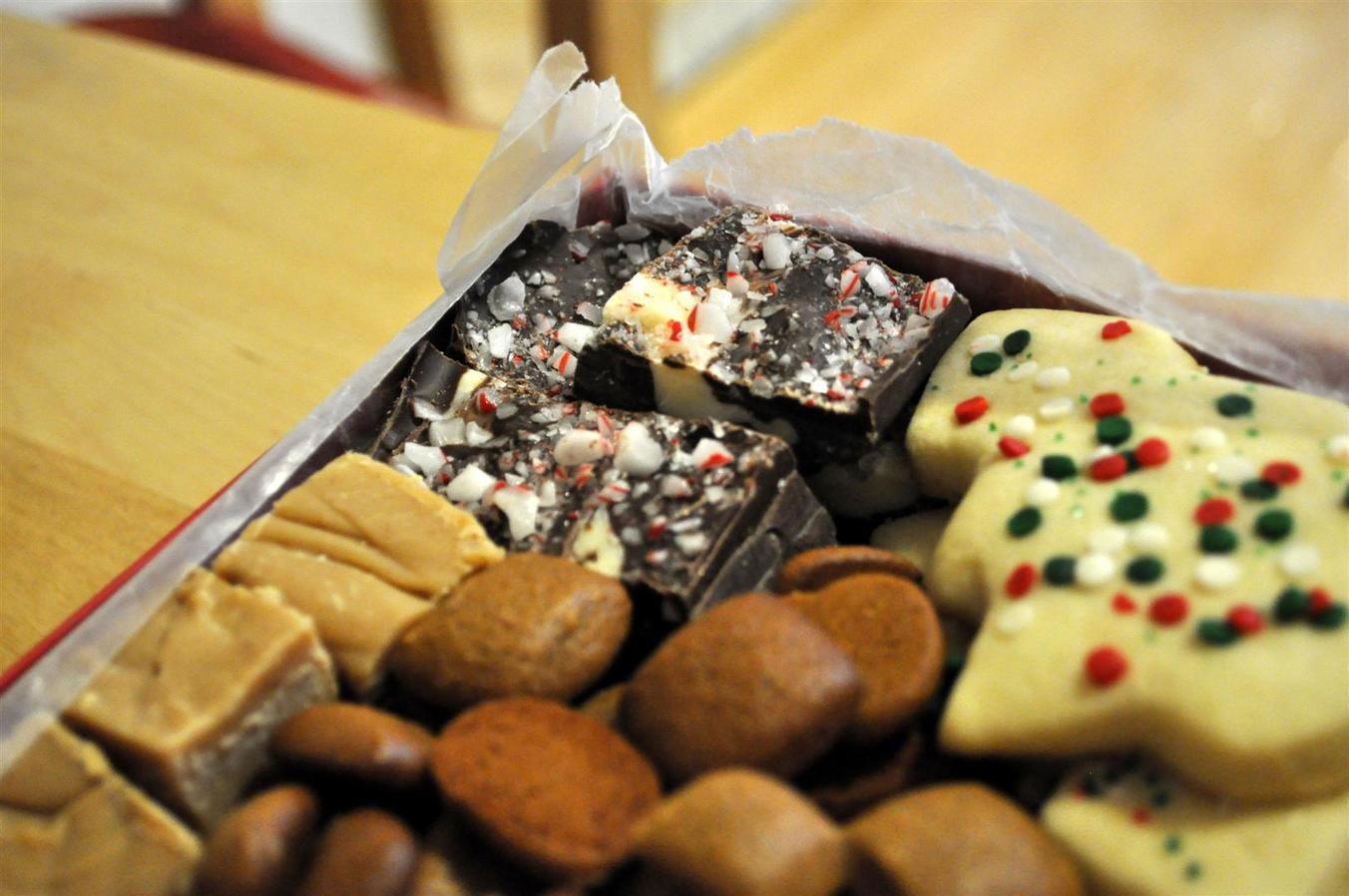 Grandma Tschetter's Peppernuts
1 c sugar
½ c butter
2 c light-coloured molasses (or golden syrup/honey)
3 eggs
6 c flour
1 t baking soda
1 t cloves
1 t cinnamon
½ t salt
1 t anise seed (optional)
1 c chopped walnuts
Mix sugar, molasses and butter in a saucepan and bring to a boil. Let cool, then add eggs well-beaten and the flour sifted with soda, spices and salt. Add flavouring. Roll dough and cover and refrigerate for about a week. When ready to bake, add nuts and additional flour if needed. Cut or roll into small balls and place on a greased baking sheet. Bake at 350°F for 8 – 10 minutes. Do not over-bake as they can get too crunchy. Take off the baking sheets as soon as they get out of the oven. These cookies can be stored indefinitely.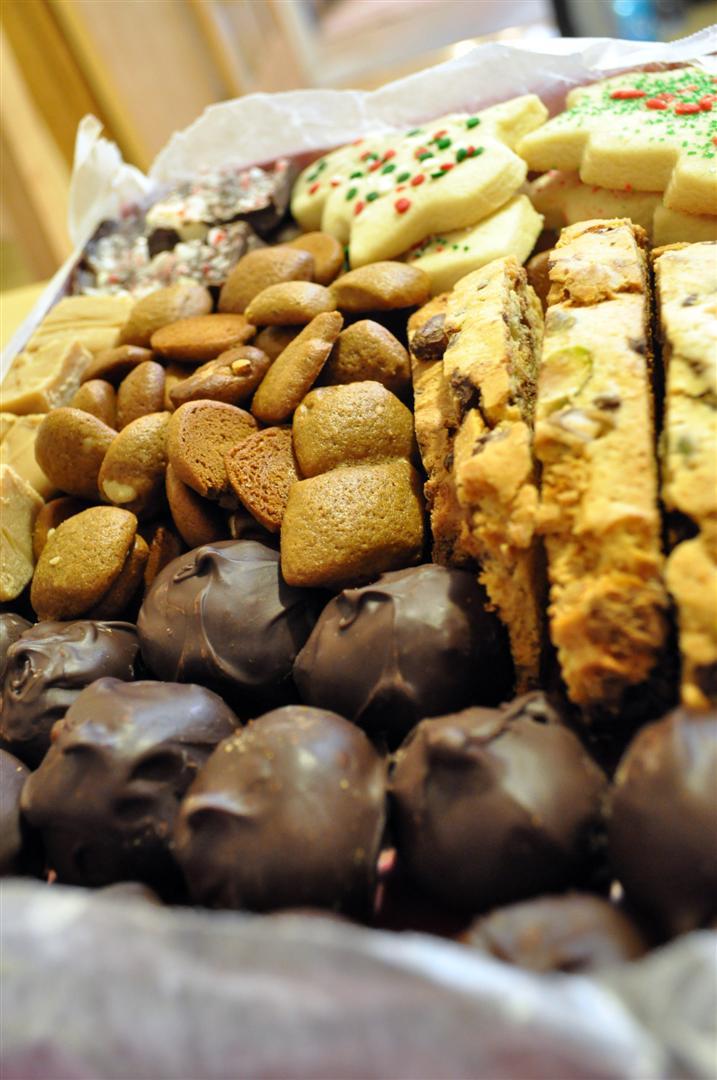 White Chocolate, Strawberry, and Pistachio Biscotti (from Femina)
In a bowl combine: 3 c. flour, 2 t. baking powder, and 1/2 t. salt
In another bowl blend 3 eggs with 1 c. sugar, 2 T. oil, and 2 1/2 t. vanilla
Dump the dry mix in the wet, and mix until combined. With a wooden spoon stir in about 1/2 c. shelled pistachios, 3/4 c. chopped dried strawberries, 1/2 c. or so of white chocolate chips, and a smattering of mini chocolate chips. On a parchment lined baking sheet, pat into a long flat loaf with wet hands (about 5″ wide and 15″ long). Bake at 350 degrees for 30 minutes, or until lightly brown and not squishy to the touch. Pull out, reduce the temp in the oven to 325, and let cool on the counter for at least 20 minutes. Using a bread knife, cut into one inch slices, and line up on the same sheet with new parchment. Bake for another 20 minutes or so, or until desired state of crunchiness is achieved. These are great with tea or coffee, frozen or not.
If you have left-over melted chocolate from dipping your truffles, you can always dip your biscotti!