Meeting Rick and Susanna was one of those amazing cases of providence. Both our families happened to be visiting Park Slope Presbyterian Church on the same Sunday, we got talking, we clicked, and a friendship was formed. We feel very privileged to know this couple and their kids. The more we get to know them, the more we like them!
Our kids get along too (most of the time)! They have a little boy, Micah, who will be turning 4 soon, and two little girls, Ellie who is 2, and Amelia, who is almost 3 months.
On the 5th of July we had them over for a barbeque so Ben could try out our new charcoal barbeque. We had a great time, despite the black hamburger patties!
We hope and pray that this new friendship might last a lifetime!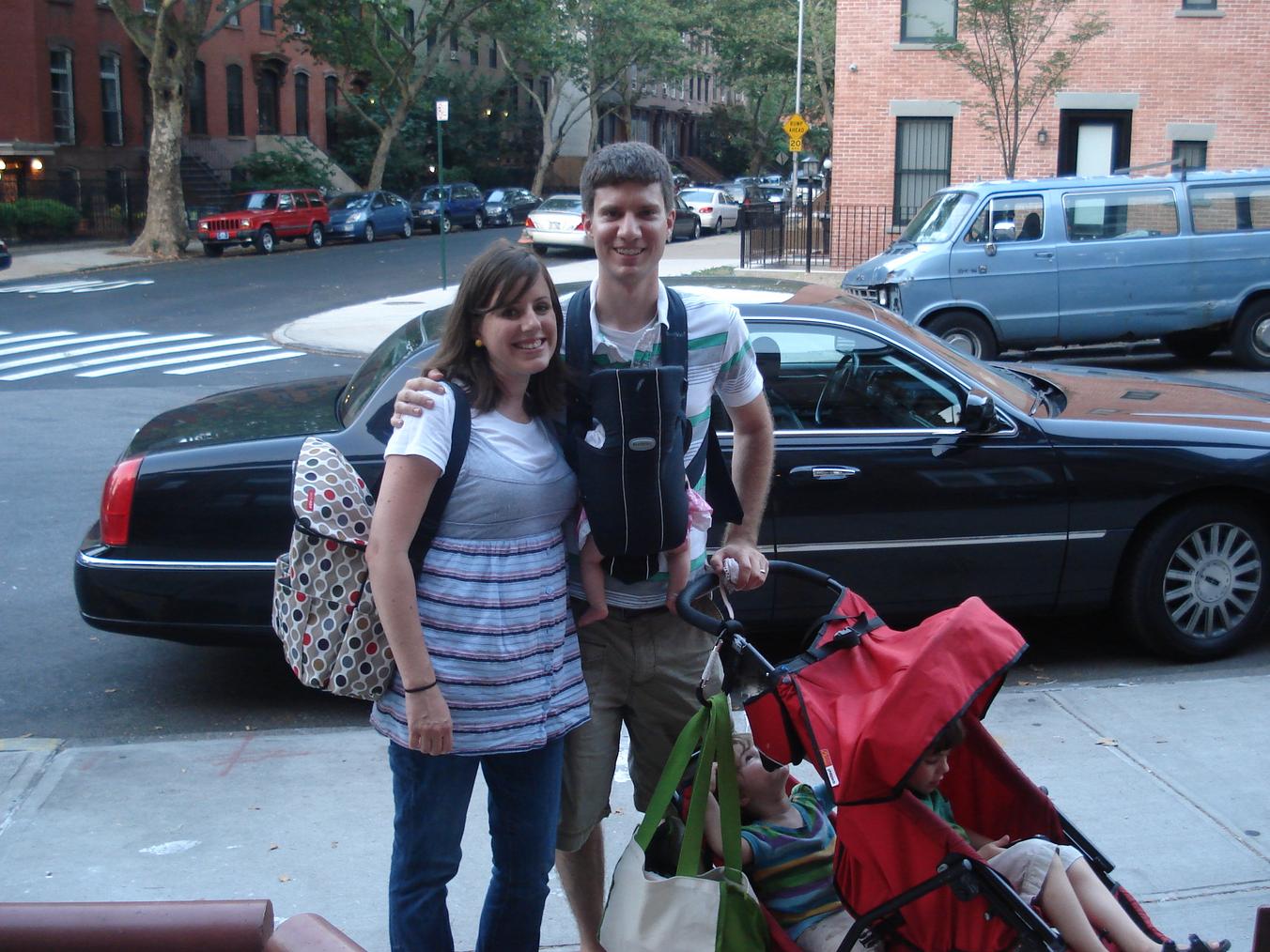 Rick and Susanna and their kids were our very first dinner guests. And then last night, we had the unexpected priviledge of hosting some old friends from New Zealand, Lynton and Anna Baird who were visiting the people we actually invited — Melissa (nee Bryant) and Nathan Ketchen and their family.
It was very strange to hear so many Kiwi accents in one room and great to catch up with Lynton and Anna and get to know Nathan, Melissa and their 2 (soon to be 3) kids. We compared notes about funny things in America, food we get in NZ and not here and vice versa, and much more.
Melissa is from New Zealand and met Nathan at Greenville Seminary where they both were studying. Nathan speaks fluent Spanish and is the pastor of a Spanish mission church through the OPC in Long Island.
I hope to go visit Melissa sometime soon after her baby is born — hopefully the train works out. It's nice to know another kiwi lives nearby!
Our apartment isn't really big enough for this size group, but our backyard handles it fine! It was just a bit hot!
Yay for Tacos for dinner!
Mr Lynton and Mrs Anna Baird. :-)
While the adults talked inside, the kids had fun in a mud pit they made outside. :-)
All in all a great time.
We hope to welcome many, many more people to our home and share with them the little space we have, fill their bellies with good food and to be blessed with their fellowship.