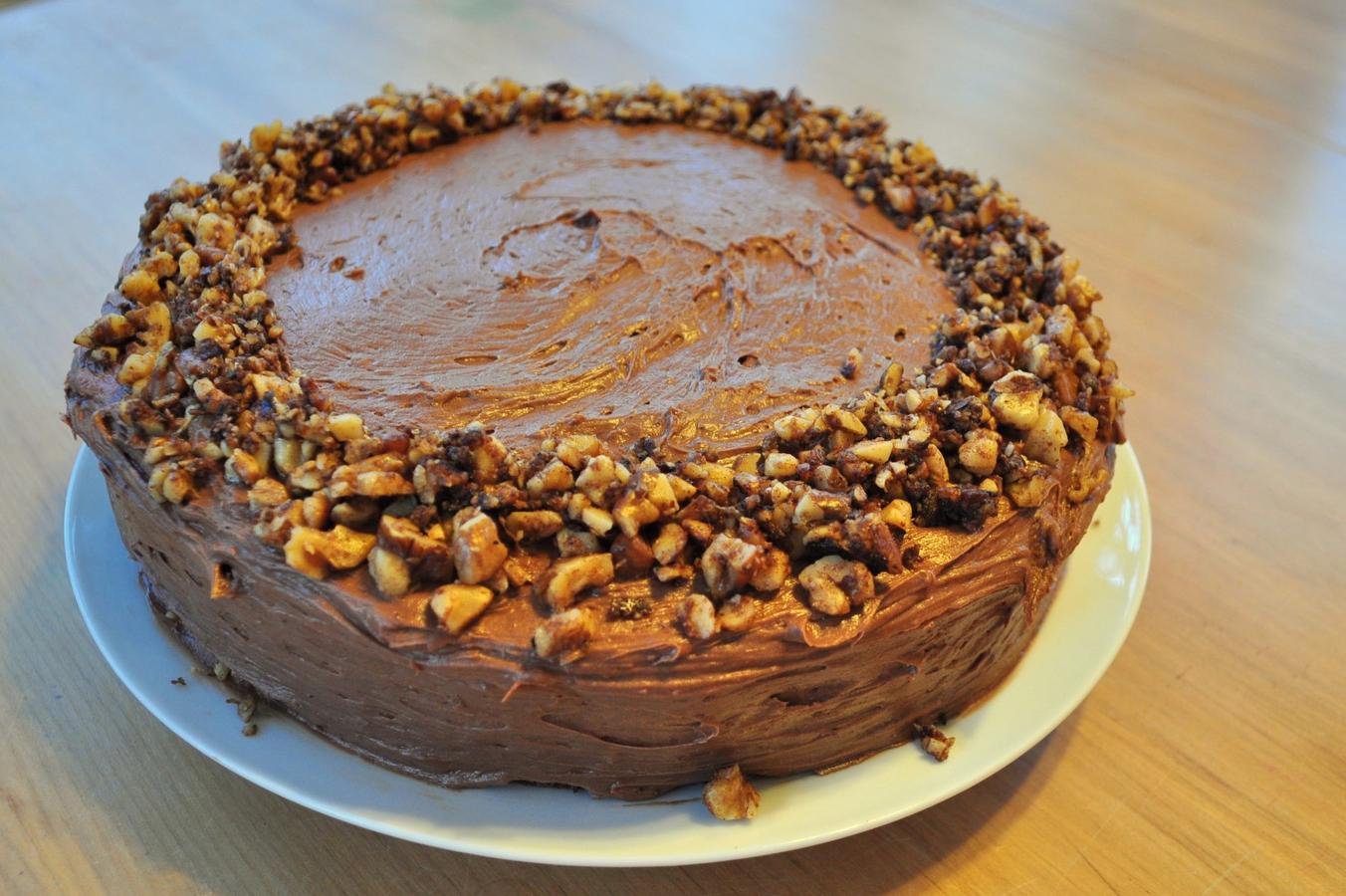 I built a cake earlier this week. I'm doing really well at blogging about it while the cake is still in existence on the kitchen counter! I'm still playing catch-up with blogging about news from the summer, but I wanted to share this before it died in my drafts folder like so many other recipes. Excuse the bad lighting in the photos, it starts getting dark around 4.30pm these days and I had run out of good daylight hours before I was done with the cake.
At our place we have dessert on days starting with T and S, so dessert days come around pretty frequently. Sometimes it's a piece of chocolate or candy, sometimes it's ice cream. Recently we went on a bit of an ice cream streak, especially after discovering Trader Joe's Pumpkin ice cream. It's like eggnog and pumpkin pie had a baby that turned into ice cream. So good! Anyway, after a while Ben suggested that maybe we should have some variety in the desserts around here. I had a look at my fruit bowl and saw a bunch of very sad looking bananas — perfect for banana cake/loaf. There really isn't any difference between the two, one gets icing and the other you slice up and eat with butter) — and I concocted this banana cake with chocolate icing using a mishmash of various recipes online. Poor Ben, it wasn't quite what he had in mind — he's not a cake fan! — but it turned out delicious nonetheless, and even he thought it wasn't too bad.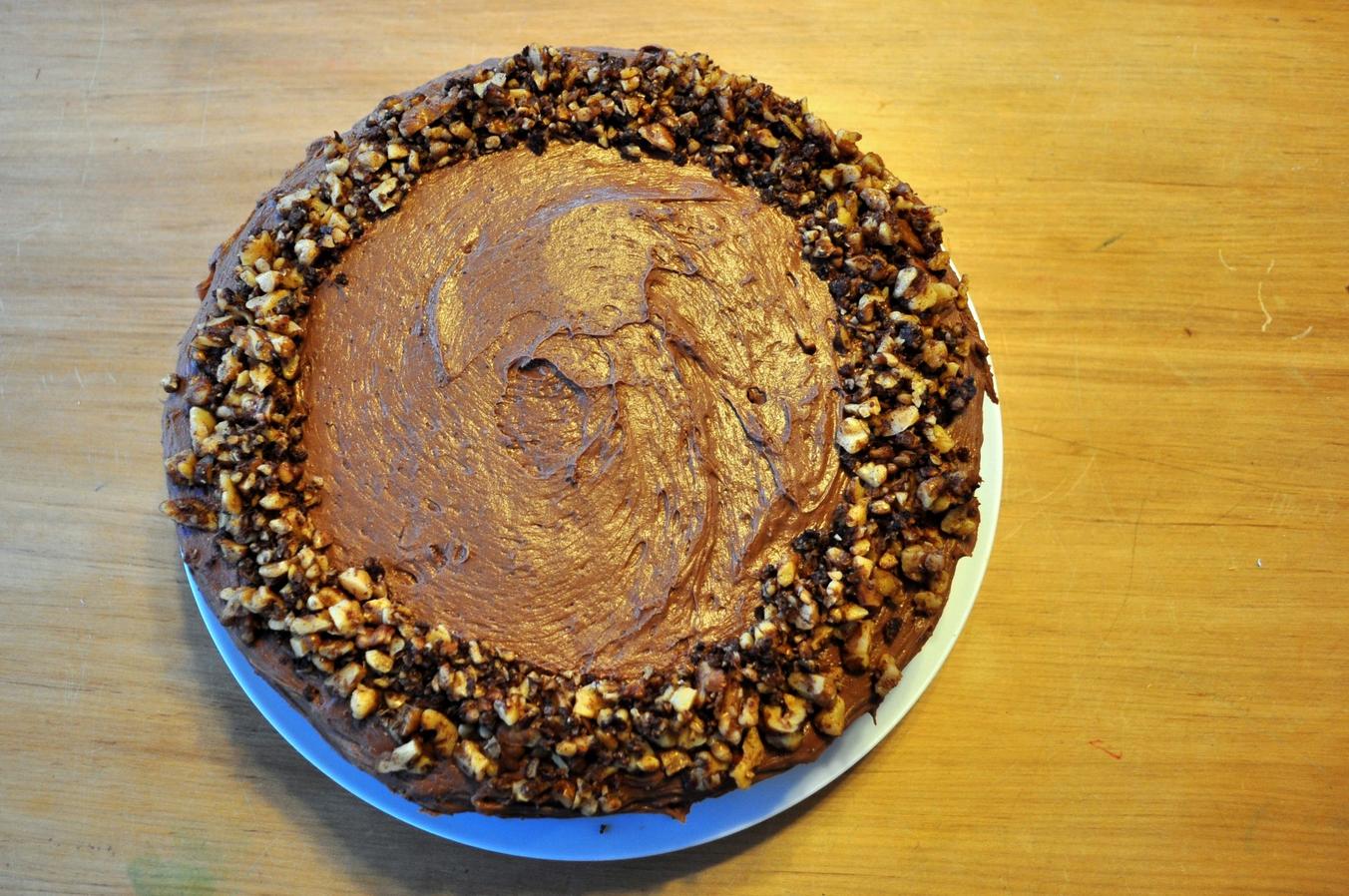 Cake
(I got this recipe from my sister in law, Elrike, and have tweaked it just a very little bit. The key to getting a moist but light cake is to alternately add the wet banana mixture and the dry ingredients a little bit at a time. Say goodbye to dense or dry banana cakes, this will become your go-to recipe like it has for me!)
½ cup butter
1/2 cup white sugar
1/2 brown sugar
2 eggs
1 cup mashed bananas
2 T plain yogurt or sour cream
2 cups flour
1 ½ t. baking powder
¼ t salt
½ t baking soda
1/2 to 1 c chopped walnuts (optional)
Cream shortening and sugar until light and fluffy. Add eggs one at a time and beat thoroughly. Mash bananas; stir in yogurt/sour cream. Sift dry ingredients and add alternately to creamed mixture with banana mixture. Fold in nuts.
Spread in greased 9 ½ x 5 ¼ x 2 ¾ loaf pan or a 9" cake pan . Bake at 350 degrees F for 45-60 min. Let stand 5 min.; turn onto rack to cool.
Icing
(This makes enough icing to be able to cut the cake in half horizontally and to put a layer of icing in between the layers of cake as well as ice the outside.)
1 block of cream cheese
4 T butter
1 t vanilla essence
1/2 cup cocoa powder
3 cups icing sugar
Walnut topping
1/2 c walnuts, chopped finely
1 T butter
1 T brown sugar
1 t cinnamon
After icing the cake, cut a circle out of a piece of paper that leaves an edge of about 2 inches of icing exposed. Lightly wet the exposed icing in case it has started to dry out (this helps the nut mixture stick better), then put the nut mixture onto the piece of paper in the middle and spread it outwards until it is all off the paper and in a nice ring on the outside of your cake. Gently press the nut mix onto the cake, and ta-da!