Back in mid-November I had a few girls from church over at our house for a pie making day. We worked hard, had lots of fun and got to enjoy some pretty yummy pies.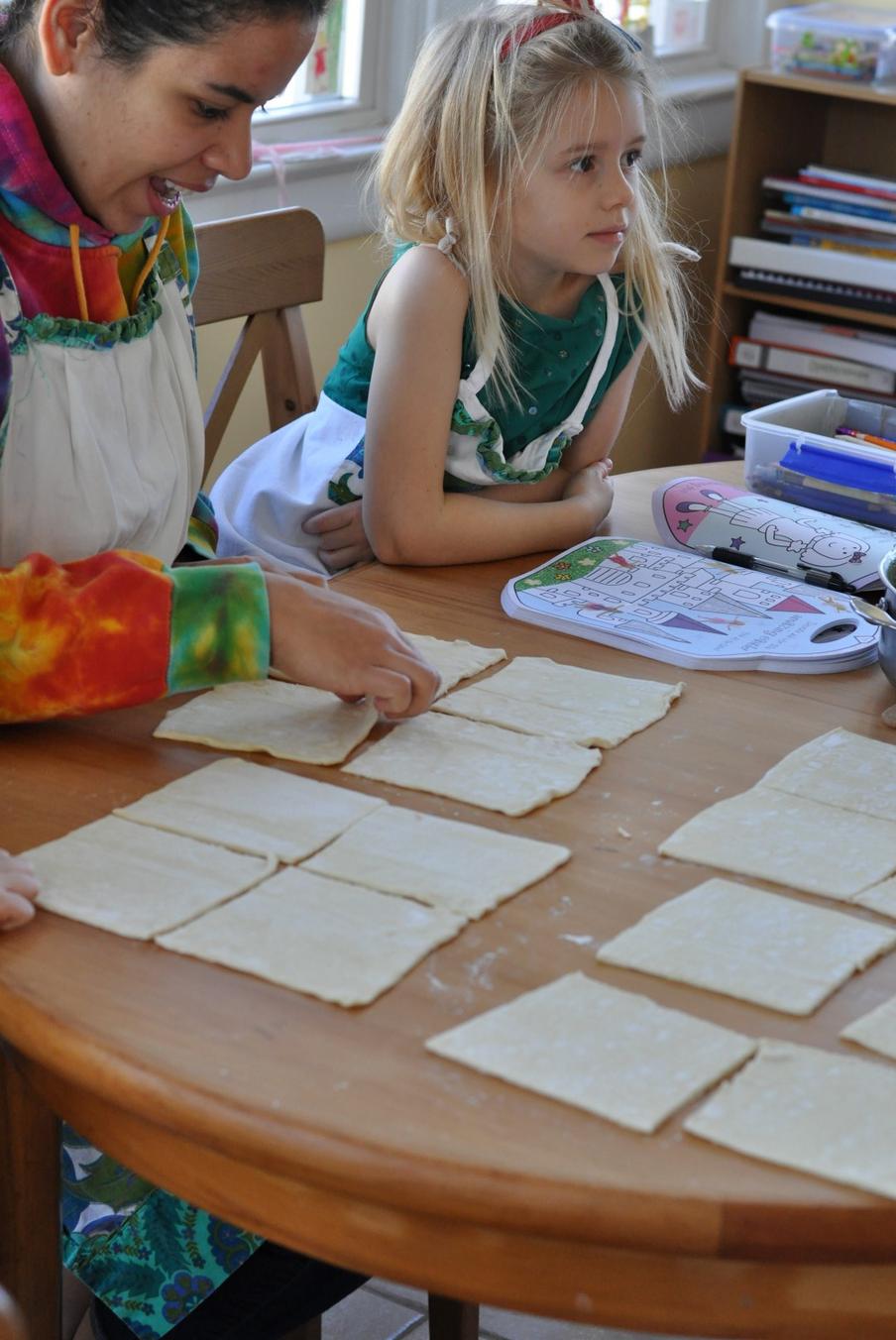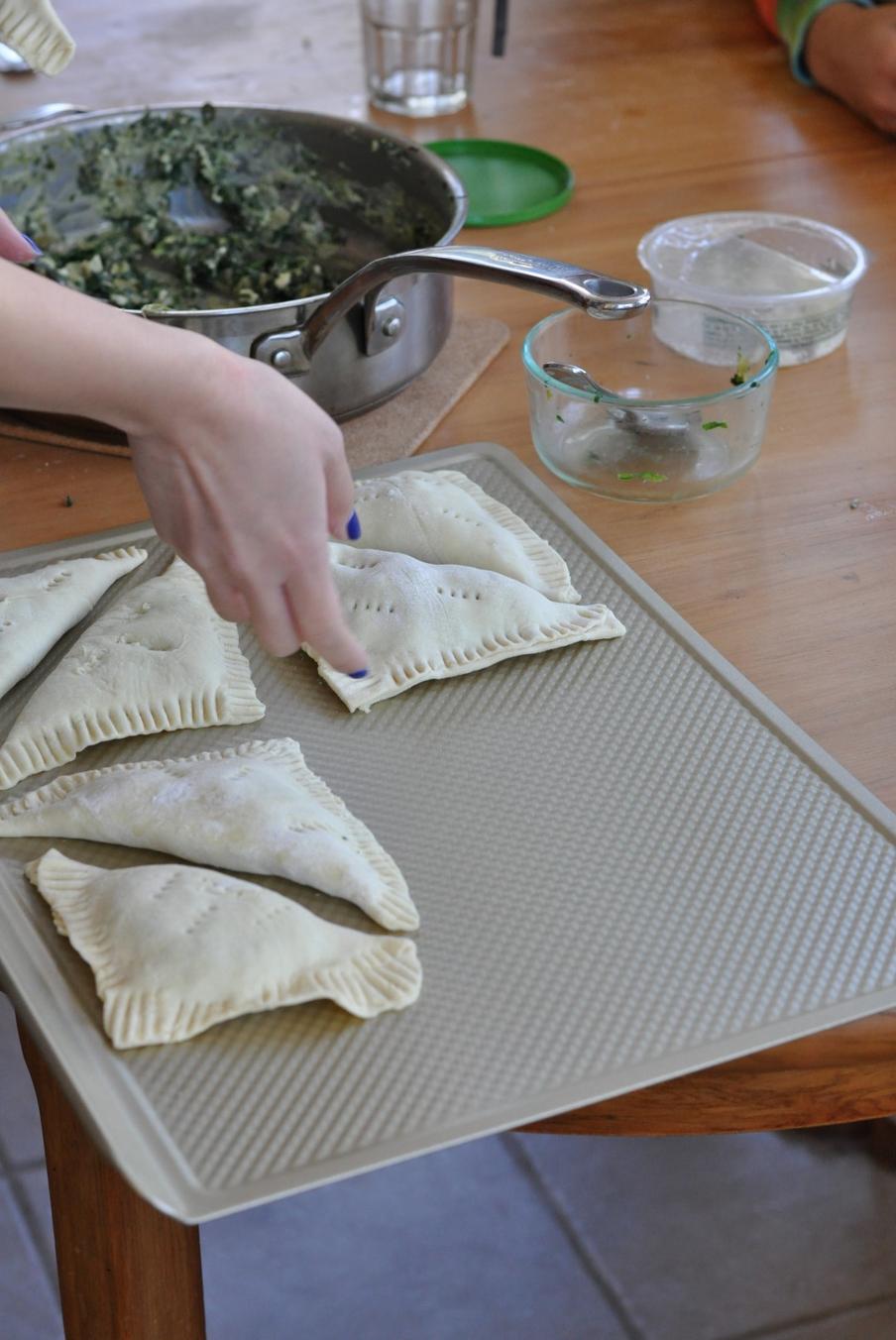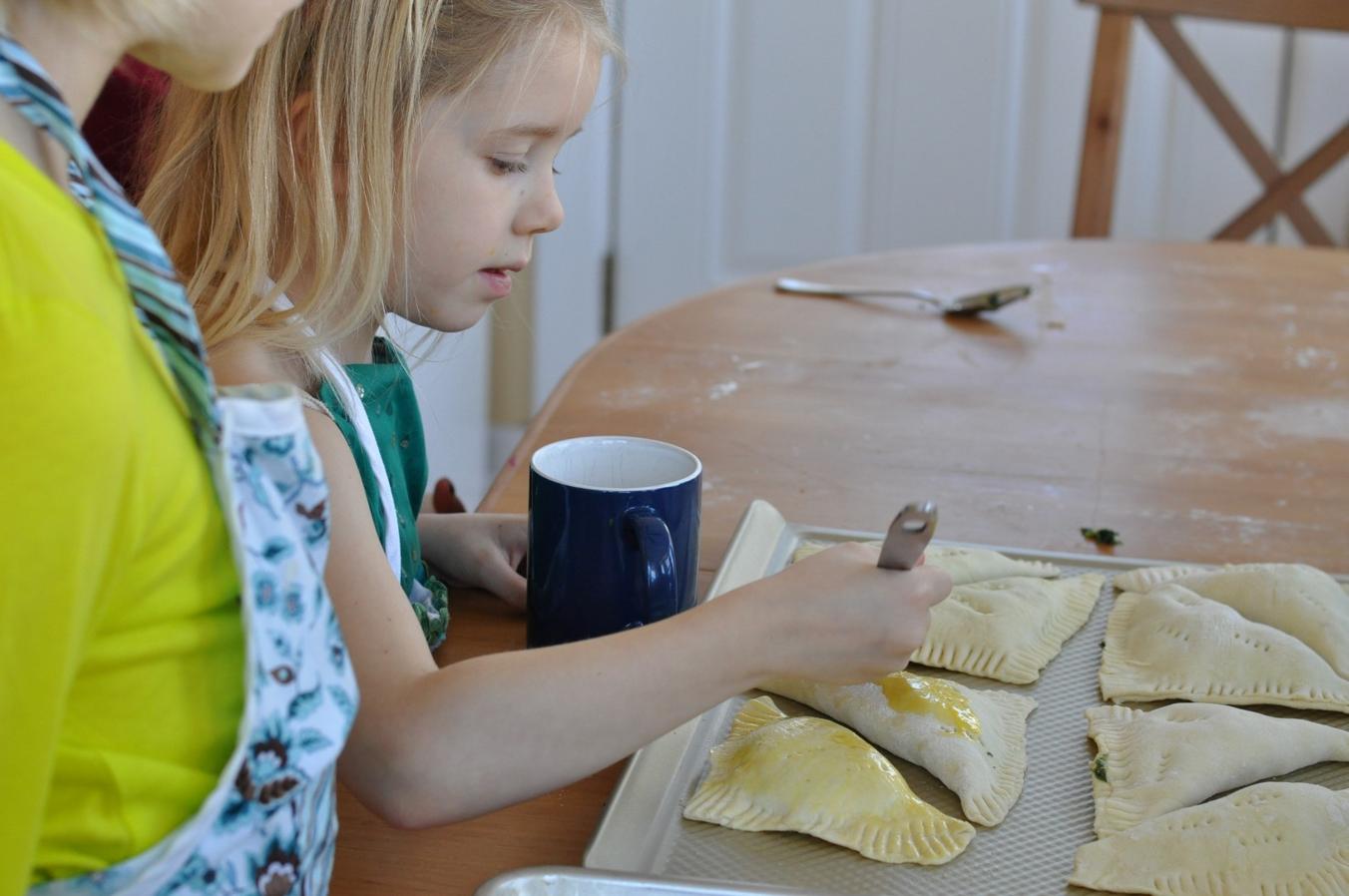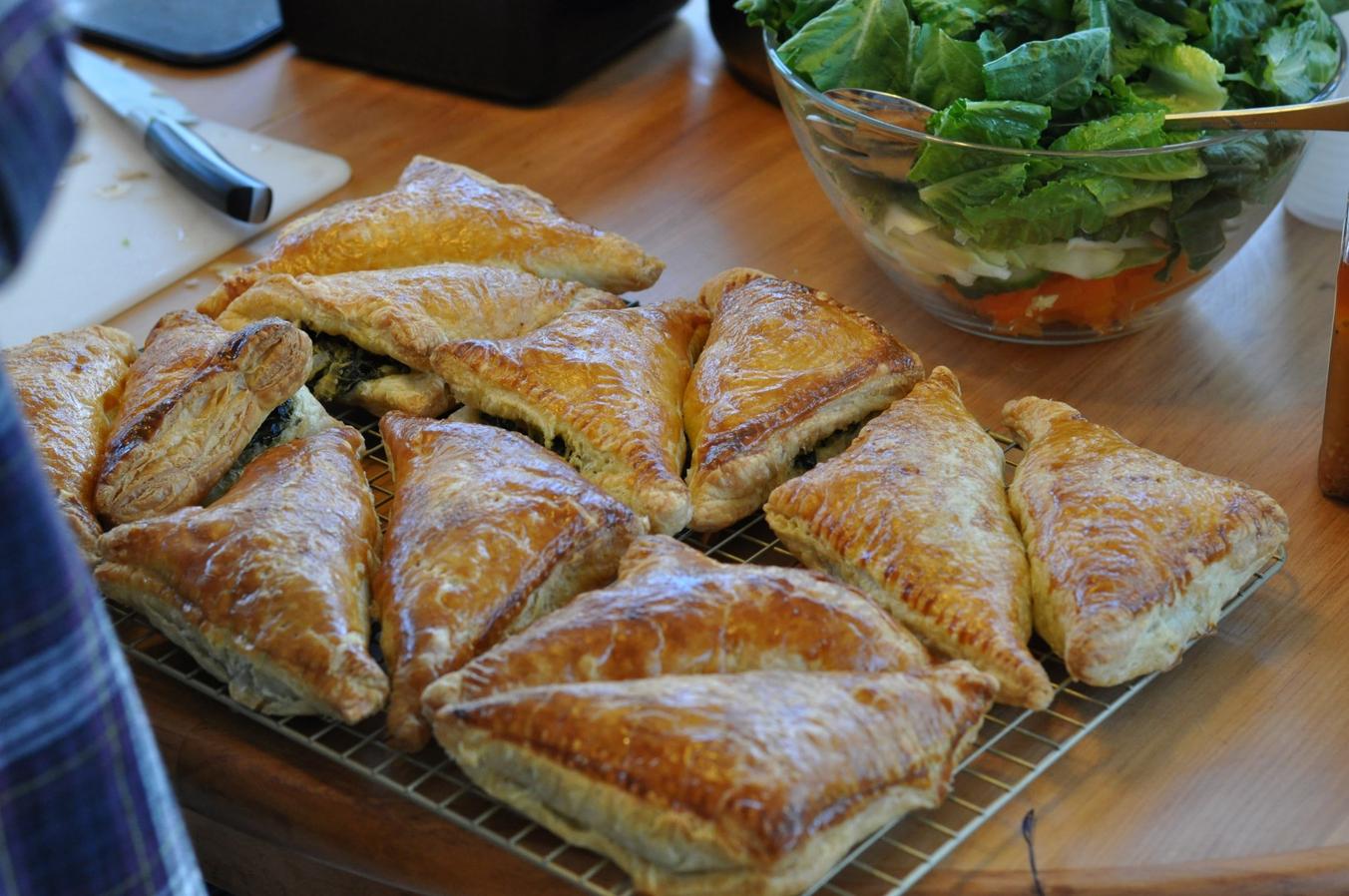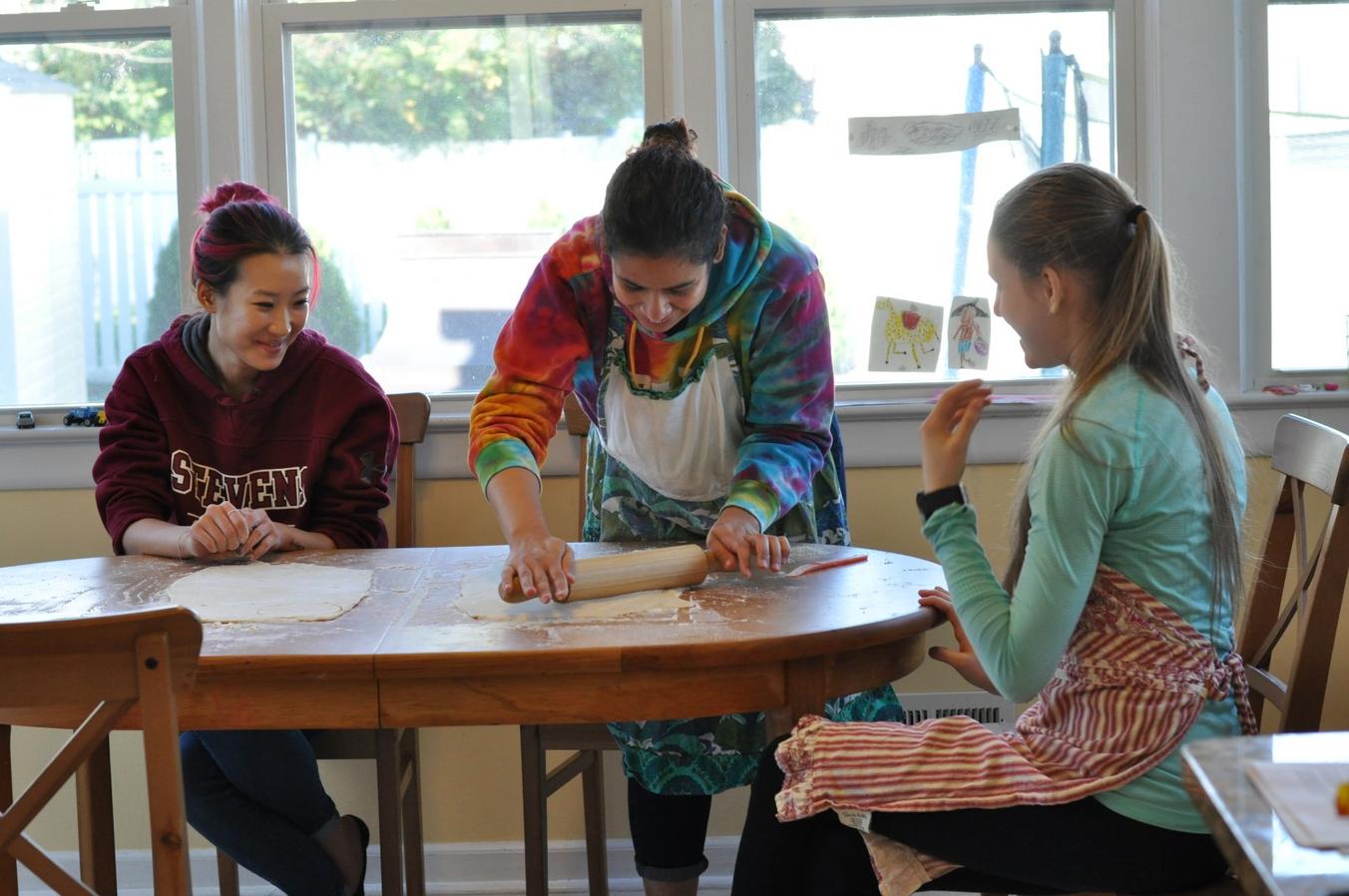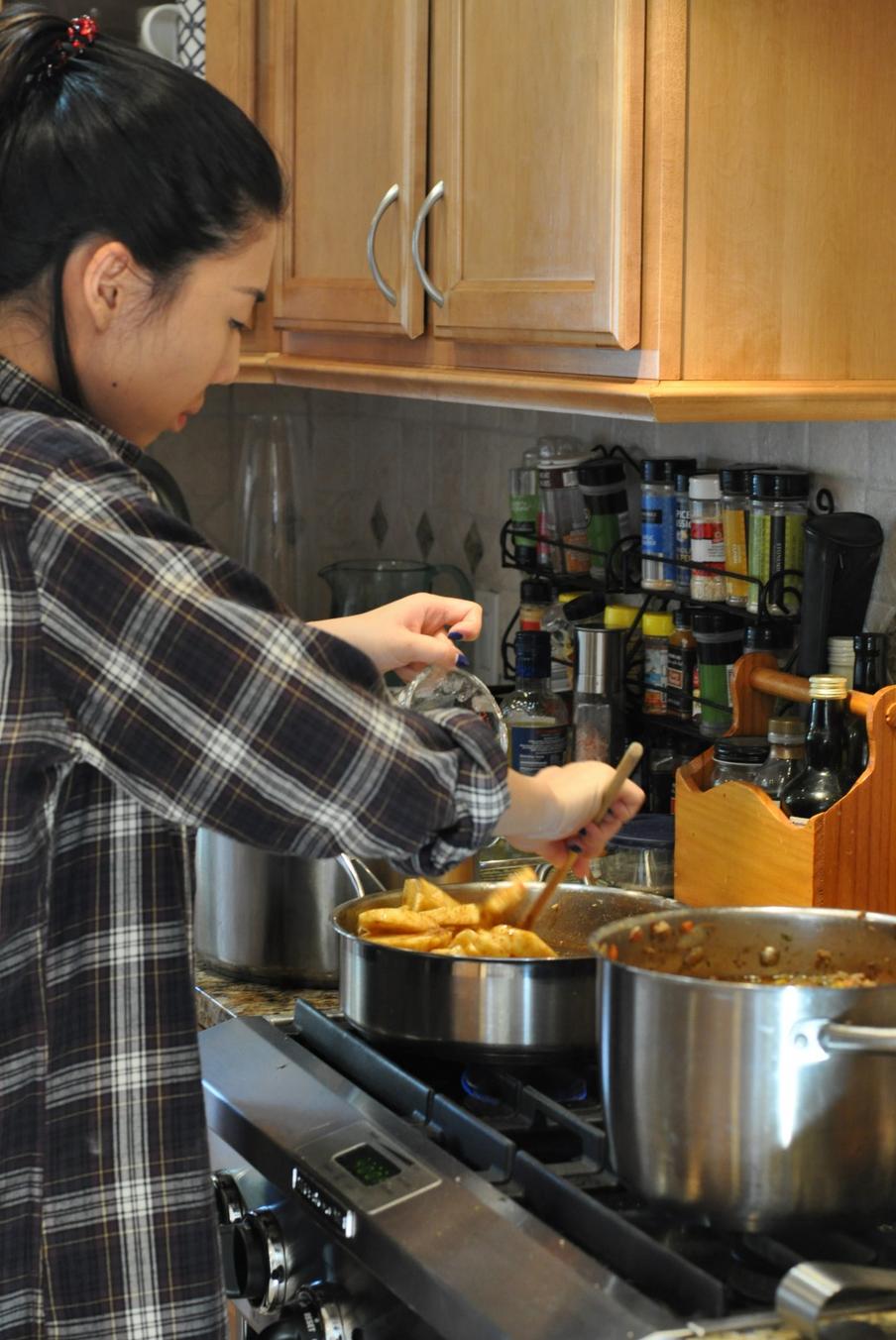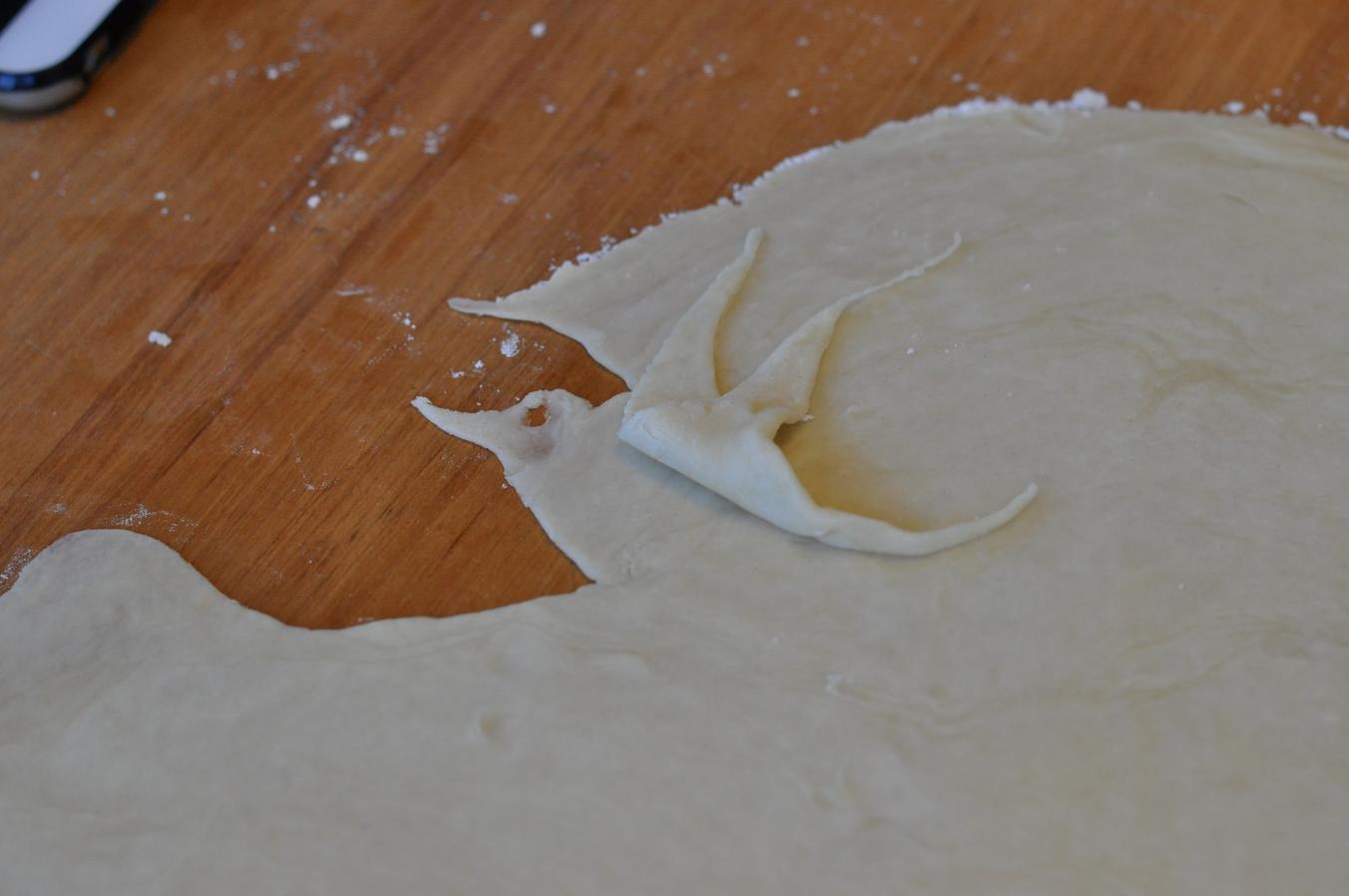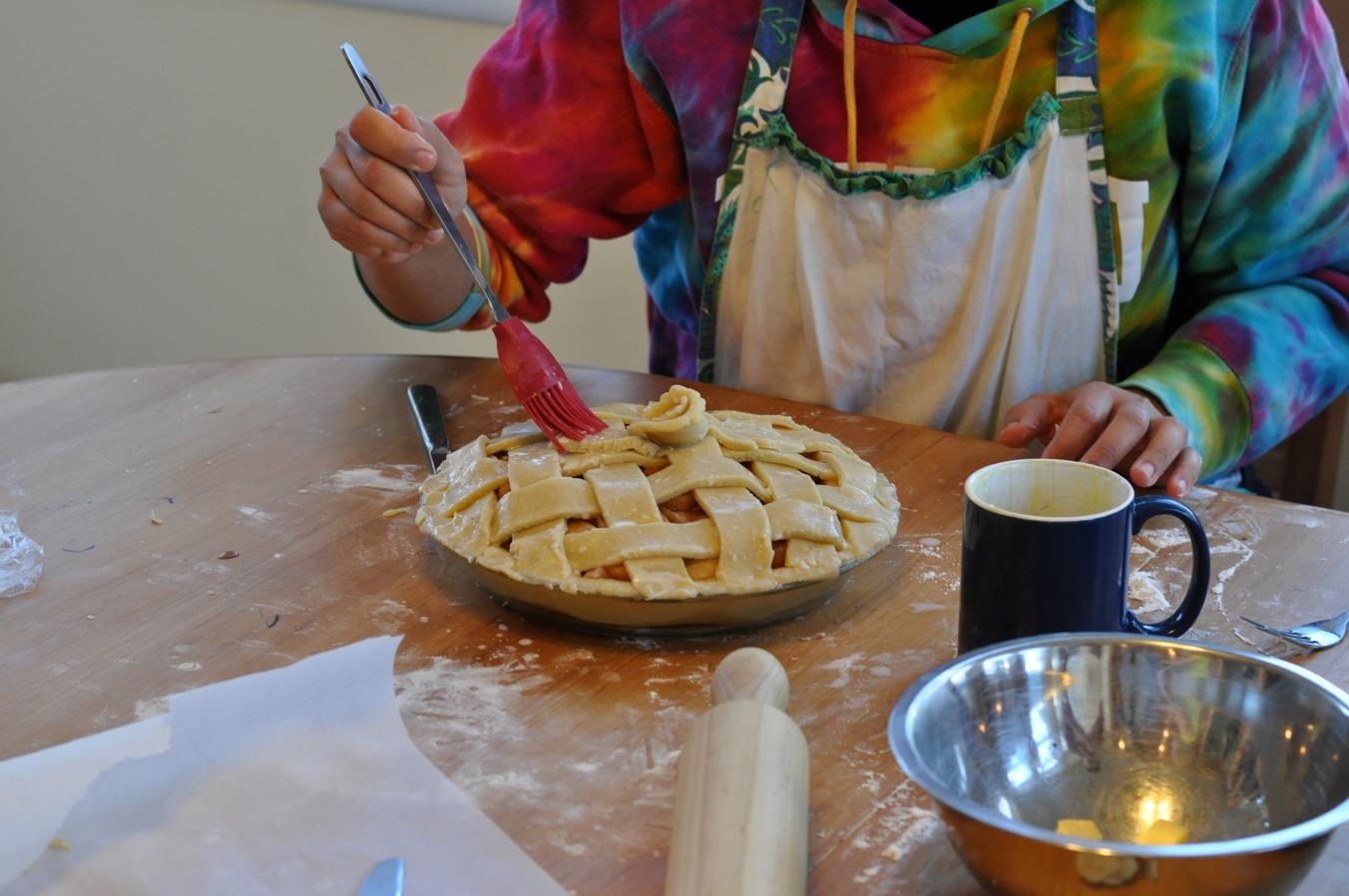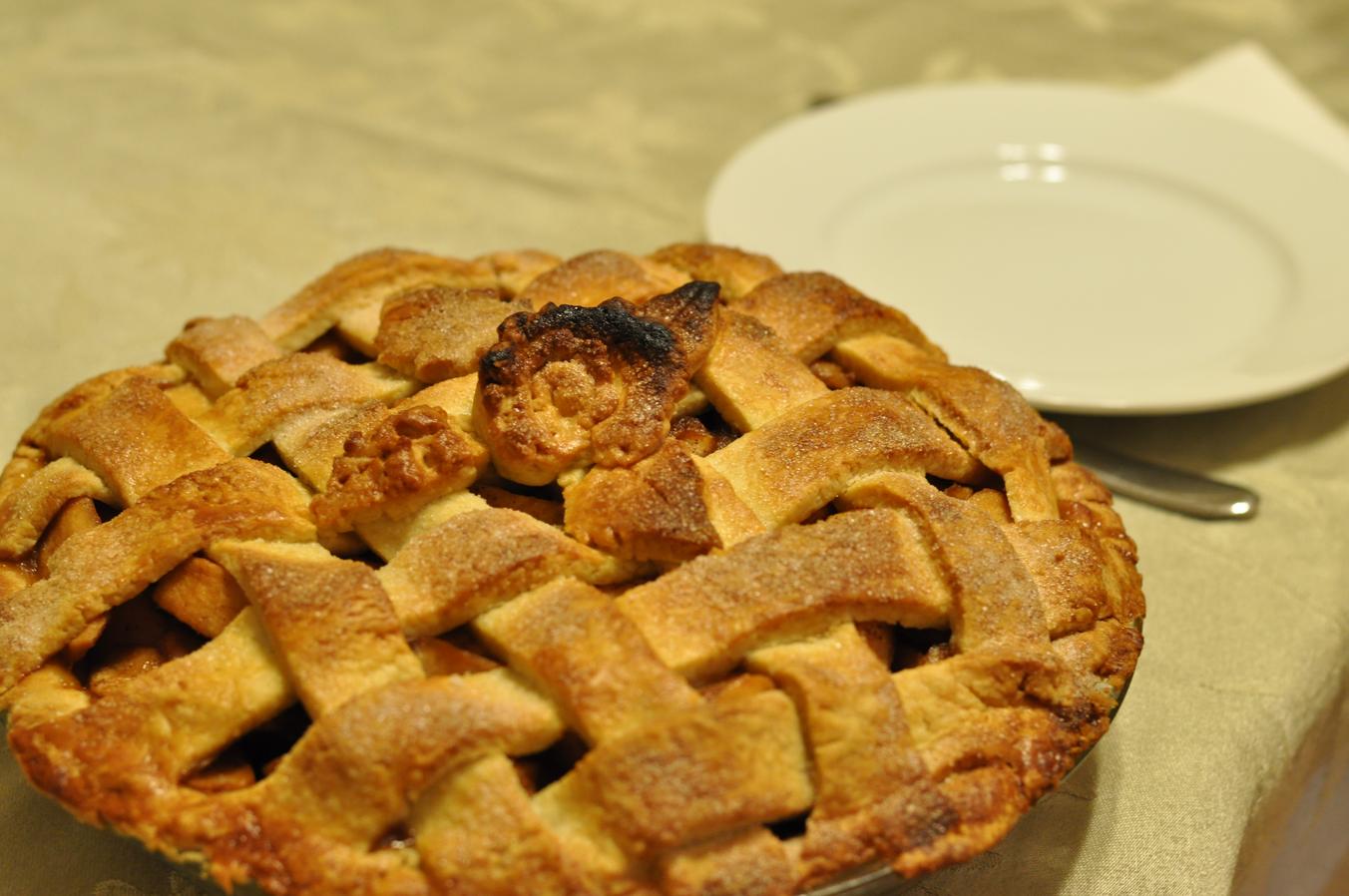 For those of you who might be interested, here are the recipes of what we made. Some of the pies were just assembled on the day, and even as it was I attempted to do too much! It was still fun, though. :-)
Oh, and here's a little confession: even though some of these recipes have directions for the pastry, I have yet to make a pastry that rivals store-bought pastry. Maybe I need more practice, but until then it's store-bought all the way!
Spinach and Cheese Pastries
(makes 16 triangle pastries)
Ingredients
2 packages flaky pastry
1 small onion, chopped finely
1 package frozen chopped spinach (about 1 lb)
3 cloves garlic, minced
1 package of cream cheese
1 cup grated sharp cheddar cheese
1 tablespoon flour
½ cup of milk
Salt and pepper to taste
1 egg
Method
Preheat the oven to 400°F.
Sautée the onion until it starts to brown, then add the garlic and fry for a minute or so before adding the spinach. Cook until heated through, then add cream cheese. When the cream cheese has melted and been incorporated, sprinkle over the flour, and stir it in until well mixed. Fry for a minute or so, then add the milk and cook until thickened. Season with salt and pepper, and take off heat and stir in the cheddar cheese.
While the mixture cools, lay out the sheets of pastry and cut each sheet into 4 squares. Place spinach mixture on a triangle half of the square, making sure to leave about an half inch margin on the edges. Fold the pastry over and seal the edges with your fingers and then press down with a fork. Stab each pastry lightly about 3 times with the fork (this helps the steam escape as it is cooking).
In a small bowl, whisk an egg and use a pastry brush to brush egg over the pastries. Bake for 20 minutes, or until golden brown.
Steak and Cheese Pie
Pastry
Ingredients
2 cups plain flour
1 tsp salt
2 sticks butter, fridge cold
½ cup fridge cold water
Method
Sift the flour and salt into a large bowl. Roughly break the butter in small chunks, add them to the bowl and rub them in loosely. (Or use food processor with blades) You need to see bits of butter.
Make a well in the bowl and pour in about two-thirds of the cold water, mixing until you have a firm rough dough adding extra water if needed. Cover with cling film and leave to rest for 20 mins in the fridge.
Turn out onto a lightly floured board, knead gently and form into a smooth rectangle. Roll the dough in one direction only, until 3 times the width, about 20 x 50cm. Keep edges straight and even. Don't overwork the butter streaks; you should have a marbled effect.
Fold the top third down to the center, then the bottom third up and over that. Give the dough a quarter turn (to the left or right) and roll out again to three times the length. Fold as before, cover with cling film and chill for at least 20 mins before rolling to use.
Pie filling
Ingredients
1 large onion, chopped
5 cloves garlic, minced
½ pound bacon, chopped
2 lbs stew beef (like chuck roast), cut into 1 inch cubes.
Salt and pepper
2 T dried parsley, or 1 T fresh parsley
1 ½ c wine (preferably red, but white works too)
1 cup mushrooms, sliced
2 T corn starch
¼ c cold water
6 oz cheddar cheese, cubed
Method
Preheat oven to 275 °F. In a Dutch oven, fry one large onion with bacon and garlic until browned. Add beef cubes and brown the meat. Add the mushrooms, salt and pepper, parsley and cook for about 5 minutes, then add the wine. Place the Dutch oven into the oven and cook for about 3 hours, until the meat is tender.
Place on the stove on low heat. Mix corn starch with cold water until no lumps remain, then stir into the stew mixture and cook for a few minutes until thickened. Take off the burner and let cool.
Prepare the pastry in the pie dish (you can do a bottom layer as well as a top layer, or only a top – whatever you prefer), spoon in the filling (you might have some left over), and dot with the cheese. Put the pastry lid on and seal. Place the pastry over the top of the pie dish and criss-cross it lightly with a sharp knife. Brush the top with beaten egg, then bake the pie directly on the bottom of the oven for 45 minutes, until the pastry is cooked, puffed and golden.
Shepherd's Pie
Ingredients
2 pounds potatoes, peeled and quartered
1 t salt
4 Tablespoons (1/2 stick) butter
About 1 cup milk
1 t garlic salt
1 T oil
1 medium onion, chopped (about 1 1/2 cups)
1-2 cups vegetables—diced celery, carrots, corn, peas
1 1/2 lbs ground beef
1 can crushed tomatoes
1 teaspoon Worcestershire sauce
Salt, pepper
1 t ground coriander
1 T dried parsley
Method
Place the peeled and quartered potatoes in medium sized pot. Cover with at least an inch of cold water. Add a teaspoon of salt. Bring to a boil, reduce to a simmer, and cook until tender (about 20 minutes.
While the potatoes are cooking, heat the oil in a large sauté pan on medium heat. Add the chopped onions and cook until tender, about 6 to 10 minutes. If you are including vegetables, add them according to their cooking time. Carrots and celery should be cooked with the onions, because they take as long to cook as the onions do. If you are including peas or corn, add them toward the end of the cooking of the onions, or after the meat starts to cook, as they take very little cooking time.
Add ground beef to the pan with the onions and vegetables. Cook until no longer pink. Season with salt and pepper. Add the Worcestershire sauce and tomatoes. Bring the broth to a simmer and reduce heat to low. Cook uncovered for 10 minutes. When the potatoes are done cooking (a fork can easily pierce), remove them from the pot and place them in a bowl with 4 Tbsp of butter and milk. Mash with a potato masher, and season with garlic salt and pepper to taste.
Preheat oven to 400°F. Spread the beef, onions, and vegetables (if using) in an even layer in a large baking dish (9x13 casserole). Spread the mashed potatoes over the top of the ground beef. Rough up the surface of the mashed potatoes with a fork so there are peaks that will get well browned. You can even use a fork to make creative designs in the mashed potatoes.
Place in a 400°F oven and cook until browned and bubbling, about 30 minutes. If necessary, broil for the last few minutes to help the surface of the mashed potatoes brown.
Apple Pie
Ingredients
Dough:
2 1/2 cups all-purpose flour
4 teaspoons sugar
1/4 teaspoon fine salt
14 tablespoons cold butter, diced
1 large egg, lightly beaten with 2 tablespoons cold water
Filling:
2 tablespoons freshly squeezed lemon juice
3 pounds baking apples like Golden Delicious, Cortland, or Mutsu
2/3 cup sugar, plus more for sprinkling on the pie
1/4 cup unsalted butter
1/4 teaspoon ground cinnamon
Generous pinch of ground nutmeg
1 large egg, lightly beaten
Method
Make the dough by hand. In a medium bowl, whisk together the flour, sugar, and salt. Using your fingers, work the butter into the dry ingredients until it resembles yellow corn meal mixed with bean sized bits of butter. (If the flour/butter mixture gets warm, refrigerate it for 10 minutes before proceeding.) Add the egg and stir the dough together with a fork or by hand in the bowl. If the dough is dry, sprinkle up to a tablespoon more of cold water over the mixture.
Form the dough into a disk, wrap in plastic wrap and refrigerate until thoroughly chilled, at least 1 hour.
Make the filling. Put the lemon juice in a medium bowl. Peel, halve, and core the apples. Cut each half into 4 wedges. Toss the apple with the lemon juice. Add the sugar and toss to combine evenly.
In a large skillet, melt the butter over medium-high heat. Add the apples, and cook, stirring, until the sugar dissolves and the mixture begins to simmer, about 2 minutes. Cover, reduce heat to medium-low, and cook until the apples soften and release most of their juices, about 7 minutes.
Strain the apples in a colander over a medium bowl to catch all the juice. Shake the colander to get as much liquid as possible. Return the juices to the skillet, and simmer over medium heat until thickened and lightly caramelized, about 10 minutes.
In a medium bowl, toss the apples with the reduced juice and spices. Set aside to cool completely. (This filling can be made up to 2 days ahead and refrigerated or frozen for up to 6 months.)
Cut the dough in half. On a lightly floured surface, roll each half of dough into a disc about 11 to 12 inches wide. Layer the dough between pieces of parchment or wax paper on a baking sheet, and refrigerate for at least 10 minutes.
Place a rack in the lower third of the oven and preheat the oven to 375 degrees F.
Line the bottom of a 9-inch pie pan with one of the discs of dough, and trim it so it lays about 1/2 inch beyond the edge of the pan. Put the apple filling in the pan and mound it slightly in the center. Brush the top edges of the dough with the egg. Place the second disc of dough over the top. Fold the top layer of dough under the edge of the bottom layer and press the edges together to form a seal. Flute the edge as desired. Brush the surface of the dough with egg and then sprinkle with sugar. Pierce the top of the dough in several places to allow steam to escape while baking. Refrigerate for at least 15 minutes.
Bake the pie on a baking sheet until the crust is golden, about 50 minutes. Cool on a rack before serving. The pie keeps well at room temperature (covered) for 24 hours, or refrigerated for up to 4 days.
Note: You may freeze the uncooked pie, but don't brush it with egg or dust it with sugar beforehand. Place the pie in the freezer for 30 minutes, to harden it slightly, and then double wrap it with plastic wrap. Freeze for up to 6 months. When ready to bake, unwrap the pie and brush it with egg and sprinkle with sugar. Bake, from the frozen state, until golden brown, about 1 hour and 10 minutes.
Pumpkin Pie
(Absolutely nothing special here: it's the Libby's Recipe!)
Ingredients
3/4 cup granulated sugar
1 teaspoon ground cinnamon
1/2 teaspoon salt
1/2 teaspoon ground ginger
1/4 teaspoon ground cloves
2 large eggs
1 can (15 oz.) p puree
1 can (12 fl. oz.) evaporated milk
1 unbaked 9-inch (4-cup volume) deep-dish pie shell
Whipped cream (optional)
Method
Mix sugar, cinnamon, salt, ginger and cloves in small bowl. Beat eggs in large bowl. Stir in pumpkin and sugar-spice mixture. Gradually stir in evaporated milk. Pour into pie shell. Bake in preheated 425° F oven for 15 minutes. Reduce temperature to 350° F; bake for 40 to 50 minutes or until knife inserted near centre comes out clean. Cool on wire rack for 2 hours. Serve immediately or refrigerate. Top with whipped cream before serving.