In mid-June, we spent a fantastic week in Georgia with some fantastic people at our Hoyt family reunion. Uncle Stan and Aunt Nora hosted us very well. There were great activities, delicious food, lots of fun times joking around, playing games, catching up and having a blast. The whole week I kept saying to Ben how much I love his extended family and how great it is to feel so comfortable with people I've only met once or twice.
The week was over too quickly, though going by how many people had colds at the end of the week and who were sleep-deprived, a week is probably about as long as we could go for!
There were all sorts of activities through the week, but also heaps of free time to just visit with each other, play board or word games, go for walks, pick blueberries or go canoeing (or swimming if you were Ben or Ryan) on/in the lake. There was the opportunity to go swimming in a nearby swimming pool most afternoons, which I never did because I preferred to stay and play games, so I don't have a photo of that, but I do have a LOT of other photos (so glad I uploaded them to the blog before my hard drive crashed!) to share. I've made many of them smaller than the photos I normally do because there are so many of them. If you want to see any of the smaller photos in a bigger format, you can just click on them. Also, a reminder that you can hover over each photo for the title I've given to it. This might be handy for finding out who is in the picture, but sometimes I have some pretty mundane/self-explanitory titles in there too.
Below are some highlights of our time. I didn't get pictures of everything, of course, so a note to any of you Hoyts who were there and have some pictures uploaded, please leave a link to them in the comments section below!
One of the great things I love about the Hoyt family is that we love singing hymns. There were about 65 of us on the first night we had a hymn sing, and it sounded beautiful. A bit like a small congregation, with the advantage that pretty much everyone sings well and can sing in parts.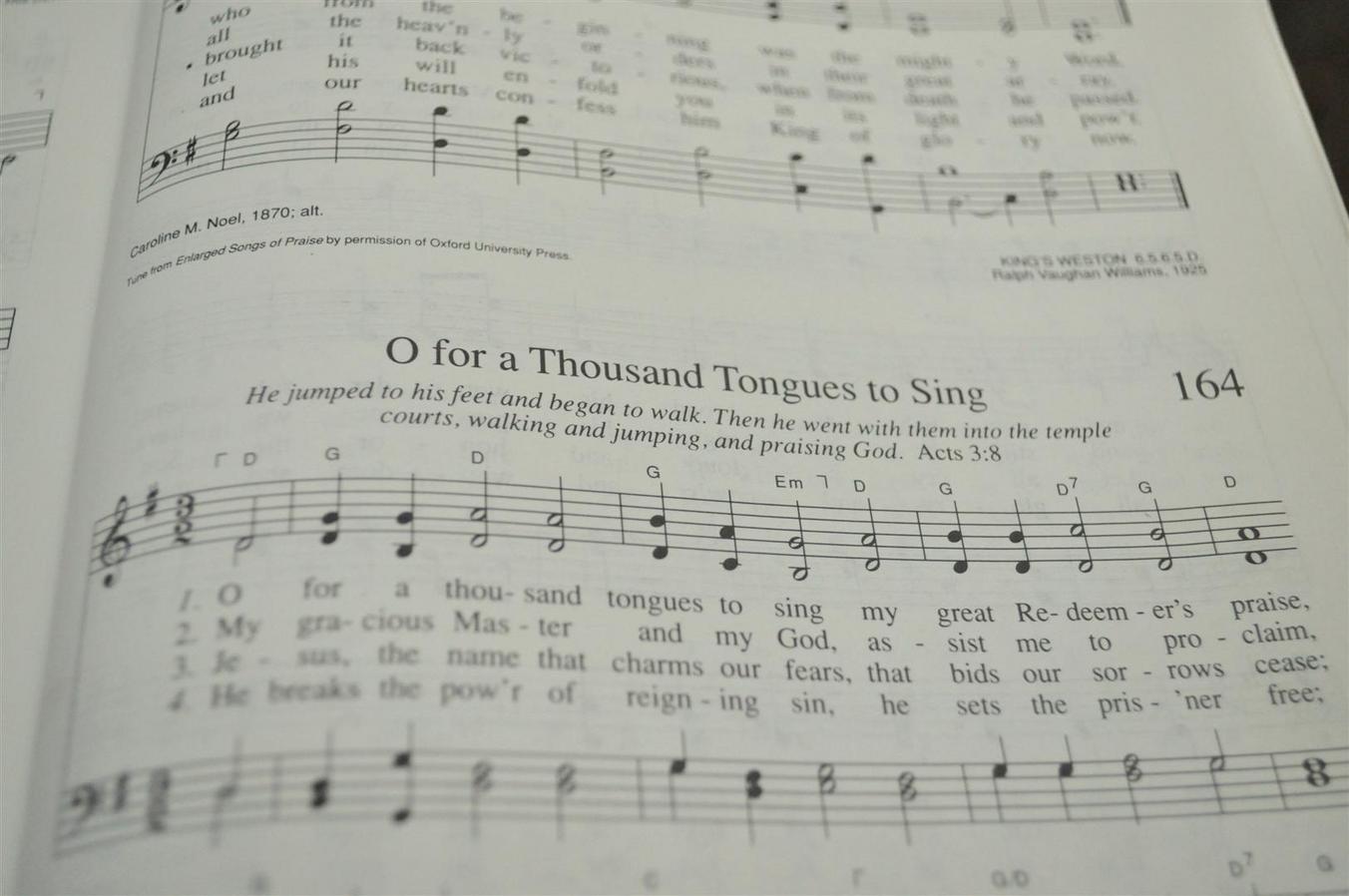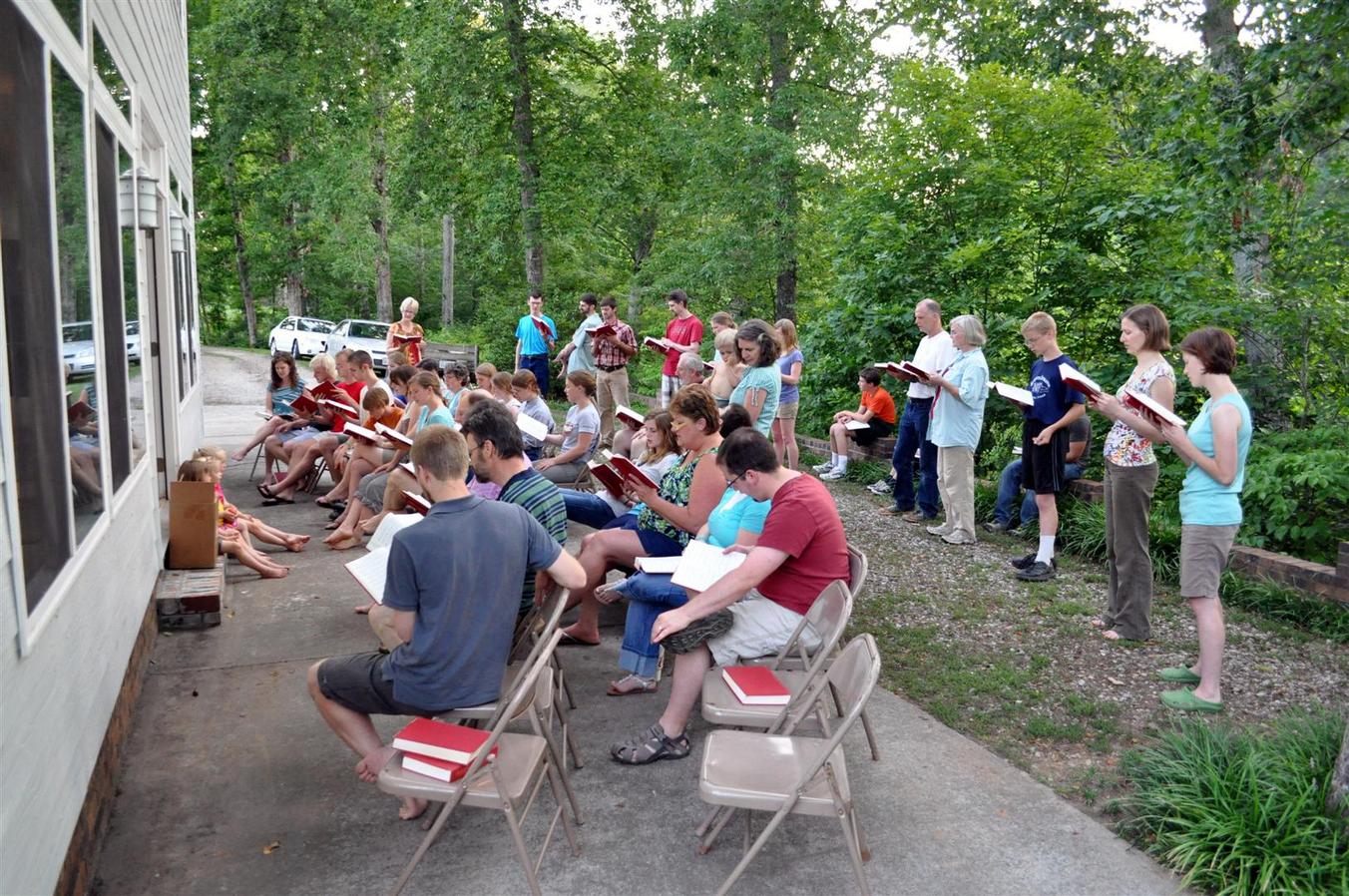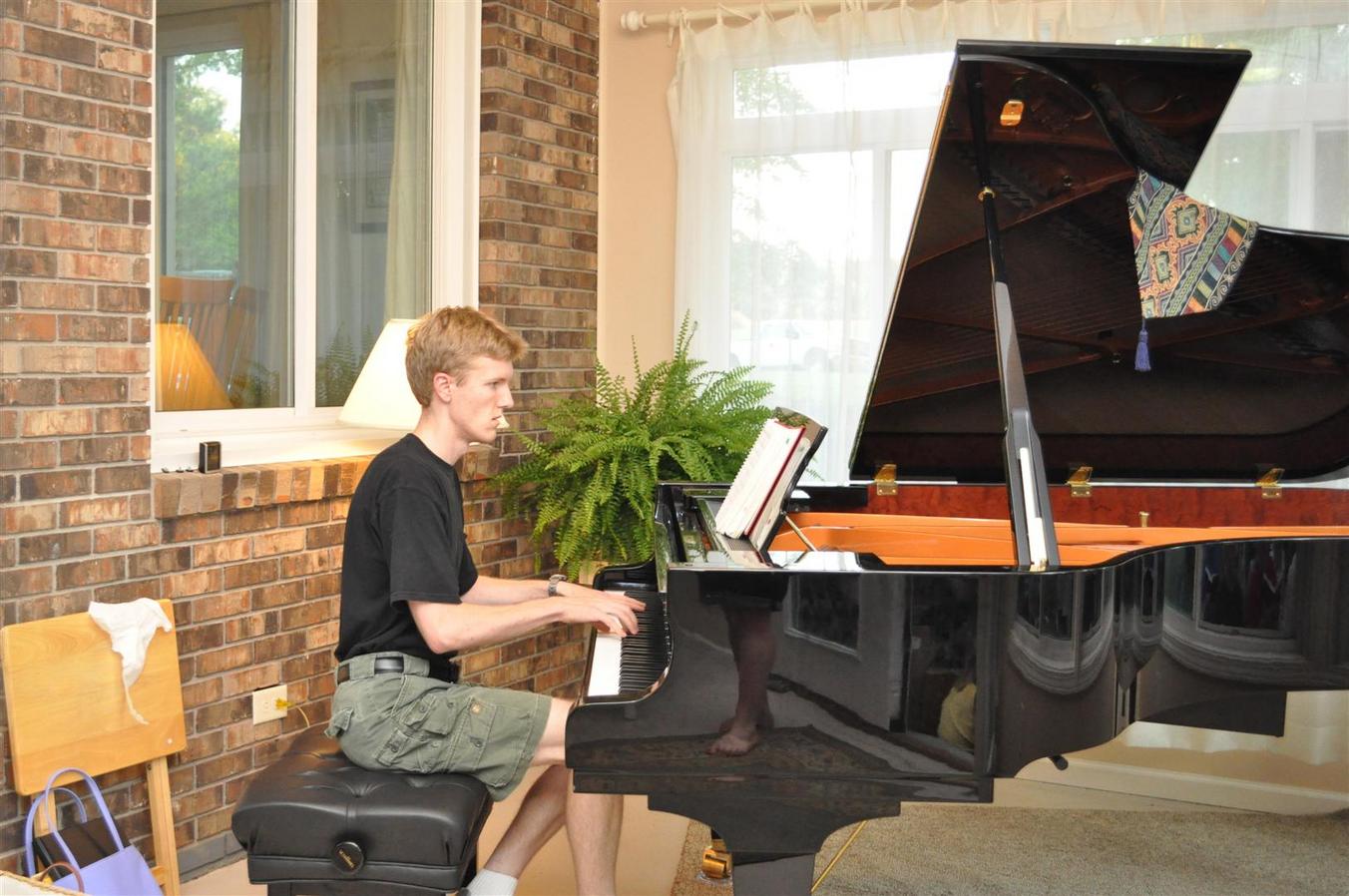 On the Wednesday evening, we had some English country dances. There were even live musicians. Dancing is so much fun (as I rediscovered that week!), even though it takes me a while to learn the steps!
One afternoon I went with Aunt Nora and Nathan and Elizabeth's family to The Peach Shed (it's Georgia, after all!), a farm shop selling, uh, apples, duh. We bought some yummy peaches and got some peach ice cream too. I don't know if I have watched too many movies set in the south, but the way it was set up, all open with white rocking chairs and all, and with the old little general store across the road, it completely fit the stereotypical image in my mind of a southern farm shop!
I think one of the highlights for Ben was the canoe relay racing. They got a few people together, formed teams, and then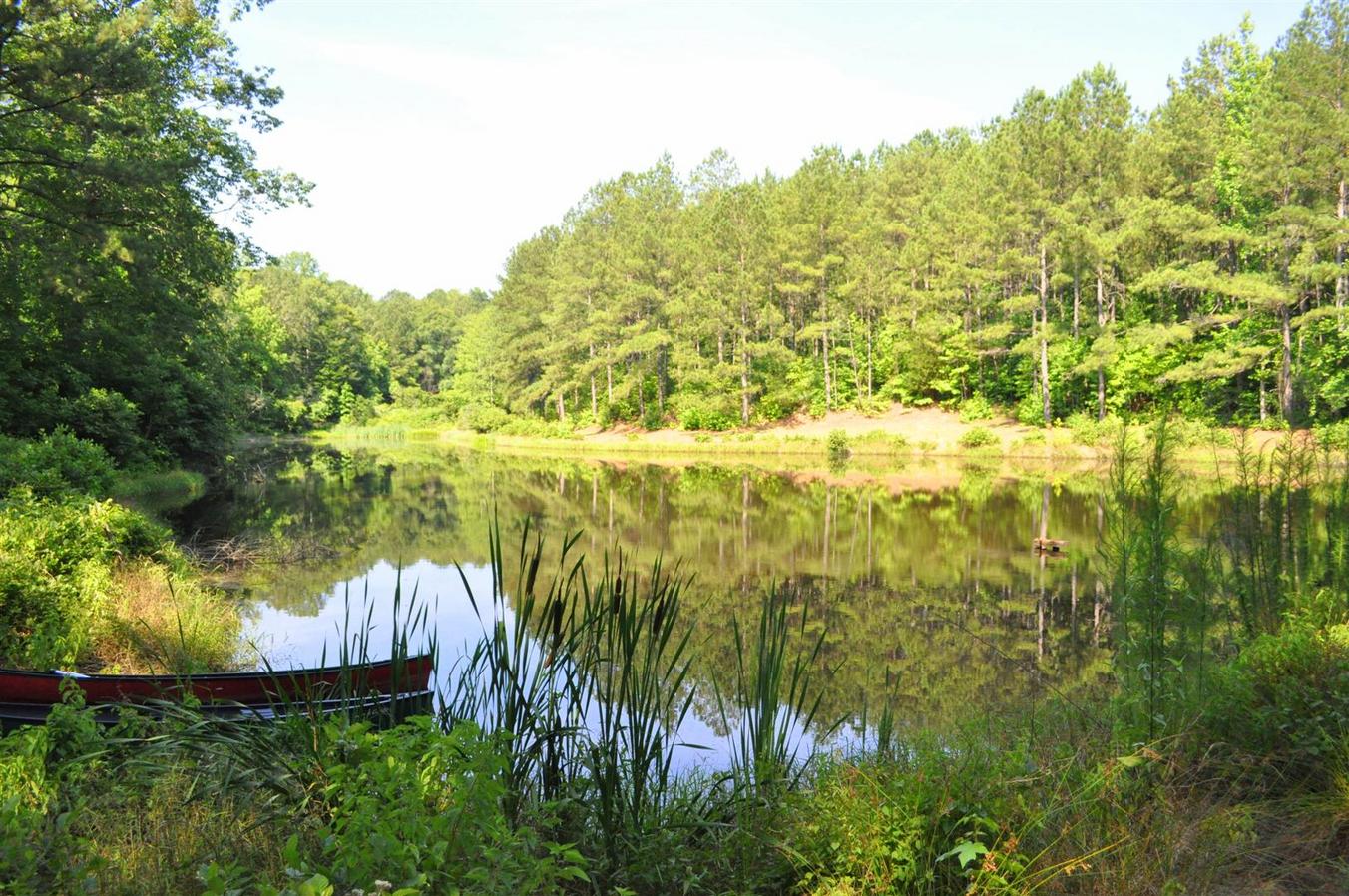 they stood there for a good 15 minutes discussing just how it was all to work, down to which bushes or reeds to grab a token from. There was much head scratching going on, but in the end all the rules were made and they were finally ready to race. Aunt Nora and I observed all this from a distance and had quite a good chuckle about this particularly Hoyt trait.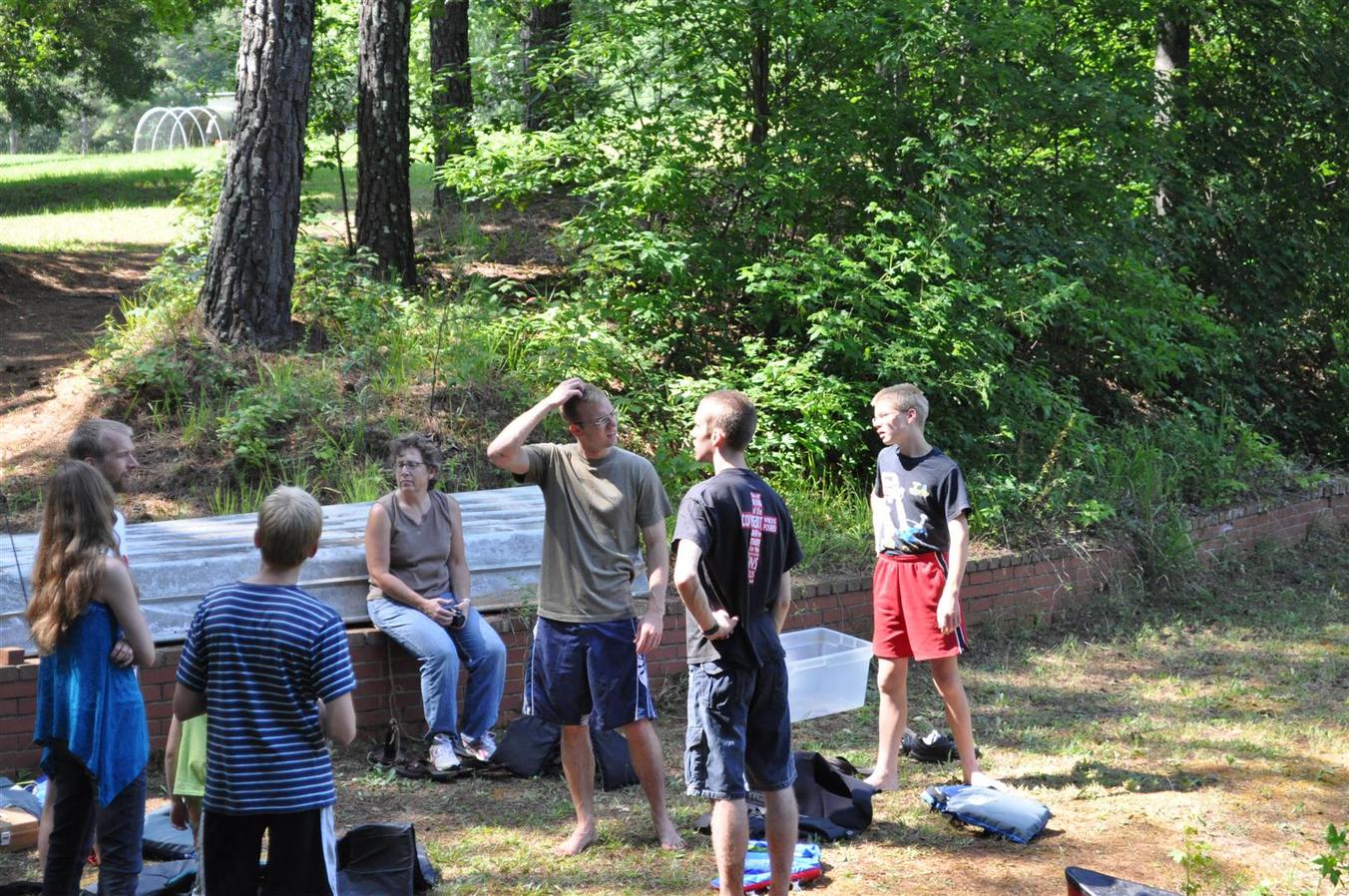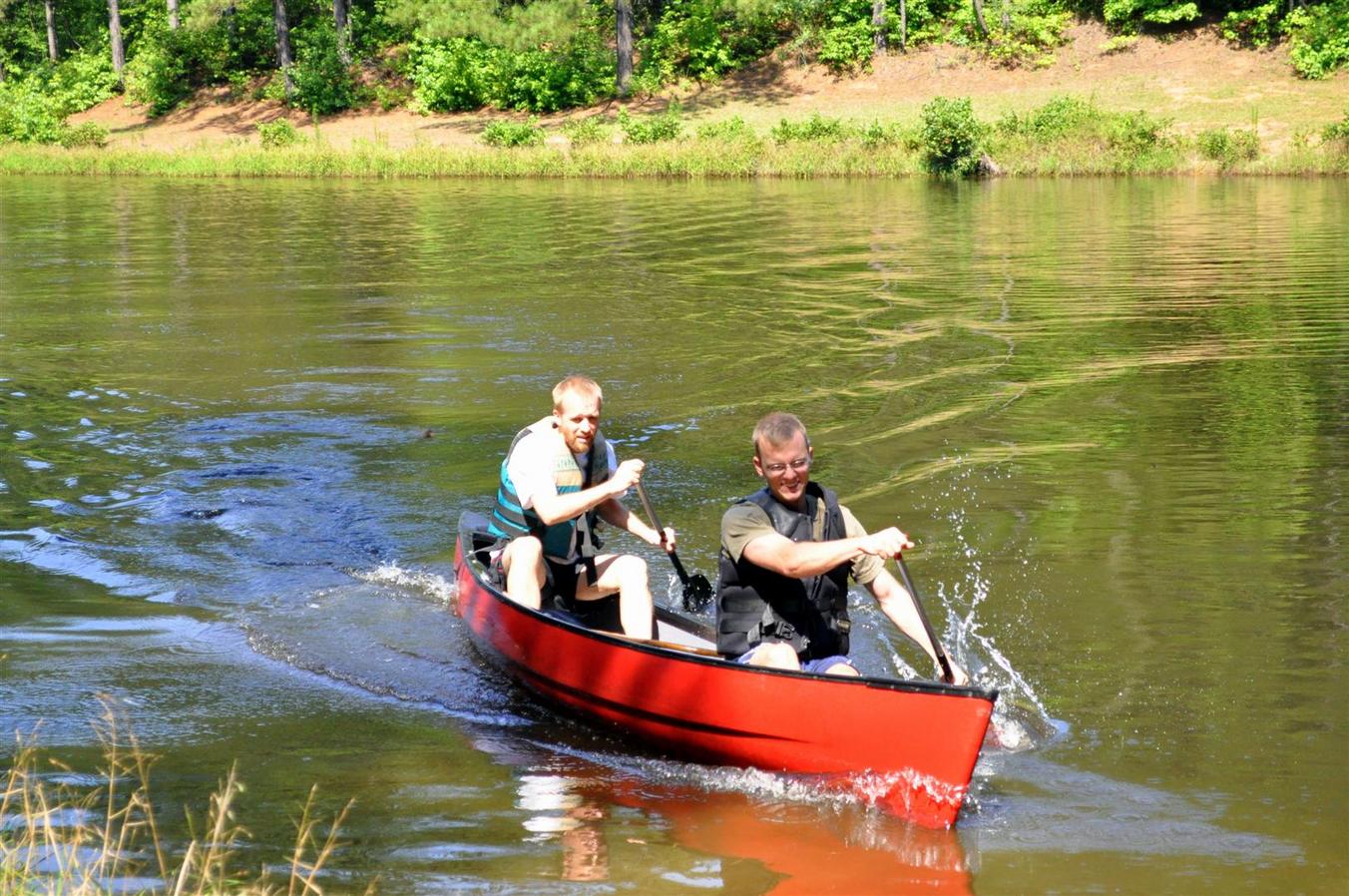 After all the races were done, Ben had the clever idea of going canoeing standing up on one leg. The results were not surprising.
I like taking photos of people. I wish I had been more proactive to get more people's pictures, but oh well. I took most of these down by the lake when we had the canoe relay races.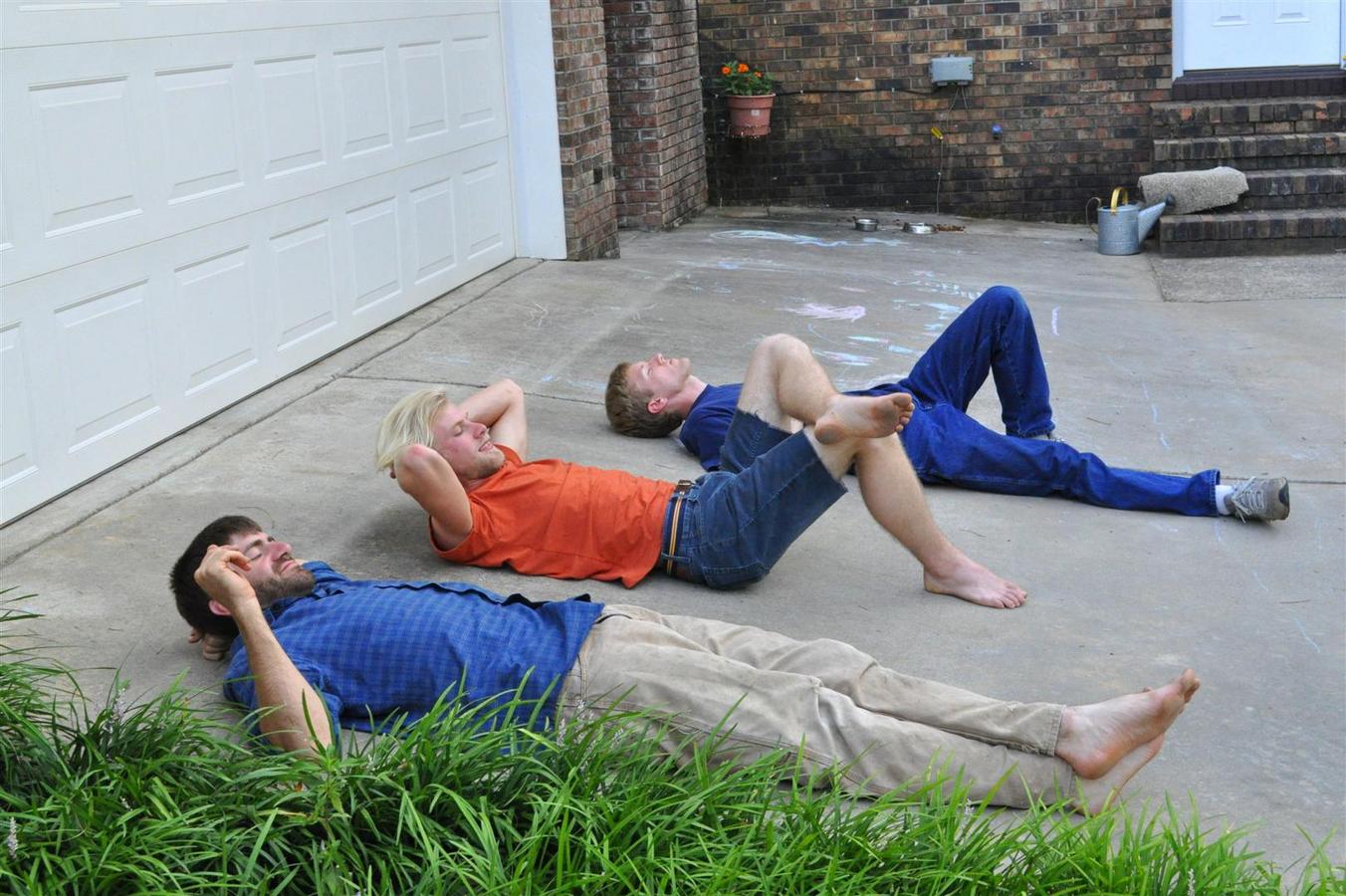 I already mentioned the fun English country dancing we did on the Wednesday night. On the Thursday, Jonathan taught us how to waltz. He really did a very good job and Ben and I felt we could follow him and learn quickly. The piano ladies got tired of playing waltz after waltz after a while, so there was a spontaneous shift to swing dancing. And I finally realised that THAT was what I had been created to do. Okay, maybe not quite, but I was plain giddy with how much I enjoyed learning some basic swing dancing steps (thanks, Greg and co!). I was having way too much fun to think of taking photos, but I convinced a few people that we had to do some more dancing the next night, and I remembered to take some photos then. The guys had dwindled a fair bit by that point and Greg and Taylor pretty much danced the whole time to give all the girls a turn.
There were a couple of 'firsts' at this reunion: the cupcake competition, and the Men's Fitness and Prowess Show-off Evening. I don't know if the latter was planned or impromptu, but Uncle Stan has this bar hanging from the ceiling in his garage (which doubled as our food hall during the reunion) and he was asked to show everyone a few moves (he's GOOD on that bar — better than a bunch of his nephews!), and then it turned into a who-can-do-what type of show-off time for the guys. All of us girls were sensible enough to stay on our seats. I think some of the guys thought they were stronger than they actually were! One of the things which I unfortunately didn't catch a good un-blurred photo of was where they had to do pull-ups while lifting a big heavy log (40 pounds? I forget) with their legs. The log had a rope attached that they hooked over the back of their knees and then lifted while they pulled themselves up. Ben said that one was hard!
I mentioned The Cupcake Competition before. Aunt Elizabeth and Elissa organised it and we had quite a number of entries. Stephen (the one in the red hat) is a baker by profession and was one of the judges along with Aunt Sharon and Uncle Walter. Aunt Elizabeth won 1st prize, Carolyn and her brother Ethan won 2nd prize and I got 3rd prize. One of the perks of several entrants having to enter 24 cupcakes per entry was that we had a heap of cupcakes to eat afterwards!
The talent show is always a highlight at a Hoyt reunion. This time again there was a good mix of the serious, the hilarious, and everything in between.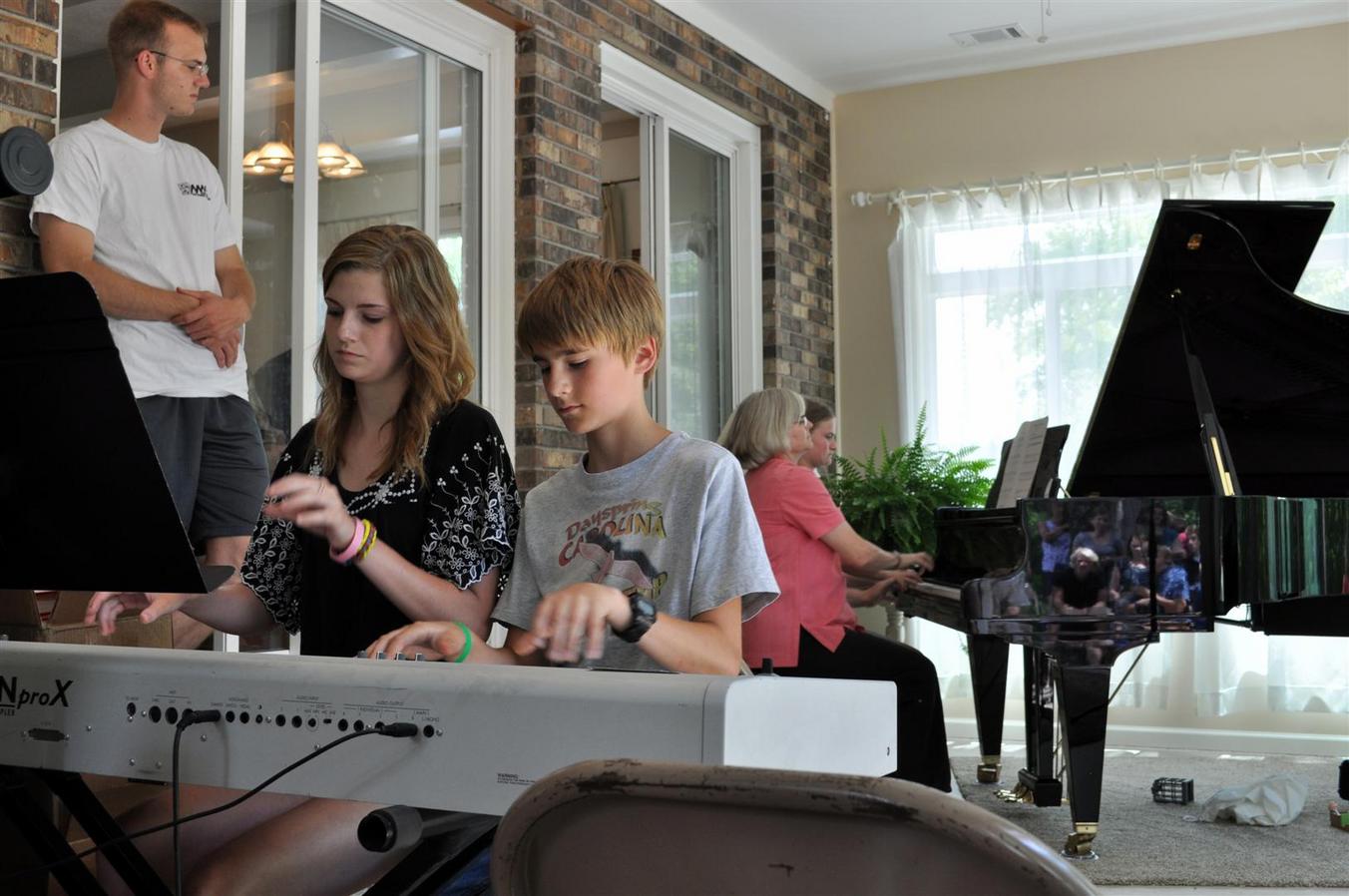 We had reading time with Uncle Mark again this time and it was thoroughly entertaining again. Uncle Mark had a heart transplant late last year, and it was fantastic to see him looking so much more healthy than at our previous reunion two years ago.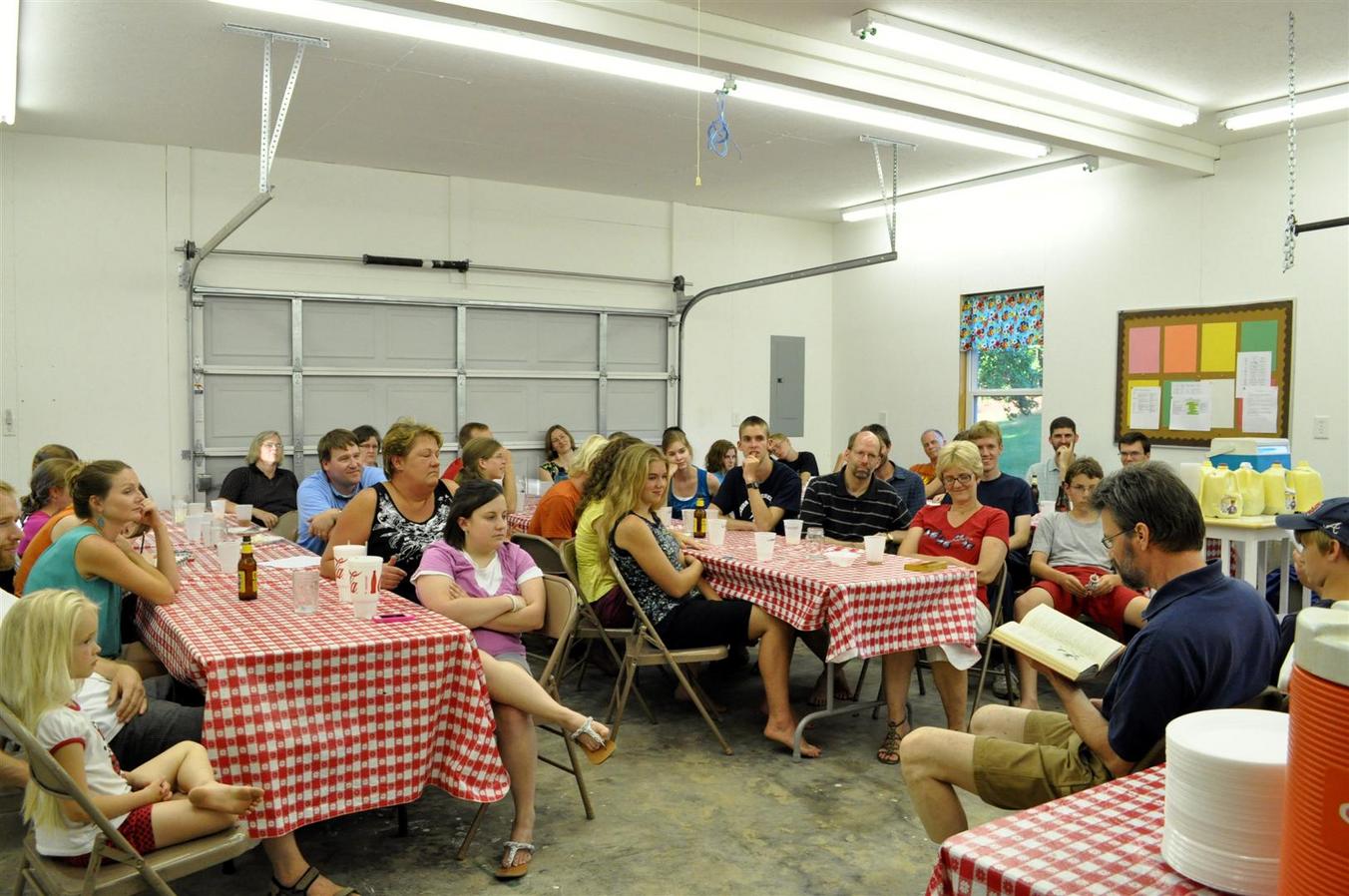 We played lots and lots of different games. For some reason this is the only photo I have, I guess because I was often busy playing instead of taking photos!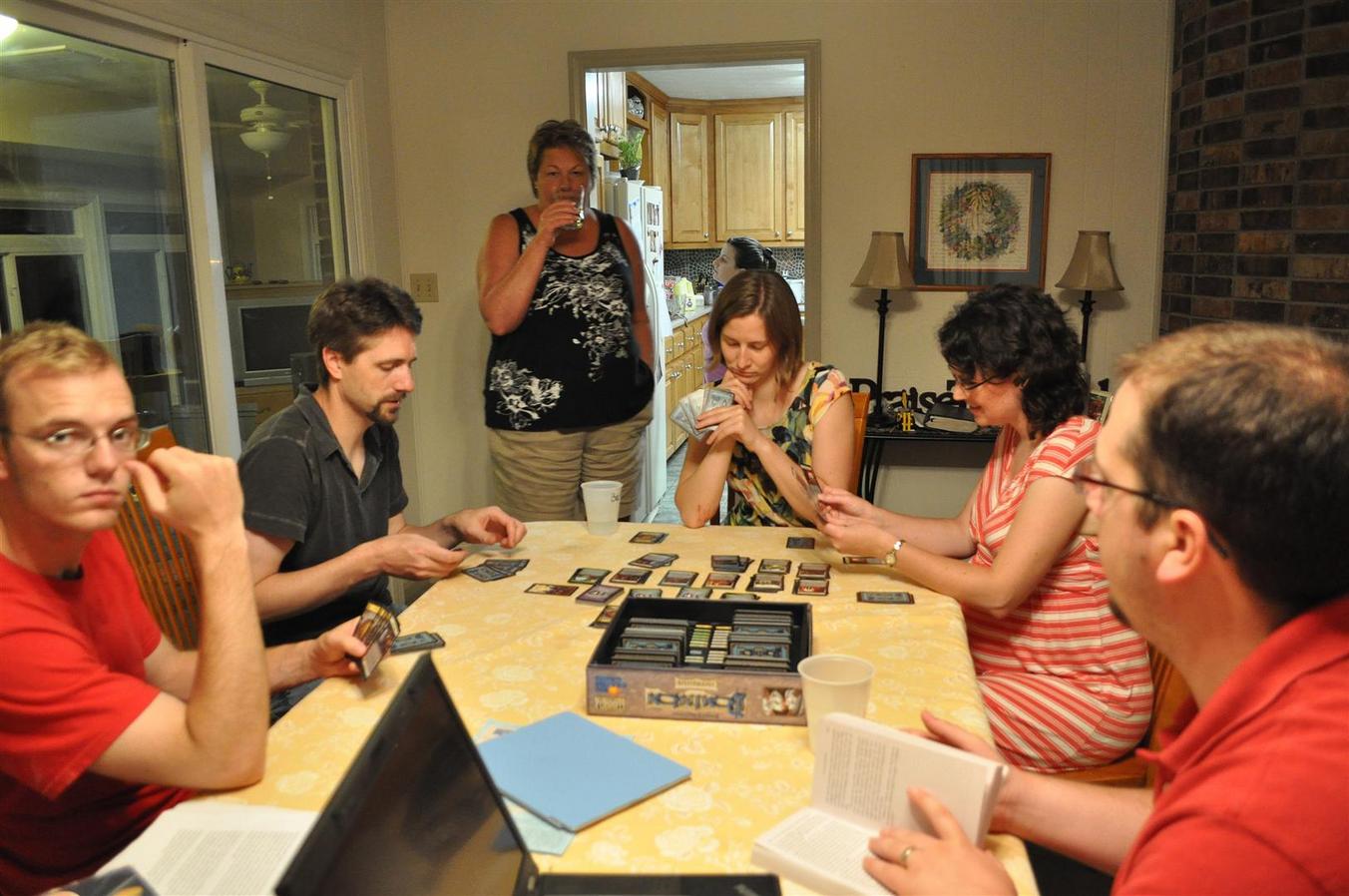 Another big highlight for me was some impromptu singing some of us cousins got going on Friday. The guys would start of with a good bass riff and then the rest of us would improvise on top of it. I had some great video clips of this (and the hymn sing!), but they unfortunately have died a premature death due to my hard drive crashing. I'll mourn their loss for many more moons. Some things were just hideous (like when we all turned on our fake opera voices), but some of it sounded pretty good! One of the things we did was Pachelbel's canon, and it sounded good enough that we did it again for the dinner crowd just before dinner.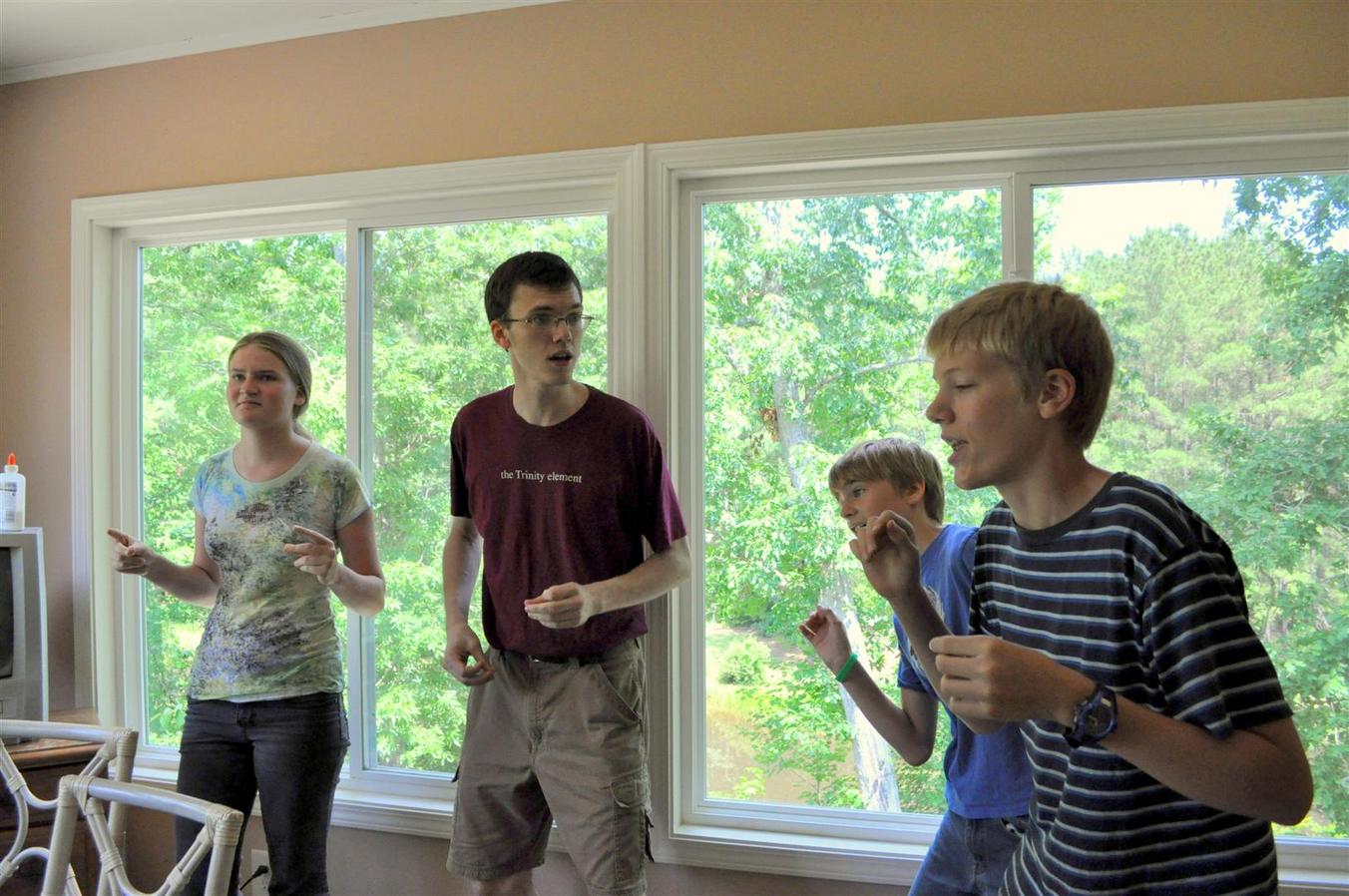 Cousin Ryan is a real outdoorsy kind of guy, and he did a fair bit of fishing out of the lake. He had quite an audience one time watching and learning how to fillet a bass. I'm sure that skill will come in handy sometime, right?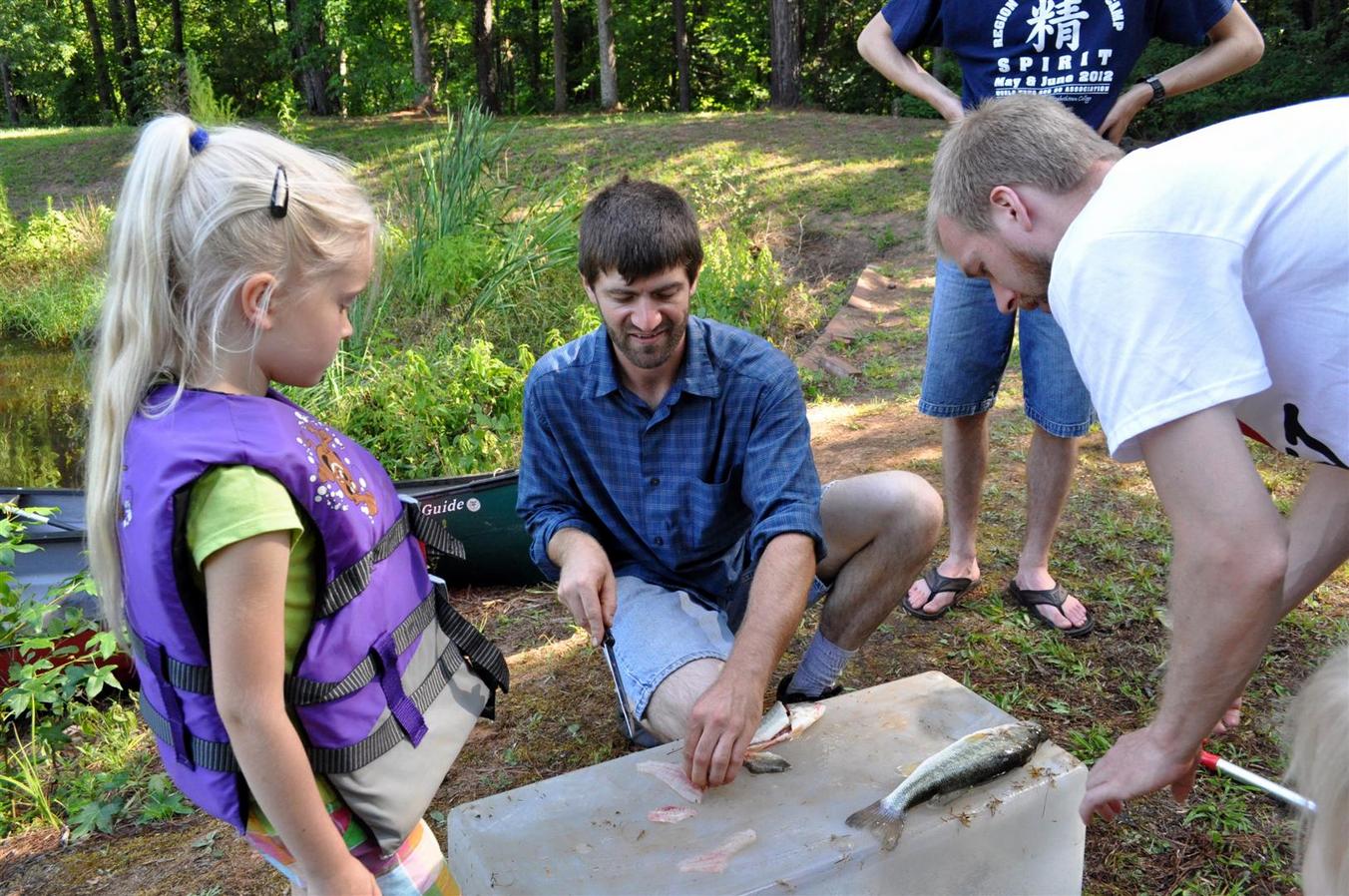 Some interesting detail of the bass' big mouth.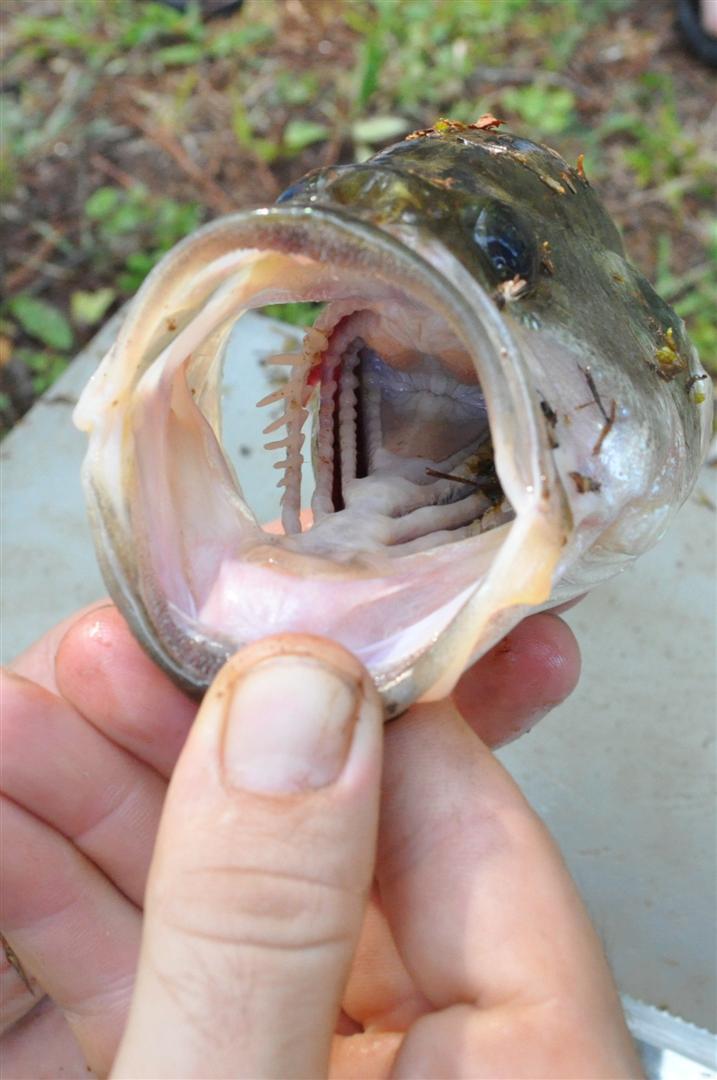 On the Saturday, many people had already left, and many of us girls were just looking for a relaxing way to spend the morning (not to mention that we had ruined our nail polish from all that dancing on the concrete in bare feet), so we decided to have some girly fun and have ourselves a spa day. We soaked our feet, scrubbed and painted, joked and giggled and had a lovely time.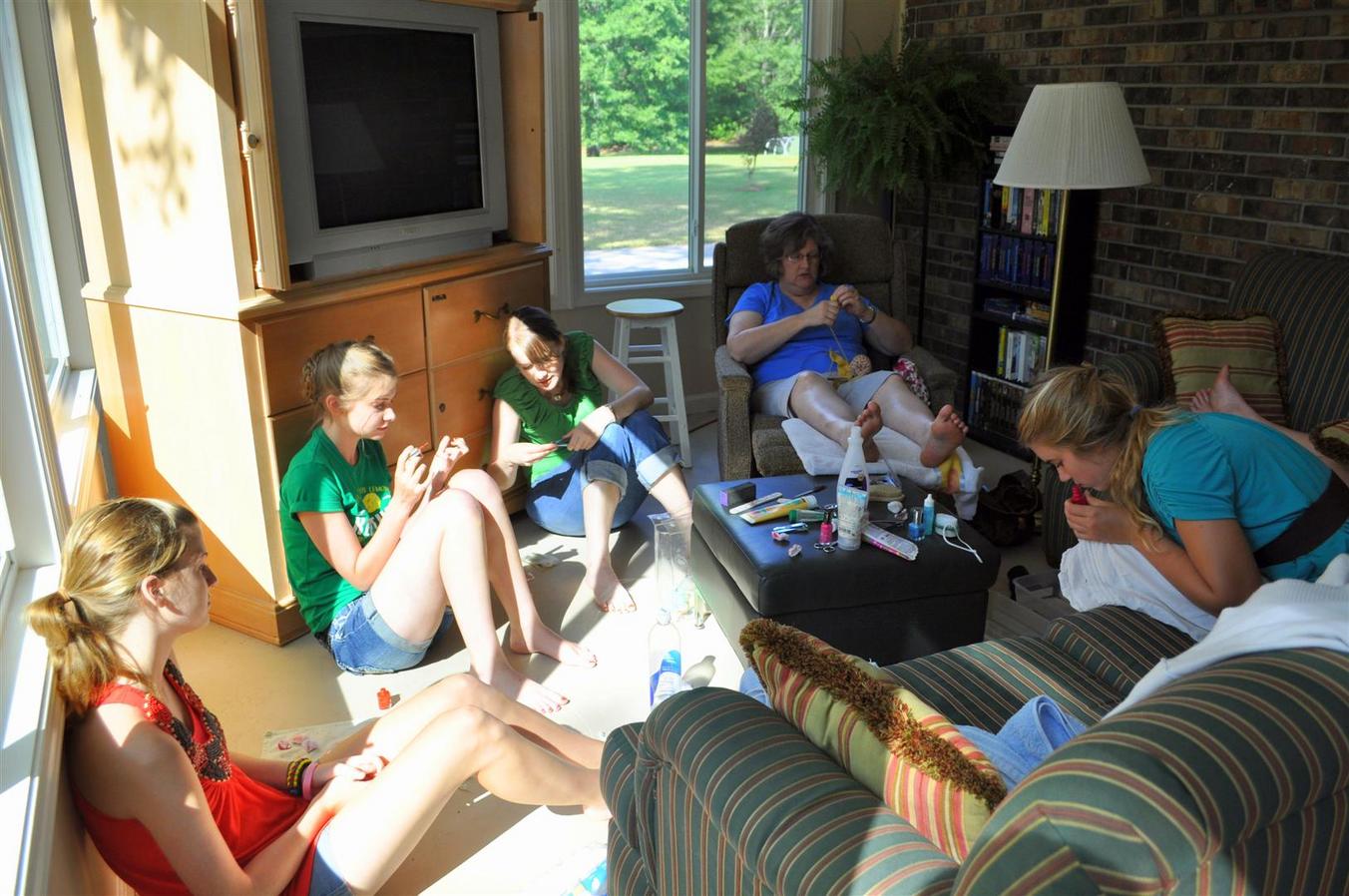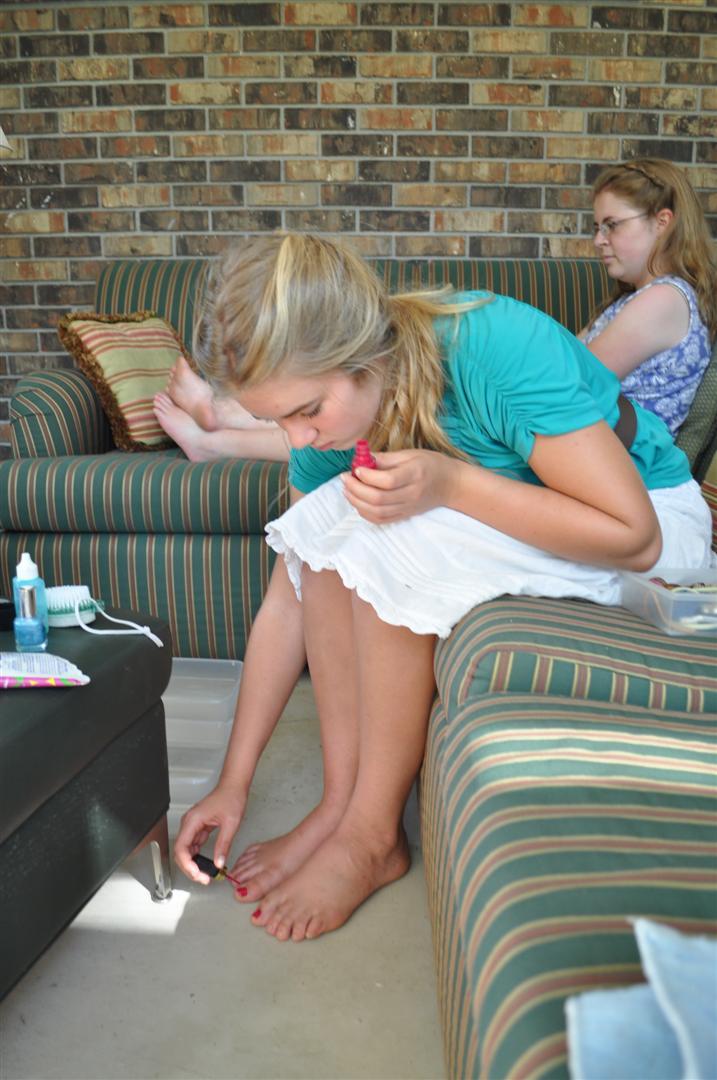 Laura Lee also gave a few of us nice hair-do's. I turned this into black and white so you can see the detail of her good handiwork better.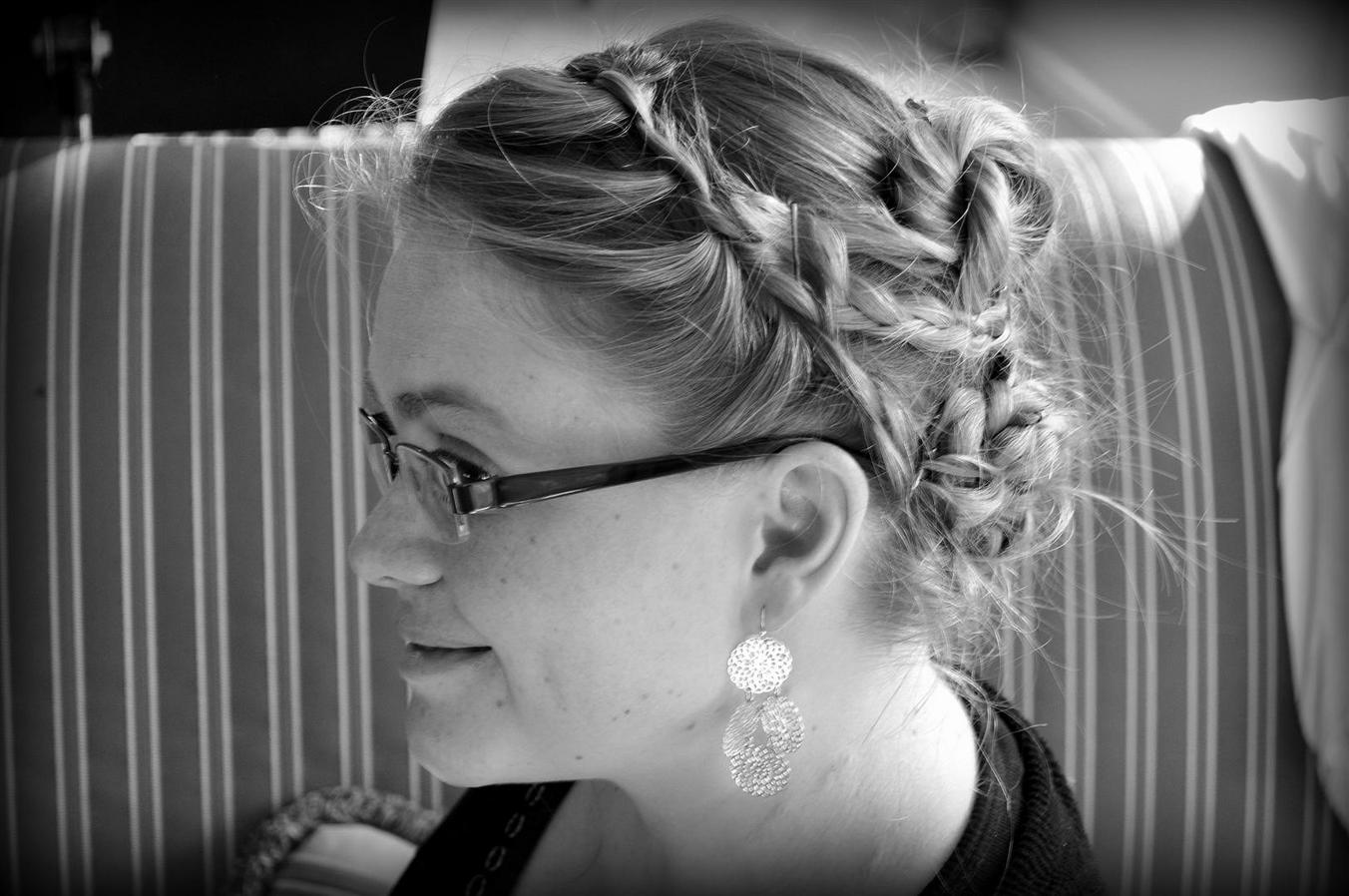 There were plenty of things I didn't get to take photos of, like playing Hunt The Grey Wolf, afternoon swimming, great conversations and a visit to Noah's Ark animal park.
One thing I wish I could get photos of was a few of the cousins (Greg, Alexander and Taylor?) who got a craving for coffee mid-morning. They couldn't ask Aunt Nora where she kept her coffee because she was at the Peach Shed. Instant coffee just would not cut it, and they didn't think to look in the freezer. But they did find some coffee beans somewhere and proceeded to go outside and bash them with a hammer, after trying to grind them with some kitchen tool that was not a coffee grinder. According to eye witnesses who will remain anonymous those boys had to bash for a long time for very little yield and then when the coffee was made it wasn't even very strong!
There are probably many more things I could tell but I think this post is long enough already!
Tonight is our last night in Moab, Utah. We've had a really great 2 days here doing hikes in Arches National Park and enjoying its unusual beauty, exploring local swimming holes and pools (6 different times of swimming in 2 days!) and having a relaxing time. Tomorrow we travel on to the Grand Canyon and then on to Phoenix to make our last stop with family on our trip.