I've been sharing a lot of photos and telling you about stuff we've seen and experienced lately (and there's a lot more to come!), but I thought I'd just give you a little update on how we're all doing, as well as some related thoughts.
New York smells different when it's warm. I won't say it smells worse, it just smells different. You can suddenly smell the concrete and the asphalt. And the people. But you can also smell the laudromats' soap and the sweet blossoms. I've always been very interested in how smell and memories are connected, and smelling the summer coming in the city brings back memories of sweltering, humid days spent under the sprinklers at the playground. I'm looking forward to that after being couped up all winter. Not that I mind being home a lot — I'm a bit of a homebody, really — but when your house consists of just 4 rooms that flow into each other and the only place you can be alone is in the skinny bathroom (and not really alone, come on, I have kids!), it can get a bit much. So I'm looking forward to exploring more of our surroundings. I have a crazy idea brewing in my head that the kids and I should check out all the playgrounds within walking distance… but why limit myself — there's the subway too — so many playgrounds to explore! Hmmm, I think I'll have to do some 'research' (checking the NYC parks website).
We've got all sorts of plans for things we want to do and see with the nicer weather now. It's a pity that Saturday comes only once a week. :-) There are so many NYC sights we haven't seen, and surrounding areas too. It would be fun to go berry picking or something, just to get away from the city for a bit and also to come back with some tasty loot.
Spring has been absolutely beautiful in the city. There are heaps of tulips and daffodils everywhere and the blossoms on the trees and the fresh green leaves everywhere (not to mention the warmer weather) seems to have put people in general in a good mood. There's a lot more street life again — people hang out and talk on the sidewalks, outside restaurants and shops and occasionally someone might even say hi.
As for an update, here's something like it.
Ben's been working hard, as usual, though still enjoying it. He's been working on a new feature that will allow you to view Oyster's hotel photos in neat ways – coming soon. I guess he might do a post about that once they release their cool new feature. Oyster recently signed a deal with Travel Channel which they hope will bring in more business. You can read the article in the New York Times here.
We have had the use of a friend's car for a good portion of our time here so far. The only down-side to the deal is that we have to move it twice a week for street cleaning. The other day as we were approaching our block, Ben quipped that we should not only pray for travelling mercies — around here we need some serious parking mercies — it's often difficult to find a parking spot and when you do, it's not always easy to get into. If there is only one thing that I've gotten better at during our time here, it's parallel parking!
When we first moved here, we found it so funny when people would say when visiting us "I was so happy to find a parking spot on your block!", now we know what they mean. If you can drive into your own driveway, or park right in front of someone's house when visiting them, remember that you are blessed. :-)
Now we move on to me. We could just skip this part, but then someone's bound to tell me off. I've been pretty involved with some church things lately — redoing their photo directory, doing the nursery roster and helping organise a combined bridal shower. The photo directory is finished as of about 2 hours ago, so I'm a happy girl — it turned out to be a much bigger job than I had anticipated, but good to do.
I guess I have to mention the root canal. Yeah, I'm getting one, unfortunately. It had been over a year and a half since going to the dentist, and the tooth that had been bothering me for a while started to really bother me, so I got a quick appointment and it was determined that the tooth was beyond filling and that the only option was a root canal, which she started then. (My dentist is ironically called Dr. Ifill. If you think that's funny, just wait — I found an optometrist on the same day I found a dentist, and the optometrist was called Dr Vu (pronounced view). I kid you not.) So tonight I'll be heading back to the dentist for the next step on the root canal and for a general check-up to see how many other fillings I need. All fun and games.
I'm enjoying singing in the Brooklyn Conservatory Choir quite a bit — we're singing Brahms' German Requiem this semester and it's full-on but very beautiful. That man sure didn't like sticking to just one key, that's for sure.
Talking about music — when Ben's dad was here, we went to a concert at the Lincoln Center where the Juilliard orchestra played Mahler's 9th symphony. It was amazing! I know a guy in the orchestra from church (he lets me play on his violin at church when I get serious violin-withdrawal symptoms) and he gave us some free tickets, which was a real score.
But most of my time is taken up by the most important people in my life, these 3 beauties: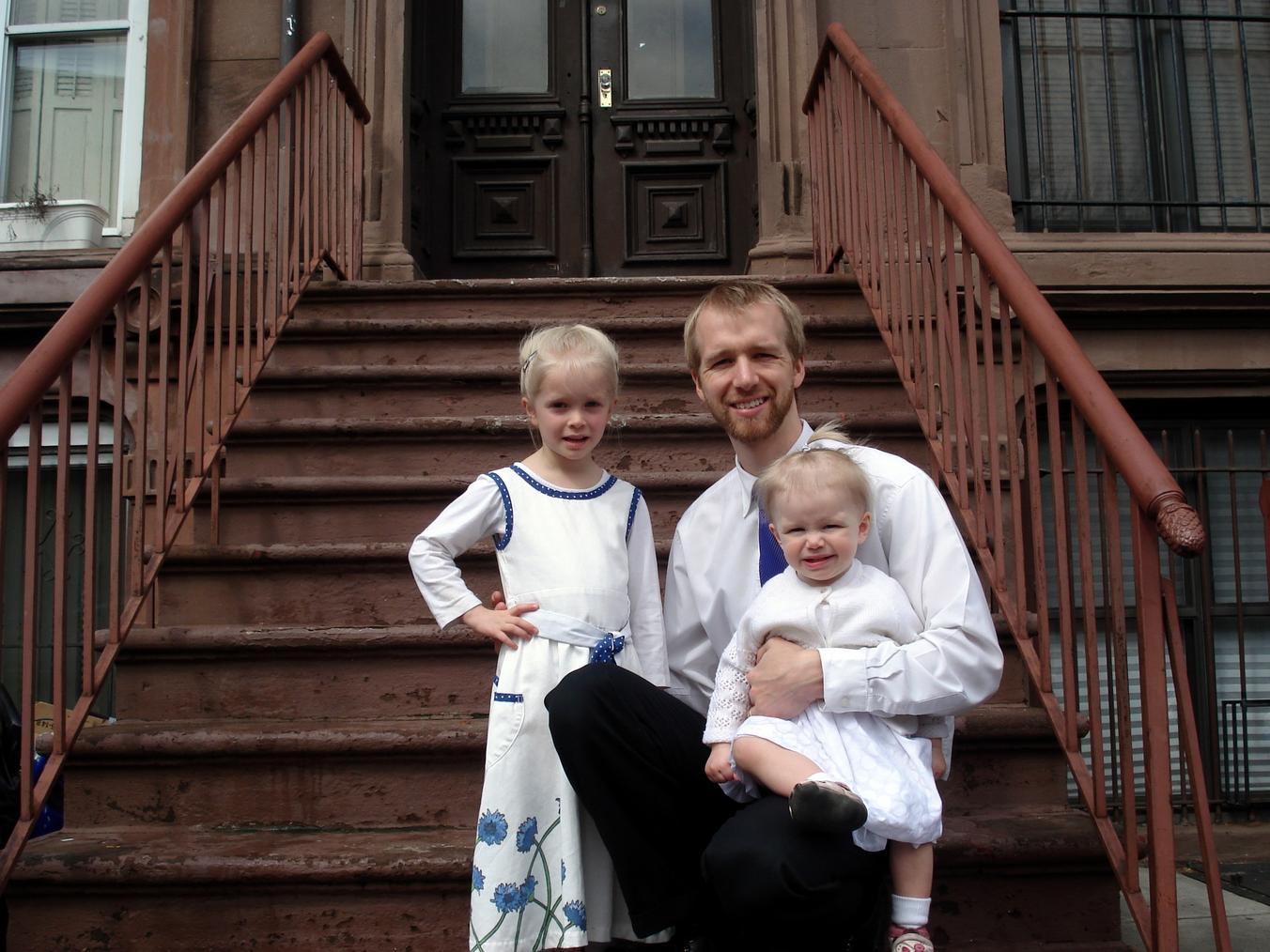 The photo was taken on Easter Sunday (notice the girls' new white dresses, so pretty. And not so white by the end of Sunday…) on the steps of our row house. Easter update to come soon!
I love loving these people and serving them. The rewards are pretty amazing too!
I've really enjoyed experimenting with new recipes recently. I love cooking and baking more and more. Like I'm fond of saying: I love making food, I love sharing food, and I love eating food! And on that note, I've got a bunch of recipes that I'm keen to share too. Time, however, is a limited resource.
On to Marica. She is one imaginative, creative, fun little girl. She is also very head-strong, stubborn and sometimes rebellious. Which I guess means she's pretty normal for a 4-year-old! We're working on turning some of the weaknesses into strengths, and to shape her character without breaking her, to turn her from sin, and to channel all that great spunk in the right direction. Not the work for mere mortals, I tell you, but thankfully we don't do these things in our own strength alone!
She enjoys building huts, bossing Esther around, going on pretend space ships to find orphaned aliens (with mum in tow, of course), digging in the dirt in the backyard, books and learning. And much more! We're working through some preschool books during our 'home school' time, and she's been enjoying it heaps and doing very well. Reading is coming along slowly, though she seems to find counting and addition more interesting right now, so that's what we do more of. Here's a typical scenario: <few seconds silence> "Mum! Three plus three is SIX!" She can do a few without counting on her fingers, so hopefully if we keep doing it over and over enough all the addition sums up to 10 will become rote.
Man, I love that girl, such a pity she's not really into smothering big hugs…
And last, but certainly not least, an update on Esther. Happy, cheery, chubby, sneaky, cuddly, sensitive Esther. She's certainly very different from Marica, though I think that they share the stubborn streak. Esther seems to have decided that walking will not be her mode of transport and that crawling suits her just fine, thank you very much. So, almost 18 months old and still ruining her pants on the knees at the playground.
Esther is pretty quiet, except when she's not. Then she had a pretty big voice for such a little girl. But on the whole she's quiet, almost too quiet. She has the amazing ability to unpack drawers in a flash without anyone noticing. She can even open candy packages quietly and stuff her face full of MnM's without anyone noticing until most of them are gone. She likes her food, that girl. Well, most of the time. She likes things until she decides that she doesn't like them anymore and then there is no way that food is going in her mouth. I'm sorry to say that sometimes she has to get up from the table with not much in her tummy because she refused what was given her. I'm mean, I know.
She's very talkative, and her babytalk is slowly becoming more understandable. At least some words are. Like "Bubbles, hmm?" said at about 3 octaves higher than the average person speaks and meaning, blow some bubbles for me, will ya?
Her teeth are also rapidly increasing with her currently cutting her 4 canines. All at once. So now the count will soon be at 16. Despite all this, she has continues to sleep through the night, for which I've been thankful!
I think this is quite long enough already, and I've run out of things I think you'll find interesting.
Drop us a comment or an email every now and then and make our day! Hint-hint, nudge-nudge. :-)