On Saturday we went to Coney Island for the day. We tried to pack in as much as possible and first went to the Aquarium, then for a swim at the beach and then off to the best part: some rides at the amusement parks! You wouldn't believe it, but the camera got left at home so we have no cool photos to show you of the actual day. I do, however, have a few photos left from last time I took the kids to Coney Island to give you an idea. We took along our pastor's youngest daughter, Abigail (11?), who Marica is pretty fond of.
The Aquarium was nice, but I must say it's not super impressive. At least not the second time. :-)
The beach was absolutely packed and there were plenty of really cool dudes without shirts on carrying really loud stereos around. We wished we could be their friends, but alas, we were destined to just listen at an all too short distance. Marica just loved swimming in the calm water with her inflatable ring (thanks, Veronica! That ring has had lots of use!).
This picture of the beach is very un-crowded, unlike Saturday. Every shape and size seems to think they look particularly good in itsy-bitsy bikinis, so we had our fair share of unwanted flesh. People really don't have any idea just how inconsiderate they are. Not to mention what they are doing to themselves. But that's a different topic all together!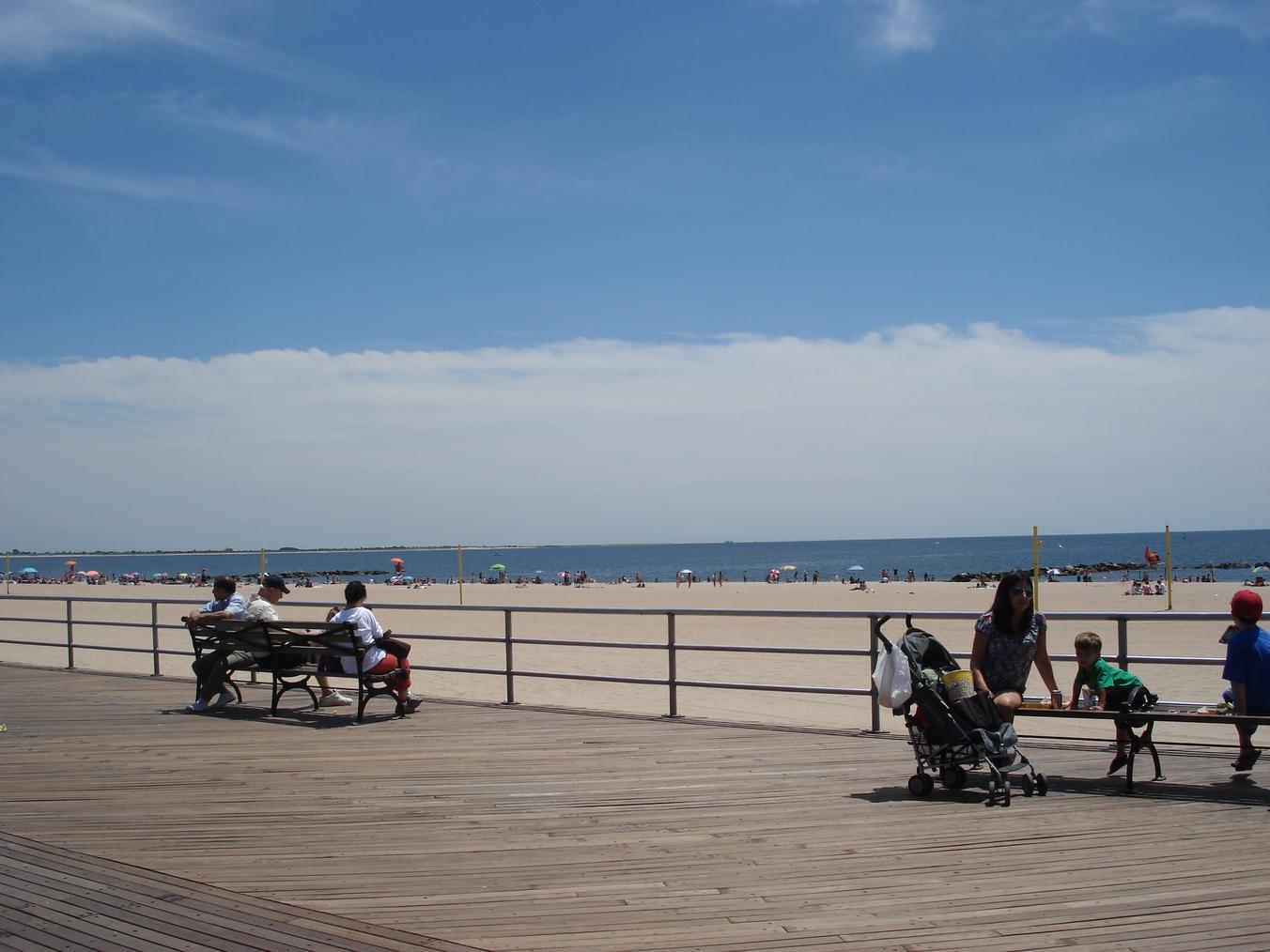 The amusement parks were of course the highlight. We first went to an amusement park mainly geared toward young children where there were plenty of rides Marica could enjoy. The Wonder Wheel was pretty fun — a great big Ferris wheel with cars that slide to and fro as you go around for a bit of extra thrill.
And then… for some totally inexplicable reason… Ben convinced me to go on The Cyclone. After dinner. Can you imagine me on a roller coaster? Yeah, me neither. Yet, for about 2 minutes of my life, I paid someone eight bucks to be afraid. And to get bruised. And to get whiplash. It felt like the longest 2 minutes of my life. I screamed, and I don't even like screaming. I didn't even scream giving birth!
Ben, on the other hand, thought it was quite cool to go at 60 degree angles at like a hundred km an hour and dropping 26m in 2 milliseconds. He's even thinking he'd like to do it again.
Did I mention I still have a sore neck from getting whiplash on that thing? Never say never, and all that, but never again.
But let's turn to better topics, like food. For dinner we had some good hot dogs from Nathan's and ate them on the beach. They're fairly famous around here, probably helped by their yearly hot dog eating champs.
By the time we had done the roller coaster thing we still wanted to take the kids on a couple more exciting rides, so we went to another amusement park for that. And then off to home with two very tired kids and two pretty tired adults.
A pretty good day I'd say, despite the whiplash.