I can't believe we've only been in NYC for 4 nights — it feels much longer. I'm sure that this is because we haven't exactly slept very well. Jet lag aside, we've had some interesting night-time sound experiences. The first 3 nights we were here we were in that small 6th floor apartment I've already told you about. Down that road live lots of Hispanic people that seemingly don't need to sleep. There's one whom we're particularly fond of. Let's call him Pedro. Dear Pedro loves beeping his horn. He has a cool horn. It's an air horn. Not just any air horn — it's the loudest air horn in the universe. And Pedro likes to blast his air horn at 4 am. He goes up and down, up and down the street. Pedro's friends party on that street until it starts getting light. And then, at 8am, it's really quiet on 3rd Street.
Well, now for the rest of the month we're in a new apartment building. This apartment is comfortable, large, it has air conditioning and the building has an elevator. We're happy. But the night-time sound experiences continue. Marica and Esther make their share of interesting noises until about 3am, when we're all so tired out from all the fun we've been having that we decide it's probably time to catch some sleep. The yapping dog in apartment 5E usually turns in for the night at about this time too, but then it's a bit hard because of the motorway and the train tracks across the road. I'm pretty positive that we'll get used to it soon though. And people assure us that it's quieter where we're planning to settle in Brooklyn. :-)
Marica had a bit of a hard night on Friday night struggling to sleep, and when Ben and I got breakfast ready in the morning we noticed it got quiet. I looked for Marica and couldn't find her, and my first reaction was panic. See, for some inexplicable reason, NYC has these tall apartment buildings that has windows that open to almost a square meter. With NO rails or anything in front of it. I have a sick feeling every time I see one and Marica near it. Anyway, my first reaction was to see if any windows were open. No. In either of the bedrooms? No. In the bathroom? No. Where can a 3-year-old go in a tiny 2-bedroom apartment?! Here: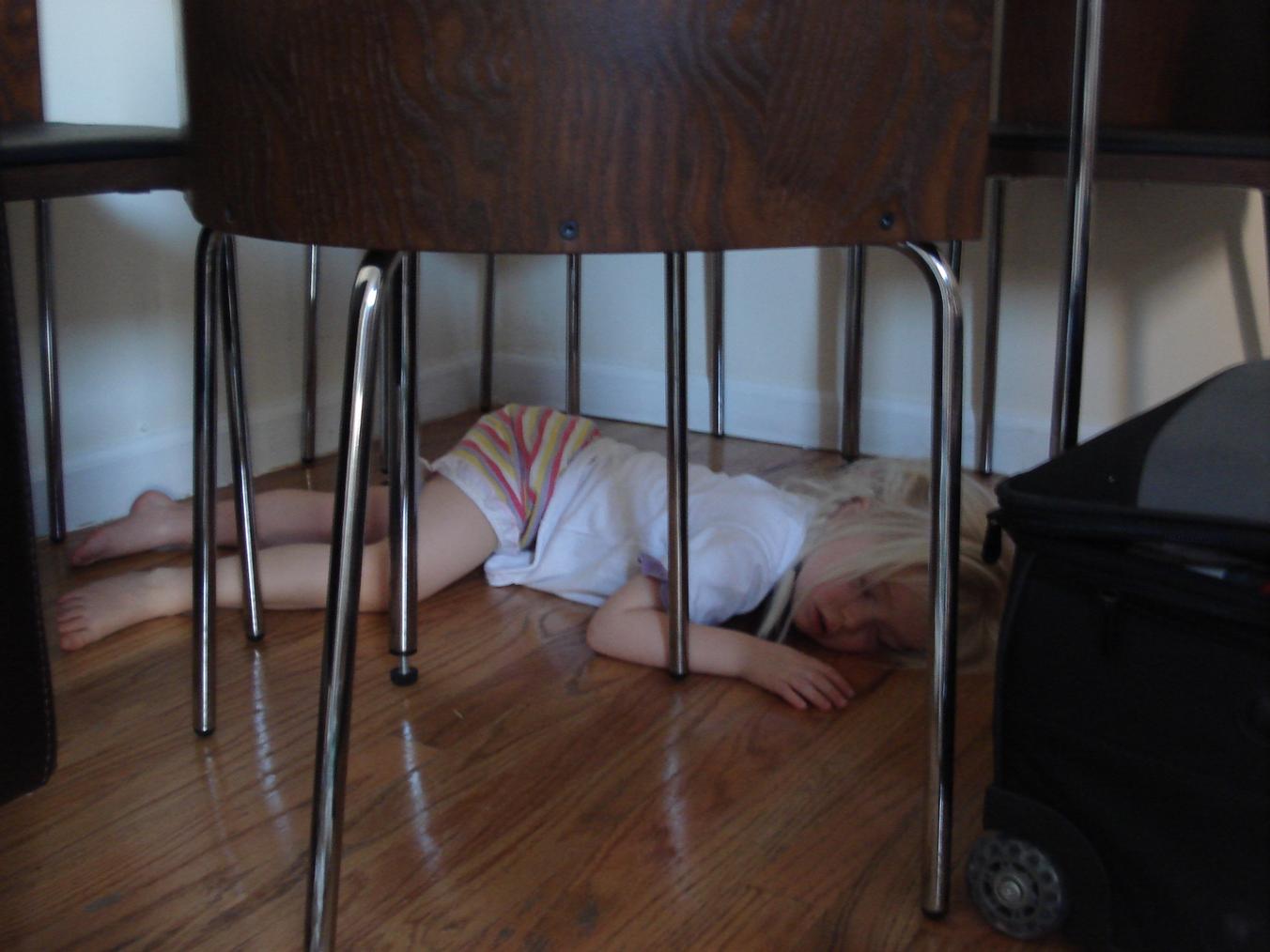 The last couple of days have been totally filled with looking around and experiencing this amazing city. We've visited Union Square again and had a nice picnic of bagels. There's a great children's playground there where Marica had a ball of a time while I had a look around the Saturday market. There was all sorts of fresh fruit and vegies, meats, eggs and milk off the farm, fresh bread, etc. Right up my alley!
We've now bought a stroller and a dummy/pacifier/soother and both have already had lots of use. Navigating the subways is quite difficult with a stroller — not so much on the subway, but getting down the stairs and through the pay gates is difficult. Fine with 2 adults, but I think I'll try and get familiar with the bus system soon, which is a lot more stroller and kid-friendly.
The subways are quite an experience in and of themselves. Some stations are pretty with nice tiling and lettering, and relatively clean, others are pretty grotty. In the last 4 days I've seen more variety in buskers than probably ever before. They usually do music (though I've seen break-dancing as well) and we've heard Chinese, African, Spanish, Country and countless other kinds of buskers. Sometimes they'll busk on the actual train which is no small feat because the trains are very shaky and it's quite a challenge to keep your footing even if you're holding on to something!
The subway is also quite a great place for people watching. Man, you get all sorts here. Flash ladies right through to people who look like they're homeless. People who talk (and sing!) to themselves, people who sleep, people who study, people who beg, people who do what's best done behind closed doors. It's interesting and fun and never, ever dull!
We've done quite a bit of walking around Brooklyn in Park Slope, the neighbourhood we're keen to live in, over the last 2 days. It's a bit pricier, but it is very family friendly and near to a beautiful (and large) park. When you start out renting in New York you usually have to pay one month's security deposit (bond), one month's rent in advance, and if you get your place through an agent, 12% on the annual rent. That hurts. So we're looking on Craigslist to find a place that won't have the agent's fee. This should help quite a lot seeing that we'll be paying around $2000 per mont\h. We knew it'd be expensive, but it all adds up.
We went to Park Slope Presbyterian Church today which we heard about through friends of Ben's Banek cousins. We were encouraged by the great number of families with young children there and we weren't put off by the teaching. We'll go a few more times to see if this is for us. Next week we hope to attend the United Reformed Church in Manhattan which the Kloostermans told us about.
I think that brings you up to date with happenings around here for now! :-) I'll head for bed, and hopefully the yapper in 5E does the same soon too!
I'll leave you with some nice pictures of Central Park.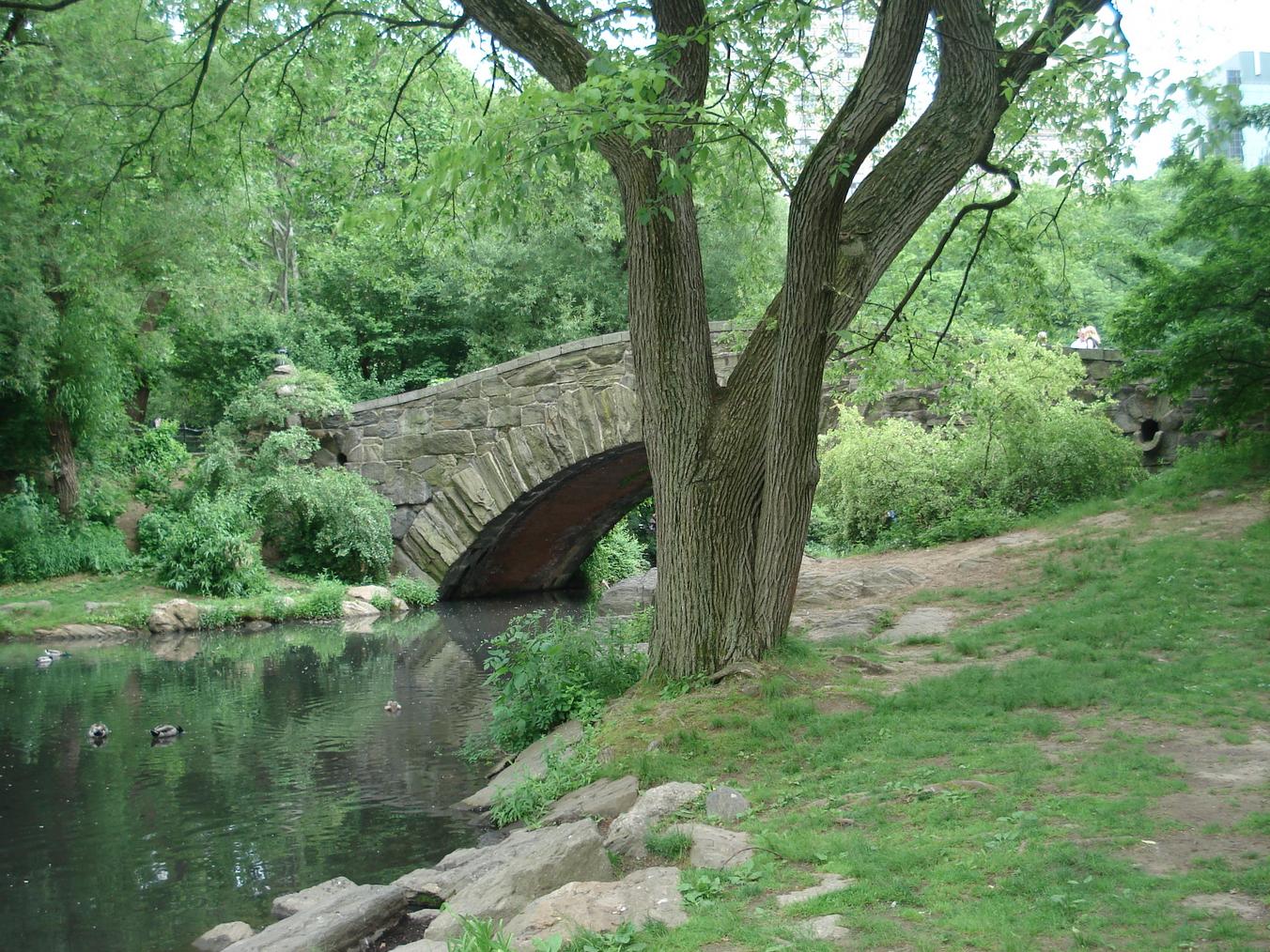 And no, these are not just in the movies!