As we prepare to take a trip back to NZ for Christmas, I'm looking back at this post again (originally posted in March 2012) to refresh my memory on what's useful to take and what to do to make life easier when travelling long haul with kids. It's been a few years since I've posted this, so I thought I'd repost it in case it can be helpful to others!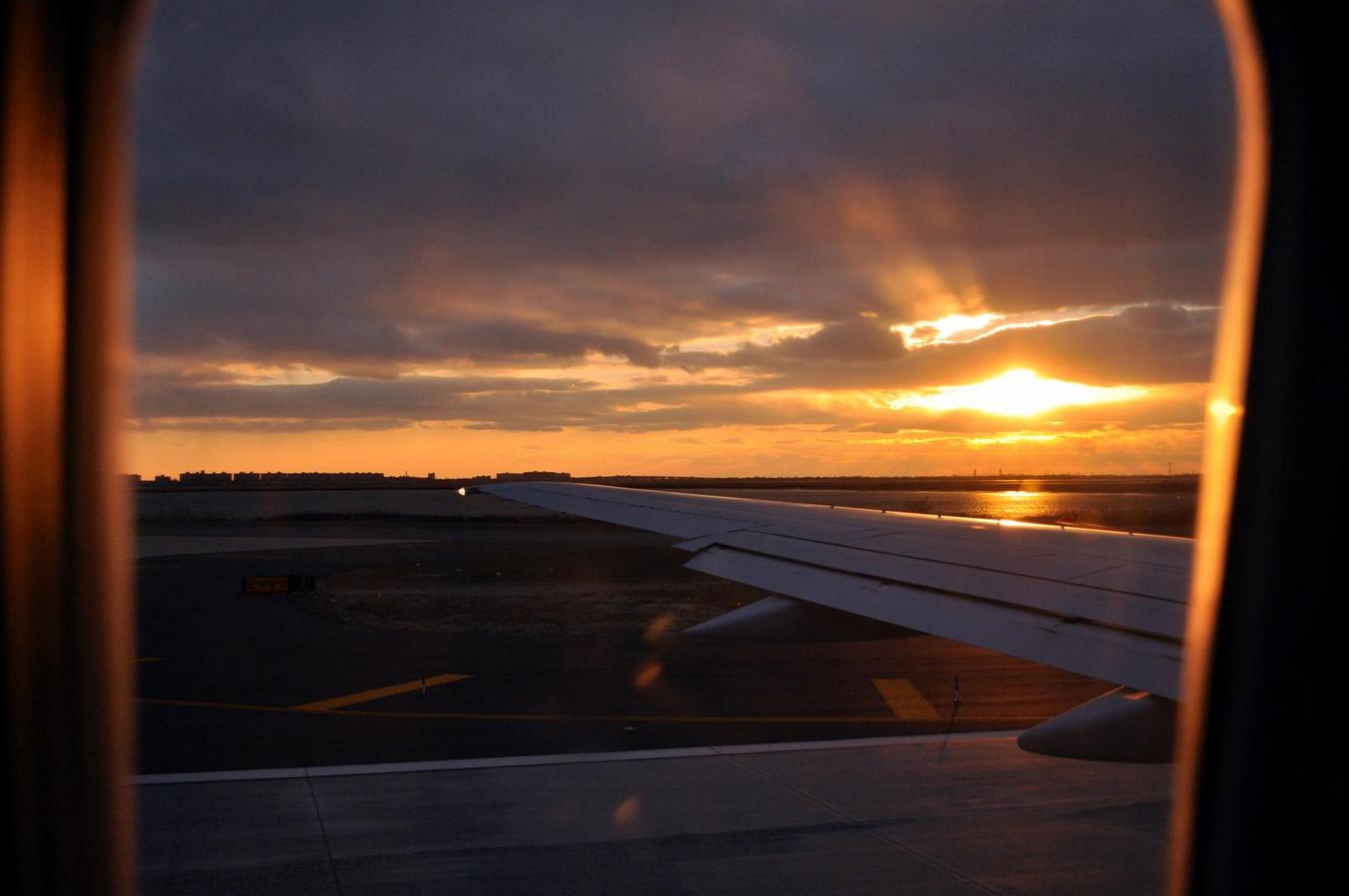 I recently travelled from New York to Christchurch, New Zealand to attend Jeremy and Lillian's wedding with Marica (4) and Esther (2). Without my husband. Many people have asked how the 26-hour trip went, and as I thought about how anxious I was before the trip, and how many other people are in that same boat every day, I thought I'd do a little post on some things that made our trip easier for anyone out there who might benefit from it. I am not a seasoned traveller and I don't claim to have all the answers, but here are some things I recommend:
Talk with your kids about your upcoming trip. I found reading books like this one very valuable to familiarise them with what to expect. We did role playing where we went through pretend security, we sat on the couch as if we were on the plane seats, did pretend take-off and got sore ears. I wanted them to know to expect sore ears, even if I was going to do all I could to help with that!
Get them excited about the trip by buying some special toys and (colouring) books. I showed some to them, and kept some as a surprise. I found this colouring book and this little sticker book provided a lot of bang for my buck.
Be prepared in your own mind:
Get a good attitude about your upcoming trip. Your kids will feed off whatever vibes you give off — if you're excited, they'll be excited, if you show your anxiety, they'll be anxious. I found lots of prayer helped, as well as some specific Bible verses to help me focus on the fact that I'm in the hand of the Creator of the Universe. That puts a little plane trip (and all those 'what if' worries) into perspective really quickly!
Read about what other people have found to be helpful or good. I found deliciousbaby.com to be a wonderful resource. It's so good, I don't really know why I'm bothering with this post other than to give my own experience!
Look up the layout of the airports you'll be visiting, and know how to get from one terminal to the next. You don't want to have only a couple of hours to transfer between terminals (like me) and have 3 sets of people tell you 3 different ways of getting to the next terminal. I got there in time, but it added extra stress I didn't need.
Know how long each flight will be, and whether or not the flight will have in-flight entertainment. If it does not have in-flight entertainment, you'll want to pack accordingly (more on that soon).
Find out whether or not you get complimentary food on the flight — if not, you'll want to pack snacks. The snacks and food on the plane are ridiculously expensive. More on that soon too.
Don't expect to fly as if you're alone. Serve these little people, not yourself. Even if you're flying long-haul, chances are that you won't get to watch a whole movie, and that's okay. Be patient with them. Let your gentleness be evident to all.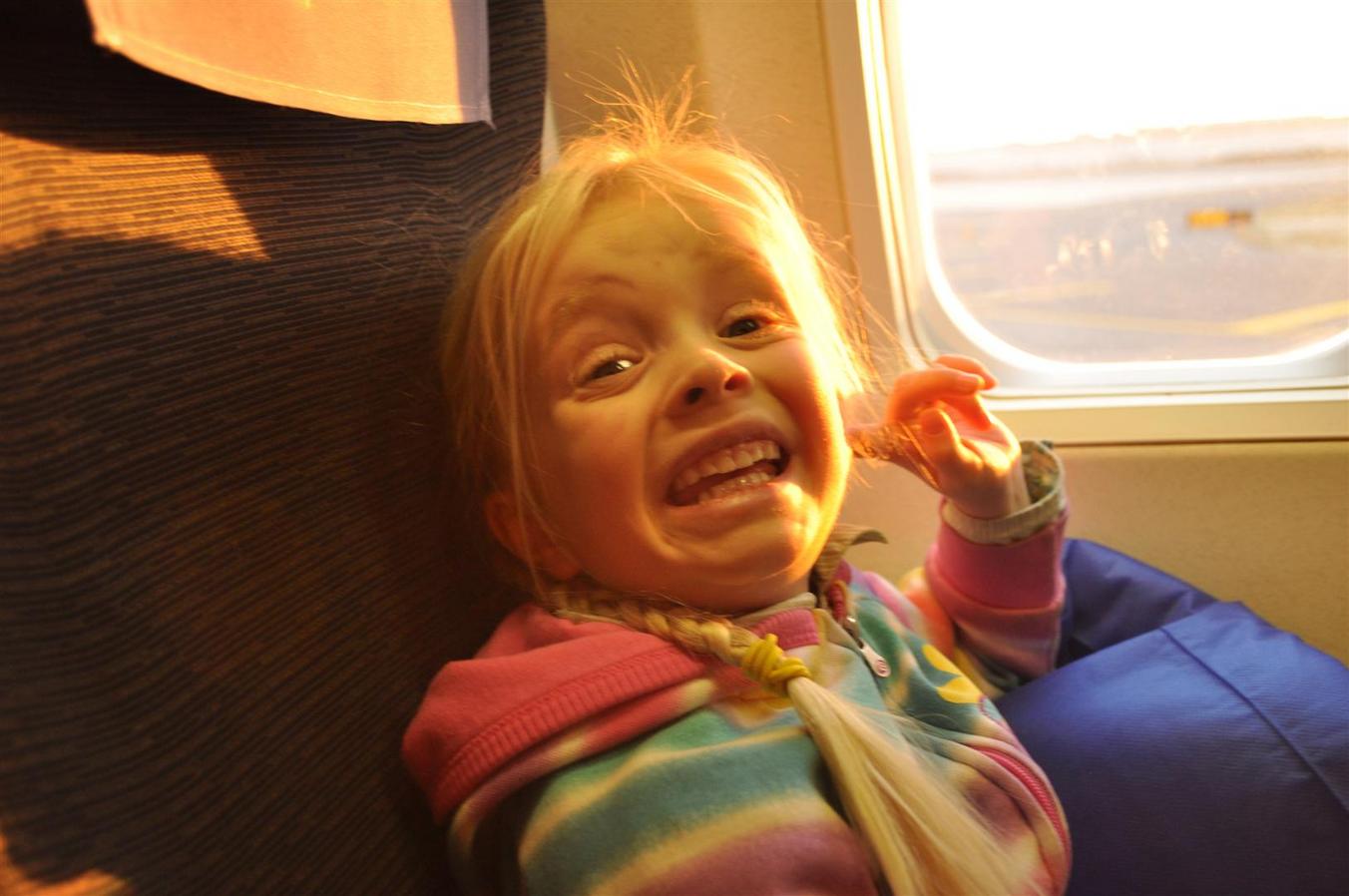 Chances are you want to know what to pack, and how much. The what I'll list below, the how much I'd answer with however much you can fit into one backpack. You want your hands free to deal with your kids — whatever you do, please don't try to maximise on your carry-on luggage allowance. You'll get frazzled trying to get everything through security and down the narrow airplane aisles on top of trying to carry a kid (or two) who just had a melt-down. Don't even go there. One backpack is enough.
Having said that, I did find it useful to take an empty canvas shopping bag with me. What went in here were our winter jackets once we were through security (we were flying from mid-winter to mid-summer) and my camera. When we were about to board, I would also put a few activities in there to get us started for the flight, and that bag went under the seat in front of me while the backpack went into the overhead compartment.
Here are some things to pack, regardless of the length of your flight:
Pack empty water bottles for your children. These can be filled once you're through security. It's easier for them to have drink bottles on hand when they need them, and they're less likely to spill than those little plastic cups. Even if you don't have something for them to chew or suck during take-off and landing, drinking some water might help their ears not to hurt so much.
Pack a spare set of clothing for each of you. You might not need it, but you sure will be glad to have a fresh shirt to change into if you get vomited on (I didn't, I'm just saying). Pack each set into a gallon-sized ziplock bag and push all the air out to make it more compact. The ziplock will also come in handy if you have stinky poopy pants that need to go somewhere (that I did have).
If your child has a special toy and/or cuddly, make sure you take it. Same goes for a pacifier (they're very helpful for take-off and landing too).
Chewing gum or chewy candy or lollipops for kids to chew and suck during take-off and landing to help their ears pop and get used to the changes in air pressure.
Pack plenty of diapers and wipes. Think how many diapers you need in a worse-case scenario, and then add a few more, just in case. Wipes are so versatile — wiping the tray in the seat back in front of you, wiping dirty faces and hands or runny noses, and of course little bottoms!
Pack some tylenol and band-aids, just in case. I also pack sinus medication because I tend to get infected sinuses when I fly.
We had 3 flights from New York to Christchurch, and the hardest one was not the 12 hour flight between LAX and Auckland as you would expect. It was that cross country 6-hour flight between JFK and LAX, and we were flying United. The in-flight entertainment consisted of bad TV shows on those little screens hanging from the ceiling above the aisle, so it wasn't even an option for the kids. There was also no complimentary food on the flight, though the drinks were. These things are a mild nuisance that aren't a big deal if you're flying alone. When you add kids into this equation, however, you need to come prepared for pretty much full-time, hands-on entertainment/distraction.
If this is how you'll be flying, you should pack:
Fun snacks. Things that have protein, like nuts, cheese sticks or beef jerky. This will tide you over better than just carbs. Animal crackers turn eating into a game of talking animals, goldfish swimming into your mouth. Take your time eating. Get some special treat snacks like small snack-size bags of M&Ms, or candy in the shape of something that could become some sort of character in some sort of story you'll make up on the spot. It will be ridiculous and it will be wonderfully fun for your kids

.

If you have to pack a lunch or dinner, be practical — make sure it's something that's not messy and that they love to eat. Nutrition is not your biggest concern for the next few hours, just relax about that. When you get to your destination you can eat properly again.
Fun activities. You know your child best — don't pack things they don't enjoy doing! Here are some ideas that worked for us: new colouring-in books, paint-with-water books, wiki stix, small pottles of play-doh, finger puppets, polly pockets, books with multiple stories and lots of pictures, an etch-a-sketch, a notebook just too doodle in. For more ideas, check out this page.
If you're crossing time zones, or flying during or past bedtime, be prepared for tired children. Chances are they'll do better than you expect, but chances are there will be some grumpiness and crying. Do what you can to comfort them (or to get them to sleep!) but realise that it probably is going to happen and relax about it. If you get all uptight, it's not going to help your kids stop crying. People on the plane are usually pretty good about it, especially if they've seen you interacting with your kids in a good way during the rest of your flight. You might get some dirty looks, but those who give them are probably single and just have no idea. Their day will come too.
If you're flying long-haul, there are some extra challenges (like the length of the fight), but also some things that make it easier. The cabin crew are more understanding and helpful, you can request snacks for your kids pretty much any time during the flight, there are change 'tables' in most of the lavatories, there are in-flight entertainment screens with kids' shows and games on the seat in front of you, and kids are usually given some sort of activity bag. Yes, the flight is longer, but that means that your kids will probably get to the point of exhaustion and want to sleep. Here are some things that can make long-haul flights easier:
Fly at night. This helps reduce jet-lag and hopefully guarantees some sleep.
Give your kids plenty of physical exercise on the day of your flight, or if you're in transit, let them do star jumps or such things to get some wiggles out. I packed a small container of bubbles for them to catch during transit (not for on the plane!) and they loved that. Just make sure it's less than 100ml, though.
Try to keep a bit of a bed-time routine. I packed the kids' pajamas, a small bottle for milk for Esther (the cabin crew are happy to give you some milk in reasonable quantities), and of course their cuddlies and special toys, and a dummy/pacifier for Esther. This showed them that it was now time to sleep.
This next one's possibly going to be a bit controversial. Two different friends who are nurses recommended Benadryl to me. I've never been one to give my kids medical sleeping aids, and I was reluctant to try it, but one of my nurse friends is a pediatric nurse, so I felt comfortable with her advice and went and bought our first ever bottle of benadryl. I talked to her about dosage so I wouldn't overdose them (!) and then I tried it out before our trip. Benadryl can make some people hyper, and I didn't want that happening on the plane. It worked beautifully. When we put the kids' pajamas on for sleep time, I gave them a little Benadryl, gave Esther some milk, and soon enough they were asleep. They slept for about 6 hours, which I thought rather fantastic under the circumstances, and were not drowsy than usual when they woke up at breakfast time.
Sleep when your kids sleep! There might only be a few hours where both kids are asleep at the same time, so make the most of it. That is NOT the time to watch a movie. You might be able to squeeze in a movie while they're watching something too.
Go for little walks down the aisle, but not while everyone else is trying to sleep, or when the cabin crew is trying to serve a meal.
I know they say keep your seatbelt on even when the light is not on, but seriously, who can do that with a 2-year-old? Let the kid stand up on the seat or look out the window or drape herself over you for crying out loud. Of course, you teach them that the seatbelt has to go on when the seatbelt light goes on and that is non-negotiable. Include that in your role playing beforehand.
One of my big questions beforehand were w

hat to do if you need to go to the toilet?! Well, if they're both asleep you just climb over them and go. If they're both awake, you can do one of two things: 1) Try to cram all of you into the cubicle. Good luck. 2) Ask one of the cabin crew to stay with your kids. They're usually happy to do this so long as they're not in the middle of serving dinner. Oh, and just another little note on the airplane lavatories — warn your kids that it makes a very loud noise when it flushes, they can really get a fright if they don't know to expect it.
And lastly, if time allows, ask one of the cabin crew if your kids may see the cockpit once the plane has landed and most people are off the plane. I had talked with the kids about the plane's layout and so they knew what the cockpit was and that the pilot flew the plane. They were very keen to see it and thrilled to be allowed in there. This pilot was particularly nice and even allowed them to sit in the pilot and co-pilot seats. They also got a little card with the details of the plane on it, and a pilot's badge for kids.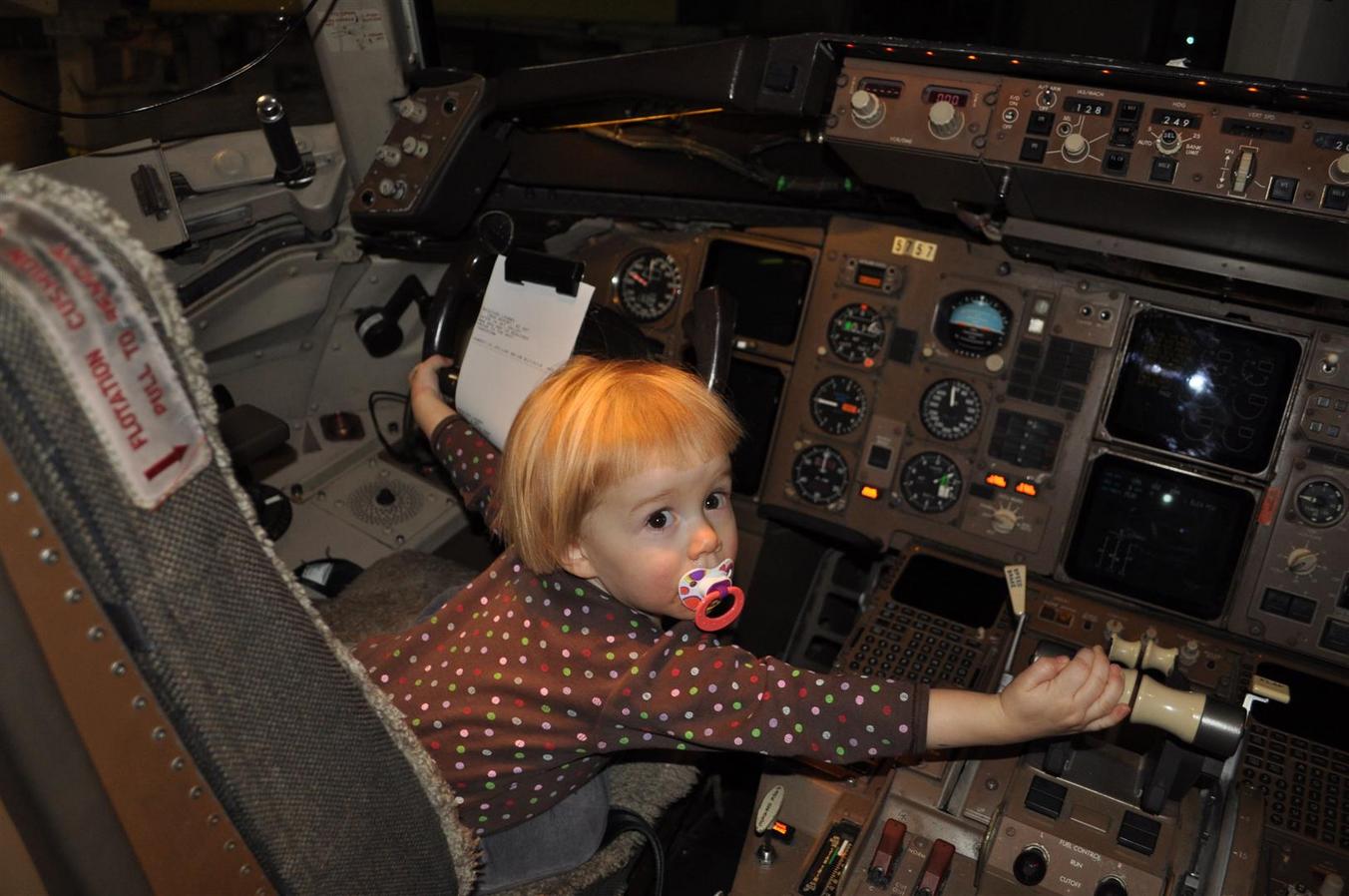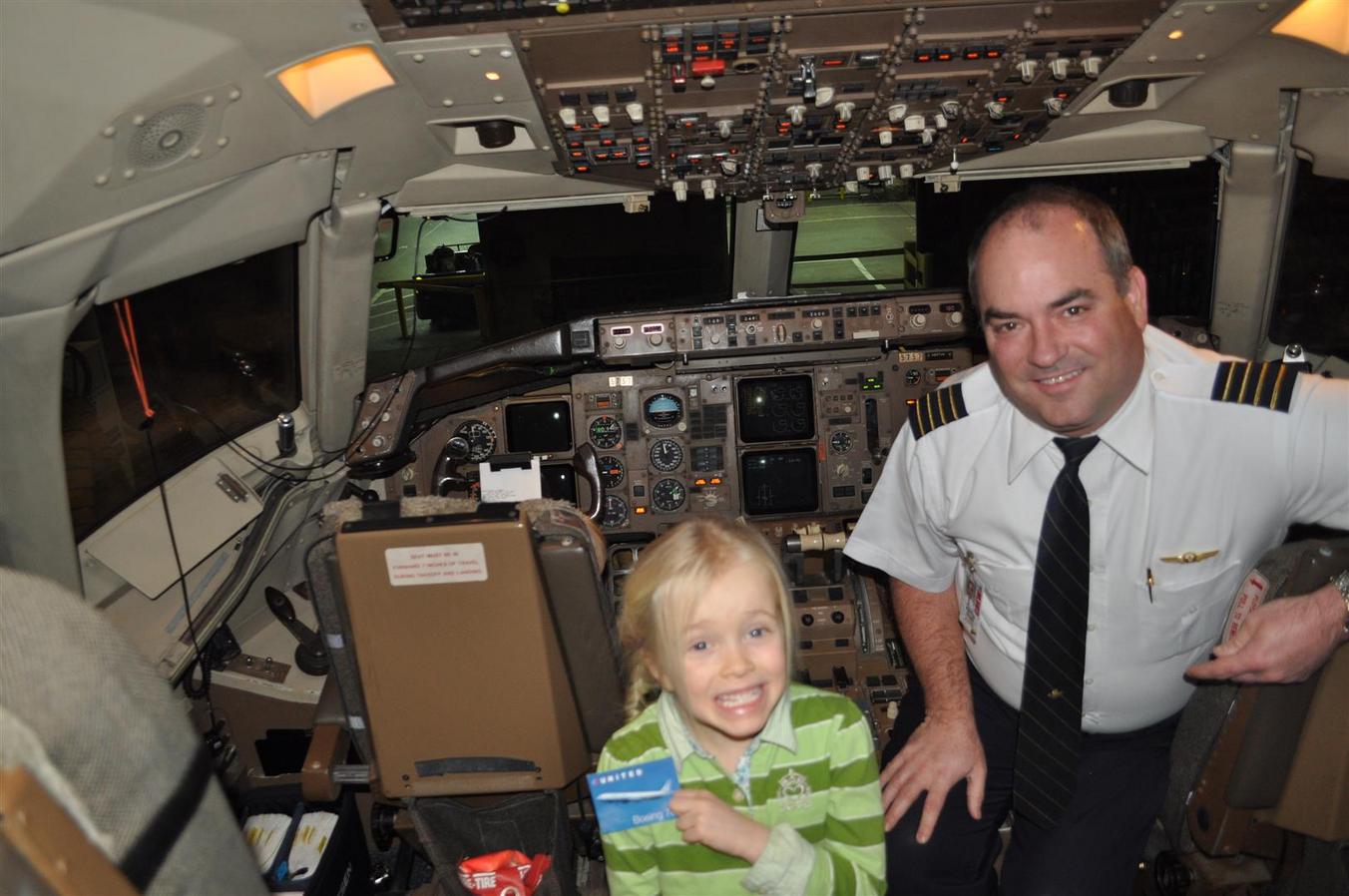 I've surely left some things out, but look around at some other sites. Remember that even a long-haul flight is only a short time in the scheme of things. Make it a short time your children will remember fondly, even if you won't!