A couple of weekends ago, we visited our good friend, Jeremy, in Philadelphia.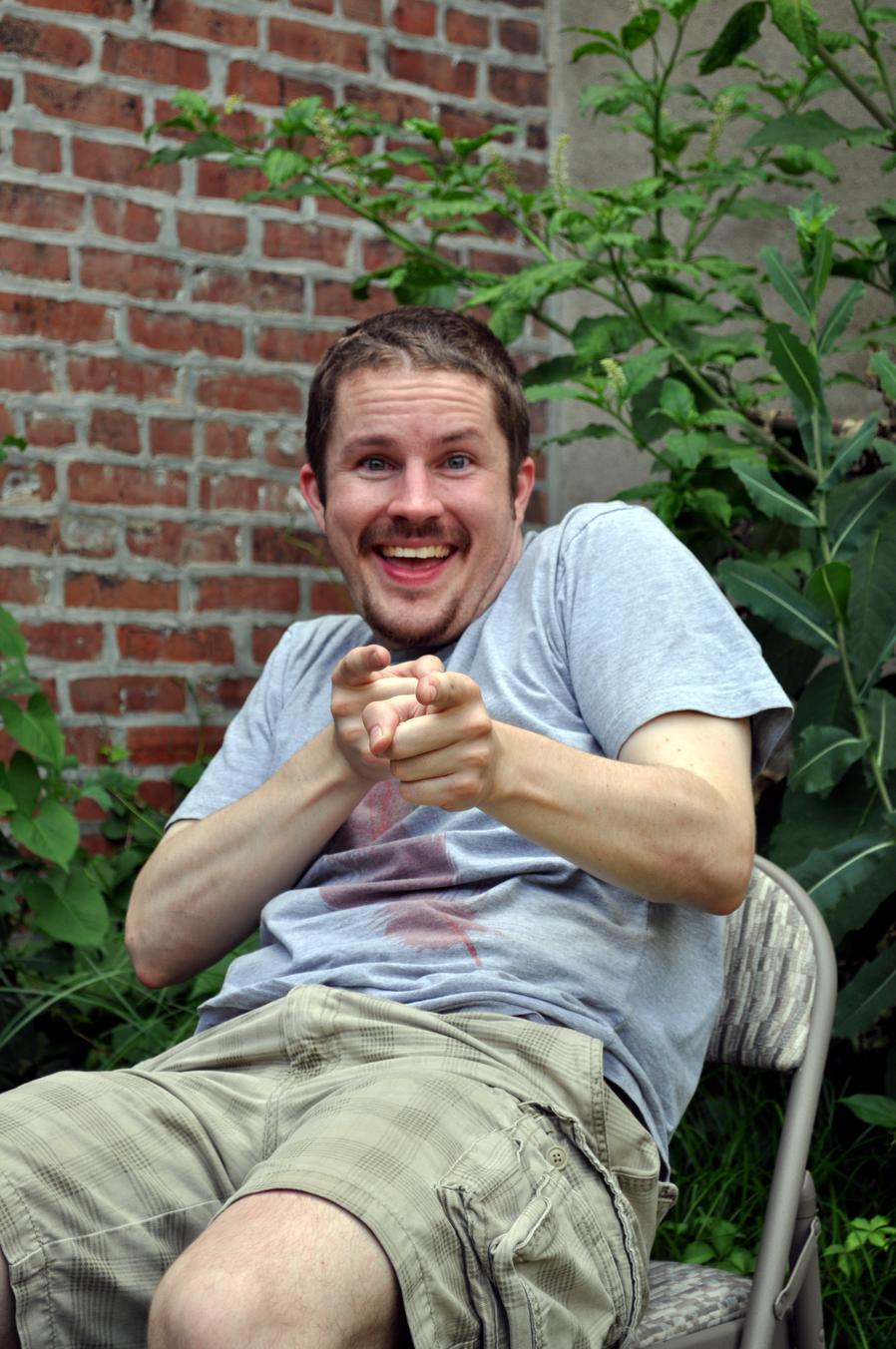 What a blast — we did some sight-seeing, but also my favourite pastime: having good discussions over good food.
There was of course also an appropriate amount of teasing which Jeremy thrived upon. (We have ample reason for this kind of fun because Jeremy is my daughter's sister's father's youngest sister's boyfriend.)
I took a heap of photos on this trip because I had just received my new camera, so you're getting treated (or tortured, depending on your perspective) to a post with lots of photos!
Crossing into Philly: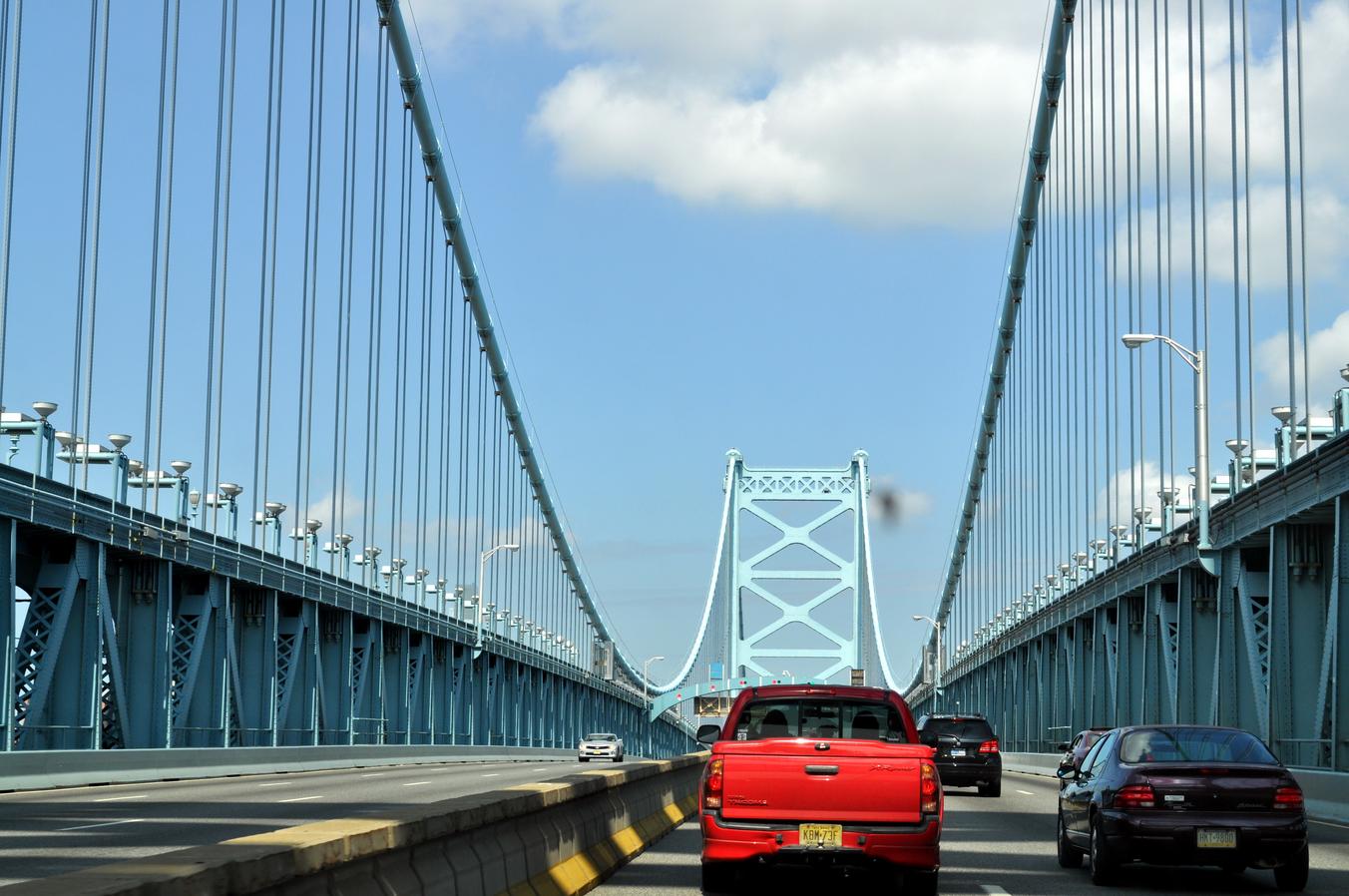 Seeing the skyline as we enter the city: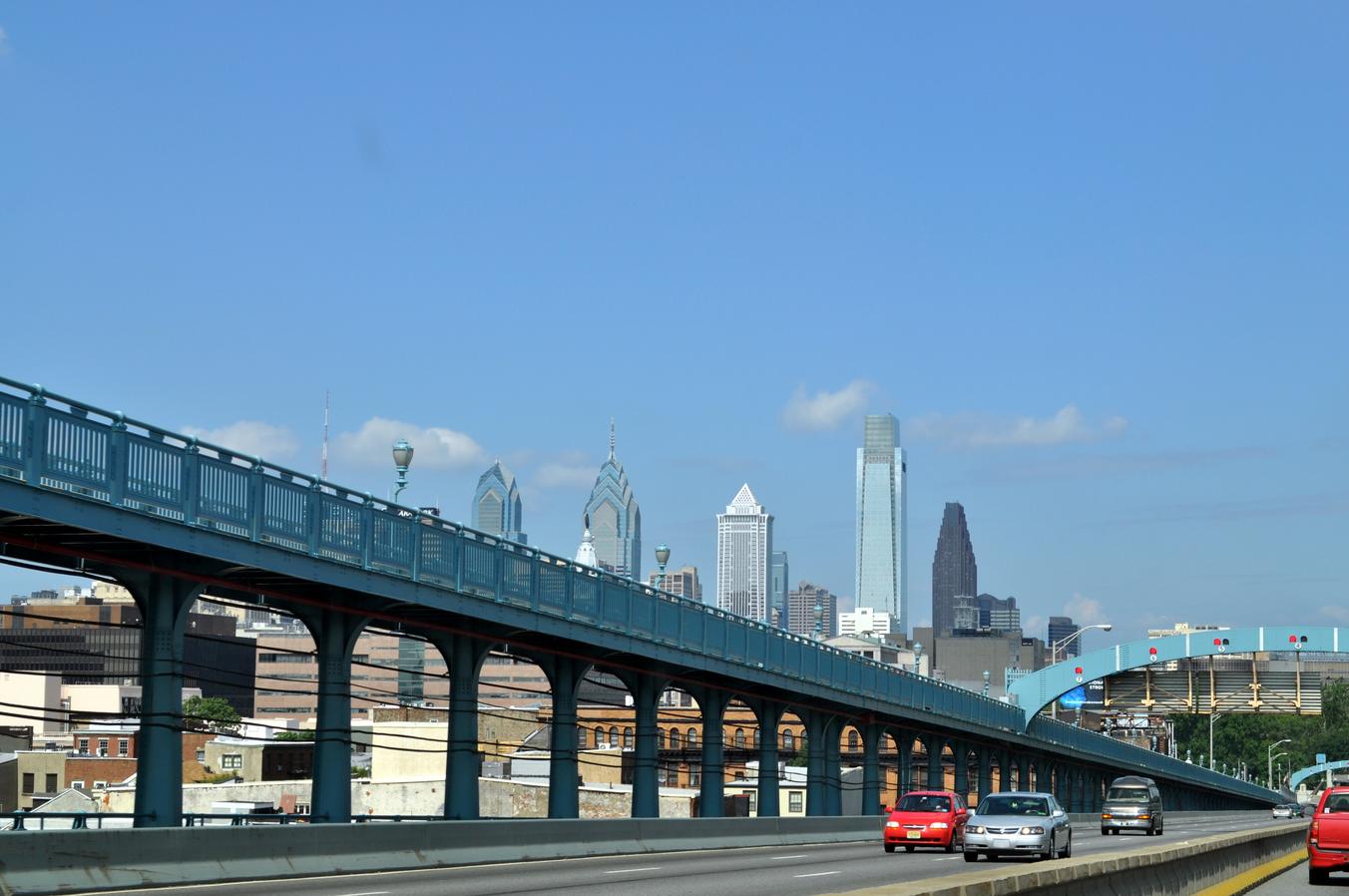 We drove past this church on our way to his house — I liked the lines of the building.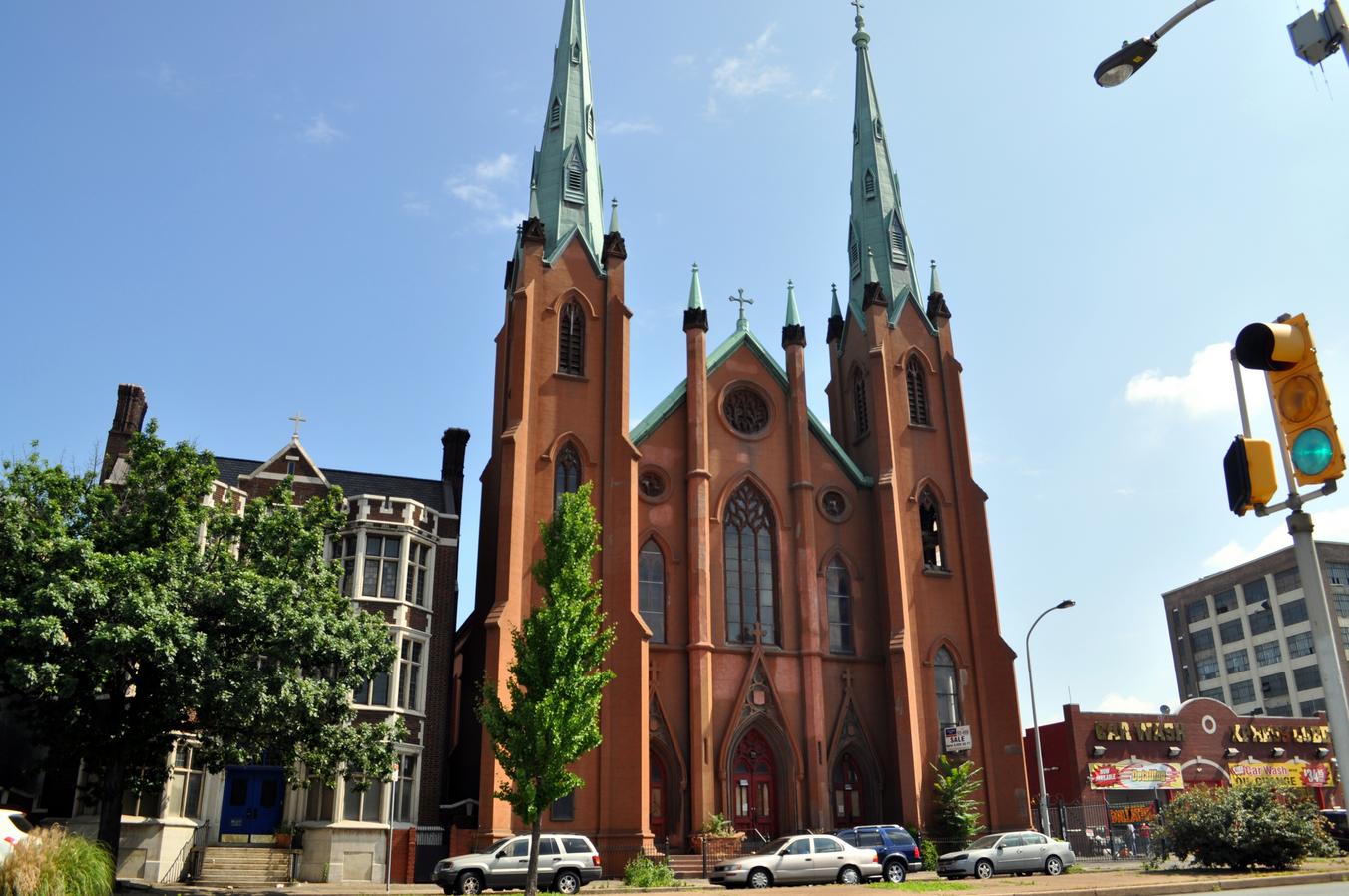 What empty streets! So wide, and so empty! See my little cameo appearance?
And here's Jeremy's street: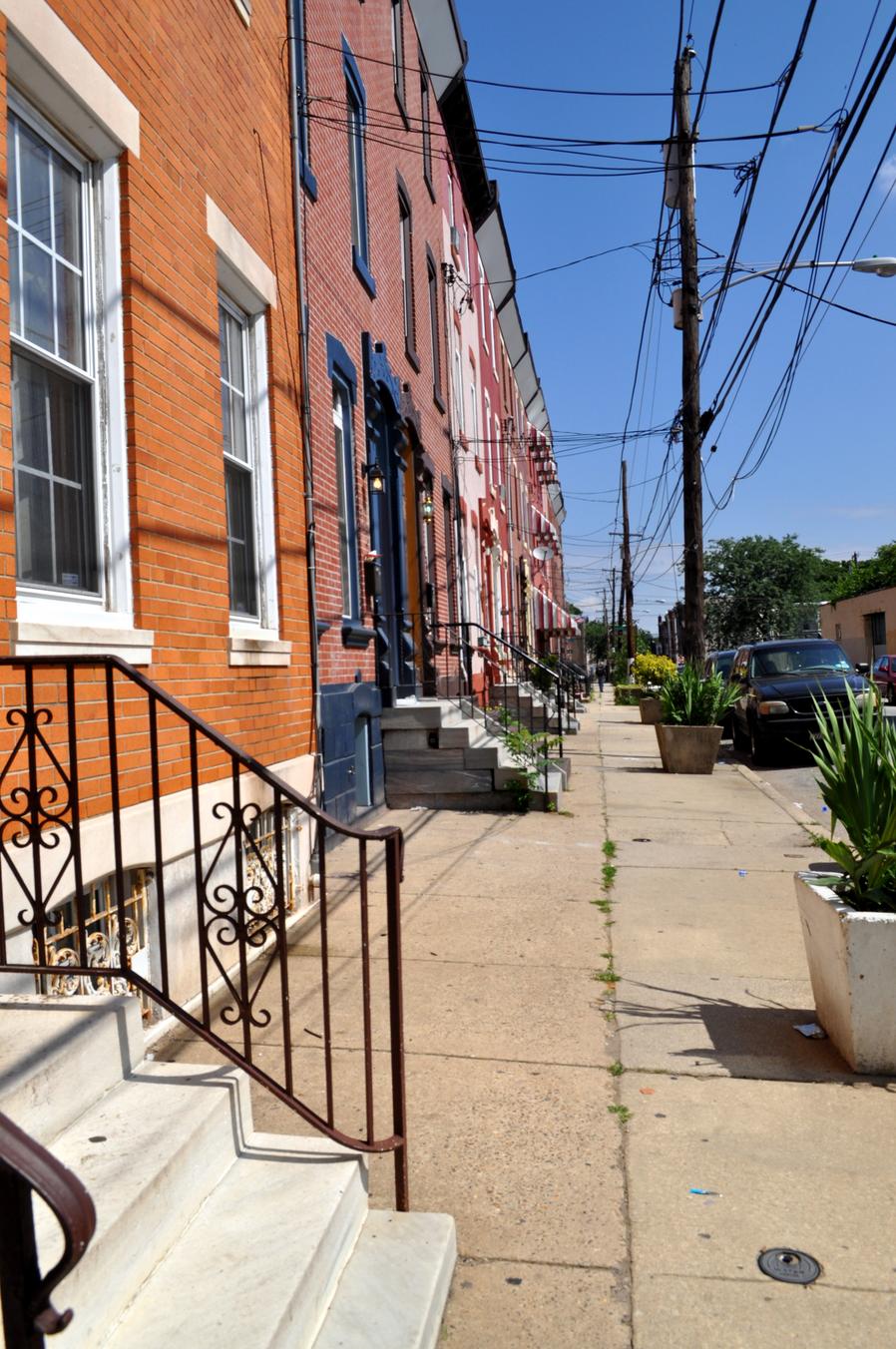 And the house where he lives: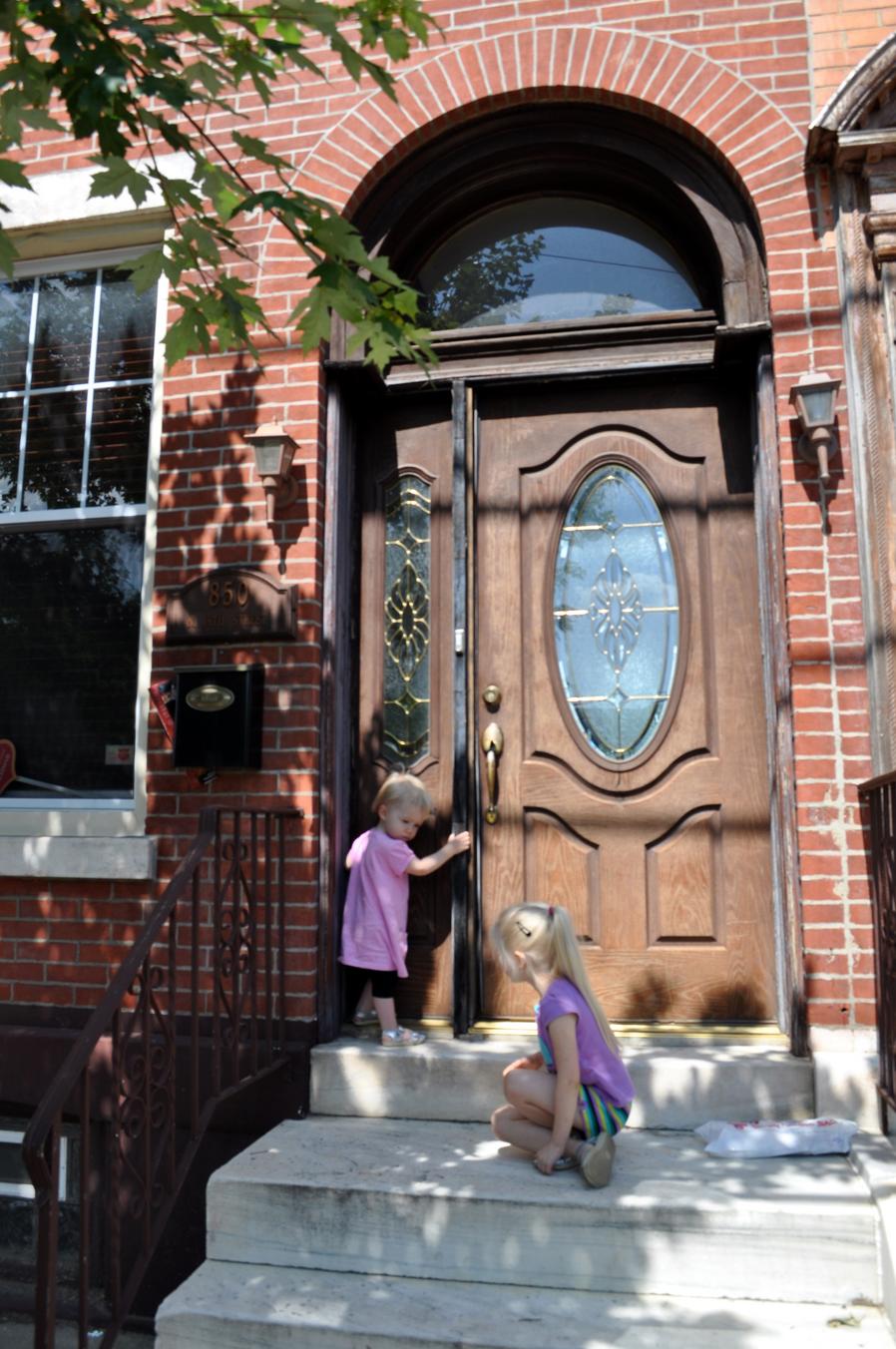 And the mammoth with whom he lives. The mammoth was drawn by one of his house mates and is called Woolworth. I thought you'd all benefit from knowing that.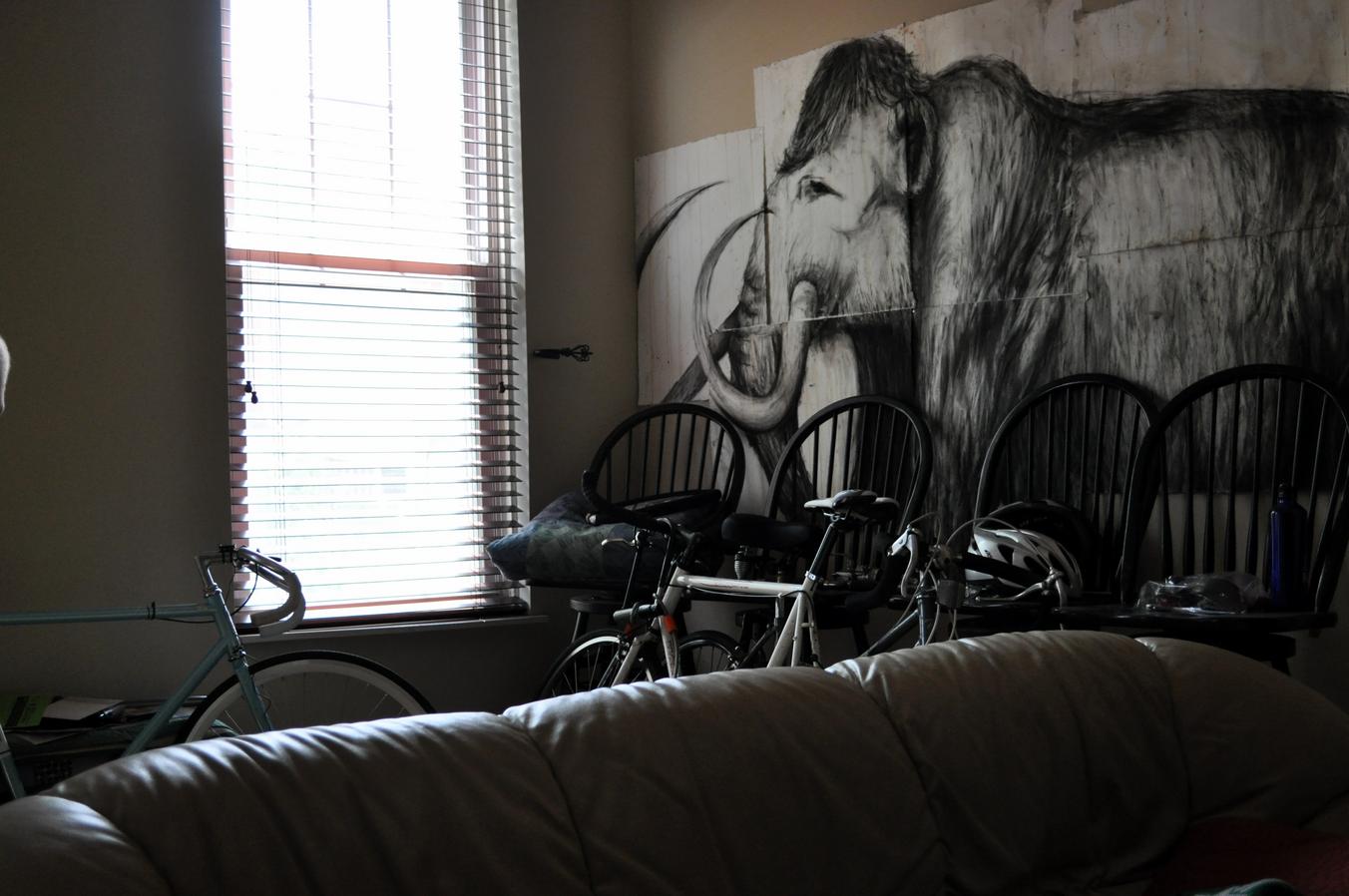 Jeremy took us to see some of the historic parts of Philadelphia. We went to Penn's landing where there was a big market and had lunch there.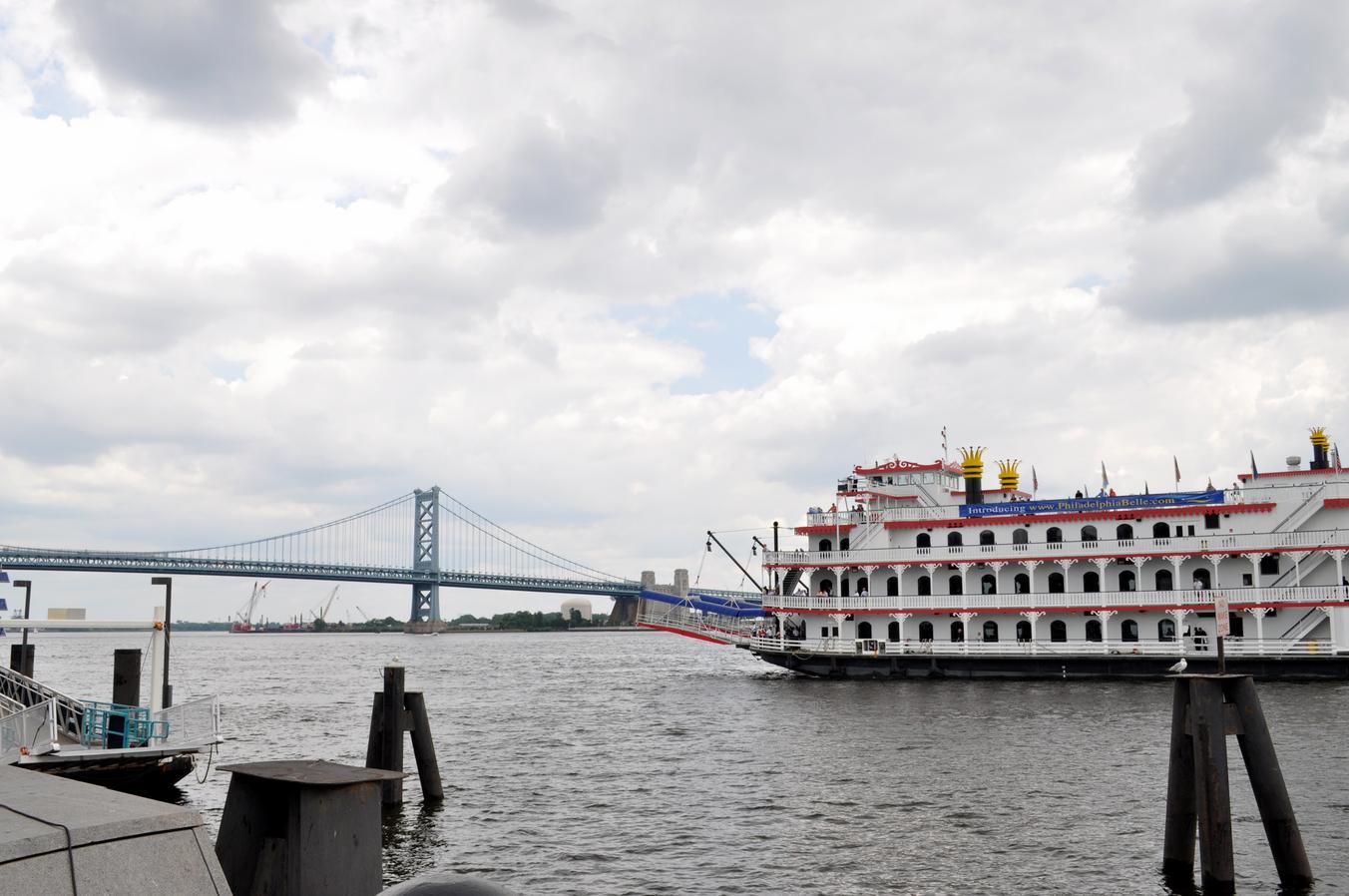 Don't you think Jeremy looks good pushing a stroller? Awww, how sweet.
(Marica was a bit tired and sick that weekend, only for us to find out the next week that she had Strep. Oops.)
Manly talk while waiting for our sliders. (Sliders are small hamburgers.)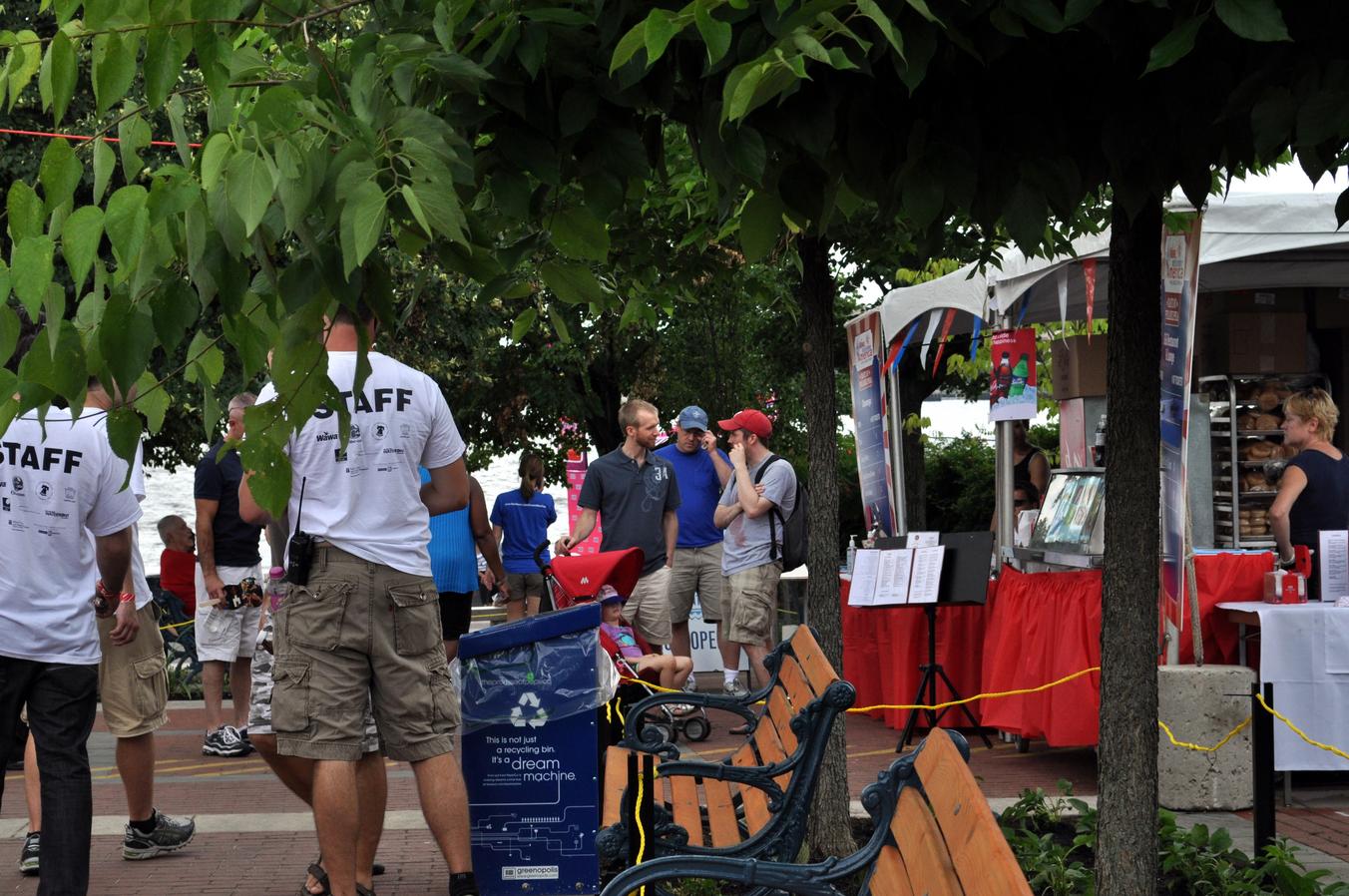 We saw Independence Hall (currently under construction).
Nearby was a garden with a statue of The Signer (of the Declaration of Independence). I had a bit of editing fun turning it into a black and white picture — I like the silhouette effect that produced.
After lunch and a bit of wandering we had a rest on a lawn next to some other historic house (can you tell we're not too into the details?) and Jeremy practiced sign language off a card that a deaf man gave me earlier. I had to catch him making an 'L', of course! :-)
I reckon Ben is like a good wine — he just gets better every year he ages! Yes, indeed, I married him for his looks. (Among other things.)
THE FOOD for our dinner almost deserves a separate post to itself. We bought it at an indoor market (Reading Terminal Market) that sold pretty much everything you could think of — everything fresh and delicious. We got bratwurst there and some salad ingredients, as well as some sticky buns for our Sunday morning breakfast.
We had our yummy dinner outside in the backyard — the weather was pretty much perfect. The mosquitoes, not so much.
Marica thought it was funny to pretend that she was drinking beer. We thought it was funny too.
A plate filled with goodness. Watch out for the claw of doom, it pounces when you least expect it!
Grilled mushrooms with butter, garlic salt, pepper, parmesan and fresh mozzarella. And don't forget the fresh basil. Oh yum.
Salad of arugula, red pepper and fresh mozzarella. Simple. Hmmm.
A little something out of Jeremy's dad's kitchen to burn the living daylights out of you.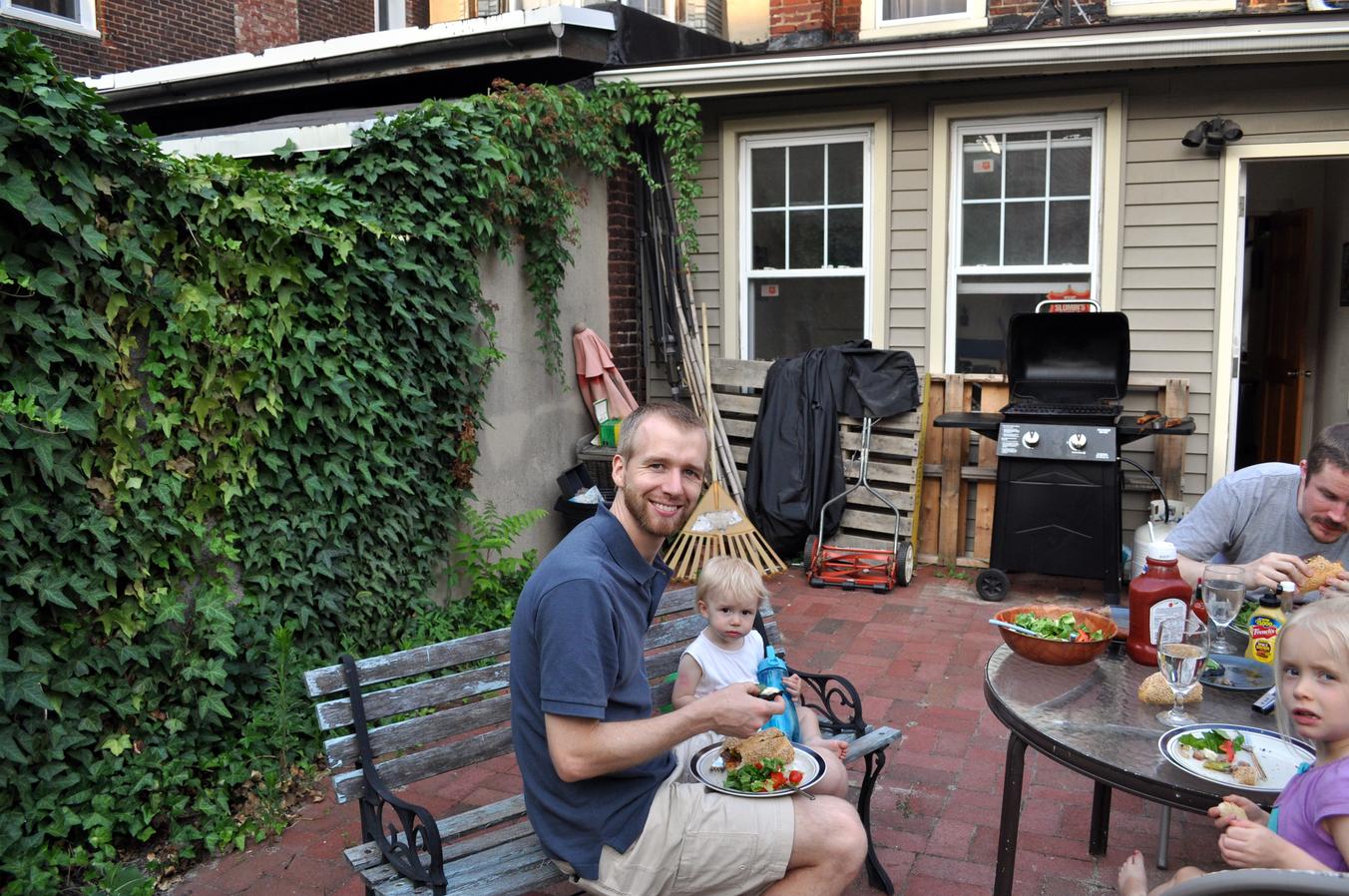 The verdict:
Thanks for an awesome 30 (or so) hours, Jeremy! We had a great time. We're looking forward to your (plural) visit in August!