Ben and I have always dreamed of going on a romantic tropical island holiday. This has partly been inspired by the total un-tropical-ness of our honeymoon destination (Stewart Island! I don't know why we ever thought it would be tropical. At least it was romantic!), and partly by Corona ads. I know, how's that for being taken in. For ages there was this massive billboard on Main South Road in Christchurch just by the overbridge that had a picture of a pier on a tropical island with the perfect blue water and palm trees and not a person in sight, and Ben and I would drive by there every Sunday after church and dream about 'one day'.
And then Ben started working for a hotel booking/reviewing website here in New York. A while back his bosses took us out to dinner and at one point the conversation turned to getting away during the cold winter months and they were saying "yeah, you should go to the Caribbean!". After that we started thinking about it more seriously (especially after the mention of a staff discount!) and decided to cut down our holiday at the end of our time in the States a little and use some of our savings for a jaunt to the Caribbean.
So, last weekend Ben and I went to Punta Cana in the Dominican Republic. The Murphys (our pastor's family) very kindly looked after our kids for the 4 days and 3 nights we were away, and from all accounts the kids did really well! Ben and I had the most amazing time. I don't know that words can really describe the constant giddy excitement we felt at being able to be alone, to experience the beauty of the resort, enjoying the beach, the warm water, the good food… <sigh> So I'll stop blabbing and just show you some photos!
Our room: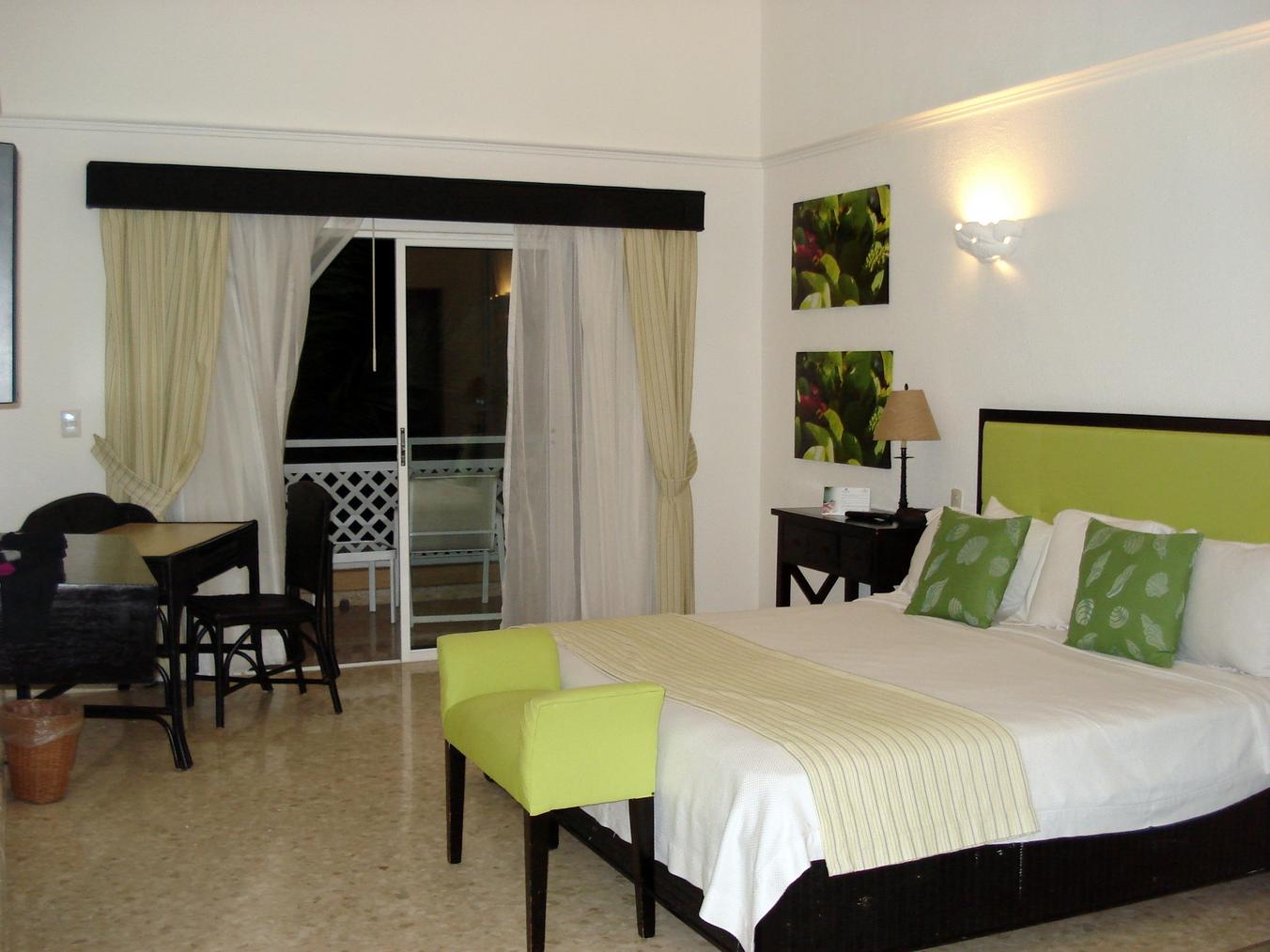 The beaches:
That little boat down there on the water took us out on a snorkelling trip to an area near the reef called The Aquarium. We saw quite a number of pretty colourful fish and a Barracuda too that was about 1.5m long.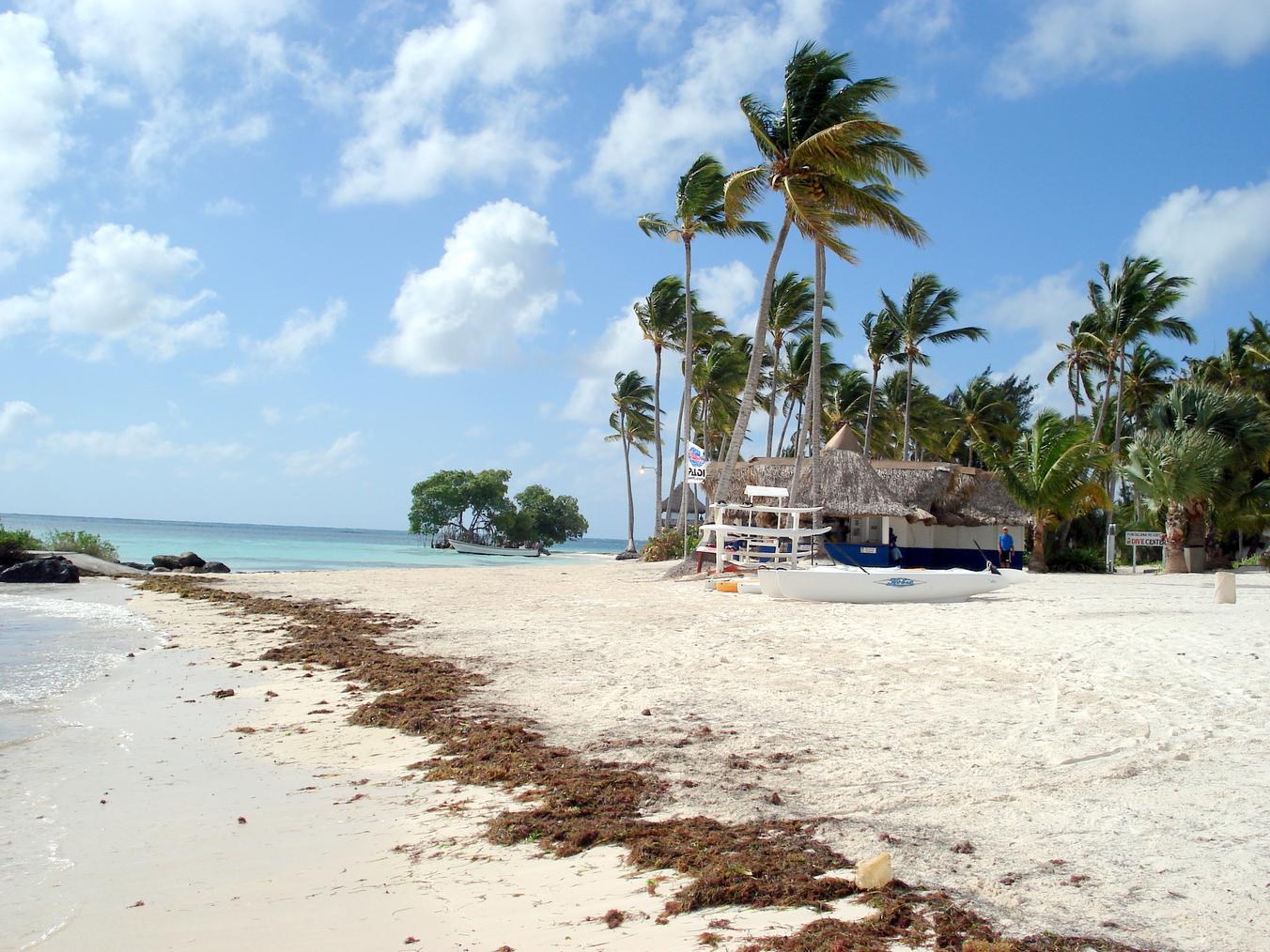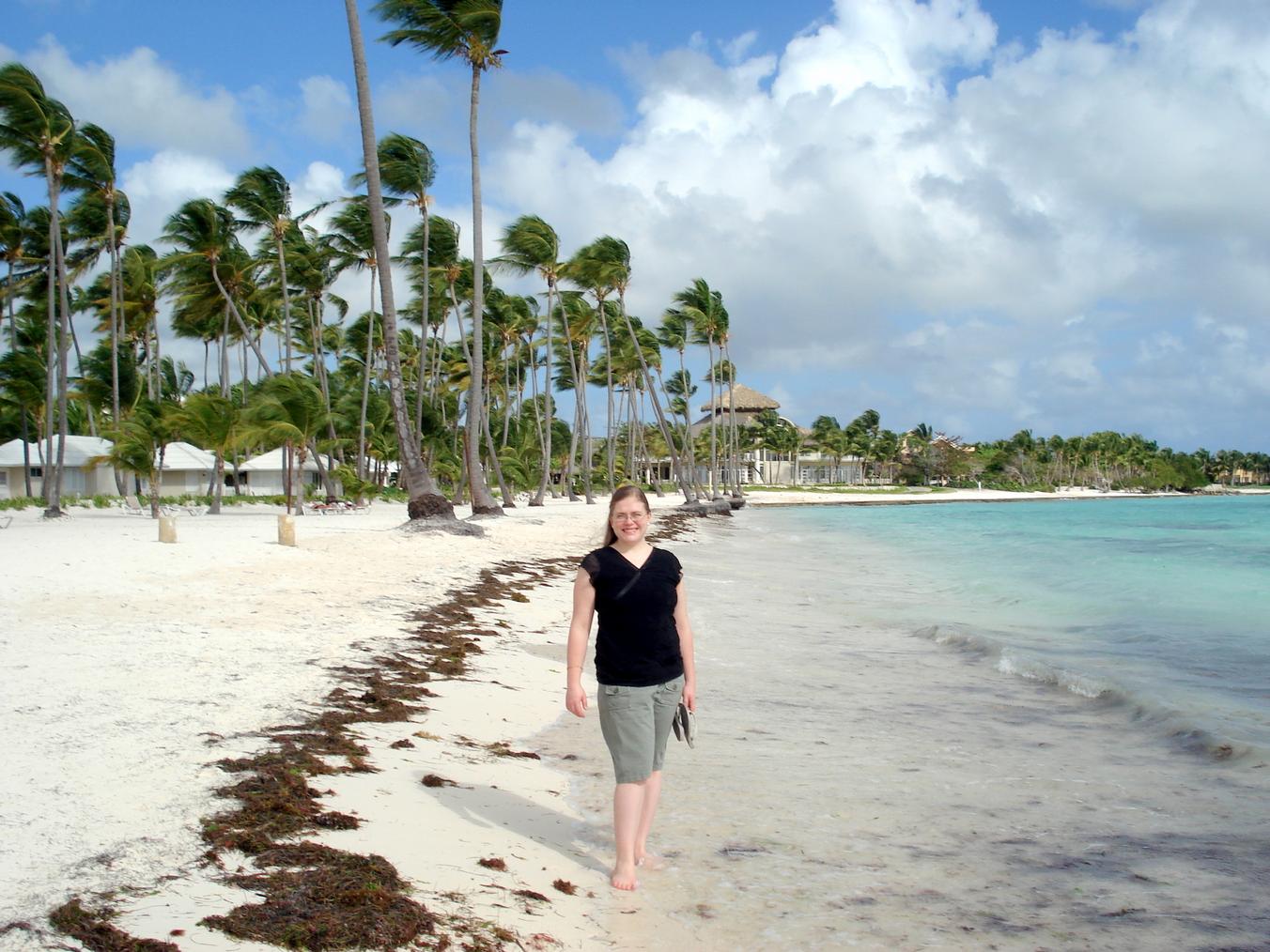 The beach from the boat. Our camera doesn't take underwater photos, so no photos of the tropical fish, sorry!
And yes, the water is really that clear and blue.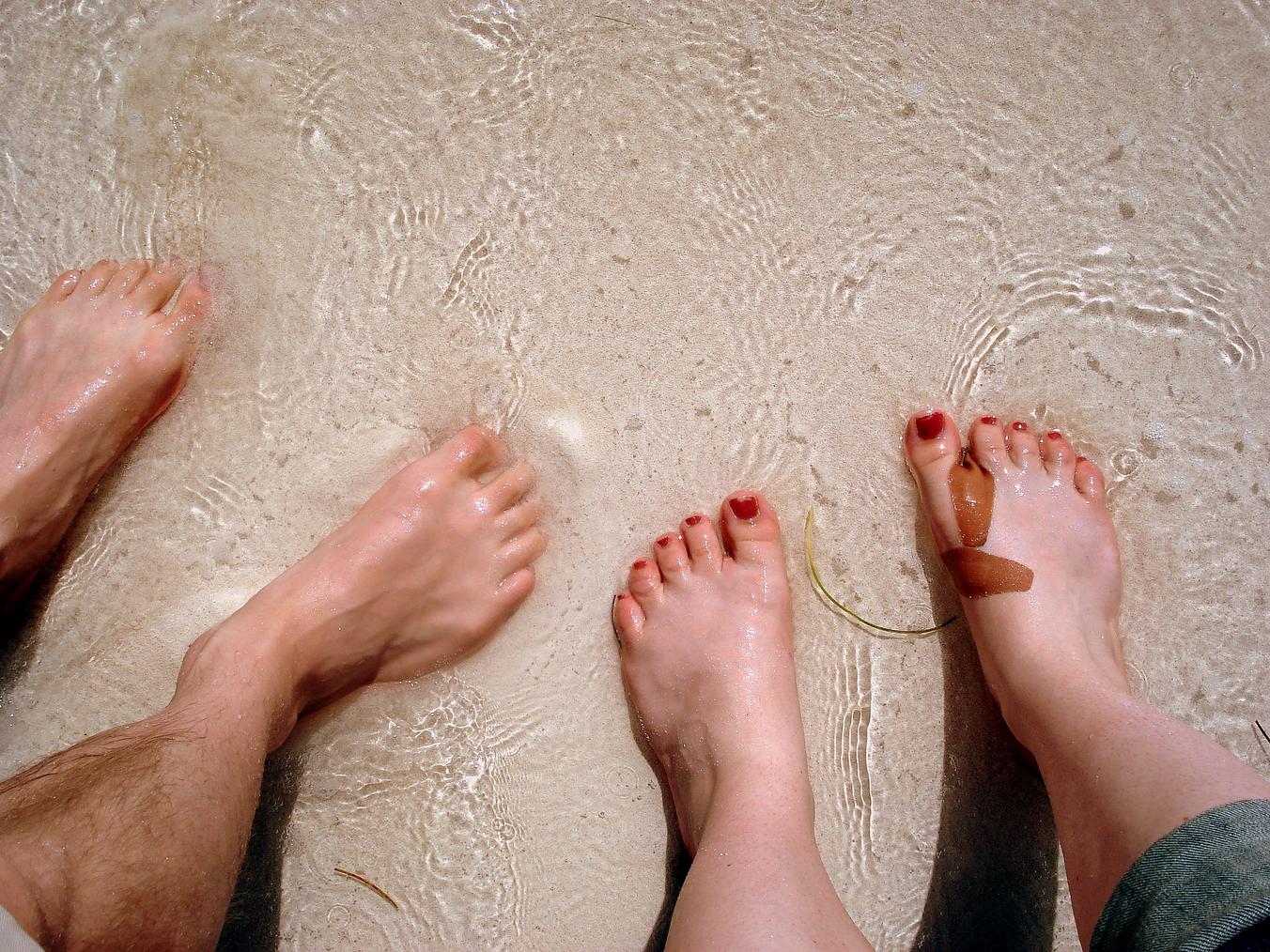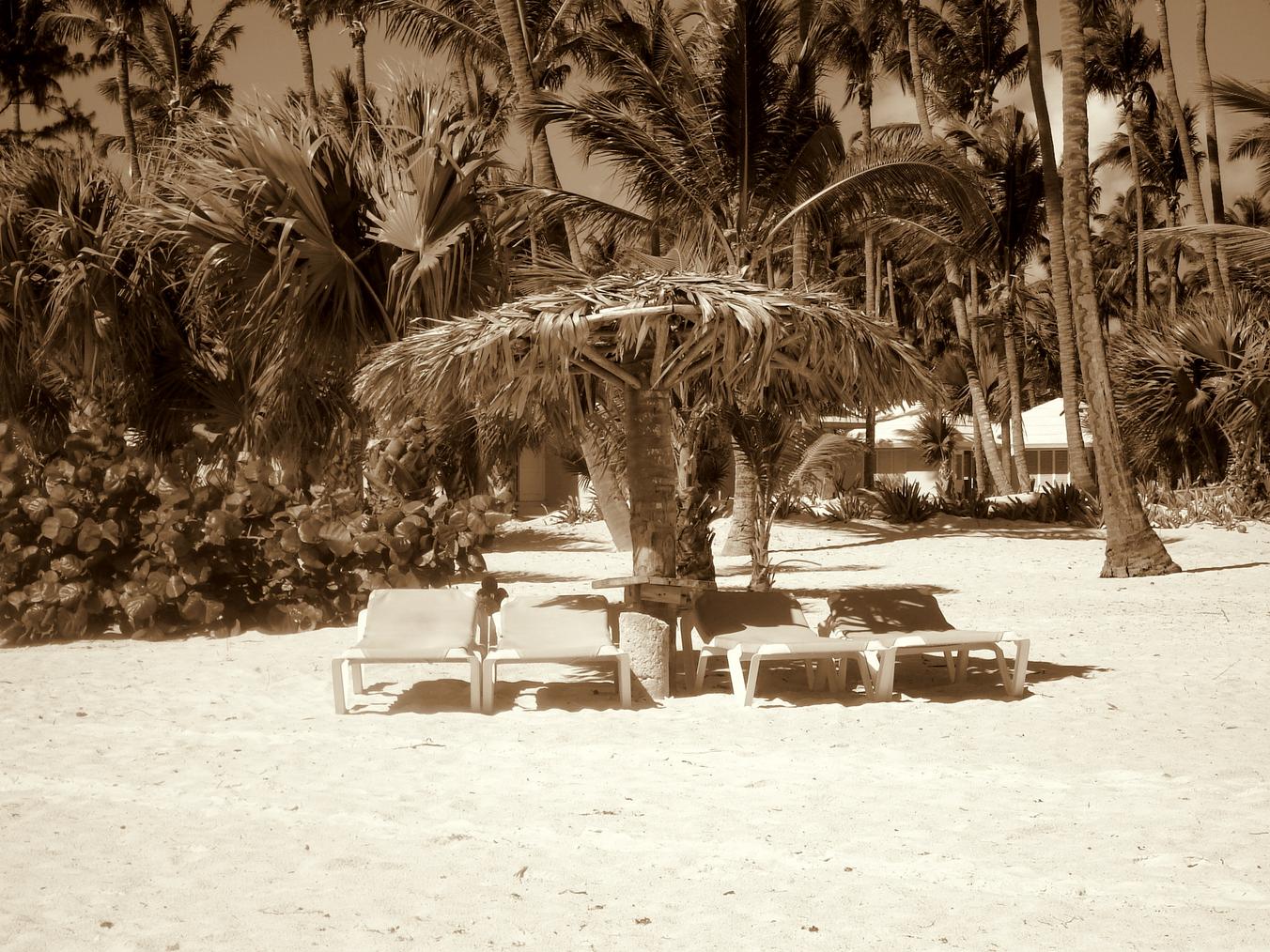 Some of the restaurants:
We ate lunch on the top storey of this one. Man, what a view! We had our token Corona there. :-)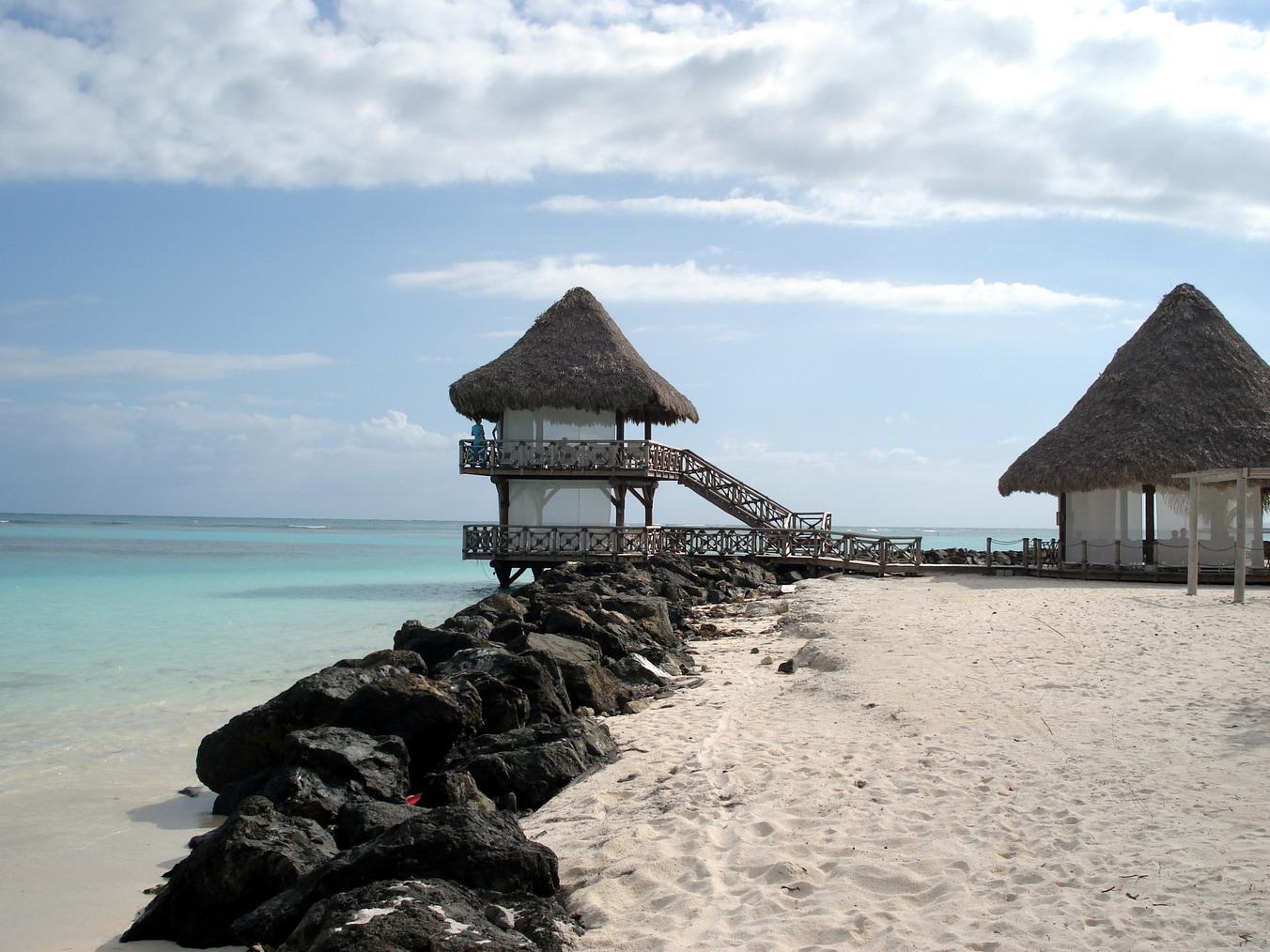 At La Yola restaurant at the Marina, where we had a pretty special dinner. You can see 2 musicians in the background who went from table to table giving the guests their own musicians for a couple of songs. They had amazing voices, serenading us in Spanish.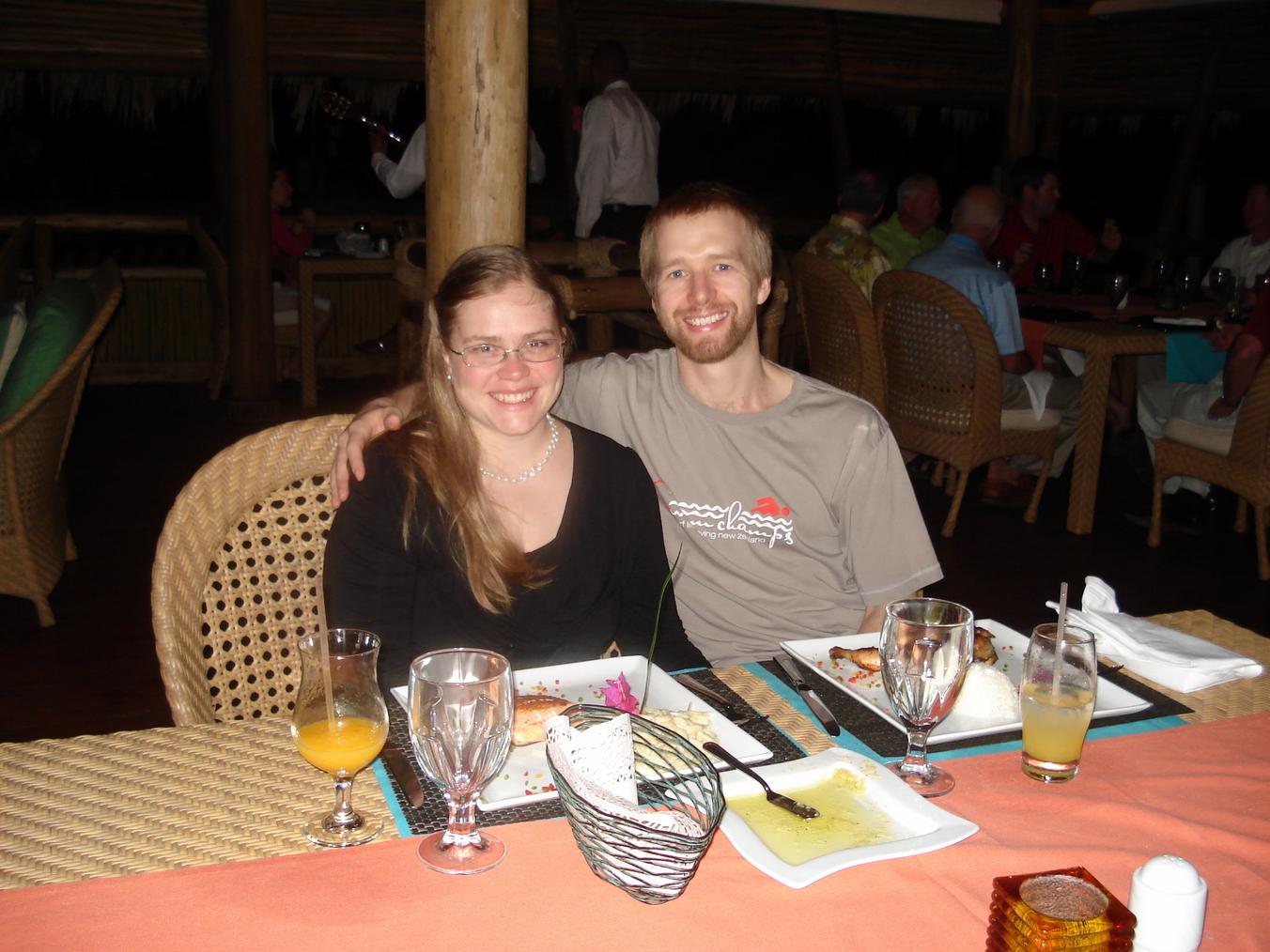 The breakfast restaurant, La Cana, where we had a buffet breakfast every morning. It was the best buffet breakfast food I've had yet — they even cooked you omelettes and made you tropical fruit smoothies on demand!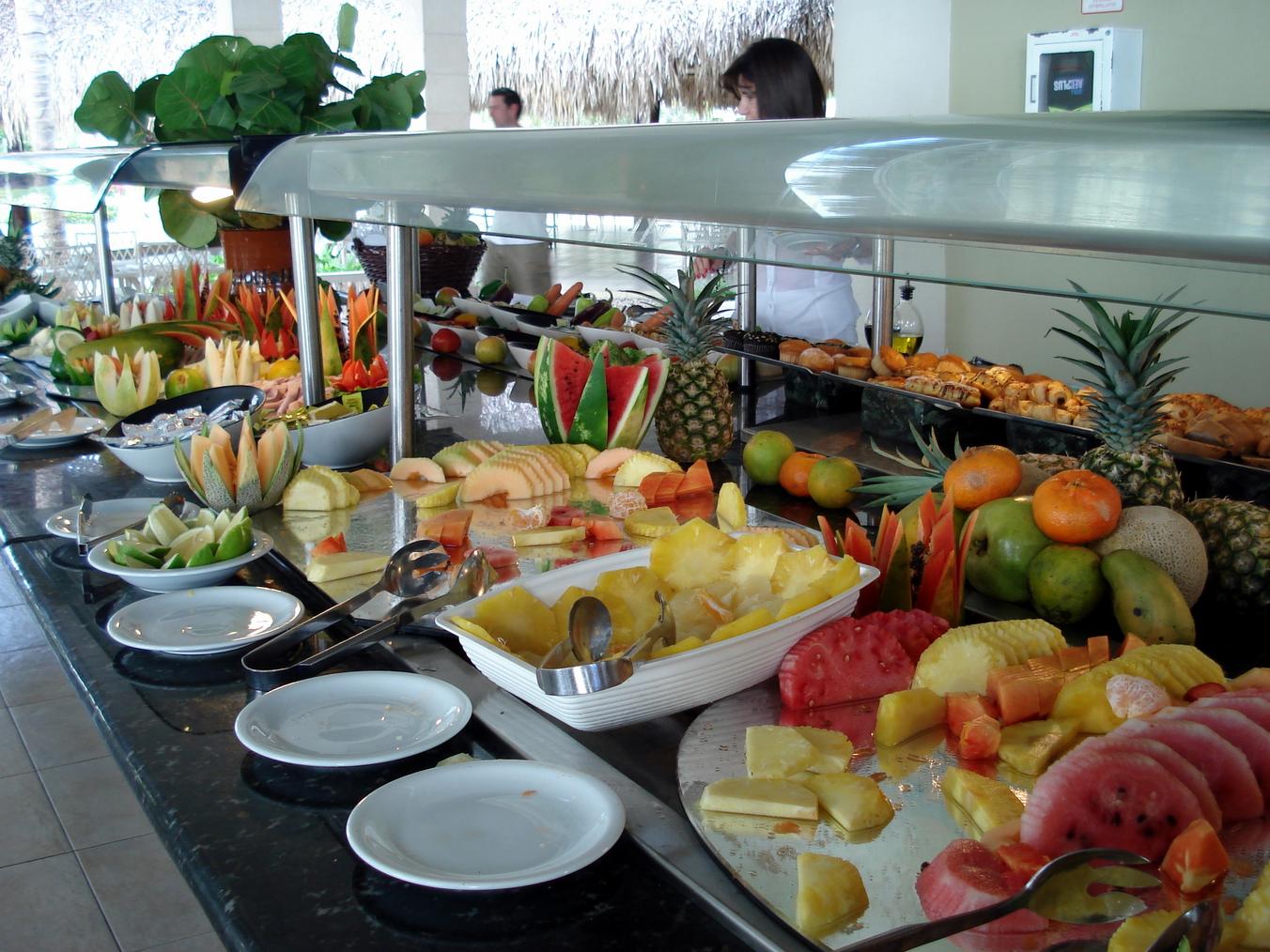 The hotel lobby was a nice place just to sit and relax in. I loved these white benches with the red and white striped cushions.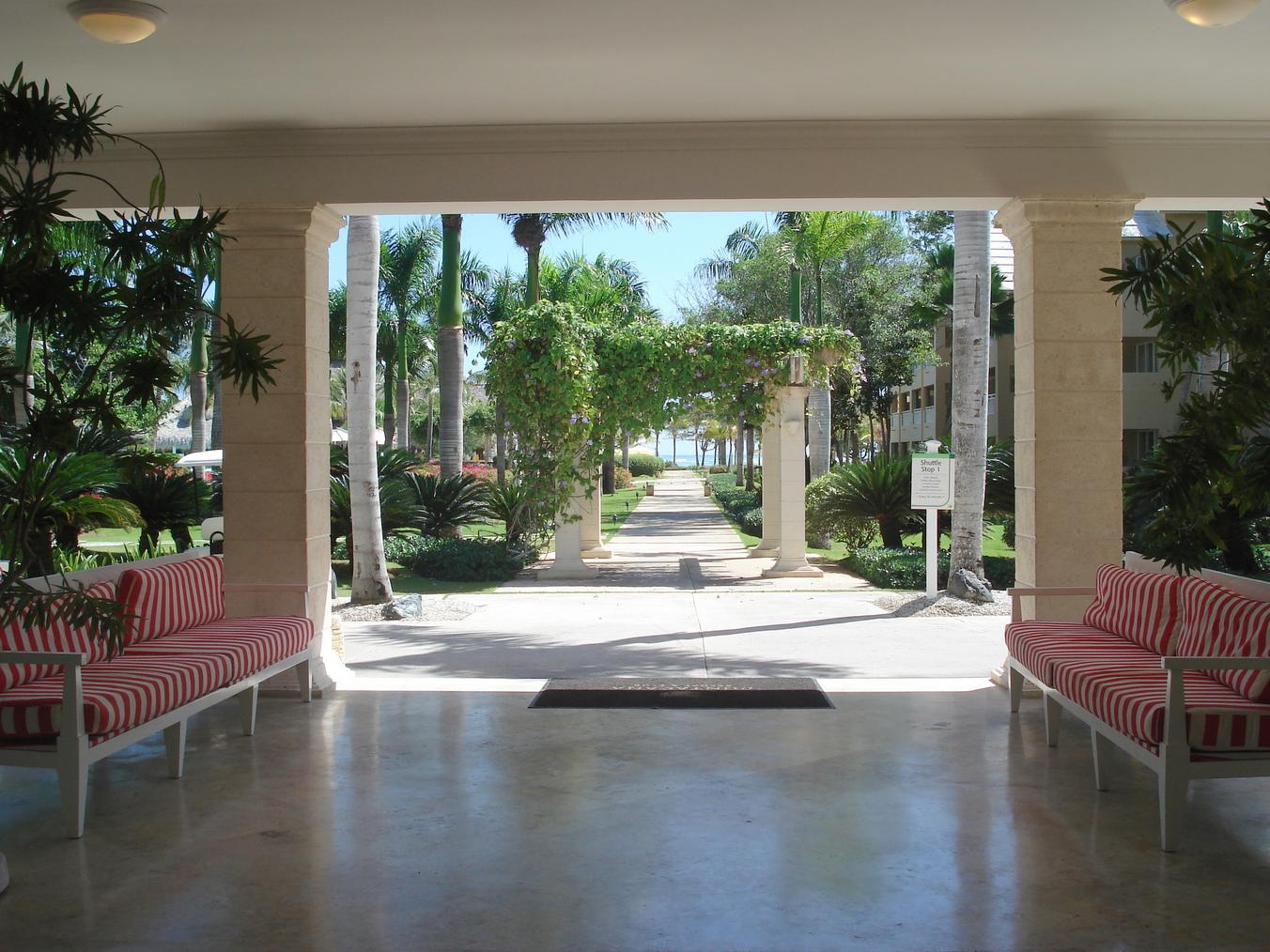 Ben and I treated ourselves to a back massage at the spa. They offered the option of having it 'on the beach', so we tried that! It was so nice to feel the light see breeze and hear the waves on the beach while getting a relaxing massage. Though I think Ben would agree that I enjoyed it more than he did. :-)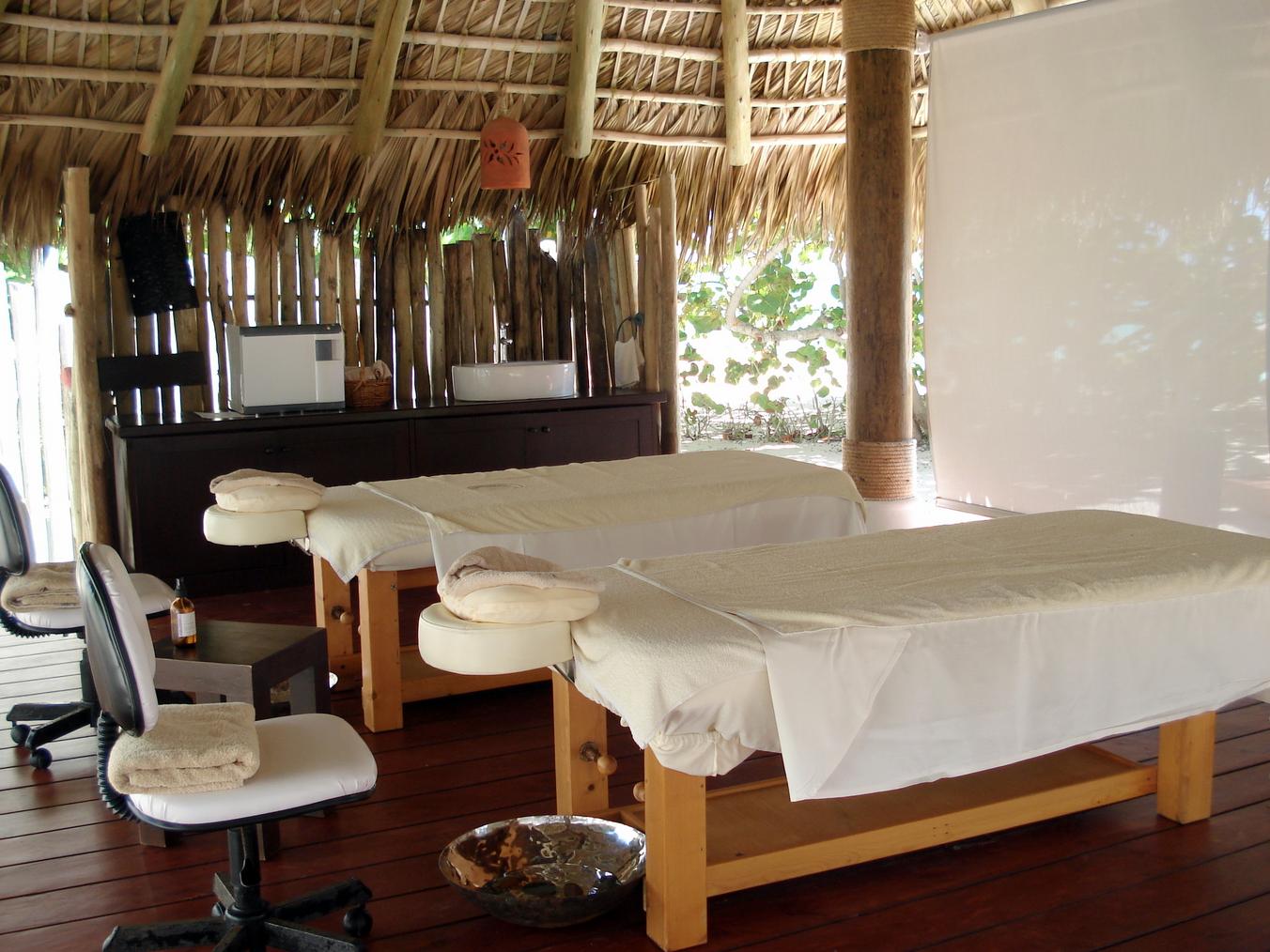 We also enjoyed the pool and swam in it every day we were there. The water was just perfect — not too cold, not to warm. One evening we got ourselves a cocktail each and drank it beside the pool, just because that's where you're supposed to drink cocktails, right? :-)
On the resort there is an ecological reserve that has something like 17 fresh water pools with perfectly clear water. You were even allowed to swim in some of them, which we did!
I took a bunch of photos of some of the tropical flowers and plants, but I'll only post one here. There were big hedges of bougainvillea that just brightened everything up with their happy pinks, oranges and purples.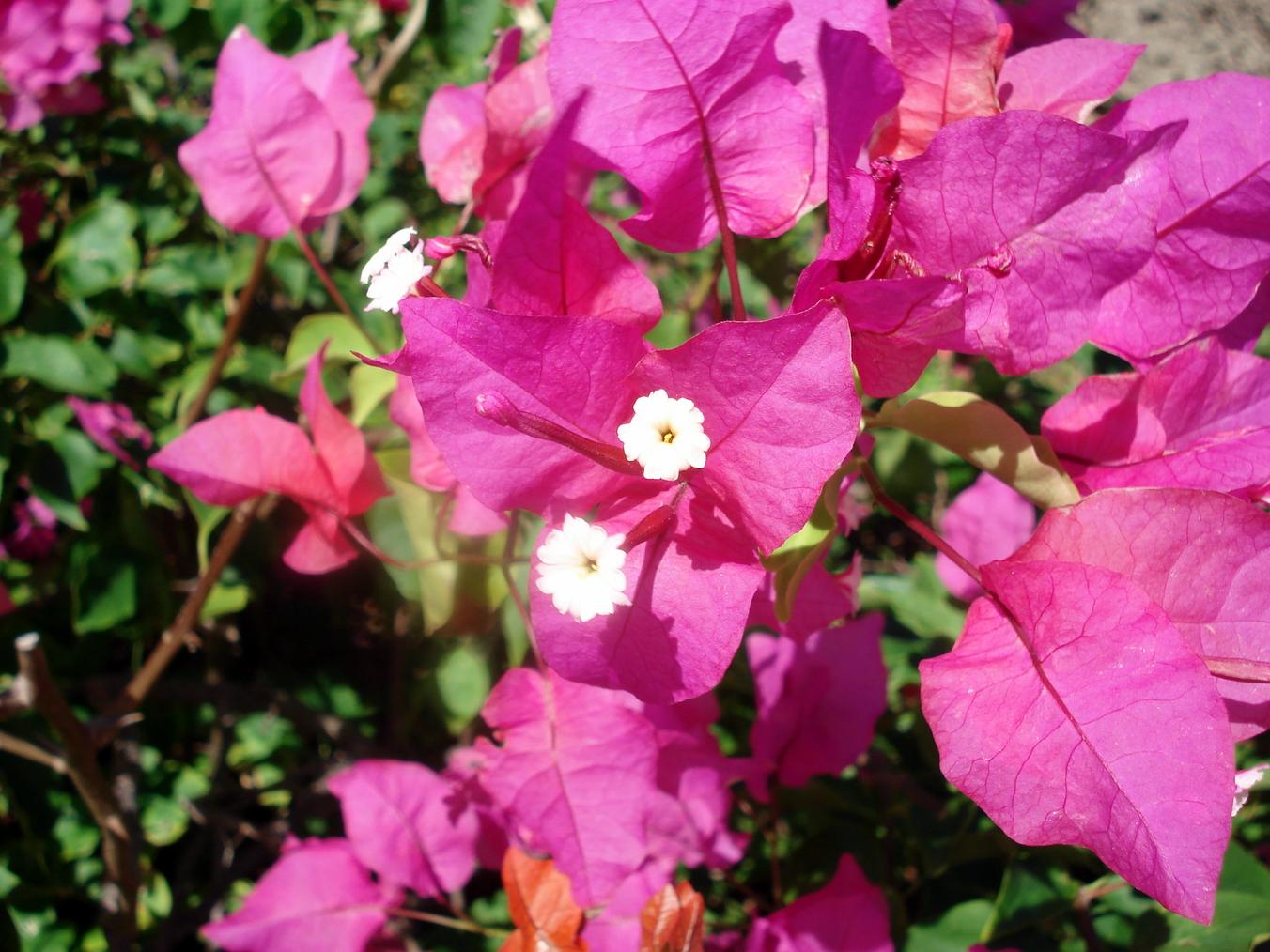 I've probably shared way too many photos already and crashed the computers of those of you on dial-up, but it was hard to choose! We'll post some more on flickr.com soon, and I also have some on Facebook, if you're interested.
We're so thankful for God's blessing in making this trip possible. It was pure undeserved enjoyment!