It's really hard to believe that it's almost been two weeks since the van Wichens descended on our place. For those who don't know, Laurel is Ben's oldest sister and their family is touring the States for 10 weeks. They were brave enough to include New York City in their travel plans, which of course made us very happy!
They at first were going to camp at a campsite about 2 hours out of the city, but I changed their minds on that one. New York traffic isn't a tame puppy. So we offered for them to stay here. We figured that with only 2 nights we'd make do. And we did make it work — they were very adaptable and with us spending most of our time sight seeing, there wasn't too much time spent cramped inside.
With 8 kids and 20 pieces of luggage, they need a hefty travelling vehicle and I'm sorry to say I didn't take a photo of their van. Rest assured that it is impressively large, which is why I was a bit worried about where they'd park it. Providentially it worked out that they found a park right on our block and only a few houses down that was big enough! We did have to ask someone to move their car backwards a bit, but hey! And to top it off, it was even under a tree for some good shade.
I had a moment of mild concern when they were unloading the van. There was enough luggage there to cover a quarter of our little apartment! What I didn't keep in mind was how very well acquainted with living in tents this lot was by now and that they know how to arrange things! Robert pitched a tent in the back yard and the 4 girls stayed in there with some luggage. Robert and Laurel and baby Hendrik were in the lounge with some more luggage,
and the other 3 boys sardined themselves on the floor in Marica's room along with the rest of the luggage.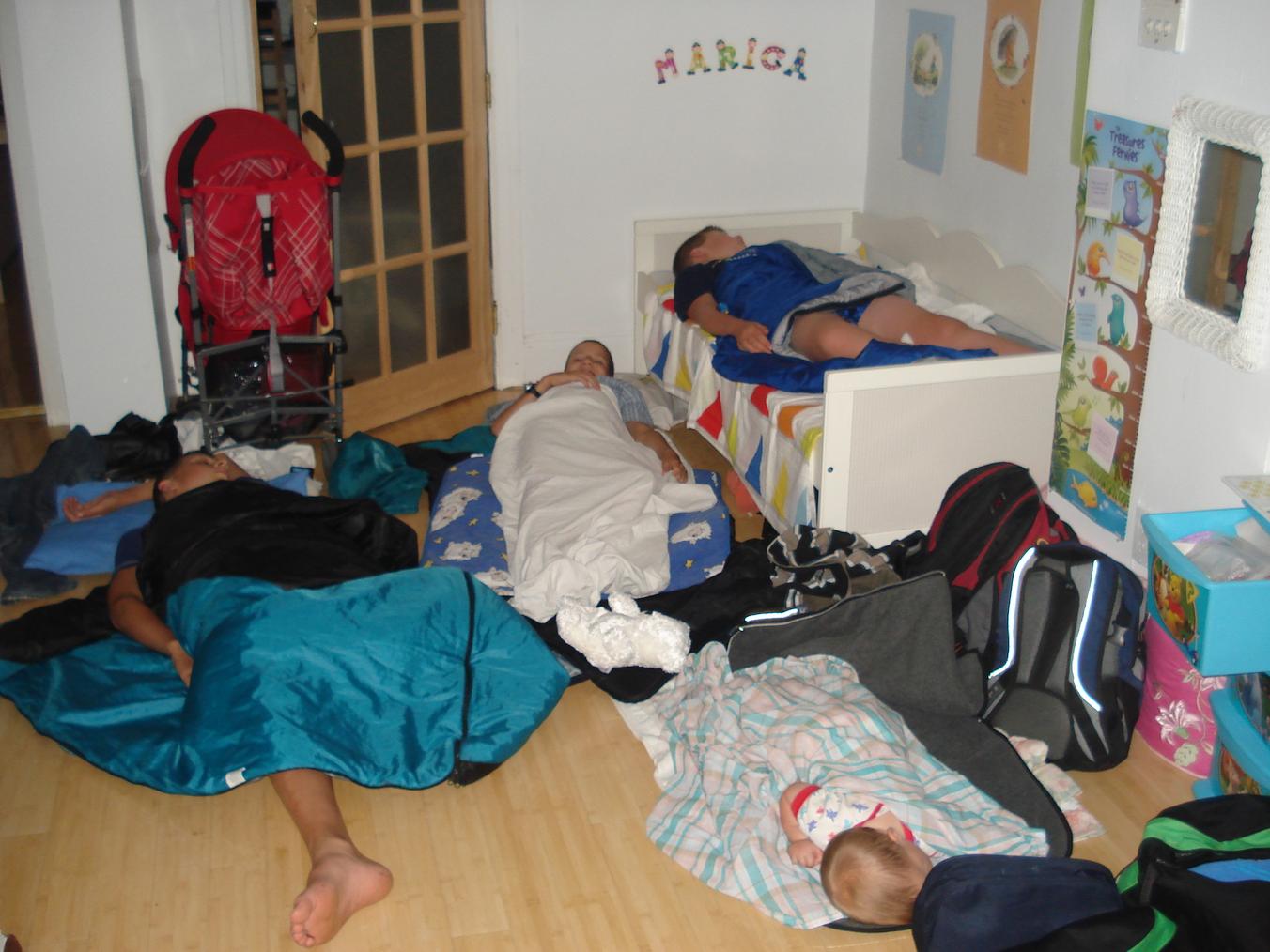 Marica was keen to sleep in the tent, which lasted… not very long. She slept on the floor with the cousins, even though the second night nobody slept in her bed! The only time we felt the space constrictions a bit more was at meal times and at peak-bathroom-use times, but even then it wasn't too bad.
Once they had settled themselves a bit, I took a few of them with me to our local supermarket so they could experience a bit of our neighbourhood and to see just how well supermarkets here use the space they've got available. Nappies above the meat and that kind of thing, you know?
Then home to a dinner of potato wedges, salad and steak with ice cream crunch cake for dessert. You gotta have your perks, don't you? :-) The evening was spent catching up and getting an early night, because Friday was going to be full!
And it certainly was. We amazingly managed to make it out of the door at 9:01 (having aimed for 9:00) and gave them their first subway experience riding to lower Manhattan where we then walked through the financial district to the Staten Island Ferry terminal. We caught the ferry to Statten Island and straight back to get a good view of the Statue of Liberty and of the vast expanse of Brooklyn buildings and lots of Manhattan skyscrapers.
Then we caught the subway up to Central Park where we had lunch and the kids had a bit of a play in one of the water play grounds.
From there we headed to F.A.O. Schwartz, the oldest toy store in the States,
where we saw all sorts of cool toys and demonstrations. We also discovered that we could own a dolls' house for about the price of a pretty nice car. It was a very pretty dolls' house, though…
Just look at these great big stuffed animals!
From there we walked over to Dylan's Candy Bar crossing famous streets like 5th Ave, Maddison Ave and Lexington Ave. We saw a good assortment of expensive shops and designer clothing shops, but wisely refrained from entering. Dylan's Candy Bar is a 3-storey sweets shop that sells pretty much every kind of confectionery you can think of. Ben shouted us all something from the chocolate fountain, which was a yummy experience despite the mess.
We caught the subway again to Times Square. In the subway station at Times Square there were some cool buskers.
Man, Times Square is such a spectacle. Did you know that if you rent a shop in Times Square you are required to have an illuminated sign? We mostly just spent our time gawking at the buildings, the signs and the people. After visiting a few souvenir shops we headed home on the subway again — I think the van Wichens got a good taste of the subway that Friday! Near our apartment is a pizza place where the van Wichens shouted us some pizza which we ate in a nearby park. Despite Hurricane Earl being forecast to wreak havoc on NYC, the most we felt of it all day were a few raindrops on our walk between F.A.O. Schwartz and Dylan's Candy Bar. What a blessing!
The day was not over yet, though! Laurel and I with our babies and Marica and Estelle headed home while the other adventurers caught the subway to Coney Island. There were supposed to be fireworks, but unfortunately that was cancelled because of the forecast for rain which never came. They still had fun on the rides and had the treat of touching the Atlantic. I think pretty much everyone had a solid night's sleep that night!
In the morning it was like a little ants' nest around here with everyone having breakfast and packing up and going here and there and then we were waving goodbye at the Big White Beast all too soon.
Thank you, van Wichens, for being brave enough to come to NYC. Thanks for being even braver and staying with us! And thanks for blessing us with your company — we had a great time!