Today we took the Staten Island Ferry from the southern tip of Manhattan to the north-most point on Staten Island (and back, of course). For a long time the ferry cost only 25 cents for a return trip, then it went up to 50 cents in 1990. But in 1997 they made it free, and it's still free today.
It's a 25-minute ride, and a ferry goes every 15 minutes during rush hour, every half hour during the day, and every hour all through the night (this is New York, after all). There are about five boats that carry an average of about 2000 people each trip. It's a lot of ferrying. Here's what the ferry looks like: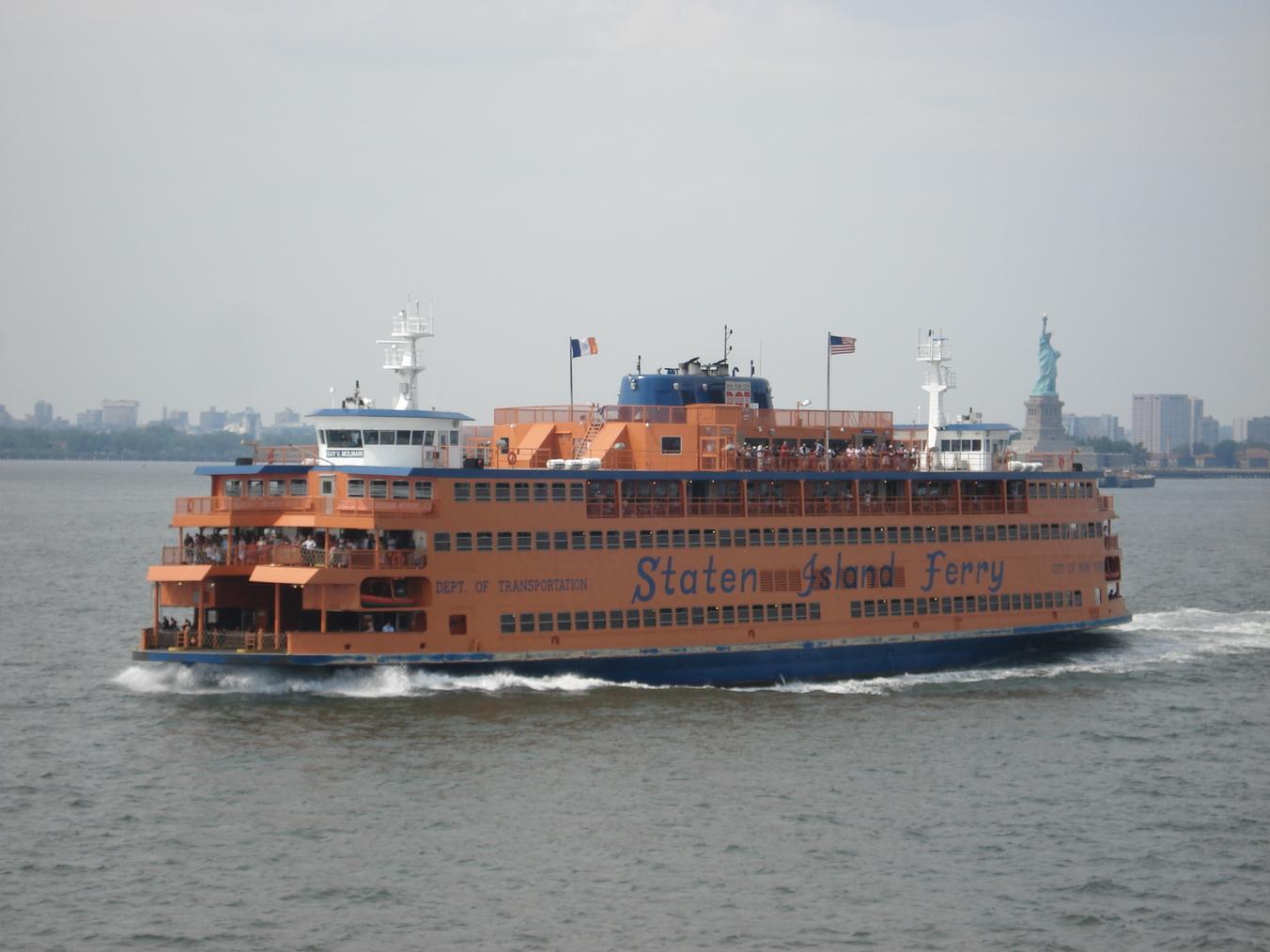 But the great thing about the ferry is that it goes right past the Statue of Liberty. Despite the Statue being the most iconic hunk of copper in the world, most people don't know much about it (and that includes me). "Didn't the French have something to do with it way back when?"
So the real title for this blog post is "I read Wikipedia so you don't have to." History is serious business — so from here on it's all learning, no laughing. Oh, and forgive me if this bores any U.S. readers to death.
In short, France gave the Statue to the United States in 1886 as a gift to commemorate Americans having been free from the British Empire for 100 years. (Well, the U.S. had been free since 1776, which is 110 years, but the French aren't very good at maths.) France had become best buddies with the U.S. in the American War of Independence.
I guess it went something like this: "We hate the British." "Yeah, us too." "Well, let's be friends! And by the way, do you want a big copper statue of a Roman lady holding a torch?" "Sure! Give us a hundred years and send it on over. And did you say copper? Won't that turn green in the sea air?" "Copper? Green? No way!"
So some facts about the Statue (more here): the Lady herself is 34m tall, but the Statue is 93m from the ground to the tip of the torch. Her face is 2.5m high. She's made of pure copper on a steel frame, though the torch in her right hand is now coated is gold leaf. The copper of the statue is only 2.5mm thick — less than the thickness of a New Zealand $2 coin.
The statue was also intended to be used as a lighthouse (the "torch" in the Lady's hand was the first electric light in a lighthouse). It was used as a lighthouse for only about 16 years, till 1902.
The reason Lady Liberty looks like someone from ancient Rome is because she's wearing a stola (a female toga), and because she's based on Libertas, the ancient Roman "goddess of freedom". The torch is supposed to represent enlightenment. The tablet she's holding in her left hand (representing knowledge) is inscribed with JULY IV MDCCLXXVI (July 4, 1776 — the first Independence Day). There are seven rays in her crown, one for each of the seven continents. At her feet lie broken chains of tyranny, that is to say, "down with the Brits."
Oh, two other important facts (thanks again, Wikipedia): in 1912 one Frederick Law was given permission to jump off the Statue with a parachute. He fell a full 23m like a dead weight, then his parachute opened, and according to The New York Times he descended "gracefully", landed hard, and limped away. And in 1982 a girl named Jessica Skinner was born inside the Statue. Her mother went into labour while climbing up to have a look-see, and gave birth before she could get back down. Listen up, all ye pregnant women who want to get babies out!
Enough history and culture for me for today.
I'll leave you with a pretty average photo we took today from the Staten Island Ferry (though there's a much better one here):